Tue, 22 Oct 2013, 17:07 PM



Enjoy Las Vegas



By Bob Frey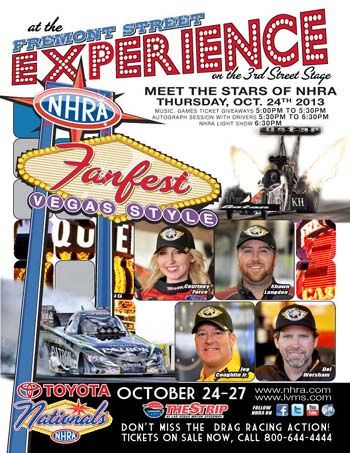 Ok, the brief respite between races is over and there are just two races remaining before they crown the 2013 NHRA Mello Yello champs. The Strip at Las Vegas Motor Speedway has always been one of my favorite stops on tour for a variety of reasons. Of course there is the race itself, but before that there is the annual Fan Fest that takes place between 5 & 7 PM on Fremont Street in the downtown section of Las Vegas and that's always fun. This is one of the best pre-race festivities of the entire year and it offers a little something for everyone. Tops on the list is the huge autograph session with dozens of drivers scheduled to appear. Ticket give aways and other surprises are also part of the evening's activities and it is all highlighted by the fabulous NHRA-themed light show overhead. Just because I used to host the event and once made my entrance on a three hundred foot long zip line has nothing to do with the fact that I always enjoyed the Fan Fest. Ok, so it has a little to do with it. Regardless of that fact if you are planning on being in Las Vegas this week make sure you put the Thursday evening Fan Fest on your calendar because I guarantee you that you won't be disappointed, and if you are I will personally give you your money back. Oh wait, it's free, so what do you have to lose?....On the other side of town the Team Schumacher drivers will all be at their annual autograph session at the New York New York Hotel & Casino on Thursday between 6 & 8 PM. If you plan correctly you can make both the Fan Fest and the Team Schumacher affair and have yourself one great night. "The Don" himself, Don Schumacher, will be making a special guest appearance at the event and you can congratulate him on his induction into the International Motorsports Hall of Fame earlier this year, and if you get him alone ask him about the name "Stardust" that used to appear on all of his cars in the early days of his career. It's a great story and one that I know he likes to share. Did you know that they ran NHRA point's meets in Las Vegas as far back as 1967? In fact "Big Jim" Dunn beat Tom "The Mongoose" McEwen in Vegas in the Top Fuel final in 1967?.Speaking of the "Goose" did you know that there will be a special showing of the "Snake & Mongoose" movie this Saturday at the Century Orleans Theater in Las Vegas? Assuming he is done all of his duties at the track Ron Capps, who is in the film, will make a special appearance at the theater for the 7:00 PM showing on Saturday. See, I told you there are a lot of things to do this week in addition to the race and that's why I always loved going to Las Vegas.
One of the things I would like to point out about the Las Vegas event is the fact that there are almost 600 cars entered and that is actually slightly over the quota established by NHRA. There are a couple of reasons for this. First, it's Las Vegas, and who doesn't like going to Las Vegas? Second, with the Division 7 point's race being held there next week and the NHRA Finals the week after that a lot of the sportsman racers, both locally and nationally, make the trek west so they can get compete at three races in three weeks. It saves a bit on expenses and gives those who are looking for points a chance to pile them up in just a matter of days. Speaking of the Lucas Oil racers, some of the championships could be decided this week and that's another reason why it is such a fun event. Add to that the fact that all of the classes are running there, including the alky cars and the Pro Mod cars and you have a great event for everyone, both hard core fans and the average fan. It is the "perfect storm" as far as a race goes and that's why this event has grown to be so special.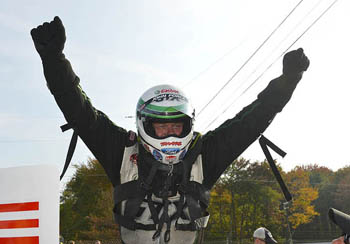 John Force celebrated Reading win.
Photo copyright 2013 Gary Nastase Photography
One of the things that a lot of folks are talking about is the re-emergence of John Force as a title contender and the fact that the Team Schumacher drivers, who were certifiably hot during the "regular season," have really struggled during the playoffs. Under the old format it used to be that a win in April meant just as much as a win in October, but no more. Hey, it's no different than major league baseball, and if you don't believe me just ask the Los Angeles Dodgers. They were the hottest team around until they ran into the St. Louis Cardinals and I guess that's how the Team Schumacher drivers feel right now. Did you know that during the first eighteen races of the season Don's team, both Top Fuel and Funny Car, won a total of twenty-one races? But once the "Countdown" started only Antron Brown has visited the winner's circle and none of the Don's Funny Car teams have tasted victory. During that same time span John Force has been to three finals and won the last two races to come from fifty points behind the leader to being the leader by sixty-five points. That's a huge swing and a big lead with two races remaining, big but not insurmountable. Did you know that in 2008, with two races to go, Cruz Pedregon was in third place and he was sixty-nine points behind the leader, Tim Wilkerson,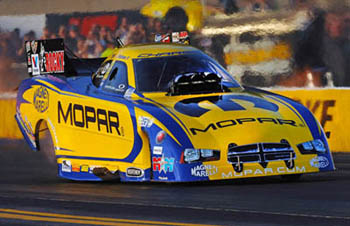 Matt Hagan
Photo copyright 2013 Gary Nastase Photography
and he still won the championship? It took a couple of first-round losses by Tim and two wins by Cruz but he did it. And in 2010 the second-place driver was sixty-four points back with two races to go and he won the championship. By the way,
did you know
that in 2010 the second place driver was John Force and the leader was
Matt Hagan
?...
John comes into the race off three consecutive final rounds and it's been a while since he did that.
Did you know
that's the second time this year John has done that but it's only the third time since the 2007 season that he has managed to make three finals in a row?...With a sixty-five point lead, which is more than three rounds, every point that Matt Hagan can get in qualifying is huge. That's because there is a possibility that he could get the margin below three rounds and that would make a world of difference going into race day.
Did you know
that for the four races in the "Countdown" this year Matt has earned sixteen bonus points while John has picked up eighteen? Matt will need to score six more than John in Vegas to reduce the margin, but as you can tell that won't be easy. According to a quick check of the races only Matt, John and
Robert Hight
have earned bonus points in the Funny Car class at each of the four "Countdown" races so far?.
Jack Beckman
is in third place and he is 126 points behind the leader, so while it is mathematically possible for Jack to defend his championship it isn't very realistic.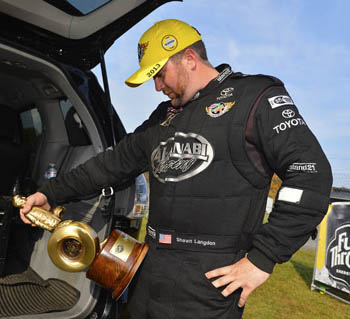 Shawn Langdon after winning Reading.
Photo copyright 2013 Gary Nastase Photography
The situation is a little more drastic for the "chasers" in Top Fuel and that's because Shawn Langdon and the Al-Anabi team have opened up a lead of eighty-three points, or more than four rounds with just eight rounds to go. Doug Kalitta, who has had a very good car all year, is in second place while Spencer Massey is another three points back in third. Like the Funny Car class the qualifying will be all important this week with Doug and Spencer looking to get the deficit under four rounds, but the way that Shawn has been running during qualifying that won't be easy. Did you know that Shawn is the only dragster driver to have scored bonus points at all four "Countdown" races this year? And he has scored a bunch of them, twenty-two to be exact, and that's why he will be tough to catch over these last two races. Well, that and the fact that he also runs well on race day?.A real key to success or failure this week could come in the first round. With such a big lead or deficit, depending on your point of view, a loss in round one would be huge. For the record, did you know that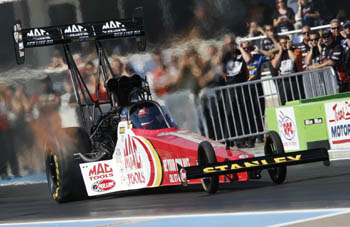 Doug Kalitta
Photo copyright 2013 NHRA
Shawn has lost four times in round one this year including once in the "Countdown?" Doug and Spencer have both lost five times in round one including once in the "Countdown" so there really doesn't seem to be any advantage for anyone in that category?..I know it will never happen (and never has) but I have said before that I think if a team has a chance to line up against their main competitor in round one they should take it. A few years ago in
Las Vegas
there was a potential first round pairing between the Funny Car leader and the second place driver going into the final round of qualifying and I remember announcing that if I were the second place team I would pull out of line and take my chances in round one. Think about it, what do you have to lose? You're hoping for a miracle (or close to it) anyway so why not put it all on the line in round one? Or at least make the bottom half of the field and get a potential second round race. Oh well, maybe I've been retired too long but I think it would be great drama, plus think about the psychological advantage when an opponent thinks you purposely stalked him for an opening round race. Sportsman racers do it all the time so why not the pros??.Just for the record
did you know
that John and Matt have met each other sixteen times and they have each won eight times? And in round one races they are 2 - 2 against each other while Matt leads the season series 4 - 1 and they haven't raced each other in round one this year. Maybe this week they will.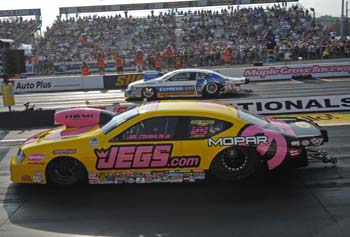 Jeg Coughlin defeated Allen Johnson
in Reading final.
Photo copyright 2013 Auto Imagery, Inc.
The situation in Pro Stock is very interesting because there are four drivers who are within four rounds of the lead. Jeg Coughlin leads Mike Edwards by forty-five points, Jason Line by fifty and Allen Johnson by seventy-three. Since those four drivers make a habit of qualifying in the top half of the field there isn't much of a chance that they will meet in round one. In fact, did you know that for the entire 2013 season the four of them have met a grand total of three times in the first round? They have also only started from the second half of the field a total of six times, with Jason doing it three times, so there really isn't much chance of them meeting early on Sunday, although anything can happen?.With the way his car his running Mike has a real shot at getting the deficit under two rounds before Sunday. Did you know that Mike is the only one of the four to have recorded bonus points during qualifying at all four races in the "Countdown?" That means that he could get under two rounds if he has a good couple of qualifying rounds?.Jason Line, who has been good in qualifying, has picked up twenty one bonus points while Mike has a total eighteen. For his part Jeg always picks up most of his points on Sunday because he doesn't have the best car out there. Did you know that for the 2013 season Jeg has only been the top qualifier twice and has only set low elapsed time one time and he hasn't set top speed at all this year? In fact did you know that Jeg hasn't recorded top speed in the class since the 2005 season? When you look at all of those factors you can see that his has been a real team effort, that is, they give him a good car and he does a great job driving and that adds up to the top spot in the points?.All of the top contenders have great cars and great teams so it may come down to something as simple as making a mistake. I mean, the team that makes the first mistake could drop out of contention, and that can include a holeshot loss, a foul start or something like that. Any one of them can win this and the Vegas race will be the turning point?.Allen Johnson is the defending event champ, Mike Edwards won it in 2011 and Jeg has won it twice. Did you know that among the contenders only Jason Line has never won this race? He has been to the final round three times but never closed the deal. With the way he has been running lately maybe this week will be his time. Of course he will do it with a back-up car after his testing crash last week.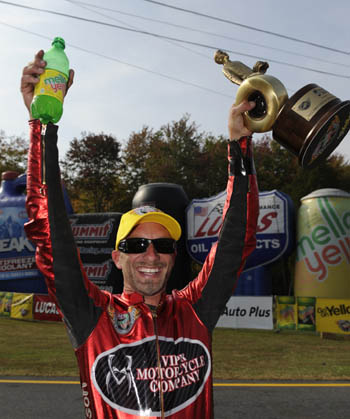 Matt Smith celebrates Reading win.
Photo copyright 2013 NHRA
Matt Smith may not have typed out his acceptance speech yet but he probably has a rough copy ready. That's because Matt is 125 points ahead of Hector Arana Jr. and that's more than six rounds. Matt would almost have to not qualify this week for Jr. to have a shot at catching him, and if you're waiting for that to happen don't hold your breath. Did you know that the last time Matt didn't make the starting lineup was in Gainesville in 2004 and that's 152 races ago? But, as we all know, anything can happen. A little rain, a shortened qualifying schedule and things like that can throw everyone off their game plan. Still, I like Matt's chances right now and he is the guy to beat. I know, I'm going way out on the limb with that one, aren't I?...Hector Jr. has a very good bike and he could get that deficit below six rounds with a good qualifying effort, and in reality that might be his only chance to catch Matt. Did you know that Hector earned ten bonus points at the Maple Grove race while Matt picked up just two points? That's the kind of qualifying effort Jr. needs this week and he is capable of doing it?.Of course Jr. also has to eliminate those mistakes that I mentioned earlier. Did you know that between holeshots (1) and foul starts (5) Hector has lost six rounds on the starting line this year? And when you figure that he is six rounds behind Matt, well, you do the math?..The bike class is one of the categories that is over their quota for the weekend and that is good for the class. Sure there are several riders who will only make one or two races this year but generally the class appears to be strong. Chaz Kennedy, the latest prot?g? for the Star Racing team will make his second appearance after making his debut in Reading. Did you know that when he made the starting field Chaz became the 187th different rider to make a starting lineup in the bike class?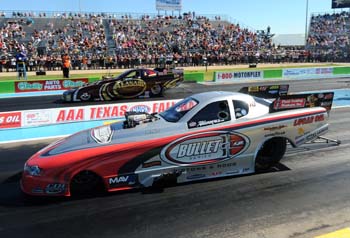 Shane Westerfield defeated Frank Manzo
in Dallas final.
Photo copyright 2013 Auto Imagery, Inc.
As I mentioned at the beginning of this column the fields are huge this weekend and one of the most exciting may be the Top Alcohol Funny Car field. There are twenty-four cars entered including Frank Manzo, Tony Bartone, Jay Payne, Doug Gordon and Steve Gasparrelli. I mention those because they are among the most well known names in the history of the class but they will get a real test this week from the "next generation" of stars including Shane Westerfield, John Lombardo, Annie Whiteley and others. Now please don't write if I left off the name of your favorite driver, I just wanted to name a few to show you how good the class will be this week. It's one of the times that I will really miss being at the races?..Dan Mercier is on the alky dragster entry list and that's a surprise. The Division 1 standout doesn't usually travel this far, in fact I think the Chicago event is the farthest west that he has ever run at a national event. Should be fun and I wish Dan and all the racers good luck this week at one of the premier stops on the NHRA tour.
Here's a special tip of the cap to Adam Sorokin and his team for winning the California Hot Rod Reunion in the Top Fuel class. Adam is a second-generation driver, the son of Mike Sorokin of the famous "Surfers" Top Fuel team. Did you know that Mike won the Bakersfield "Smokers Meet" in 1966? He ran 7.74 - 196.06 to beat James Warren in the Warren & Coburn entry at the eighth running of the famous event. I'm sure Adam was a bit choked up just thinking of the history of racing in Bakersfield and the contributions his father made to the sport.