Sat, 19 Oct 2013, 10:36 AM



A Family That Races Together



By Bob Frey


Photo copyright 2013 Auto Imagery, Inc.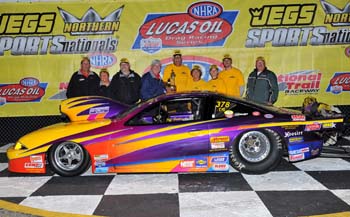 Jeff Sexton celebrates Sportsnationals win.
When Wally Parks founded the National Hot Rod Association he did so to give people a safe place to race, but little did he know at the time that it would also be giving families a place to race together. Over the years there have been many families who have participated in the sport, and as time goes by there are more and more who are learning that a family that races together stays together. On a personal note I know that in the last few years that I announced I was noticing more and more that there were familiar names coming up, names that I recognized from my early days in the sport. I realized that these were either old guys (like me) who were still racing or it was the emergence of not only a second but a third generation of racers. As it turned out it was both, that is, the people who were racing years ago were still racing today and now they were being joined by their sons and daughters. If there is one thing we know for sure it is the fact that the sport will continue to grow because families really enjoy it. They like the competition, the challenge and the camaraderie that they get from participating in this great sport. At the recent Sportsnationals in Columbus this phenomenon was seen again when father and son, Jeff and B.J. Sexton both made it to the final round. Jeff won the Top Sportsman class while his son, B.J. was runner-up in Top Dragster.
Jeff Sexton has been racing for a long time, and I don't say that to make him sound old, just experienced. "I started racing in 1976," he said. "A neighbor of mine was going to the races one day and I asked if I could tag along. Once I got to the track I was hooked. I loved everything about it." From his humble beginnings with a 1971 Camaro that he raced in the bracket classes, Jeff moved up the ladder to quicker and faster cars and he eventually landed in the Super Stock ranks where he had a great deal of success. "Like a lot of guys I went through several cars and classes until I finally settled in with one I liked."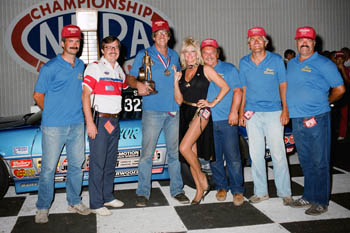 Sexton celebrates 1987 Indy win.
Among his early cars was a 1971 Camaro, a 1972 Vega, a 1981 Zeeker Camaro and a car that used to run in Pro Stock. "I bought an old Don Hardy Pro Stock car and started running that in the bracket classes. But after a while I saw that wasn't going to work, after all a full-bodied car in Super Comp isn't the best combination so I decided to make it a Super Stocker." And what a Super Stock car it was. Jeff put in a six-cylinder engine and the combination fit neatly into the SS/AX class. "We did well with that car," he said in a major understatement. He won the 1987 U.S. Nationals and the 2000 national event in Chicago along with several divisional races and set the record in the class. "My competitors used to say that they liked me but hated the car, after all, it was a Pro Stock car running in Super Stock."
After having a great deal of success in Super Stock Jeff decided to switch to the new Top Sportsman class a few years ago. "I don't know what it is but it seems like every ten years I get the urge to try something new," he said. "I liked the idea of going fast and this new class looked like a lot of fun." It was, but it was also a lot of work. "I found out in a hurry that everyone in this class has a car that can win and a driver that is very good." Jeff found out just how good they were when he came up on the short side of some very close races. "I would have a "20" light and run two over my dial and the other guy would have a "10" light and run one over. It was tough but I enjoyed the challenge."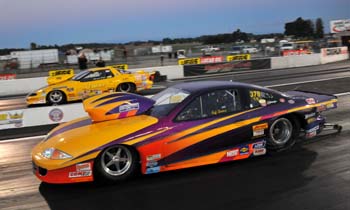 Sexton defeated Jerry Albert in the final.
While Jeff was honing his skills in his new class his son, B.J. (Brian Jeffrey) was also racing. "He started in Jr. Dragsters when he was eight years old and developed his skills in that class. He had a Super Gas car and then ran a Super Comp car, but for some strange reason he wanted to go faster." Gee, I wonder where he got that idea? Like his father, B.J. started out modestly but quickly stepped up in class. "He won a couple of point's races in Super Comp but that still wasn't fast enough so he moved to the Top Dragster class. He has an old car with a lot of old parts," Jeff said. "He is in college going for his master's degree so he doesn't have a lot of time or money, so my wife, Sharon, and I help out when we can. It's great to have him racing with us, I'll tell you that." When Jeff says that his son's car has some "old parts" he isn't kidding. "The intake manifold on the car is from a car that the late John Lingenfelter ran in 1981. Now that's old, but it works."
As the day wore on at the recent Sportsnationals in Columbus it got harder and harder for B.J. to help his father. "In the early rounds he was there for me, but as the day went on and he started going rounds all we really did was pass each other in the pits. I'd wish him good luck and he'd do the same to me." Ironically B.J. almost had all day to help his father. "B.J. and his wife, Lori, had just put a blower on the car and he was still getting used to it and he ended up being about the fourth or fifth alternate, but when some of the qualified cars didn't show for first round B.J. got in and he made the best of the situation." As both members of the Sexton family kept going rounds Jeff kept thinking about the one that got away. "I made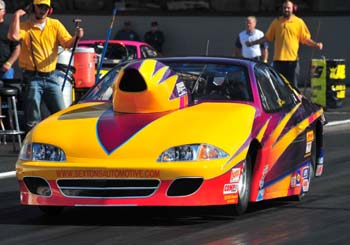 Jeff Sexton
it to the finals in Norwalk last year but fouled out in the final round. I was determined not to let that happen this time." He almost went too far with that mind-set. "I was green, really green," he said. "I was lucky that (final round opponent) Jerry (Albert) had more problems than I did, but I guess these things kind of even out over the course of your career." When he said that things "even out" Jeff might have been thinking about that 1997 final round in Topeka when he fouled out, or so he was told, after a malfunction on the starting line. "Yeah, I'll always remember that but this makes everything ok." So does the fact that his son was there to see him win while he almost won himself. "When I won Indy in '87 he was three years old and when I won Chicago he wasn't there, so this was about as good as it gets."
With another national event win in his pocket, a son who is racing with him and doing well on and off the track, and an automotive repair shop that is flourishing things seem pretty good in the Sexton household. "I'll go into the winter with the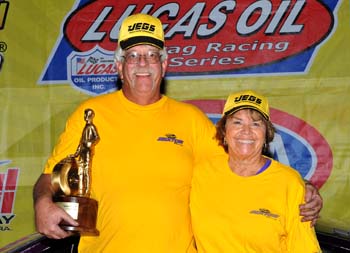 Jeff and Sharon Sexton
thrill of winning that race still fresh on my mind so things couldn't be better." And the fact that he gets to race with his son, and almost shared the winner's circle with him, just proves that drag racing continues to be a big part of the Sexton's family life and it will be in the future, just it like will be in a lot of homes across the country.
"I want to thank my wife, Sharon, who is my crew chief and best friend. I also want to thank Performance Clinic for their help with the engines and Rick Levally for his friendship and fabrication skills and Ronnie Smith for all of his help."