Thu, 17 Oct 2013, 14:09 PM



Wow, A Week Off And a News Flash



By Bob Frey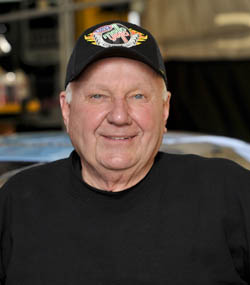 Warren Johnson
Photo copyright 2013 NHRA
Flash!!
The voting is done and the new members of the International Drag Racing Hall of Fame have been notified so I can now tell you who they are. The class of 2014 will include Top Fuel star and Indy champ Johnny Abbott, driver and race car fabricator Al

Bergler

, two-time Funny Car champion Frank Hawley, one of the true pioneers in the sport Tom Hoover, the "Professor" of Pro Stock Warren Johnson and drag racing's biggest supporter in recent years Forrest Lucas. We'll have more on all of them later and watch for an official announcement coming soon.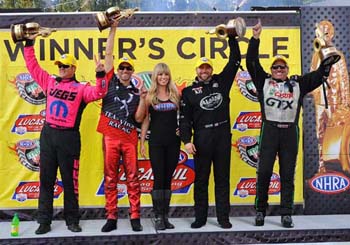 Reading winners:
Coughlin, Smith, Langdon and Force
After four races in four weeks the NHRA Mello Yello Series is off for a week, two actually, before returning to action in Las Vegas. That will be, to coin a phrase, the penultimate race on the 2013 NHRA tour and it will certainly go a long way toward deciding the season's champions. Right now Shawn Langdon, John Force, Jeg Coughlin and Matt Smith are the point's leaders and they are in the driver's seat, literally and figuratively, as the tour heads into its final two races. Since three of them have won championships before it looks like the real pressure may be on Shawn who has never been a Mello Yello champ. Of course he did win the Super Comp title in 2008 and he shared the big stage with Jeg who won the Pro Stock crown that year, so it looks like he knows how to handle the rigors of a stretch drive. I hope so because he will need it in the weeks ahead.
With the national event tour taking a break there will be a lot of focus on Bakersfield and the California Hot Rod Reunion this week. That event, now twenty-two years old, will honor several of the greats in the automobile world and this year's honorees cover a wide range of involvement in the sport. For the first time in several years I won't be there and I sure will miss it. I have often said that if you can only attend one event during the year it would be the Friday night gathering at the California Hot Rod Reunion. Yes, it's that nice! It is like a "Who's Who" of drag racing and is truly one of the great gatherings of the season. Of course the Cacklefest on Saturday night is special, too, and I will miss being a part of that this year. I would like to acknowledge those who will be honored this week and I think you will agree that it is a very worthy group.
Butch Leal, the "California Flash," will be the Grand Marshall and that is quite an honor. Butch drove a wide variety of cars during his career and was successful with all of them. He was so talented with the four-speed transmission that he was picked to drive a Ford Thunderbolt for Mickey Thompson and he promptly won the SS/S class at the U.S. Nationals. After that he drove one of the earliest altered-wheelbase Plymouth Funny Cars and he was just as good at that as he was with the Ford. Did you know that his fuel-injected Barracuda was one of the few unblown cars that actually ran in the seven-second range? When Pro Stock came about in 1970 Butch returned to his first love, full-bodied, stock appearing cars and he continued to rack



Tommy Allen with crew
Photo by tim Marshall

up wins. With the famous Nationwise Rod Shop team of Gil Kirk he won seven races and finished as high as second in the points. Did you know that overall Butch appeared in thirty-one NHRA national event final rounds? He made a total of twenty-five of those finals in Pro Stock and did you know that ranks seventeenth on the all-time Pro Stock list? After retiring from the sport Butch dabbled in everything from underwater exploration to golf, and not surprisingly he did well at all of those endeavors, too.

Tommy "The Watchdog" Allen was one of the great pioneers in the early days of the dragster classes. From his formative years with a record setting D/G car to his years with Larry Huff and their series of dragsters, Tommy was as good as they came in the sport. The team had great success at tracks in and around their home base and did you know that they hit the pinnacle of the sport when they became the first team to set the national speed record above 210 miles per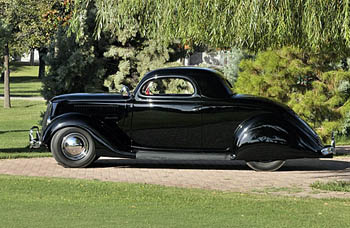 John Carlori

hour. They did that at Carlsbad Raceway in April of 1966 when they peaked at 212.76 mph. Several years later, while driving for Byron Blair, Tommy won the AHRA World Finals when he beat Preston Davis in the final round at Bee Line Dragway. Tommy retired from driving in the early 1970's but returned with one of his old partners, Larry Huff, on the "Pure Hell" Fuel altered team, and most recently he restored the Soapy Sales dragster and you can see that at most of the West Coast Cacklefest events.

Roy Brizio may not be a household name at the drag strips but the Brizio name is certainly revered in the hot rod industry. Roy, who will be honored this week, is the son of a former CHRR honoree, Andy Brizio, and he has carried on his father's legacy of building unbelievable cars. Did you know that Roy's cars have claimed the title of "America's Most Beautiful Roadster" on two occasions? He also built a car for Jack Calori that won the custom class at the historic Pebble Beach Concours d'Elegance. I had the pleasure of visiting Roy's shop last year and it truly was a day that I will never forget. Not only were the cars fantastic but Roy's hospitality was unbelievable and he showed me some of the legendary cars that were housed at the San Francisco location. Among them was the famous George Barris creation, the "Ala Kart" show rod, along with many others. His unique talent has earned him a spot as an honoree at this year's Hot Rod Reunion. By the way, I want to thank Roy for the gift of a really cool jacket that he gave me after my visit. It has a special place of honor in my collection.

A name that is very familiar to drag racers as well as car enthusiasts around the country is Jim DeFrank. Not only does he own a fleet of very quick and fast Super Stock cars he is also the owner of the famous California Car Cover Company, a company that makes products to keep your race car, street car or show car looking great. And on the track his son, Jimmy, has proven to be as successful with his racing as Jim is with his business. With four NHRA World Championships to his credit the young DeFrank is counted among the best racers in the sport. His brother, Tony, isn't too bad either, although these days he spends most of his time at the family's business. The elder DeFrank has owned a variety of street rods as well as race cars and he is as much at home at a car show as he is a drag strip. The DeFrank name has been synonymous with great race cars and wonderful car care products for years, and it's the addition of men like Jim to the CHRR honoree list that makes this event so special. He is a special man who makes everyone around feel like they have been his friend for years, and I know because he made me feel that way.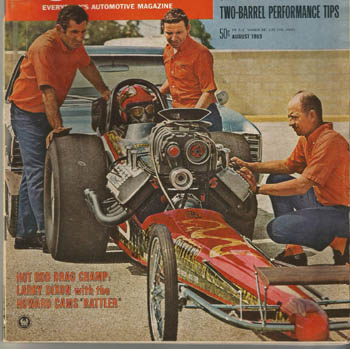 Larry Dixon sr. on
the cover of Hot rod magazine.
Larry Dixon Sr. is also among the honorees and it is a tribute that is richly deserved. A familiar figure around the San Fernando Valley in the early 1960's, Larry's career started with a 1955 Chevrolet and culminated with a win at the Winternationals in 1970. Among the other highlights of his career was a win at the Hot Rod Magazine Championship race in 1969 and a win at the prestigious PDA meet at Orange Country International Raceway. Did you know that when you won the Hot Rod Magazine race, a very special event at the time, you earned a spot on the cover of Hot Rod Magazine? Larry beat Steve Carbone in one of the classic final rounds of all time, and if you get a chance this weekend ask him about it because I know he will love telling the story. When most of the Top Fuel cars of the day were powered by the classic Chrysler Hemi engine Larry drove a Chevy-powered dragster that ran in the five-second zone and put Larry into the Cragar 5-Second Club. Larry retired from driving in 1979 and spends a lot of his time today driving restored versions of his old cars as well as watching his son, Larry, race and win..As a side note the first year that I went to Indy Larry was there driving the spectacular Smirnoff Special, one of the most beautiful dragsters ever built.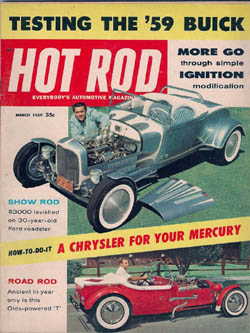 John Rasmussen's car on the
cover of Hot Rod, March, 1959.
The final name on the list for this weekend is John Rasmussen, another Southern California racer who grew up in the hotbed of drag racing and who spent a lot of time with some of the future greats of the sport like John Peters and Gene Adams. Peters, whose "Freight Train" dragster was legendary in the 1960's, tabbed John as one of the drivers for the famous car. And Gene Adams, a wizard in the tuning department, added John to his team and they competed in both the fuel and the gas classes. In addition to driving John also loved street rods and his car was so nice that it was on the cover of Hot Rod Magazine in 1959, and he didn't even have to win a race to get on the cover!
The California Hot Rod Reunion has become one of the "must see" events for drag racing fans and it attracts a wide variety of participants, spectators and vendors and I can highly recommend it to you. Congratulations to the honorees and to everyone who has made this such a special event on the drag racing calendar.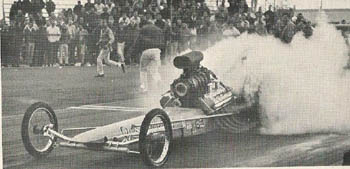 Bill Alexander in the
Hippo-Brissette-Alexander dragster.
Since the CHRR is a place to honor some of the real legends in the sport I would like to mention two who passed away recently. John Menzler, who was involved in many aspects of the sport and who was a friend to racers coast to coast, passed away after a long battle with cancer. As far back as the mid 1970's John was working with Centerline Wheels and helping racers perform better on the track. From Dart Engines to Comp Cams John traveled across the country where, according to his friend Jim White, "he made friends everywhere he went." He was voted SEMA "Man of the Year" two years ago and he worked tirelessly to make life better for car enthusiasts of all kinds. When he was presented with his award it was said that "John cares about the industry and channeled that into action and he made a difference everywhere he went." Those who knew him know how true that is. John was 67 and he will be missed by everyone in the automotive industry, both on and off the track..We also lost "Wild Bill" Alexander earlier this month. Bill drove the famous Ernie's Camera dragster, a short-wheelbase car that was as good as any in the sport at the time. He was also one of the drivers of the "Freight Train" gas dragster, and with Jim Brissette they entered the record books in 1964 when they broke the 200 mile per hour barrier at San Fernando and they followed that with big speed runs at Pomona and Fontana. After a long absence from the sport Bill returned to the nostalgia circuit and he won the famed March Meet in 2000. "Wild Bill" was one of the best and he will be missed..One of the truly special and moving moments at the "Reunion" is when they acknowledge all of those who passed away during the past year and John and Bill will be part of that list this year.
Next week we'll concentrate on the final two races of the NHRA season, but for now try to make the reunion and have a great time.