Tue, 08 Oct 2013, 20:38 PM



Samsel, Noakes Win First NHRA Titles at Maple Grove



By Todd Veney/Pro Sportsman Association


Photo copyright 2013 David Smith Photos





MOHNTON, Pa. --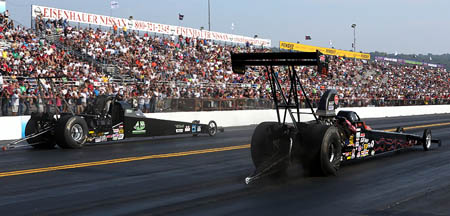 Samsel defeated Booher
At the Auto-Plus NHRA Nationals at Maple Grove Raceway, veteran Robin Samsel won his first NHRA title of any kind in Top Alcohol Dragster and Canadian Paul Noakes did likewise in Top Alcohol Funny Car.
Samsel, a soft-spoken 64-year-old great-grandfather from Marion, Ind., who has been racing Top Alcohol Dragsters since 1996, had two previous final-round appearances, both runner-ups in regional/divisional competition, including one earlier this year. In his first national event final, Samsel produced one of the best reaction times of his career, a .020, to get the drop on Brandon Booher, who is known for his lights but had just a .083 that time. Any other light Booher had all weekend - or any other run with that .083 reaction time - would have been enough to win, but he slowed from his earlier 5.30s to a 5.51 and fell short of Samsel's 5.56 by seven-thousandths of a second as both drivers made by far their slowest runs of eliminations.
Booher qualified No. 1 with a 5.30 that held up all weekend for low e.t. With a 5.37, Samsel wasn't far behind and qualified a career-high third behind Booher's 5.30 and defending event champ Bill Reichert's 5.31.
Heading into the final, Booher, who ran nothing but 5.30s and had a worst reaction time of .059, clearly had the upper hand. Booher, who won his first national event title in Charlotte and is third in the national standings, erased 2011 world champ Duane Shields, Canadian Jeff Veale (who set top speed with an outstanding 274.11-mph charge), and 2013 East Region champion Dan Page with times of 5.33, 5.30, and 5.36.
Samsel was just as consistent but about a tenth back with 5.47, 5.44, and 5.49 wins over Doug Foley, Richard Bourke, and friend Rich McPhillips, respectively. Bourke's full-tenth holeshot in round two made Samsel's margin of victory just two-thousandths of a second.
"This is unbelievable," Samsel said after winning the final in a race nearly as tight as the second-round match with Bourke. "I owe it to my kid [Tony]. He's always there and he's the one who makes it all happen."
Ferro vs. Noakes
In Top Alcohol Funny Car, Noakes also earned his first NHRA win, also on a final-round holeshot, with a close 5.61 to 5.59 win over Mickey Ferro, who had taken out Frank Manzo in the semifinals. Ferro had a decent .076 reaction time, but Noakes had him all the way with a .035.
"I actually saw a lot of yellow that time," Noakes said. "I didn't think it was that good." It's his seventh major win, including six IHRA titles in 10 career final-round appearances, highlighted by a 2007 win in Grand Bend, Ont. "That probably meant a little more to me because my whole family and everybody's family there," he said, "but this is big."
With a 5.62 in the final qualifying session, Noakes qualified No. 2 behind Manzo, who had won 12 of the past 13 national events at Maple Grove and who paced the field by nearly a tenth with a 5.53. Noakes, who came within a few thousandths of beating Manzo in the final here last year, put away John Fiorini, who was making his first appearance all year, in with a 5.72 in round one. His Les Mellows-tuned Meritor/Euclid Mustang was the picture of consistency on Sunday with times of 5.62, 5.60, and 5.61 against Fred Tigges in round two, Todd Veney in the semi's, and Ferro in the final.
Ferro, who was runner-up to Manzo in Charlotte in his only other start since May, picked up from 5.60s on Friday and Saturday to three consecutive .50s on Sunday. A 5.57 took out 2013 East Region champion John Anderika in round two, a 5.58 upset nemesis Manzo in the semi's, and a 5.59 left him 28-thousandths of a second short of Noakes in the final.
"A .076 light?" Ferro said. "That sucks. You need to be in the .030s or .040s in the final. I knew I had to cut a light that time, and that's what I was thinking about going up there. You shouldn't be thinking about anything. I never saw him, but I had a feeling I lost on a holeshot. I never saw my win-light on, but when I went around the corner, they waved me over to the side where the winners go to be interviewed, and I thought, 'Thank God.' Then they pointed me back over to the other side and it was just a kick in the gut."