Tue, 08 Oct 2013, 19:54 PM



I Told You So



By Bob Frey


Photo copyright 2013 Auto Imagery, Inc.





For years I have said that if the folks at
Maple Grove Raceway
had three days of good weather that they would have a great race. By "great race" I mean good runs on the track and huge crowds in the stands to watch it all and that's exactly what happened this past weekend. I stopped by the track on Friday and was pleasantly surprised at the size of the crowd that was already there. By the time the
Mello Yello Series
cars hit the track it was just about standing room only, and by the time the weekend was over they must have had
the
best crowd in years at the venerable
Pennsylvania
track. Over the years very few races have been plagued by bad weather more than the
Maple Grove
event and that's why it's good to see them get three beautiful days of weather. The racing was great, the drama in the "Countdown" was unbelievable and the fans showed up in droves to enjoy it. As the expression goes it sounds like a "win-win" situation for everyone. I know I enjoyed my time there and I'm sure the fans did, too.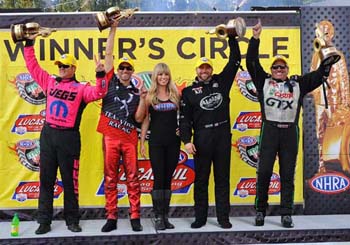 Coughlin, Smith, Langdon and Force
While none of the championships were clinched in Reading the event winners all left town with the point's lead and now it's up to the competition to try to rebound and respond next week in Las Vegas. Shawn Langdon has an 83 point lead over Doug Kalitta, John Force is 65 points up on Matt Hagan, Jeg Coughlin leads Mike Edwards by 45 and Matt Smith has the biggest lead with his 125 point advantage over Hector Arana Jr. With twenty points per round available and eight rounds of racing to go the Las Vegas event takes on huge significance for everyone especially the challengers...I have said all year that the competition in the fuel classes is as close and intense as ever and that was readily evident at Maple Grove. Did you know that five different Top Fuel drivers had their names listed on the re-cap page on Sunday? That means that one driver was the top qualifier, another set low elapsed time, still another recorded top speed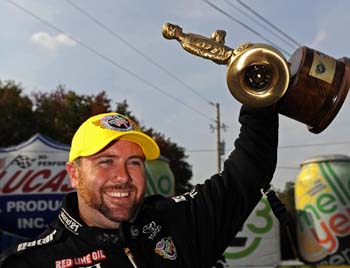 Shawn Langdon celebrates
his sixth win this season.
while two more were in the final round.
Did you know
that has only happened two other times in the last five years? Normally the number one qualifier ends up with the low elapsed time, but not this time.
Morgan Lucas
paced the field with his 3.772 while
Tony Schumacher
recorded low elapsed time with his 3.767 in round one. And, for the record, Doug Kalitta had the fastest car on the property with his 326.63 mph blast that also came in the first round. But in the end it was Shawn and
Antron Brown
in the money round and the
Al Anabi
team did what they have done six times this year and that is they won the race..While Doug Kalitta is in second place
Spencer Massey
is still in the mix since he is just three points behind Doug and that should make for a couple of great races in Las Vegas and Pomona...As I mentioned Morgan Lucas paced the field in qualifying but he failed to get out of the first round.
Did you know
that's five times this year that the number one Top Fuel qualifier failed to win a round on Sunday? And as bad as that sounds
did you know
that it's not even close to the record? In 2007 the number one qualifier lost at almost half of the races in the season. There were twenty-three races that year and the top qualifier lost an unbelievable eleven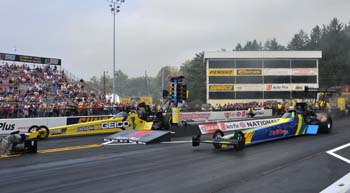 Sidnei Frigo defeated Morgan Lucas
times. Still, you don't expect the sixteenth driver to win as much as he has this year and "Rookie of the Year" nominee
Sidnei Frigo
was the latest one to do it..For the record the number one qualifier has only won twice this year and Morgan and Shawn are the ones who have done it, and not surprisingly that's the fewest wins for the top qualifier since that wacky 2007 season...With so many quality teams the next two races should be a lot of fun, that is unless Shawn and his team put it out of reach next week in Las Vegas. Hey, it could happen..A couple of notes from the race. Tony Schumacher went to the quarter-finals and that gave him 965 rounds for his career.
Did you know
that ties him with
Larry Dixon
for fourth place on the all-time list? And Doug Kalitta's three rounds gave him 798 for his career and that's fourteenth most in the pro classes.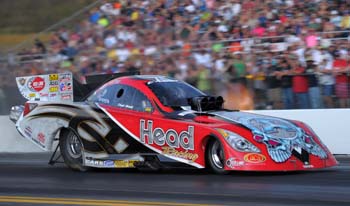 Chad Head
There is an old adage in the boxing world that says when you have the champ on the ropes you better knock him out, because if you just knock him down he will get back up and take you out. That is exactly the scenario that exists with John Force right now. John, who was in tenth place after the Englishtown race, is now the point's leader and he is the hottest driver in the class. John beat "Rookie of the Year" nominee, Chad Head, in the final round to pick up his 137th national event win, his third of the year and his second straight and he moved into first place for the first time this year. Did you know that John has now won twelve rounds in the first four races of the "Countdown" and he had only won twenty-two rounds in the previous eighteen races before the playoffs began? He made some crew changes a few races ago and it sure has worked out well for him, hasn't it? With his win coming on the heels of the St. Louis win John has now won back-to-back races twenty-eight times in his amazing career..When Chad Head made the final round he may have picked up some votes in the rookie category and what he definitely did was join a group of fourteen racers who have faced John in the final round and never beat him. Did you know that among them are Gordie Bonin, Kenji Okazaki and Scotty Cannon..It's hard to believe but the race for the Funny Car championship now appears to be a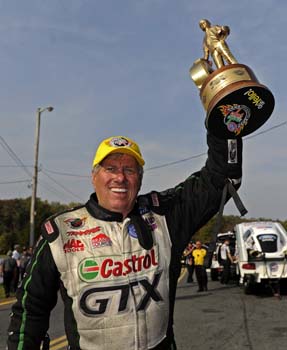 John Force celebrates
his 137th career win.
two-team affair between John and Matt Hagan. I say that because
Jack Beckman
, who is in third place, is 126 points behind John and it's virtually impossible to make that deficit up in two races especially when you would have to pass two drivers to get back to the top spot...While there were five drivers on the re-cap sheet in Top Fuel there were just two in Funny Car, John and Chad. That's because John did something that even he doesn't do very often and that is sweep the race. That means that he was the top qualifier, set low elapsed time, top speed and won the race.
Did you know
that in the course of his 137 wins this is just the 29
th
time that John has swept the event? And it's the first time he did it since the final race of the 2002 season. It was also the first time he won from the top spot since the last race of the 2004 season and that's a span of nineteen races for John. And
did you know
that in the last twenty-two years John is just the third Funny Car driver to win at
Maple Grove
from the number one spot? It happened in 1994 and again in 2001 and, believe it or not in both cases the winner was, you guessed it, John Force, and both of those races were "sweeps" for John.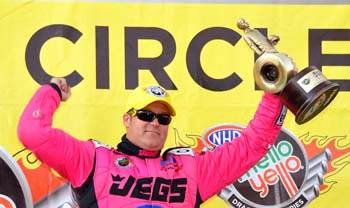 Jeg Coughlin celebrates
his fourth win this season.
Jeg Coughlin, who has never been lower than fourth in the points this year, is now in first place. The four-time Pro Stock champ has a good car, a good team and as always he is driving well and that's a tough combination to beat. His win over Allen Johnson in the final round was the 56th of his career and the fourth of the year and it vaulted him into the lead for the first time this year..Since I mentioned his driving I should point out that Jeg won the final round on a holeshot and that came after he beat Jason Line on a holeshot in the semi-finals. Did you know that gives Jeg ninety-one holeshot wins for his career and eleven of them have come in the final round including two in the "Countdown" this year? When you drive like that and have a car as good as his it is a tough combination to beat.. Mike Edwards is forty-five points, or a little more than two rounds, behind Jeg and he could cut that deficit to fewer than two rounds with a good qualifying effort in Las Vegas. In Reading Jason Line picked up nine bonus points in qualifying, Mike had six and Jeg had two, so the four qualifying rounds in Las Vegas and Pomona could be very important..Allen Johnson is in fourth place and he is seventy-three points out of the lead so he has his work cut out for him at the final two races in the "Countdown.".In addition to winning the race and taking over first place, as if that weren't enough, did you know that Jeg's four round wins gave him 530 for his career and that moved him past Joe Amato and into ninth place on the all-time win list? And since I always like to put those numbers in perspective did you know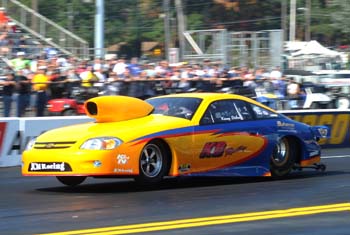 Kenny Delco
that Jeg won his rounds in 328 races and Joe did his in 325 events?...
Kenny Delco
made a rare appearance at the event and that was just his eighth since the turn of the century and it was his fourth this year.
Did you know
that Kenny was part of the first-ever national event at
Maple Grove
? In 1985 he was competing in Pro Stock and tried to make the starting field at the "Grove" but just missed the cut. Among others who failed to make the 1985 show were
Don Beverley
and
George Weiler
who were both in attendance at the race this past weekend. You just can't keep those old drag racers away, can you?
Matt Smith may have had the best weekend of anyone in Reading. He won the race, his third of the year and second in as many weeks. With the win Matt moved into a commanding lead in the points and it will take a superior effort by Hector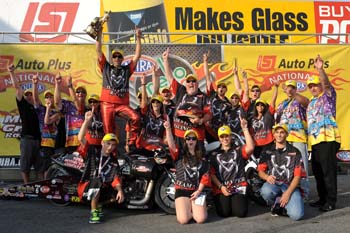 Matt Smith and team celebrate win.
Arana Jr.,
Michael Ray
or
Hector Arana Sr.
if they want to stop Matt from becoming a two-time series champion. Matt's win was his second in the "Countdown" and it marked the first time since the 2008 season that he won at back-to-back events. Hey, if you have to get hot the third and fourth races in the "Countdown" are an excellent place to start, don't you think
?....
Even though they didn't win the Arana's sure had some good bikes in
Reading
. Now if they could just eliminate those starting line mistakes maybe they could make a late run at the championship, although time is running out.
Did you know
that all three of the family members fouled out this week? Adam did it in round one against
Eddie Krawiec

,
Hector Sr. did it in round two against Eddie and Hector Jr. left too early in his second round race with
LE Tonglet
.
Did you know
that the Arana's have a combined twelve red light starts this year? That's a bunch...You know what else was a bunch? How about the number of races decided on the starting line at
Maple Grove
?
Did you know
there were twenty-two races that had either a red light start or a holeshot at the race? That's twenty-two races decided before the cars went by the Christmas tree and that's a bunch. In fact,
did you know
that's the most of all time? At the
Gainesville
race in 2006 there were eleven holeshot wins and ten foul starts for a total of twenty-one, and as far as I could determine that was the record but it's not any more because now Reading holds the mark. It's not a great record but it is a record.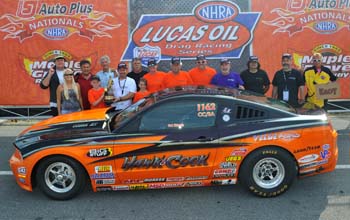 Sal Biondo celebrates win.
Sal Biondo was one of the winners in the Lucas Oil classes at Maple Grove, and since everyone likes to help me out (and I always appreciate the help) I want to thank Alan Reinhart for sending this little tidbit along. Did you know that makes a total of 100 final rounds for the Biondo family? Peter has 67, Sal now has 32 and Sam has one for a grand total of exactly100 finals. Congratulations to one of the best racing families around..A big tip of the hat to Robin Samsel and Paul Noakes for picking up their first national event wins. Robin beat Brandon Booher in the final round while Paul took care of Mickey Ferro and that came after Mickey beat Frank Manzo in the semi-finals. Not only was it Robin's first national event win it was also his first national event final round. Paul had been to one other final and, believe it or not, it came at the same Maple Grove track one year ago...Dan Fletcher made it win number eighty-six when he beat Tom Sheehan for the Super Stock crown and that moved Dan past Bob Glidden and into fourth place on the all-time NHRA win list for all classes..Russell Joly (Comp), Patrick Myers (Super Comp) and Charlie Kenopic (Super Gas) rounded out the sportsman winners at the "Grove." Like Robin and Paul this was the first national event win for both Patrick and Charlie so congrats to them as well.