Tue, 24 Sep 2013, 10:03 AM



SIX FIRST TIME WINNERS CROWNED AT JEGS SPORTSNATIONALS



Courtesy of NHRA Field Marketing



HEBRON, Ohio --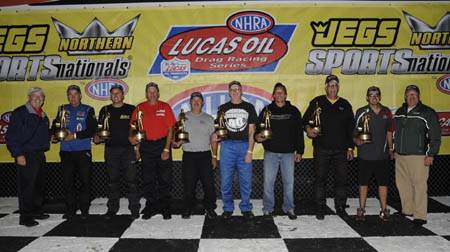 JEGS Northern SPORTSnationals Winners
Six drivers scored their first NHRA national event win today at the JEGS Northern SPORTSnationals NHRA Lucas Oil Drag Racing Series event at National Trail Raceway joined by David Billingsley and Jeff Sexton who notched their fifth and third respectively.
In a repeat performance from last year, Billingsley captured the Comp Eliminator title knocking out Chuck Haubiel with a pass of 8.707 seconds at 151.41 mph to the quicker Haubiel, Gahanna, Ohio, at 8.150, 162.84.
Fairborn, Ohio, racer Sexton took out Jerry Albert, Avon, Ohio, in the division's Brodix/Steve Schmidt Top Sportsman class running 7.016, 172.21. Sexton has two wins in Super Stock to go along with this, his first win in Top Sportsman. Albert was looking for his third win in a row here in Columbus having won this event last year and the Lucas Oil divisional earlier this year.
It was nearly a family affair for the Sextons as Jeff's son BJ advanced to the finals in the Spitzer Race Cars Top Dragster class before falling to Andy Johnson, Cynthiana, Ky. Johnson qualified third and marched through the field posting a final round time of 6.209 at 192.44 mph for his first win.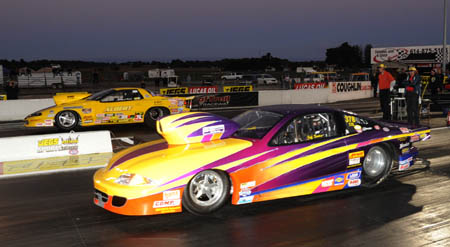 Jeff Sexton defeated Jerry Albert
in the Top Sportsman final.
Topping a 99-car Super Stock field was Stephan Belanger, Elizabeth, Ind. with a stellar .008 second reaction time combined with a 9.275 second pass at 140.40 mph to down Kenny Schindler, Hendersonville, Tenn.
Local runner Chuck Beach of Delaware, Ohio, won in Stock Eliminator in his '68 Barracuda defeating Leonard Mattingly while Leo Zynda took the trophy in Super Comp over Jack Sepanek. Beach held on with an 11.009 second lap to Mattingly's 10.225. Zynda had to run down Sepanek, who was coming off a big win last week at the NHRA national event in Charlotte, N.C., with an 8.925 second run.
Rusty Cook and Donnie Durenberger Jr. capped off the first time winners with Cook beating Ray Connolly in Super Gas and Durenberger ousting George Maxson in Super Street. Cook went 9.922 to run down Connolly while Durenberger got the hole shot on Maxson and held on in a double breakout.
Pat Donovan, 59 of Culpeper, Va., was involved in a single car accident in the shutdown area during the first round of Top Sportsman competition Sunday afternoon.
Donovan was conscious and alert when transported by air med to Grant Hospital in Columbus where he was later released. The following are the final results from the NHRA Lucas Oil Drag Racing Series JEGS Northern SPORTSnationals at National Trail Raceway:
COMP ELIMINATOR
David Billingsley, Decatur, Ill., '93 Cutlass, 8.707, 151.41 def. Chuck Haubiel, Gahanna, Ohio, '10 Cobalt, 8.150, 162.84
SUPER STOCK
Stephen Belanger, Elizabeth, Ind., '05 Cavalier, 9.275, 140.40 def. Kenny Schindler, Hendersonville, Tenn., '71 Corvette, 9.180, 144.53
STOCK ELIMINATOR
Chuck Beach, Delaware, Ohio, '68 Barracuda, 11.009, 109.97 def. Leonard Mattingly, Cox Creek, Ky., '00 Formula, 10.225, 129.05
SUPER COMP
Leo Zynda, Clinton Township, Mich., '97 dragster, 8.925, 172.23 def. Jack Sepanek, Moosic, Pa., '02 dragster, 8.955, 157.63
SUPER GAS
Rusty Cook, Cynthiana, Ky., '99 Corvette, 9.922, 169.93 def. Ray Connolly, Elyria, Ohio, '63 Corvette, 9.898, 152.16
SUPER STREET
Donnie Durenberger Jr. Starbuck, Minn., '68 Camaro, 10.891, 126.02 def. George Maxson, Beavercreek, Ohio, '68 Camaro, 10.883, 125.23
TOP DRAGSTER
Andy Johnson, Cynthiana, Ky., '13 dragster, 6.209, 192.44 def. BJ Sexton, Brookville, Ohio, 6.789, 201.82
TOP SPORTSMAN
Jeff Sexton, Fairborn, Ohio, '03 Cavalier, 7.016, 172.21 def. Jerry Albert, Avon, Ohio, '97 Camaro, 7.140, 193.27