Sun, 22 Sep 2013, 20:17 PM



Kalitta, C. Pedregon, Line and Krawiec Earn AAA Texas NHRA FallNationals Victories



Courtesy of NHRA Communications


Photo copyright 2013 Auto Imagery, Inc.





ENNIS, Texas --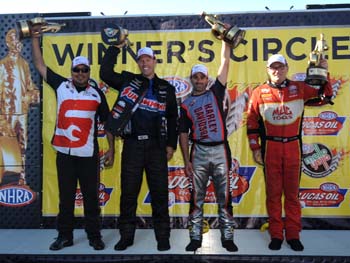 C. Pedregon, Line Krawiec and Kalitta
Doug Kalitta ended a 71-race winless drought by racing to the Top Fuel victory Sunday at the AAA Texas NHRA FallNationals at Texas Motorplex near Dallas.
Cruz Pedregon (Funny Car), Jason Line (Pro Stock) and Eddie Krawiec (Pro Stock Motorcycle) also were winners at the second of six events in the NHRA Mello Yello Drag Racing Series Countdown to the Championship playoffs.
Kalitta claimed his first victory of the season and first since 2010 in Top Fuel, and moved into a tie for the NHRA Mello Yello Series points lead with the driver he beat in the final round, Shawn Langdon. Kalitta powered his Mac Tools dragster to a run of 3.842 seconds at 320.42 mph to hold off Langdon's Al-Anabi Silver dragster, which finished in 3.896 at 291.32.
"This is huge," Kalitta said. "It's a good day for us. I'm really proud of Jim [Oberhofer, crew chief], Troy [Fasching, assistant crew chief], and the whole Mac Tools team. We were qualifying good and going rounds. I was just trying to make sure I didn't screw it up. At the end of the day, we prevailed."
Kalitta outran two-time Dallas winner Larry Dixon, rookie Brittany Force and Texas favorite Spencer Massey, who entered the event as the points leader, to advance to the final round and score his second career victory at Texas Motorplex. Kalitta was impressed with his team's efforts, giving a special win to crew chief Oberhofer, who is a Texas native.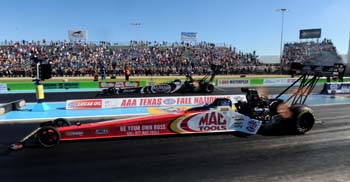 Kalitta defeated Langdon
"They say, 'To be the man, you've got to beat the man,' and that was the case in the semifinals versus Spencer," Kalitta said. "Hopefully this is a good precursor for the rest of the Countdown."
Funny Car featured a final round battle between two veteran multiple world champions, as Pedregon prevailed in a thrilling duel with 15-time world champ John Force. Pedregon guided his Snap-on Tools Toyota Camry to his fourth win of the season and 34th of his career with an incredible performance of 4.106 at 312.06 to finish ahead of Force's Castrol GTX Ford Mustang, which ran 4.22 at 270.27.
"A couple months back, I thought about how cool it would be to sweep the Texas races," said Pedregon, who also won at Houston in April. "Lo and behold, here we are."
Pedregon, who picked up his fourth win at Texas Motorplex, outran Blake Alexander, Bob Tasca III and defending world champion Jack Beckman to advance to the final round. With the victory, Pedregon moved to second in the Mello Yello Series points standings.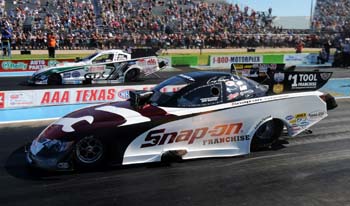 Pedregon defeated Force
"It was an uphill battle," Pedregon said. "I wasn't feeling like our motor was running right, but we made the right adjustments every round. It was a great way to put an exclamation point on this event. It's great for our team. We kind of hung around and built momentum as the race went on."
Two-time Mello Yello Pro Stock world champion Line earned his second victory of the season and first in the Countdown by outrunning Shane Gray in the final round. Line powered his Summit Racing Equipment Chevy Camaro to his second Texas Motorplex win with a performance of 6.590 at 211.16 to hold off Gray's Camaro. With the victory, the 31st of his career, Line claimed the Pro Stock points lead for the first time since 2011.
"I'm happy to get a cowboy hat," Line said, referencing the prize winners at Texas Motorplex receive. "The points lead is definitely a big deal. From where we were two months ago to leave here as the points leader is a small miracle for sure and a testament to all the Summit folk."
Line outran Texas native Rodger Brogdon, reigning world champ Allen Johnson and veteran V. Gaines in the first three rounds.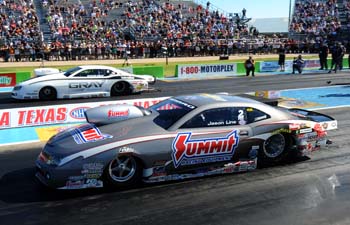 Line defeated Gray
"It was definitely a strange final but we won," Line said. "Timing is everything and this is a big win being that it's my 31st. You have to be willing to go backwards sometime in order to go forward. We have a great car and we're going the right way."
In Pro Stock Motorcycle, reigning world champion Krawiec claimed his first win of 2013 and first victory at Texas Motorplex, riding his Screamin' Eagle/Vance & Hines Harley-Davidson to a holeshot victory of 6.951 at 191.87 in the final round to hold off Matt Smith's Viper Motorcycle Company Buell.
"A lot of luck went my way this weekend," Krawiec said. "I'm just happy to be here. This is a huge win for the Harley-Davidson team. It's easy to show up to a race but it's hard to be competitive. There's a lot of great motorcycles and racers."
Krawiec beat teammate Andrew Hines, Texas fan-favorite Michael Ray and H. Arana Sr. to advance to the final round.
"This weekend, I was riding great but I wasn't racing great," said Krawiec of his first victory at Texas Motorplex. "If we can continue and improve, I think you're going to see our Harley's sitting up front."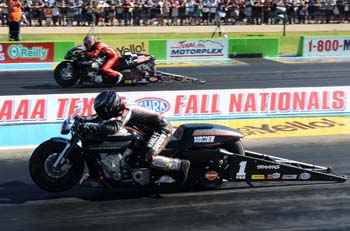 Krawiec defeated Smith
The NHRA Mello Yello Countdown to the Championship playoffs continues with the AAA Insurance NHRA Midwest Nationals, Sept. 27-29 at Gateway Motorsports Park near St. Louis.
Sunday's final results from the 28th annual AAA Texas NHRA Fall Nationals at Texas Motorplex. The race is the 20th of 24 in the NHRA Mello Yello Drag Racing Series-
Top Fuel -- Doug Kalitta, 3.842 seconds, 320.43 mph def. Shawn Langdon, 3.896 seconds, 291.32 mph.
Funny Car -- Cruz Pedregon, Toyota Camry, 4.106, 312.06 def. John Force, Ford Mustang, 4.220, 270.27.
Pro Stock -- Jason Line, Chevy Camaro, 6.590, 211.16 def. Shane Gray, Camaro, 6.595, 210.44.
Pro Stock Motorcycle -- Eddie Krawiec, Harley-Davidson, 6.951, 191.87 def. Matt Smith, Buell, 6.913, 194.55.
Top Alcohol Dragster -- Jim Whiteley, 5.322, 270.10 def. Bill Reichert, 5.327, 262.23.
Top Alcohol Funny Car -- Shane Westerfield, Chevy Monte Carlo, 5.555, 259.66 def. Frank Manzo, Monte Carlo, 5.583, 263.92.
Competition Eliminator -- Donald Thomas, Dragster, 7.451, 147.31 def. Rick Hord, GXP, foul.
Super Stock -- Anthony Bertozzi, Pontiac Grand Am, 9.101, 149.03 def. Kevin Helms, Dodge Challenger, 9.315, 140.25.
Stock Eliminator -- Jerry Emmons, Chevy Camaro, 10.131, 127.90 def. David Latino, Pontiac Firebird, 10.139, 123.71.
Super Comp -- Scooter Choate, Dragster, 8.938, 171.18 def. Gary Stinnett, Dragster, foul.
Super Gas -- Jimmy Lewis, Chevy Corvette, 9.884, 155.78 def. Luke Bogacki, Corvette, 9.863, 163.41.
Top Dragster -- Lee Lightfoot, Dragster, 6.348, 219.40 def. James Ogden, Dragster, 6.529, 194.46.