Mon, 09 Sep 2013, 15:34 PM



The Clash of the Titans, Outlaw Street Car Nationals @ San Antonio Raceway



Courtesy of J.M. Hallas



MARION, texas --
The racing action on track was as hot as the weather as San Antonio Raceway concluded their two-day Clash of the Titans show. With temperatures again climbing to the century mark, the track reached over 140 during the heat of day. By the time the time the first round of Pro Eliminations began, the track was still holding around 125.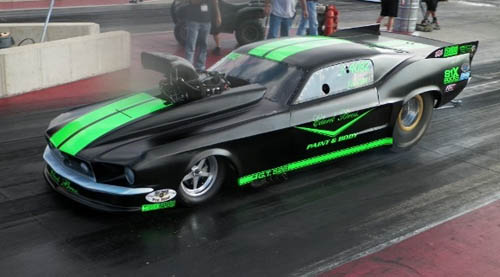 Eric Clarks Pro Mod on a burnout
A couple oil downs slowed qualifying and time trials, but despite the heat tracks crews had things back to racing conditions for Pro Eliminations. In Pro Mod qualifying two drivers made sub four-second passes, with Steve Wiley backing up his 3.91 pass in the first two rounds of eliminations.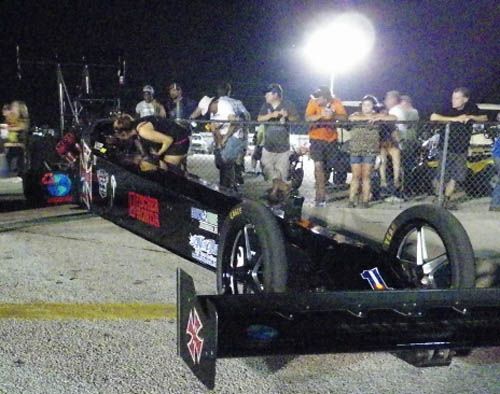 Top Fuel driver Scott Palmer readies for his run
The Top Fuel Dragsters of Todd Simpson and Scott Palmer made two sets of exhibition passes along with the Tulsa County Heat Wave Jet Funny Car of Sam Ives.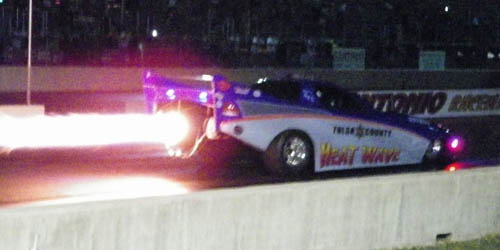 Sam Ives, Tulsa County Heat Wave Jet Funny Car fires off the line
In the first Top Fuel race both cars shut off early with Simpson clicking off before halfway and Palmer aborting his pass just past half-track. On the second pass Palmer ran it nearly all the way through going five flat at 272mph. Simpson got out the groove at mid track then went silent coasting through at 5.89.
Sam Ives, Tulsa County Heat Wave made two clean passes in his jet-powered Funny Car with both runs around the 200mph mark.
Clark Claims Pro Mod Win
Arlington's Eric Clark, in the Clark Paint & Body, Mustang got a bye in the finals when Dennis Sugrue had problems in the semi's and was unable to get it repaired for the finals. With good track conditions and air, plus no competitor in the other lane, Clark was looking too see what the track would hold. Unfortunately timing line issues left his pass with no numbers of record, but it looked and sounded like a great pass.
Eric Clark defeats Dennis Sugrue(DNR)
Clark beat Doug Riesterer in round 1, and then got a hole shot win over Wiley in round 2 with both cars running side by side in the 3.90's
Outlaw 10.5
Smiley Cordero(San Antonio) got the win even before staging when Rowlett's Kevin Hargett failed to get his KBR Racing Mustang to fire. Cordero, in his Certified Transmission, 67 Chevy, made an easy 1/8 mile pass to take home the trophy.
Smiley Cordero, 5.094 @ 149.11 defeats Kevin Hargett, no time(broke)
True 10.5
A pair of Mustangs squared off in the True 10.5 finals with PJ Cohn taking the 1/8 mile winner over Thomas Davis. Cohn caught Davis napping at the light and was way out front when Davis shut off early.
PJ Cohn, 5.462 @ 112.90 defeats Thomas Davis, 9.938 @ 73.77
Little Pooch
Running in multiple classes, Jody Keys in his Ace Transmission, Mustang got the win at the hit of the throttle when Perry Taylor's Nova went red. Keys saved his equipment and made an easy pass through the light.
Jody Keys defeated Perry Taylor(red)
10.00 index
Ben White, in his Camaro SS, was the ten second index winner hole shotting D. Etheridge in a race decided by mere inches on the top end. White got a little in the bank on the start and needed it as Etheridge ran closer to the index number.
Ben White, 10.048 @ 118.81 defeats D. Etheridge, 10.011 @ 135.05
11.00 index
Selma's Alvin Baldwin, in the Davis Automotive Mustang, got the win before the 330' mark after Josh Gaspard saw the rear end break in his Dodge Challenger and come to a sudden stop on track. Fortunately he was not injured and no gear oil was put down on track.
Alvin Baldwin, 11.198 @ 119.11 defeats Josh Gaspard, no time(broke)
12.00 index
George Reyes(San Antonio) in his 79 Camaro got the best of Silvia Zemgals(San Antonio) in her 70 Challenger to take the victory in the 12 second index. In another side by side race to finish, Reyes had 6/100th on the reaction time and used to beat the quicker Zemgals on the top end.
George Reyes, 12.039 @ 112.25 defeats Silvia Zemgals, 12.034 @ 112.70
13.00 index
In the 13 second index class, Fred Valdez made the long tow from El Paso pay off as he got by R. Castillo III in the finals when Castillo broke out. Valdez was off the line first in his 2012 Mustang and while Castillo tried to him down he went too quick.
Fred Valdez, 13.173 @ 103.16 defeats R. Castillo III, 12.912 @ 101.63
Electronics(Box)
Aaron Cole said he'd be kicking himself all the way home after a break out to Scott Ball in the Electronics finals. As the two San Antonio regulars launched, Cole had .011 on Ball the former National Champ, and current track point's leader. Unfortunately on the big end Cole was .0072 under his dial, while Ball showed why he's a champion, nailing his dial in dead on.
Scott Ball, 7.649 @ 169.62 defeats Aaron Cole, 7.632 @ 169.30
No Box
Another pair of San Antonio Speedway drivers faced off in the No Box finals with former track manager, Todd Zampese in his dragster going against Ryan McDonnell in his '23 altered coupe. Zampese took the win in the double break out run being the least offender as both ran under their dial ins.
Todd Zampese, 8.709 @ 148.42 defeats Ryan McDonnell, 9.477 @ 130.93
Jr. Dragsters
In the finals of Jr. Dragster past champion Ashley Hubbell was pared off with rookie Matthew Keylich. Keylich gave the win away on the starting line as he went red, handing the victory to Hubbell. Hubbell defeated point's leader, Emily Ball in round 1, with Keylich getting a bye.
Ashley Hubbell, 9.019 @ 71.05 defeats Matthew Keylich, 8.955 @ 71.49