Mon, 09 Sep 2013, 15:22 PM



The Clash of the Titans, Outlaw Street Car Nationals @ San Antonio Raceway



Courtesy of J.M. Hallas



MARION, Texas --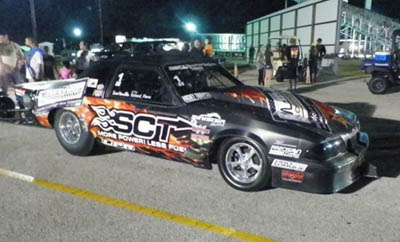 Mike Murillo's Mustang waiting in staging lanes
After a year hiatus, The Clash of the Titans returned to San Antonio Raceway for a big two-day show. Clash of the Titans features some of the baddest racecars on the planet in an all-out, heads up, run for the money on both the 1/8 and ? mile, drag strip just east of San Antonio.
Along with the Outlaw Pro Modifieds, Outlaw 10.5's, Top Sportsman the Top Fuel Dragster and Jet Funny Car are also there to put on exhibition runs. The series also comes in with a group of the fastest street cars around, True 10.5's, Cheap Street, Super Trucks, Little Pooch, plus an array of index and bracket racers also look to strut their stuff. Teams, crews and spectators had a variety of manufacturer and vendor exhibits plus a swap meet to choose from during the off time.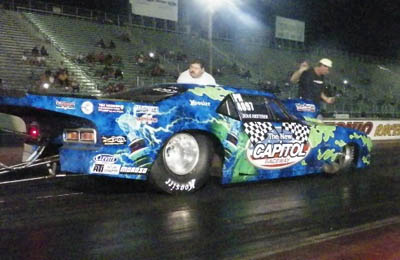 Doug Riesterer's 68 Camaro Pro Mod
One of the biggest names on the property was local ace, and a 14-time champion, Mike Murillo in his Outlaw, twin turbo-charged, Mustang. Out-of-towner, Doug "The Mad Scientist" Riesterer also looks to put his nitrous 68 Camaro in the Winners Circle.
Friday started with an early test-n-tune session during the heat of the day. With air temperatures hovering around the century mark, the track surface skyrocketed to 130, making for tricky conditions. By the time first rounds of qualifying began, the sun had set and conditions improved with the track cooling(relatively speaking) to 105.
Racing continues on Saturday with gates opening at 10:00am. Time trials start at noon, with Index eliminations at 4:00pm. Pro classes run two rounds of qualifying at 3:00pm and 5:00pm followed by the first round of Bracket eliminations. Pro eliminations kick off at 7:00pm.
For more information visit sanantionoraceway.com, theclashofthetitans.com or San Antonio Raceway facebook page.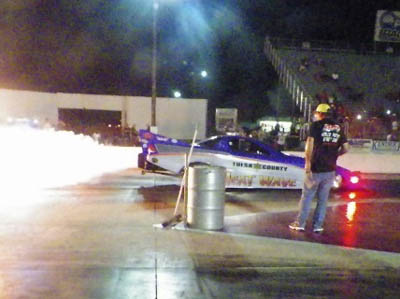 Sam Ives, Tulsa County Heat Wave Jet Funny Car