Thu, 05 Sep 2013, 21:33 PM



New England Hot Rod Reunion Comes to Epping



By Bob Frey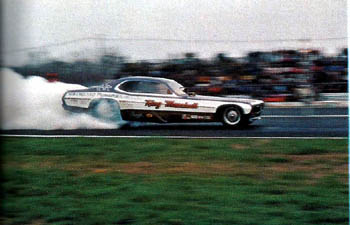 King & Marshall_Funny Car
For years the California Hot Rod Reunion has been a fixture on the West Coast, and recently the National Hot Rod Reunion in Bowling Green has honored racers from eastern time zones, or close to it. Now the folks in New England will get a chance to see what all the excitement is about when the first-ever New England Hot Rod Reunion comes to Epping, New Hampshire. On the heels of the highly successful NHRA national event there earlier this year the famous Epping track will host hundreds of vintage cars, thousands of fans and a great selection of cars that will participate in the world famous Cacklefest. At the same time there will be six legends and pioneers of the sport who will be honored for their contributions to drag racing, not only in the New England area but across the country. If all of the early indications are correct this is going to be one special weekend in New England.
Jimmy King has been selected to serve as the Grand Marshall of the event and you would be hard pressed to find anyone who represents that part of the country better than Jimmy. Along with his friend and partner, Don Marshall, they helped form one of the great car clubs of the region, the King Pins. Now for those of you who may be too young to remember such things, car clubs were wildly popular in the late 1950's and early 1960's and the King Pins and Orientals were two of the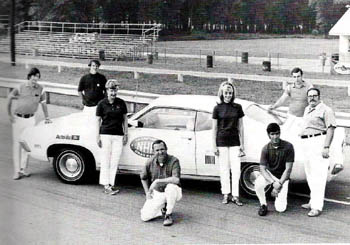 Darwin Doll with his
certification team in 1971
more popular ones in the region. In fact, if you happen to have one of the car club plaques from either of those groups you could be sitting on a gold mine. But I digress. Jimmy and Don teamed up to run a pair of fuel cars, one Top Fuel and one Funny Car, and they had success with both with their biggest win coming at the Gatornationals in 1971. On the divisional level they went to finals in both fuel classes something that only a handful of teams and drivers have ever done before or since. They also recorded national event wins at NHRA, AHRA and IHRA races and that, too, puts them in a very select group. Jimmy was inducted into the International Drag Racing Hall of Fame in 2003.
Darwin Doll, the long time Division 1 director, will also be among the honored guests. Darwin has been involved with racing since the late 1950's and he continues that involvement today with his most recent success the big muscle car show and reunion that he stages every year in York, Pennsylvania. Darwin was the D-1 director from 1964 through 1981 and then he moved on to work at various tracks around the country. Even though he managed a couple of oval tracks Darwin will tell you that his first love is and always will be drag racing. Darwin was the first Division Director I met in my early years and he was the one who gave me my first job at an official NHRA event. Wow, in spite of that they are still going to honor him this week. Go figure!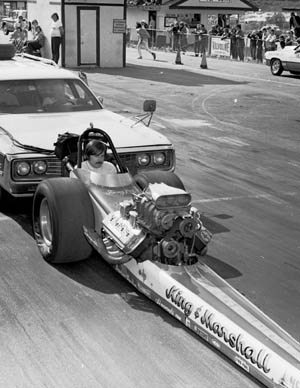 Don Roberts.
While I was announcing at those early D-1 races I noticed several racers who excelled and one of them was Tony Feil. Tony, like so many others of his day, was a member of a car club, the Squires of Catham, and he raced the club's car at local tracks. He later raced in the gas classes and achieved most of his driving success behind the wheel of a series of Modified Production cars. He also dabbled in Pro Stock in 1971 and '72 and he managed to win the Englishtown divisional race in his second year in the class. Tony later became one of the top engine builders in the region and his engines could be found in cars that visited the winner's circle on both the drag strips and oval tracks of the area. For his abilities as an engine builder and crew chief Tony was named the Division 1 Sportsman of the Year and Mechanic of the Year in 1971. Tony still races on the nostalgia circuit and his Corvette is one of the fastest cars in its class.
Don Roberts, another New England native and star, will also be honored. Don sat behind the wheel of a series of cars but the most successful was the gas dragster of Jack Doyle. Together they won over eighty percent of their races including the 1969 AHRA nationals. After a tour of duty in Vietnam Don returned to drive for Jack before getting the call to drive for the King and Marshall team and later the Jade Grenade. A crash at his home track in Epping ended his driving career but he continued to be involved in the sport and served as marketing director at the track.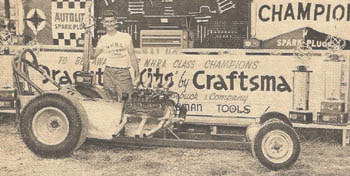 Pete Shadinger with trophy
after winning the 1962 Nationals.
Pete Shadinger was one of the greats in the 1960's at my home track in Atco, New Jersey. More than that he travelled the country with his little Buick-powered dragsters and he was a real force to be reckoned with. He won his class at the U.S. Nationals in four consecutive years from 1962 to '65 and he duplicated that class win at two of NHRA's premier events, the Winternationals and Springnationals in 1965. Pete was a two-time Indy champ, 1962 and 1965 and they were part of his eight national event final rounds during his great career. After a runner-up finish at the World Finals in 1965 Pete decided to take a break, but when he came back to the sport in 1973 he picked up right where he left off with a national event win at Englishtown, New Jersey. In 1962, the first year that NHRA had divisional winners, Pete won the "Hot Car" Division 1 championship and he followed that up with division titles in 1964 and 1965.When I spoke with him recently he said that he is building a new car to race in Competition Eliminator and hopes to have it out by the end of the year, and if it's anything like his previous entries it will be a winner.
Brothers A.B. (Arnie) and Bernie Shuman's connection to racing goes back to the very early years of hot rodding. In 1955 Bernie began racing his 1932 roadster while A.B. began writing about hot rods in his school's newspaper. The two later collaborated on a book that is the definitive work about the New England hot rod culture. Called "Cool Cars Square Roll Bars" it tracks the history of car clubs, race tracks and racers in the New England area from the late 1940's through the
early 1960's. It is loaded with information (ten chapters) about the car clubs that permeated the area in those years. A. B. later joined Petersen Publishing Company and he worked for them in various capacities for a number of years while Bernie spent most of his adult life as a commercial artist. Their combined impact on the racing scene in New England was profound, and I am sad to report that A.B. passed away earlier this summer.
The honorees are a big part, but only one part of the New England Hot Rod reunion and I can't wait to check it out. If you would like to be part of the excitement the event takes place next week, Thursday through Saturday September 12 thru 14. For more information go to www.nhramuseum.org/reunions. It promises to be a great event and I hope to see you there.