Tue, 03 Sep 2013, 22:06 PM



What A Weekend!



By Bob Frey


Photo copyright 2013 Auto Imagery, Inc.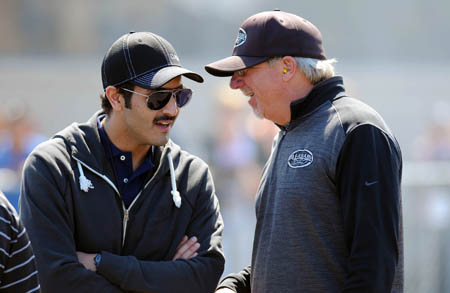 Sheikh Khalid Bin Hamad Al Thani and Alan Johnson


First of all congratulations to all the winners in the
Mello Yello, Lucas Oil and Pro Mod
classes at Indy. If it's your first win or just your latest, a win at Indy is big for any driver and those who survived the marathon that is the U.S. Nationals deserve everything they get and I hope they all have time to savor their victories.
There are always a lot of big news stories that come out of Indy and one of the biggest this week was the fact that the Al Anabi team, led by Alan Johnson, has renewed their contract for another five years. I have always said that I don't deal in rumors and I stayed away from those that were circulating about the future of that team. A lot of folks were reporting that the deal was over and it just goes to show what they know. When I was in Detroit last week I told some folks that it was a "done deal" that the Al Anabi team would be back, and if I dealt in rumors or wanted to tell things that I have been told in confidence I would have mentioned that fact in my column. Let's just say that this was certainly one of the biggest announcements of the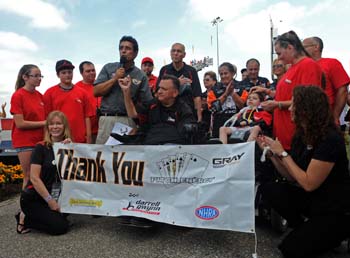 Darrel Gwynn presents wheelchair on starting line.
weekend and it's good news for the sport in general. Congratulations to Alan Johnson, his drivers
Khalid alBalooshi
and
Shawn Langdon
along with the rest of the team?..It wasn't a big press announcement but the fact that
Johnny Gray
and his family teamed up with the
Darrel Gwynn Foundation
to give away another wheelchair to a deserving family was another highlight of the weekend. Johnny has done a lot to support Darrell's program and this was just the latest example of the generosity of the Gray family. On behalf of the drag racing community a big thank you to Darrell for all he has done and to Johnny, his sister Terry and the entire Gray family for being so generous. Winning a race is nice but doing something to make the life of a four year old boy a little better is really special?.The weather played havoc with the race schedule and it also forced
Andrea Pedregon
to move her charity auction around. In the end the event was held on Sunday and a lot of money was raised for a very good cause. It's no secret that it's been a tough year for Tony on the track but it's nice to see that he and his wife still find time to give back to others. It's people like that, the Gray's, the Gwynn's and others who make this such a great sport. And let's not forget
DRAW
because they are now taking donations for their big auction coming up in a few weeks in
Dallas
and I hope that gets everyone's support.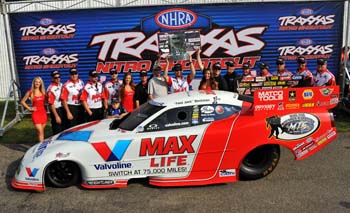 Beckman and crew
celebrate Traxxas Shootout win.
How about the driving jobs by Cruz Pedregon and Jack Beckman in the Traxxas Shootout? Cruz won his first two rounds on holeshots (over John Force and Tim Wilkerson) and then Jack beat him on a holeshot in the final round. As he crossed the finish line Jack's Dodge burst into flames and the body disintegrated. I have always told drivers that if you can't win at least be spectacular and you'll get lots of TV time. Well, Jack won and was spectacular at the same time so he accomplished both goals, and even though I didn't see the show I'm sure ESPN showed the explosion once or twice over the weekend. From what I heard Jack was smiling and laughing about the incident afterwards, of course it's easy for him to do that because he doesn't have to pay the bills, does he??.And in the Top Fuel final of the Traxxas Shootout Shawn Langdon and Steve Torrence treated the fans to a great race, a race that was won by Shawn 3.821 - 3.828. Coming on the heels of the announcement about the renewal of their contract Shawn already had a good weekend even before going into Monday's eliminations. These shootouts are such a special part of Indy and I hope they continue to be in the future, but for now congrats to Shawn and Jack for putting on a good show and for winning the big bucks.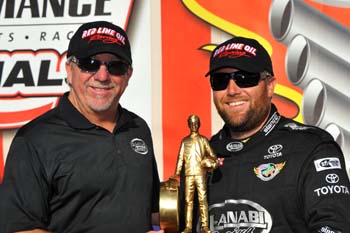 Alan Johnson and Shawn Langdon
celebrate Indy win.
Shawn and Steve would meet again in the final round on Monday and it was Shawn taking the win again. What a weekend for the Al Anabi team in general and Shawn, Brian Husen and the rest of that team in particular. If you want to talk about a team that is peaking at the right time of the year look no further than the Al Anabi team. I said it before and I'll say it again, they have all the ingredients to win a championship and they are the car to beat heading into the "Countdown." Even though he was the runner-up twice in Indy Steve still had a great weekend, and one of the reasons was that he got to race his father on Monday. The two squared off in round two and that would be the first time since 1996 that there was a race between a father and son in Top Fuel. Back then it was Scott Kalitta beating his father, Connie, in the semi-finals in Topeka, a race that Scott would go on to win.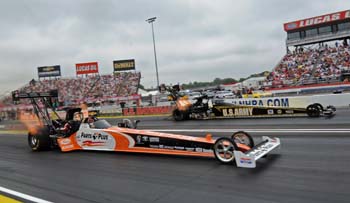 Millican defeated Schumacher
in round one.
There was a little, or maybe a lot of history made in the first round at Indy. Did you know that with both of the top qualifiers in the fuel classes losing it marked the first time in the history of the event that had happened. Sure, the top qualifiers in each class had lost before but never at the same event. And there was more. When the fifteenth qualifier in Top Fuel, Clay Millican, took out the number two man, Tony Schumacher, it marked the first time in thirty-four years that the number fifteen and sixteen qualifiers both won in round one at the U.S. Nationals, and did you know that it was the first time it ever happened with a sixteen car field at Indy? The last time it happened was in 1979 when both Larry Dixon Sr. and Johnny Abbott won their opening round races against Bobby Hilton and Lou Novelli, or should I say Luigi Novelli? Back then they ran thirty-two car dragster fields at Indy, so in the history of the U.S. Nationals did you know that this was the first time that the number one and two qualifiers in Top Fuel both lost in round one? I guess it's more than just a clich? that "if you're in you can win."?Speaking of in, Bob Vandergriff is and David Grubnic isn't in the "Countdown." There was a little drama but it ended when David lost to Khalid al Balooshi in round one.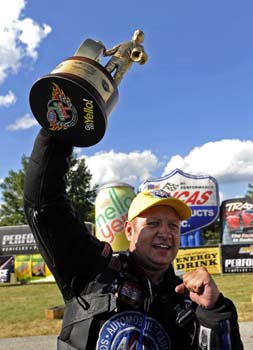 Robert Hight celebrate Indy win.
Robert Hight did what he does best and that is run well and win at Indy. Robert beat Jack Beckman in the final round and that makes three Indy wins (in five final rounds) for Robert and another shot at the championship ring. The win ended a long dry spell for Robert who hadn't won since the Charlotte race in 2012, a span of thirty-five races, and believe me, for a championship caliber team like Robert's that's a long, long time?.The win was the 219th in Ford's illustrious time in the Funny Car class and it was their sixth in a row at Indy. Did you know that Ford has won the Funny Car crown at the "Big Go" fifteen times now and that goes back to the first win in 1969 when Danny Ongais beat Rick Siroonian for the title?..With the win Team Force continues their dominance at Indy. Did you know that John's teams have won the "Nationals" in six consecutive years now?....When Jeff Arend beat the top qualifier, Matt Hagan, in round one it marked just the ninth time in Indy history that the top Funny Car qualifier failed to win a round. Oddly enough, or maybe not because of the level of competition in the class lately, it has now happened five times in the last nine years, which means that from 1967 through 2004 it only happened five times. Like I have said for several years now, there may not be as many cars at the events as there used to be but there are certainly a lot of good cars at each race?..Jeff's win gave him a little piece of Indy history. Did you know that he is now the only driver to have won from the sixteenth spot and to have lost from the number one spot at Indy? His loss came in 2007 after he qualified at the top of the field and lost to Jon Capps in round one?.Speaking of Jon did you know that Indy in 2007 was the first race for which he ever qualified? It was also the first race that Barry Henson qualified for and that was the last time we had two drivers make their professional debut at Indy until this year when Billy Torrence and Curt Steinbach did it.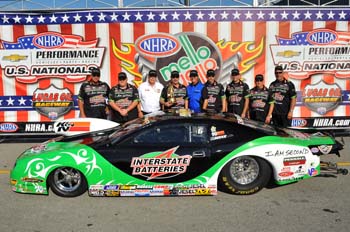 Mike Edwards and crew celebrate win.
Mike Edwards carried the banner for the top qualifiers and he won by beating V. Gaines on a holeshot in the final round. That, by the way, was Mike's third holeshot win of the day and that doesn't happen very often in any class. Did you know that this was only the sixteenth time in the history of the professional classes that a driver won three rounds on holeshots at the same event? That includes 751 races in Top Fuel, 733 in Funny Car, 728 in Pro Stock and 349 in Pro Stock Motorcycle. If you add them up that's 2,561 races and only sixteen times has a driver won three holeshot races on the same day. Oh yeah, it's also the first time it has ever happened at Indy. Way to go, Mike!?.Did you know that of those sixteen drivers seven of them didn't even win the race? What are the odds? As rare as that is did you know that it has now happened twice this year? Greg Anderson had three holeshot wins at the Chicago race, including one over Mike, but lost in the final round to Jeg Coughlin?In the semi-finals at Indy Mike and his opponent, Greg Anderson, both posted times of 6.640, and when that happens the driver who gets the win gets credited with a holeshot, after all, he won because he was first off the line?.. V. Gaines had a great car, in fact he had lane choice over Mike going into the final round because he ran 6.637. Did you know that his opponent in that semi-final round, Jeg Coughlin, ran 6.640 making it three of four cars that ran the exact same elapsed time in the same round? For his part V. posted a perfect reaction time and he used that to hold off the former Indy champ. This was V's second perfect reaction time in his career with the other coming at the Sonoma race in 2002.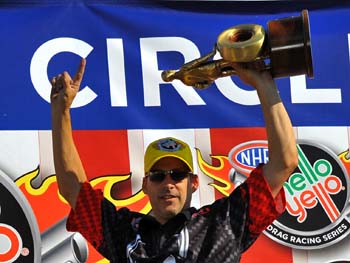 John Hall celebrates win.
John Hall did the improbable and won a Pro Stock Motorcycle race from the 15th starting spot. Did you know that in the long history of the bike class this was only the second time that the 15th qualifier won the race? The other time was in 2005 when Karen Stoffer beat Kurt Matte to take the win in Houston. As a matter of fact this was only the fifth time that the fifteenth qualifier even made it to the final round. It was also the first time in Indy history that two bikes from the bottom half of the field made it to the final round?When he was paired up with Matt Smith for the final it guaranteed that a bike with Matt Smith power would win since the runner-up was the one who prepared John's bike. Matt started out from the ninth spot in the field, also a tough place to begin your day if you want to win. Did you know that the number nine qualifier had only won six times and the last one to do it was Matt Smith at Englishtown in 2011?...The Smith's either had a very good day or a very frustrating one since Matt came up just a bit short in the bike final and his father, Rickie Smith, lost out in the finals of the Pro Mod class. Mike Janis, the number two qualifier, edged Rickie in a great race, Mike's 5.952 beating Rickie's 5.955?..There was a real scary moment in the Pro Mod class on Sunday when veteran Tim Tindle went over the wall. As violent as the crash was Tim walked away and that's a credit to the people who build those cars.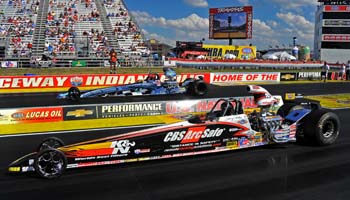 Frank Kohutek defeated Troy Stone
in Super Comp final.
Phil Smida didn't give Marlin Snyder much of a chance in the Super Gas final, did he? Phil posted a .007 reaction time and then ran right on the 9.90 dial to beat the former (1990) Indy champ?.Brad Plourd won his second Indy title when he beat Mike McGinley for the Stock Eliminator title. Brad had previously won in Super Comp in 2005.Frank Kohutek added an Indy win to his already impressive resume when he stopped Troy Stone for the Super Comp crown...It was either a really good weekend or a very frustrating one for Mike Farrell. The veteran racer was thinking of a possible "double-up" as he worked his way through both the Super Stock and Comp Eliminator fields, but in the end he came up empty although he did make the final round in Comp where he lost to former champion, Jason Coan.Todd Frantz, who beat Mike in the semi-finals of Super Stock went on to take the win at the expense of Jeff Dona. This is Todd's second Indy win following his 1997 Comp crown?..Frank Manzo did it again. Frank won Indy for a record eleventh time and ran his unbelievable final round win streak to 41 races. Frank beat Annie Whiteley in the final round in a battle of the top two qualifiers. Did you know that this was the sixth time in Indy history that the number one and two drivers met in the TAFC final round and five of those times it included Frank? Annie's husband, Jim, upheld the family honor when he beat Chris Demke in a battle of the two top qualifiers in the alky dragster class. Did you know that this was only the second time in Indy history that the two top qualifiers made it to the final round in Top Alcohol Dragster? The other time was 1985 when Bill Walsh beat Lee Young for the title. By the way, that Whiteley-Demke rivalry is about as good as it gets in the dragster class, isn't it?