Tue, 03 Sep 2013, 19:20 PM



2012 National Champs Whiteley, Manzo Reign at Indy



By Todd Veney/Pro Sportsman Association


Photo copyright 2013 David Smith Photos





BROWNSBURG, Ind. --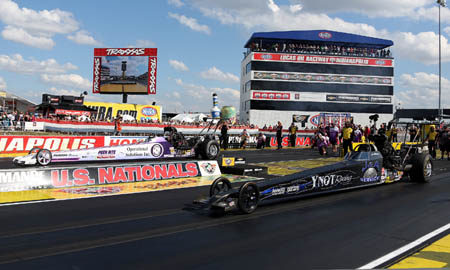 Whiteley defeated Demke
Reigning national champions Jim Whiteley and Frank Manzo ruled the most prestigious race of any season, the Chevrolet Performance U.S. Nationals, Whiteley in Top Alcohol Dragster and Manzo in Top Alcohol Funny Car.
In the Top Alcohol Dragster final, Whiteley beat Chris Demke, the number two driver in the nation behind him last season, the number two driver behind him in points this season, and No. 1 qualifier for this race, 5.35 to 5.37. "That was a lot of pressure," Whiteley said. "Winning Indy is something I really wanted to get done before I stop racing in Alcohol Dragster, and points-wise, this is just huge." With the final-round victory, he passed Demke to take the lead in the national championship by less than one round, 668 points to 649.
"I really wanted that one," Demke said. "The first time this team came back here, in 1998, when Darren Nicholson was driving and I was on the crew, we won, and we almost won it the next year, too." Demke had a solid reaction time, .041, but Whiteley's was even quicker, .025, his best of the event. "We'd been in the left lane all day, but when he outran us in the semi's, I knew we'd be over in the right for the final, and I just didn't want to give it away by shaking the tires because we almost did in the semi's," Demke said.
Whiteley, who was knocked down to No. 2 in the final qualifying session when Demke stepped up to a 5.33, was unerringly consistent throughout eliminations, with winning times of 5.33 over Paul Fishburn, 5.32 over Randy Meyer, and 5.34 in the semi's against Aaron Olivarez. Demke was just a few ticks behind in every round, with a 5.42 against Dave Heitzman, 5.33 against Rich McPhillips, and 5.36 in the semifinals against 2010 U.S. Nationals runner-up Shawn Cowie.
"I always get up to race Chris," Whiteley said. "It was a great race - when we run each other, it usually is - and to me, it was just what it should have been. The final round of the U.S. Nationals ought to be side-by-side with both cars running great. This is just about the biggest win I've ever had. The only one I ever liked more was in Topeka [in 2009] against Tom Conway in the final."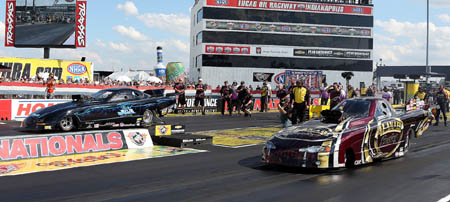 Manzo defeated Whiteley
In Top Alcohol Funny Car, as in Top Alcohol Dragster, eliminations distilled into a match between the No. 1 and No. 2 qualifiers. Manzo, who never ran slower than 5.63 all weekend, got the jump on Annie Whiteley, who hadn't run slower than 5.61, and maintained the lead for a tight 5.56 to 5.57 win.
"I really wanted to run a .54 or .55 that time, but a .56 was enough," Manzo said. "I just didn't want to beat myself - I've done way too much of that lately. She's going to win a lot of races and probably a lot of championships down the road. That's just a really good team over there, and I was plenty concerned."
Manzo paced the field in qualifying with a 5.53 in the final session, and Whiteley ended up No. 2 with increasingly quicker runs of 5.61, 5.59, 5.58, and 5.55. Both were just as consistent in eliminations, Manzo with times of 5.55, 5.52 (low e.t.), and 5.55 against Wayne Butler, Todd Robertson, and national points leader John Lombardo, and Whiteley with a string of 5.61, 5.57, and 5.58 against early season points leader Dan Pomponio, two-time Indy winner Tony Bartone, and 2010 U.S. Nationals champ Jay Payne.
"It was still an unbelievable weekend, even though we didn't win," said Whiteley, who earned her first national event title earlier this season in Chicago. "I was happier just to have been in the final than I was bummed about not winning it. I would love to beat Manzo one time before he's done, but this was a lot different than the last time I raced him in a final, last year at Brainerd. I wasn't thinking, 'That's Frank Manzo over there, and this is the final' or staring at the back of his car the whole way down the track."
Manzo was, for once, very aware of what was at stake. "I was thinking, 'This is it - the last time I'm ever going to stage at the U.S. Nationals,' as I was pulling to the line for the final round," said Manzo, who has hinted about retiring all season. "There's still a long way to go if I'm going to win one last championship, but this was a big one. It's Indy, and it means a lot."