Mon, 26 Aug 2013, 21:11 PM



Reichert Wins TA/D, Bohl Locks Up TA/FC Title



Courtesy of NHRA Field Marketing


Photo copyright 2013 Steve Fuhrman Photos





BOWLING GREEN, Ky. -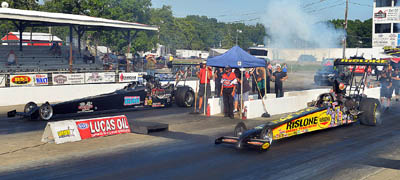 Bill Reichert defeated Ken Perry
At the North Central NHRA Lucas Oil Drag Racing Series at Beech Bend Raceway Park, Bowling Green, Ky., former Top Alcohol Dragster world champ Bill Reichert earned his first win since the opener at Indianapolis, and in Top Alcohol Funny Car, Andy Bohl, who also won the Indy race, clinched his first regional championship with his third win of the season. Both won from the No. 7 qualifying spot.
For Reichert, it was his 10th career win at Beech Bend Raceway, including five in a row from 1994 to 1998 and four in a row from 2008 to 2011. "I think I've done better here than I have at any other track," he said, "but we struggled almost all weekend."
Reichert qualified second-to-last with a 5.48 and slowed to a 5.63 in a first-round win over No. 2 qualifier Jared Dreher, then picked up almost two-tenths in the semi's, just in time to take out Marty Thacker. "I've been working with different cams all year trying to make more power, and I tried something different this weekend, too," he said. "When the car slowed down in the first round, we had to accept that we just weren't doing what it wanted and made a major move."
In the final, Reichert's Rislone Dragster dipped into the 5.30s with a 5.36 (low e.t.), in a lopsided win over 2006 Bowling Green winner Ken Perry, who shook hard immediately. "After all these years, this still feels as good as it ever did," he said. "This combination seems to be tunable, and I think we might actually be 'back,' but it'll be pretty hard to win the [national] championship - I think that's just about impossible now - and the region isn't looking too good, either. I'd have to win another one, and [Brandon] Booher would have to not make it to any more finals."
With three consecutive wins coming into the event, Booher, who surprisingly hasn't raced Reichert head-to-head all year, would appear to have a stranglehold on the regional crown and can clinch it with a final-round appearance at Earlville the week after Indy. He qualified No. 1 with a 5.37 but fouled against Perry in the semifinals by just three-thousandths of a second, his second -.00 red-light of the year.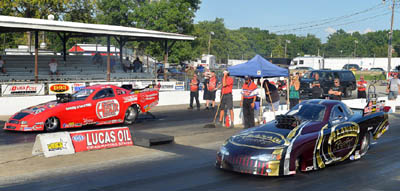 Andy Bohl (far lane) defeated Frank Manzo
The North Central Alcohol Funny Car title was decided early, when Bohl, who had already won two races this season (Indy and Columbus) met Chris Foster, who had also won two (Norwalk and Chicago) in the first round. Foster, who came out on the wrong end of a similar first-round meeting with Mickey Ferro here last year after twice winning down-to-the-wire division championships earlier in his career, fought for traction and slowed to 12.87 while Bohl made his best run of the weekend, a 5.67.
"It's a relief to finally win a [regional] championship," Bohl said. "I lost one on a red-light right here at Bowling Green and lost another when the other guy [Foster, in 2009] had to win the last race of the year to pass me. Frank Manzo was the first person I saw when I got out of the car, and I hugged him so hard I almost knocked him over."
With the title locked up, Bohl edged Ray Drew by just eight-thousandths of a second in the semifinals, 5.69 to 5.72. Manzo, who qualified No. 1 with a 5.62 and set low e.t. of eliminations with a 5.65 on his first-round single, had a harder time than expected getting around Wayne Butler in the other semi, when his car broke a lifter and Butler got a better light in a 5.72 to 5.80 race.
For Manzo, who had been to four previous regionals this season and reached the final every time, nothing less than a win would help him in the national standings. Manzo, whose 40-final winning streak in national competition will never be beaten, surprisingly had lost three of four regional finals this year, including the Indy final against Bohl, and he dropped this one, 5.70 to a tire-shaking 5.79.
"Lane choice won that race," Bohl said. "It was a coin-flip which one was better in the first round, but by the final, the right lane was definitely the one to be in. I looked at the left before we ran and said, 'No way is he going to get down that lane.' I'm surprised he ran as good in that lane as he did. I know how it sounds, but I had more confidence against Manzo in the final than I did against Foster. Against Manzo, I had the good lane, and I knew what my car was going to do. Against Foster, that was a pretty clutch deal - basically one run for the championship and I'd just changed five things after pretty much embarrassing myself in qualifying."
Mia Tedesco, Murrysville, Pa., advanced to the final in both Super Comp and Super Gas looking for the rare NHRA double-up. She knocked out Luke Bogacki, Carterville, Ill., in Super Comp with a near perfect run at 8.903 seconds on the 8.90 dial but fell to Troy Coughlin Jr. in Super Gas. Coughlin, Delaware, Ohio, got the head start and held on for the win on a double break-out.
The Super Stock trophy went to Rylee Stufflebeam, Peoria, Ill., picking up her first ever NHRA divisional win while Slate Cummings added another NHRA Wally trophy to his growing collection, taking the Stock title over Joey Shipp. Stufflebeam got the holeshot and held on running 10.356 at 126.87 mph. Cummings was also out first, clocking in at 10.400 at 123.89 mph for the win.
David Rampy took an easy win in Comp Eliminator when Rick Hord broke on this burnout in the semifinal round and did not advance.
A pair of Indiana racers took wins in the division's Spitzer Race Cars Top Dragster and Brodix/Steve Schmidt Top Sportsman classes. Ed Dudley, Fishers, Ind., went 129.13 mph in 7.15 seconds to defeat Mike Trauth, Cold Spring, Ky., in Top Dragster and Shane Cowan, Pittsboro, Ind., outran Marco Abruzzi, Warren, Ohio, 7.173, 192.66 to an 8.272, 106.49 in Top sportsman.
Michelle Furr rounded out this weekend's winners in her '68 Camaro. The Galax, Va., racer went 10.912 at 140.31 mph, pushing Damien Hazelton, Continental, Ohio, to breakout with a 10.896 on the 10.90 dial.
North Central Division racers head to Lucas Oil Raceway at Indianapolis where they will meet up with the NHRA Mello Yello Drag Racing Series for the Chevrolet Performance U.S. Nationals, Aug. 28 - Sept. 2.
The following are the final results from the NHRA Lucas Oil Drag Racing Series event at Beech Bend Raceway Park:

TOP ALCOHOL DRAGSTER:
Round 1
1) Brandon Booher, Urbana, Ill., 5.406, 266.37 def. 8) William Litton, La Jolla, Calif., 8.734,
95.09
5) Ken Perry, Markham, Ont., 5.411, 263.10 def. 4) Dan Page, Hampstead, N.H., 5.436, 268.28
7) Bill Reichert, Owosso, Mich., 5.630, 248.98 def. 2) Jared Dreher, Clinton, Ind., 6.071, 256.60
6) Marty Thacker, Robinson, Ill., 5.449, 261.83 def. 3) Dave Hirata, Lowell, Ind., 14.279, 79.21

Semifinals
Perry, 5.438, 259.81 def. Booher, foul
Reichert, 5.459, 259.31 def. Thacker, 5.515, 261.37

Final
Reichert, 5.364, 259.76 def. Perry, 9.006, 91.71

TOP ALCOHOL FUNNY CAR:
Round 1
1) Frank Manzo, Mooresville, Ind., '10 Monte Carlo, 5.651, 257.24 was unopposed
7) Andy Bohl, Racine, Wis., '08 Mustang, 5.676, 256.70 def. 2) Chris Foster, Davenport, Iowa, '11
Mustang, 12.874, 67.49
3) Ray Drew, Hales Corner, Wis., '04 Firebird, 5.710, 254.33 def. 6) Steve Franke, Indianapolis,
'04 Camaro, broke
5) Wayne Butler, Forest City, Ill., '02 Firebird, 5.789, 249.35 def. 4) Paul Noakes, London, Ont.,
'02 Mustang, 5.877, 253.09

Semifinals
Manzo, 5.722, 252.19 def. Butler, 5.808, 248.25
Bohl, 5.692, 257.58 def. Drew, 5.725, 252.80

Final
Bohl, 5.703, 257.28 def. Manzo, 5.792, 255.73

COMP ELIMINATOR
David Rampy, Piedmont, Ala., '32 Bantam, A/EA, broke was unopposed

SUPER STOCK
Rylee Stufflebeam, Peoria, Ill., '98 Firebird, SS/JA, 10.356, 126.87  def. Brad Zaskowski, Grand
Rapids, Mich., '87 Camaro, GT/E, 9.687, 137.30

STOCK ELIMINATOR
Slate Cummings, Hammond, La., '00 Corvette, B/SA, 10.400, 123.89  def. Joey Shipp, Whiteland, Ind.,
'00 Firebird, A/SA, 10.246, 124.93

SUPER COMP
Mia Tedesco, Murrysville, Pa., dragster, 8.903, 180.16  def. Luke Bogacki, Carterville, Ill.,
dragster, 8.910, 176.44

SUPER GAS
Troy Coughlin Jr, Delaware, Ohio, '57 Corvette, 9.899, 166.60  def. Mia Tedesco, Murrysville, Pa.,
'04 Cavalier, 9.875, 172.74

SUPER STREET
Michelle Furr, Galax, Va., '68 Camaro, 10.912, 140.31  def. Damien Hazelton, Continental, Ohio, '92
Camaro, 10.896, 130.61

TOP DRAGSTER
Ed Dudley, Fishers, Ind., dragster, 7.150, 129.13  def. Mike Trauth, Cold Spring, Ky., dragster,
broke

TOP SPORTSMAN
Shane Cowan, Pittsboro, Ind., '04 Corvette, 7.173, 192.66  def. Marco Abruzzi, Warren, Ohio, '68
Camaro, 8.272, 106.49