Mon, 26 Aug 2013, 20:49 PM



Gingles Wins Second Straight, Payne His First this Season



By Todd Veney/Pro Sportsman Association



TOPEKA, Kan. --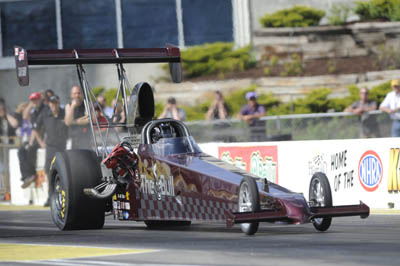 Gord Gingles
Canadian Top Alcohol Dragster racer Gord Gingles stayed hot at the WIBW Thunder in the Heartland regional event in Topeka, and in Top Alcohol Funny Car, Jay Payne, one of the most prolific drivers in divisional/regional history, may have turned his season around with his first victory in 10 starts.
Gingles, who drove "The Bull" A/Fueler to a tight final-round decision over defending national champ Jim Whiteley last week in Brainerd for his first national event win, got off the line first and pounded out low e.t. of the meet - 5.354, a slight improvement on his 5.358 semifinal time - to put away Randy Meyer this time in a final-round battle of the top two drivers in the region in 2012.
Gingles qualified No. 1 with a 5.40 and clocked a 5.43 in the first round against veteran Edwin Schmeeckle. He stepped up to a 5.358, low e.t. of the weekend to that point, in the semifinals against John Finke, which cost Finke the East Region title. Dan Page, who was upset in the first round in Bowling Green this weekend after setting top speed in qualifying, won the East championship on the strength of one win (Maple Grove) and three final-round appearances.
Competing at his home track, Meyer, of Spring Hill, Kan., began eliminations from the No. 3 spot (5.44) and was the picture of consistency all weekend, running between 5.42 and 5.46 in all three rounds of eliminations. His 5.45 took out Christine Chambless in the opening round, and a 5.42, his best run of the weekend, was just enough to get past quick-leaving James Stevens' 5.50 by three-thousandths of a second in the semi's.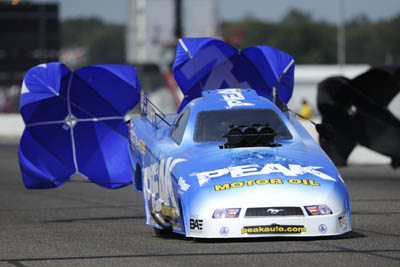 Jay Payne
In the Top Alcohol Funny Car final, Payne beat early leader John Lombardo, 5.67 to 5.80, with a half-tenth edge in the first 60 feet, .976 to 1.024. Payne's Peak/FireIce Mustang got quicker every trip to the starting line all weekend, opening with a 5.80 in the first qualifying session and running nothing but high 5.60s the rest of the way, including a 5.69 for the No. 2 spot behind Lombardo.
Payne picked up a hundredth of a second to oust Lance Van Hauen in the first round with a 5.68 and another hundredth to beat red-lighting Kris Hool in the semi's with a 5.67, making it an all-California final against Lombardo, who ran in the 5.60s in both qualifying sessions and in every round but the final.
Lombardo beat Steve Griboski in the opening round, 5.67 to 5.88, and defending Central Region champ Kirk Williams, who had a .008 reaction time, in the semi's, 5.68 to 5.82. With the final-round appearance, Lombardo's NAPA team moved into the national points lead when Tony Bartone, in his first race in Mickey Ferro's car after splitting with longtime team owner Rick Jackson, was a victim of the abbreviated two-shot qualifying format and failed to qualify.