Thu, 22 Aug 2013, 21:35 PM



Congratulations Jack



By Bob Frey



Jack Chrisman
As you probably know I have been writing this "From The Tower" column on DragRaceCentral.com for years. Truth be told I also wrote a column of the same name for the old East Coast Drag News paper back in the late 1960's and early 1970's. That particular column featured a lot of information about cars and drivers in all classes and all sanctioning bodies, while this one has been reserved for features on selected sportsman racers who compete in the NHRA Lucas Oil Drag Racing series. Occasionally it will trace their roots back to the early days of their careers, and once in a while that career will include a stint in the professional ranks. But this week I am doing something just a little bit different, because this week I am going to focus on one of the greats of all time, Jack Chrisman, and I do so because Jack was just inducted into the Motorsports Hall of Fame of America in Detroit. The ceremony took place yesterday and I was honored to be the one selected by his family to do the induction. I was, as you can imagine, flattered and honored to be asked to do this, after all, there are very few who contributed more to the sport than Jack Chrisman. Having said that there may be some who are relatively new to the sport that may not be familiar with Jack, but believe me, he was one of the best and a true pioneer in drag racing.
Jack Chrisman's first real brush with fame came at the 1961 Winternationals when he beat Tom McEwen, who was driving for Dick Rea at the time. Jack was driving the Howard Cams "Twin Bear" machine, a radical car for the times. It was a twin-engine car that had a young sixteen year old by the name of Jerry Johansen as its crew chief and it was the class of the field that day in Pomona. As sophisticated and ahead of its time as the car was most fans remember it for the distinctive air-foil it had on the front, a device that was made from a sheet of plywood..really. The car ran 8.99 - 170.23 in the final round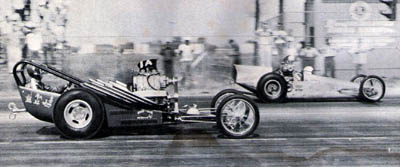 Chrisman in the the "Sidewinder"(far lane)
defeated "TV" Tommy Ivo at Long Beach.
and it was just the first of many big wins for the team and Jack in 1961. They added a win at the big point's race in Alton, Illinois later that year and that helped propel them to the 1961 NHRA World Championship. A year later Jack teamed up with Mickey Thompson, and together they won the 1962 U.S. Nationals with their Pontiac-powered dragster, and to make the win even sweeter they beat some guy by the name of Don Garlits in the final round.
Besides the famous "Twin Bear" car Jack also had a dragster that threatened to revolutionize the sport. It was a car that was actually owned by Chuck Jones and Joe Mailliard and featured a cross-mounted Chrysler hemi that was chain driven. Called the "Sidewinder" the car was one of three that were eventually built, but even with Jack's driving talents and a lot of brain power behind it the theory never quite caught on. They eventually tried the engine configuration in a Funny Car and that wasn't very successful, either, so they sold it to Roy Mayhew who put an unknown racer from Southern California by the name of John Force behind the wheel and they campaigned it as the "Night Stalker."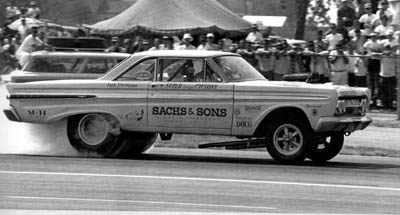 Jack Chrisman
As unique and innovative as the sidewinder was it was nothing compared to what Jack had up his sleeve next. With Detroit getting into and supporting the new "muscle cars" Ford and Lincoln Mercury thought that it would be a good idea to have something on the drag strips of America that would get attention, and when they contacted Jack they got more than they bargained for and the drag racing world got a revolution. At the time Ford was helping racers who were competing in the Super Stock ranks and they wanted Jack to be one of them, but when he saw the car they wanted him to race he balked at the idea. When asked by Ford what it would take to make him run the car he said "A supercharger and a little nitro." That car, which he picked up at the Sach's Lincoln-Mercury dealership in Downey, California, is generally credited with being the first Funny Car, and when Jack made his first public runs with it at the U.S. Nationals in 1964 the sport was changed forever. With times in the low ten-second range and speeds over 150 miles per hour, this stock appearing car was the hit of the race. After that initial showing bookings poured in and Jack began touring the country and he amazed fans wherever he went.
As 1966 approached the Funny Cars were starting to gain in popularity and Ford and Lincoln Mercury offered new rides to selected teams like Don Nicholson, Eddie Schartman, Kenz and Leslie from Colorado and Jack Chrisman. While the others got new Ford Mustangs, complete with a Logghe chassis, a flip top body and fuel injected engine, Jack was given a Comet roadster that had a supercharged engine. Once again, as he had done so many times before in his career, Jack was far ahead of the competition with a car that is generally credited with being the first Funny Car to go over 180 miles per hour. At Indy in 1967, the first year that Funny Cars ran in their own eliminator at the "Big Go," Jack qualified his entry with a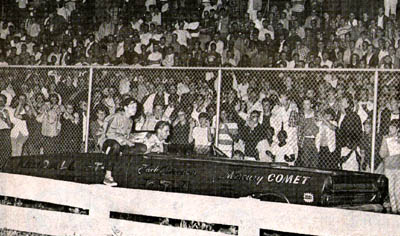 Jack Chrisman and son.
time of 7.604 at 191.88 mph, and to illustrate how superior the car was the number two qualifier, Doug Thorley, qualified with a time of 8.164. But, as I always say, in the interest of fair reporting, it was Doug and not Jack who won the race and eventually set top speed at 192.30, but it was the GT-1 Comet that received the bulk of the attention from the press and the adulation from the crowd. Jack would go on to win the prestigious Hot Rod Magazine Meet that year and he pushed the car to a 188 mph clocking at Capitol Raceway, but at New York National Speedway the chutes failed to deploy after a run, the car ran off the end of the track, caught on fire and burned to the ground.
Like most drag racers Jack didn't let a little thing like a fire keep him down for long. He obtained another car and continued to tour throughout the 1966 season and right through 1970, running at match races across the country and participating in the highly successful Coca Cola Cavalcade of Stars national tour. He retired from driving at the end of the 1970 season and then opened a business, Chrisman Enterprises that his son, Steve, still runs today. Speaking of Steve, he and his brother Larry did a lot of traveling with their father during the summers in the late 1960's and early 1970's and he remembers a lot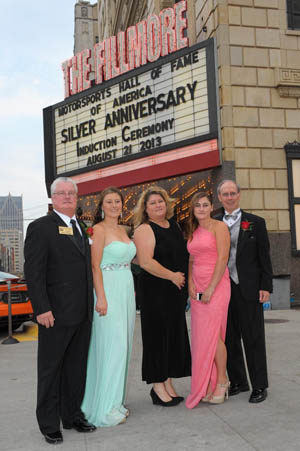 Here I'm with the Chrisman family
at the induction ceremony.
Photo by Bob Johnson Photography

of those trips vividly. "There are so many stories, so many races and so many great memories that I have of those days," he said. "It was great to be able to travel all over the country with my dad and see all of those new places. I really enjoyed it." On a personal note I remember Jack (and Steve) coming to my home track, Atco Dragway, in 1966. I had read about this car and driver but had never seen them in person, and that Wednesday night was one of the best of my young announcing career. Jack ran 179 miles per hour, by far the top speed of the meet, and when he came up the return road in front of the huge crowd young Steve was riding right there with him and the crowd went wild. It was awesome! I was also at Indy in '67 and to this day still can't believe that Jack didn't win the race.
Jack passed away from cancer on August 17th in 1989, almost twenty-four years to the day that he was inducted into the Motorsports Hall of Fame of America. He also joined the Drag Racing Hall of Fame in 1991, was voted number twenty-three on NHRA's top fifty driver's list and was the NHRA Driver of the Year and World Champion in 1961. But as much as he did on the track his family remembers him for what he did off the track. There is a book called "The Chrisman Legacy," and in it are fond memories from Steve, Larry and Lana. As I mentioned in my induction speech last night, on Jack's headstone is an inscription that reads, "A life that touches the hearts of others lives on forever." That's how he lived his life and how he is remembered more than forty years after he made his last pass down the drag strip. He was a pioneer, a legend and a great family man and now he is part of the Motorsports Hall of Fame of America, and honor that is richly deserved. The only question I have is what took them so long?