Tue, 20 Aug 2013, 17:54 PM



So Close!



By Bob Frey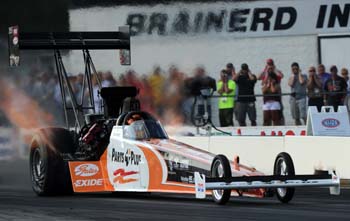 Clay Millican blasts to No. 1 positiion.
What's a guy have to do to get a win around here? That must be what
Clay Millican
is asking himself after an excruciating final round loss to
Spencer Massey
at Brainerd.
Did you know
that going into eliminations Clay had made 146 race day starts without a win and that
is
the most by any racer in any of the four
Mello Yello
classes?
Mike Berry
is second with 145 starts without a win and I'm sure he is glad that I am pointing that out. Clay, who was the top qualifier and who had beaten
Terry McMillen
,
Steve Torrence
and
Shawn Langdon
before meeting Spencer, was in his third final round of the year and the seventh of his career and he had to like his chances of breaking into the win column. After all, he had been running well all day, and even though Spencer was a little bit quicker on Sunday, Clay had a good car and it seemed like that first national event win was just 1,000 feet away. Oh well, there's always Indy..Even with the loss Clay still is in seventh place, has clinched a spot in the playoffs and is looking good going into the "Countdown."..Meanwhile Spencer just continues to be hot and he picked up the fourteenth win of his career and that ties him with
Don Prudhomme
and
Gary Ormsby
for seventeenth place on the all-time Top Fuel win list. As I often say, sometimes the numbers need a little clarification so
did you know
that Spencer has won his races in eighty-eight events, Don won his in 103 races and Gary picked up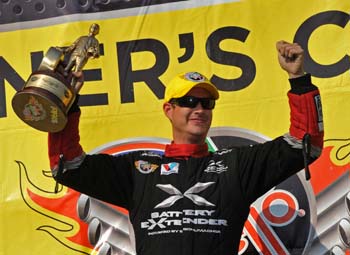 Spencer Massey celebrates
fourth win this season.
his wins in 124 events.The win was the ninth this year for a
Team Schumacher
dragster driver, and coming after Ron Capps's win in Funny Car minutes earlier that gives Don a total of 216 wins for his teams over the years.
Did you know
that this was the 40
th
time that Don's teams have "doubled-up" at an event and it is the sixth time this year that they have done it?...The defending series champion,
Antron Brown
, continued his roller coaster year. After qualifying sixth in the field Antron was beaten by
Doug Kalitta
in round one.
Normally when the eleventh qualifier wins a race you would call it an upset, but when that qualifier is Doug Kalitta it's hard to justify that phrase.
It just shows how good the Top Fuel field is this year, maybe not in quantity but certainly in quality. Antron has now dropped nine opening round matches this year and that's a bunch for any defending champion..If you go by the numbers Antron should now be referred to as a Top Fuel driver who used to race motorcycles as opposed to a motorcycle rider who now races Top Fuel. I say that because as of Brainerd he has now officially raced in more rounds in the dragster class than he did in Pro Stock Motorcycle.
Did you know
that he had 700 rounds of racing coming into Brainerd and he was 242-108 in Top Fuel and 221-129 in the bike class? If you add those figures up it shows you that of his 700 rounds he had exactly 350 in Top Fuel and 350 in Pro Stock Motorcycle. Antron will make the "Countdown" but he can't be going in with a lot of confidence, can he? Having said that his team and crew will answer the bell for the "Countdown" and they are still the champs until someone takes the title away from them..The battle for the tenth and final spot in the "Countdown" now shows
Bob Vandergriff
with a seventy-two point lead over
David Grubnic
going into Indy. That's almost four rounds and it will be tough for David to make up, not impossible, but very tough.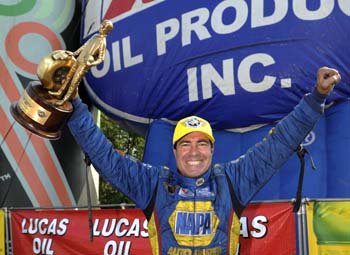 Ron Capps celebrates
his fourth Brainerd win.
Ron Capps is making the battle for the top spot in the "Countdown" interesting, and his win over Matt Hagan in the finals kept those hopes alive. Ok, so he is 124 points back and Matt would virtually have to not show up in Indy, but you have to agree that Ron has made it interesting, especially considering what he has done over the last three races. Brainerd is one of Ron's favorite tracks and he has now won four times there and this time he did it from the ninth spot in the field. Did you know that the number nine qualifier had never won in Funny Car at Brainerd until Sunday? In fact, the only other time the number nine qualifier made it to the finals in Brainerd was in 1998 when Dean Skuza did it. Did you know that at that race Dean lost to the number two guy, who just happened to be Ron Capps?...Those four wins for Ron in Minnesota are the most wins for him at any event on tour (he has also won four at the Las Vegas fall race) and he successfully defended the title that he won there in 2012. Did you know that in thirty-two years Ron is only the fourth Funny Car driver to win at Brainerd in consecutive years? I should point out that his four round wins give Ron 499 for his career and it won't be long before he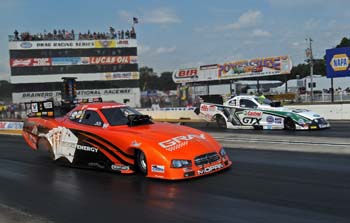 Johnny Gray defeated John Force
on a hole shot.
joins that exclusive "500 round-win club."
Did you know
that there are only twelve drivers in the history of the sport that have done that in the pro ranks?...Ron's win capped a wild three races for him in which he won in Sonoma, did not qualify in Seattle and won in Brainerd.
Did you know
that is only the second time in history a driver has sandwiched two wins around a DNQ? In 1981
Gary Beck
beat
Butch Osmon
to win the
Columbus
race and he followed that up by not making the show in
Denver
. The next race on the schedule that year was Englishtown and
Gary
won that by beating
Mark Oswald
, and until Sunday he was the only driver ever to have three weeks that included a win, a DNQ and a win. Amazing..Even though he didn't win Matt Hagan had another good outing and it sure looks like his team has put the 2012 season far behind them. In 2013 Matt has now been to seven final rounds and has four wins.
Did you know
that in his championship year Matt only went to four finals and only won two races? Of course those two races were in the "Countdown" so it shows that it pays to get hot at the right time, although this year it looks like Matt has been hot for most of the season and he will be hard to stop in the playoffs..
Johnny Gray
beat
John Force
on a holeshot in the second round and that was the third holeshot loss of the year for John and his third in as many races.
Did you know
that this is the first time since 2005 that John has that many holeshot losses in a single season, and it is the first time in his entire career that he has lost on a holeshot at three consecutive events. Regardless of that fact John appears to be in championship form and he will be a factor once the "Countdown" begins.In the all important battle for the tenth and final spot in the "Countdown"
Robert Hight
is in tenth place, four points behind
Bob Tasca
, while
Del Worsham
is in eleventh and he is thirty-one points behind Robert. That's more than one round and it will be tough for
Del
to make that up in Indy, not impossible, but tough..I mentioned last week how poorly
Tim Wilkerson
, Bob Tasca, Robert and
Del
had done at Brainerd and on Sunday the four of them combined for a total of three round wins. It was a good opportunity for one or all of them to make a move but Tim
was
the only one to win more than a round and that gave him a little breathing room going into Indy. Right now Tim is in eighth place and he is more than two rounds in front of Bob Tasca, so even though he didn't clinch he did virtually assure himself of a spot in the "Countdown" this year.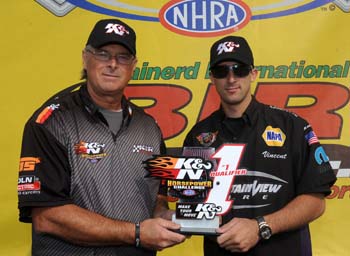 Vincent Nobile celebrates second No. 1 of career.
I really can't pick a favorite going into the "Countdown" in Pro Stock. There are ten drivers who are locked in and, believe me when I say it, any one of those drivers can win on any given Sunday..Vincent Nobile was hot coming into the race and stayed that way through qualifying. Did you know that when he grabbed the top spot he became the first Dodge driver since Darrell Alderman in 1994 to be number one in Brainerd? Vincent will be tough in the "Countdown" and he has what it takes to go the distance, a good car, good team and he is an excellent driver...For his part V. Gaines is having a wonderful year with a couple of final rounds and a spot in the "Countdown". Even though he lost to Mike Edwards in the final round he was only a few thousandths of a second behind Mike in the performance department in the semi-finals and he was driving well. He might be a long shot but V. is having a very good year and I'm sure he is really enjoying himself...Mike, meanwhile, has to be considered one of the front-runners going into the "Countdown" simply based on what he has done so far this year. This was his fifth win of the season and his sixth final round. Mike, whose car says "I Am Second," just might be first by the time this season is over... Did you know that this was the 15th win for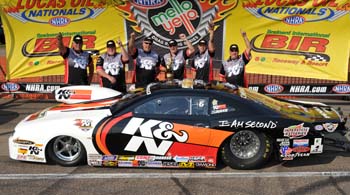 Mike Edwards and crew celebrate
fifth win of the season.
Chevrolet in thirty-two years of the Brainerd event? It was also the 186
th
win for Chevrolet in class history, and with the win Mike became the eighth driver with ten or more wins for Chevrolet in Pro Stock..This was the first win for Mike at the Minnesota track, in fact, it was his first final round there, too.
Did you know
that coming into the event Mike was just 8-12 in Brainerd? The victory now gives him wins at twenty-two different events and the top spot going into the "Countdown." Mike's four round wins gives him a total of 424 for his career and that moves him past
Jim Yates
and into sixth place on the Pro Stock list. Nice job, Mike...And I would be remiss if I didn't mention that this was the first Brainerd race ever that did not include
Warren Johnson
. I'm not sure if we will see WJ again this year but it's a shame when he can't make an appearance at his home track.
Warren
has been to every race at BIR since the inaugural event in 1982.
Did you know
that that first race was loaded with star power and the first three qualifiers in Pro Stock were
Bob Glidden
,
Lee Shepherd
and Warren? Wow!
Gord Gingles and the Bull
celebrate his first win.
There were two different ends of the spectrum on display in the alky classes at Brainerd, with Gord Gingles winning his first national event in his fifth start while Frank Manzo was busy winning his101st national event in his 245th start. Did you know, and you probably did if you read this column on a regular basis, that this was the fortieth consecutive final round win for Frank? I know that they say records are made to be broken but that one never will be. Forty consecutive final rounds without a loss is simply unbelievable, and if some of the rumors are true this may be Frank's last year as a driver. Now I'm not spreading or starting any rumors it's just that the vibe you get from Frank is that he may be getting ready to take on some new challenges..For his part Gord won the Top Alcohol Dragster class when he beat Jim Whiteley in the final round. Did you know that Gord becomes the 132nd driver to win in the alky dragster class and he is one of fifty-three drivers with one win. Among that group are Dan Nimmo, Bernie Plourd and Shelly Anderson..Congratulations to several first-time winners at Brainerd including Bill Feist (Stock), Jim Thune (Super Stock), and Kevin Dyck (Super Gas)..The NHRA Mello Yello series takes a week off before the grind and spectacle that is Indy, but if you still need a drag racing fix I can recommend a trip to Cordova, Illinois for the 60th running of the World Series of Drag Racing. This is the biggest and longest running independent event in the country and if you have never been to it you should. Scott Gardner and his crew do a wonderful job and the weekend has a little bit of something for everyone. Plus, as a bonus this year, "Big Daddy" Don Garlits and "TV Tommy" Ivo will be there as special guests and that alone should make it worth the trip. It's a great race with a fantastic history and I can highly recommend it for any drag racing fan. Enjoy!