Wed, 14 Aug 2013, 12:06 PM



Nostalgia Series Championship Battles Heating Up In Southwest



Courtesy of Chris Graves



While the nostalgia drag racers of the southwest enjoy a several week break in their schedules to avoid the most intense heat of the summer, the points battles developing on paper are anything but chilled. After a busy spring and early summer run, the respective points leaders in the Painless Performance Outlaw Fuel Altered Series, MalloryPrint.com Southwest Heritage Racing Association and Smiley's Racing Products Southwest Junior Fuel Association will have their work cut out to keep their names atop the charts as we enter the second half of the season.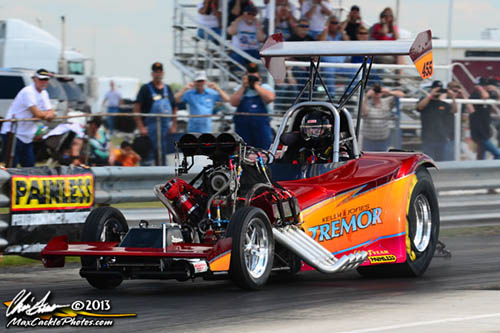 In Outlaw Fuel Altered series action, defending two time Champion Jimmy Jones and the "Texas Tremor" team currently hold the top spot, but a surprise contender is quickly closing the gap. Kebin Kinsley, wheeling the Roger Hennen owned "Nitro Junkie" entry, has put together two straight OFAA wins to climb the charts and now holds a strong chance to contend for the 2013 series title. The most recent addition to the "OFAA 3 Second Club", Kinsley and company have quickly become a fan favorite with spectacular eighth mile burnouts and have proven their abilities by taking out the top performers on their march to the winners circle.
With four events remaining, Jimmy Jones will have to keep doing what he does best, qualifying well and winning rounds, if he hopes to hold off the hard charging Kinsley. Mary Reep is currently third in points after notching her first OFAA series win earlier this season and with a strong fall effort, she could give the boys plenty of grief in the mix for the Championship battle. Terry Brian and Bobby Marriott round out the top five as the next stop for the OFAA tour will be on August 31st & September 1st at Mo-Kan Dragway in Asbury, Missouri. The OFAA series would like to recognize title sponsor Painless Performance Products, as well as Good Vibrations, Wizard's Warehouse, North Texas Diesel, Competition Sales of Dallas and 3rd Coast Commissioning Services for their support of the 2013 bonus programs. Find out more at www.ofaa.net.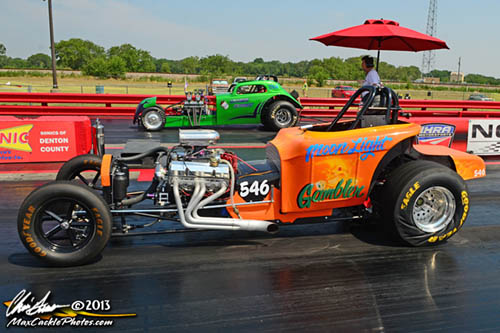 In it's inaugural season, the Southwest Heritage Racing Association, presented by MalloryPrint.com, has created a new and exciting vibe for the grassroots approach to nostalgia drag racing in the region. This five class program includes three index based "Nostalgia Eliminator" categories for blown, injected and carbureted front engine dragsters, altereds and roadsters. Support for the new series has been strong and car counts continue to improve. Steve Matthews, Bee Godwin and Doug Morrison currently lead the points in their respective classes in Nostalgia Eliminator action. The next stop for these three classes is at Ardmore Dragway in Ardmore, Oklahoma on August 31st.
The SHRA series also hosts two bracket classes for 79 and earlier bodied machines. Sharon Godwin in her 1958 Corvette and James Armstrong, wheeling an injected 1923 T altered, find themselves tied for the lead in the "Nostalgia Bracket" electronics class, a Championship that will be decided at North Star Dragway on October 5th. Bill Cogswell, currently undefeated in competition, has a strong grasp on the points lead in the no electronics "Hot Rod" class in his 1971 Ford Pinto and will likely find himself wearing the Championship jacket at the conclusion of the season October 5th. The SHRA series would like to recognize sponsors Mallory Screenprint & Embroidery, Robinson Restoration & Service and Meyer Enterprises as well as bonus supporters Good Vibrations, Harry's Hot Rod & Truck Accessories, Triple C Agency, North Texas Diesel, Competition Sales of Dallas and AlkyDiggers.com for their support this season. Find out more at www.shraracing.com.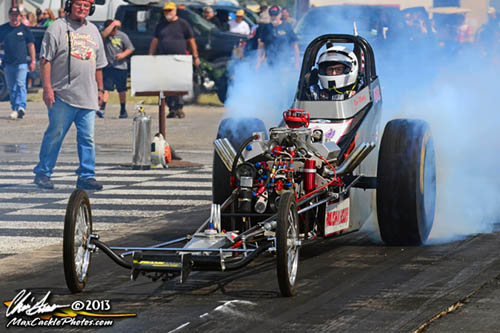 The Smiley's Racing Products Southwest Junior Fuel Association is in a heated Championship hunt between Ron Muncy and Odie Coker. Coker has a chance to double up and claim the lead at the next SWJFA event on August 31st at Ardmore Dragway. Rain delayed the final round of the previous event at Ardmore on May 11th as Coker and final round opponent Ken Hawkins were pulling into the staging lanes. This final will be made up during qualifying next month and Coker comes into the Ardmore event as the defending event winner. Coker currently trails SWJFA points leader Ron Muncy by just four points.
Muncy's plan is simple, take Coker out and go rounds. Muncy has posted strong finishes in the top five for the last three consecutive seasons including a runner-up effort in 2011. With two events remaining in the 2013 SWJFA season, the Champion will be crowned on September 14th at Tulsa Raceway Park's "Nitro Nationals" as the teams battle for victory on the historic quarter mile. The SWJFA series would like to thank Smiley's Racing Products, Champion Spark Plugs, Hayden Enterprises and Hilborn Fuel Injection for their support this season. Find out more at www.swjfa.com.