Sat, 10 Aug 2013, 08:23 AM



Lagana Wows During Big First Night at IHRA Northern Nitro Jam



Courtesy of IHRA Communications


Photo Courtesy of IHRA Communications





Dom Lagana Posts Incredible Lap, Mike Minick Gets First Nitro Jam Win



MARTIN, Mich. --
(August 9, 2013) - Now that is how you put on a show!
>From an amazing Top Fuel final to an earth-shattering side-by-side jet truck run to close the evening, Friday's Northern Nitro Jam opener at U.S. 131 Motorsports Park was one for the ages.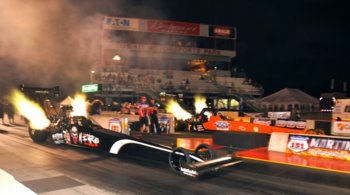 Dom Lagana (near lane) vs. Bruce Litton
With the Lagana brothers attempting their quickest Top Fuel pass in history, younger brother Dom got the "Nitro Ninja" Top Fuel Dragster close with a 4.682 second pass at 317.15 miles per hour, but there is still work to be done. And Dom will be swinging for the fences on Saturday in an attempt to reach the magical 4.50- second zone in the quarter-mile.
While Lagana took the win in Top Fuel, Mike Minick in the "Chi-Town Hustler" Prostalgia Nitro Funny Car had two tremendous passes to take the win in the popular Funny Car class, while Tracy Kile won Nitro Harley and Mike Hilsabeck claimed the Ironman in Fuel Altered Friday at the CarSafe Northern Nitro Jam presented by Perry Harley-Davidson at U.S. 131 Motorsports Park.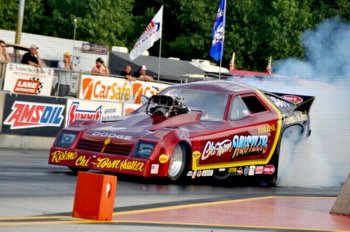 Mike Minick
Lagana had two incredible passes Friday night, running a 4.715, 263.74 in round one before dipping into the 4.60s. In the final Bruce Litton gave Lagana all he could handle in the "Nitro Jam" Top Fuel machine, running an equally impressive 4.858, 291.46 in the runner-up effort.
Lagana will be trying for the team's quickest-ever pass Saturday night at the same track where the brothers eclipsed so many benchmarks in the past.
In AMSOIL Prostalgia Nitro Funny Car Mike Minick continued his rampant pace in the "Chi-Town Hustler" Dodge Omni, running a 5.780, 250.48 in round one before backing it up with a 5.820, 246.39 to give the Justice, Illinois native his first career Nitro Jam Ironman. Mike McIntire took runner-up honors with a 6.112, 232.78 pass.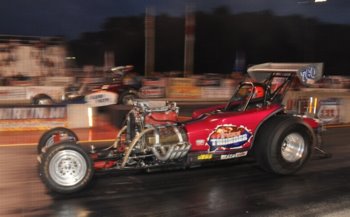 Mike Hilsabeck
Mike Hilsabeck in the "Arizona Thunder" wrapped up Friday's big winners with a close win over Ron Maroney. Hilsabeck had a 6.362, 209.13 pass to Maroney's 6.426, 189.72, a difference of only .044 seconds at the stripe.
Tracy Kile had a de facto victory in Nitro Harley when final round opponent Jay Turner failed to make the call.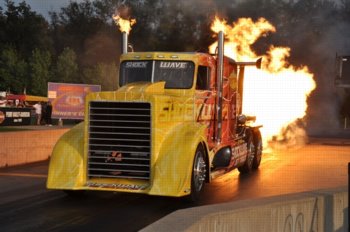 Shockwave
The side-by-side jet truck showdown between the "Shockwave" and "Super Shockwave" jet-powered semis brought the evening to a close with an amazing side-by-side show of fire and an earth-shaking launch.
Nitro Jam will be back in action on Saturday with two more rounds of professional competition plus the finals of the Summit Racing Equipment Pro-Am Tour sportsman competition. Racing gets underway at 9 a.m. with sportsman racing followed by Nitro Jam beginning at 7 p.m.
MARTIN, Mich. -- Friday's final results from the race one at US 131 Motorsports Park at US 131 Motorsports Park. The race is the fifth of nine in the Summit Racing Equipment Pro-Am Tour presented by AMSOIL, North Stars Division 3:
TOP FUEL Dom Lagana, Scarsdale, N.Y., 4.682 seconds, 317.15 mph def. Bruce Litton, Indianapolis, Ind., 4.858 seconds, 291.46 mph.
PROSTALGIA NITRO FUNNY CAR Mike Minick, Justice, Ill., '73 Charger, 5.820, 246.39 def. Mike McIntire, Chesterland, Ohio, '69 Camaro, 6.112, 232.78.
NITRO HARLEY Tracy Kile, Asheville, N.C., 7.044, 196.40 was unopposed.
NOSTALGIA FUEL ALTERED Mike Hilsabeck, Phoenix, Ariz., '23 roadster, 6.362, 209.13 def. Ron Maroney, Gilbert, Ariz., '32 Bantam, 6.426, 189.72.
PRO STOCK Tony Pontieri, 7.817, 122.54 was unopposed.