Thu, 25 Jul 2013, 13:40 PM



Anderika Gets Long-Awaited Win, Finke Keeps Epping Streak Alive



Courtesy of NHRA Field Marketing


Photo copyright 2013 David Smith Photos





EPPING, N.H. --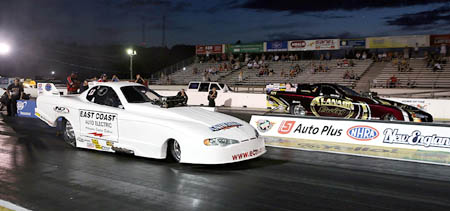 John Anderika defeated Frank Manzo
In the final results from the Lucas Oil Drag Racing Series event at New England Dragway, Top Alcohol Dragster driver, John Finke, Selkirk, N.Y., and Top Alcohol Funny Car driver, John Anderika of Wyoming, Pa., took home the wins in their respective categories.
With an upset win over 15-time national champion, Frank Manzo, Anderika put years of final-round futility behind him for an overdue first Top Alcohol Funny Car title, and in Top Alcohol Dragster, Finke won for the second time in a row in regional competition and the second year in a row at New England Dragway.
"Finally," exclaimed Anderika, who went the distance for the first time in 11-career final rounds, including four this year. "Now, I won't have to go through life being that guy who never won."
In a rematch of last year's final, Manzo and Anderika both ran exactly what they ran in 2012 - 5.60 for Manzo, 5.69 for Anderika - but instead of being passed in the last few hundred feet and falling short by a thousandths of a second, Anderika had it all the way when Manzo narrowly fouled.
"I'm not as good as I was five years ago," said Manzo, always his own harshest critic, after missing a perfect light by less than a hundredth of a second with a -.009 foul. "If this was five years ago, I would have had a .025 light and won the race. I had to leave at a very specific rpm that time to get my car to run what I wanted it to run, and I was about 200-rpm too high when I brought it up. I was still coming down on the rpm as I rolled in, and it screwed me up. And what I did worked - it ran a .60-flat."
Manzo got quicker and faster from the first qualifying run through the final, resetting low elapsed time on every run after the opening session: 5.73 off the trailer, 5.67 for the No. 1 qualifying position, 5.64 over returning veteran Paul Gill in round one, 5.62 against Todd Veney in the semi's, and the final-round 5.60. Anderika set the early pace in qualifying with a 5.71 and was unerringly consistent in eliminations with back-to-back-to-back 5.69s, against D.J. Cox, whose rear wheels spun in the tires, melting the tires; Eric Lourie, who now has been to the semifinals of every race this season; and Manzo, whom he'd never beaten in a dozen previous matchups.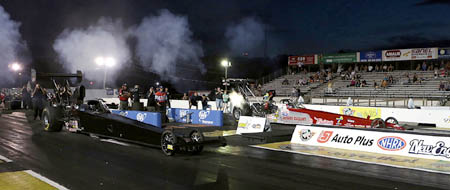 John Finke defeated Dan Page
"I didn't notice the red-light when we left," said Anderika, who had his best reaction time of the race, .044, in the final. "I saw him out ahead of me and thought, 'How'd he do that? I know I hit the Tree that time.' Then somewhere in second gear, I saw my win-light on the scoreboard and thought, 'He red-lighted?' I told myself not to lift, just in case, and enjoyed the ride. I wonder how long this feeling lasts?"
Finke backed up his 2012 New England Dragway triumph with a final-round victory over incoming East Region points leader Dan Page, driver (and builder) of Art Gallant's 2002 national championship car. Last year, Finke put up the best reaction time of the event in the final, .006; this time it was low E.T., a 5.41.
"[Tuner] Tom Conway went for it, and he nailed it," said Finke, who, like everyone, was hampered by the oppressive 100-degree heat all weekend. In the final, in by far the best conditions of the event, he picked up more than a tenth and nearly 10 mph to stop Page, who rattled the tires early and backpedaled.
"I had to," said Page, of Hampstead, N.H., who was competing at his home track. "I've been to this place too many times, and I knew the track would come in for the final, after the sun went down. Arthur threw a lot at it, but it stuck the tires anyway." Page qualified just sixth with a 5.71 but leapfrogged to a 5.42 in the opening round that was low e.t. by nearly a tenth until Finke's final-round heroics. He won the semifinals over Canadian Jeff Veale with a 5.64.
After pacing the field with a 5.55, Finke took out Karen Stalba in round one with a 5.50 and recorded a 5.53 on his semifinal single when bucks-down veteran Bruce Horner was unable to appear after upsetting Finke's teammate, Jackie Fricke, in the first round.
"The heat was brutal for the A/Fuel cars," Finke said. "I mean, a .55 is No. 1 qualifier? I didn't think there was anything better than a high .40 out there in the final - 5.48 is what we were shooting for - but Tom did, and he was right."
In Comp Eliminator, Lincoln Morehead, Marlboro, N.Y., captured his first-ever win in the class when he took out Calvin Hill of Tamaqua, Pa. Although this was his first win in the class, neither Morehead nor the car he piloted, are strangers to the winner's circle. Morehead, a multi-time event winner and the reigning Northeast Division champ in the Super Stock category, drove the same car that Sal Biondo put in the winner's circle twice last year, including here at New England Dragway.
The Super Stock final featured a couple of Pennsylvania runners, Bryon Worner of Duncannon and Larry Jewell of Ulysses. In the end, it was Worner taking the win, his second of the season, with a time of 9.924 seconds at 126.96 mph.
Stock Eliminator was won by former national champion Joe Santangelo of Marlborough, Conn., over Toms River, N.J., native Ken Robinson. This was the third win of the season for Santangelo, who also claimed victories in both the Super Stock and Stock categories earlier this year at the Lucas Oil Drag Racing Series event in Richmond, Va.
Adding some local flavor to the winner's circle was, Eliot, Maine's, Kyle Cultrera, who earned the Super Comp win when he took out Coopersburg, Pa., racer Kathy Smulligan, while in Super Gas, Tim Quintin, Fairfax, Vt., won over Mac Starks Jr., of Springfield, Mass.
In the NHRA Harley-Davidson Drag Racing Series, Doug Horne continued his winning ways, picking up his fourth win of the year in the Top Fuel Harley class, while in Street Pro Harley, Bruce Croneberger III picked up his third of the year. The win in Pro Gas Harley was earned by Sam Hurwitz of Newton, Mass., over two-time event winner Frank Capone of Wakefield, Mass.
Other winners at this weekend's event also included Art Gardner in Super Street, Ray Bamond in Top Sportsman presented by Select Performance and Michael Galofaro, Lincoln Park., N.J., in Top Dragster presented by Select Performance.
The next stop on the Lucas Oil Drag Racing Series schedule for Northeast Division racers is Atco Raceway August 2-4. For more information on this event visit www.AtcoRace.com.
The following are the final results from the NHRA Lucas Oil Drag Racing Series event at New England Dragway:

TOP ALCOHOL DRAGSTER
Round 1:
5) Bruce Horner, Bergenfield, N.J., 5.697, 244.69 def. 4) Jackie Fricke, Flemington, N.J., 10.680,
108.48;
7) Jeff Veale, Stoney Creek, Ont., 5.697, 263.87 def. 2) Wayne Morris, Lincoln University, Pa.,
5.518, 257.43;
6) Dan Page, Hampstead, N.H., 5.426, 262.64 def. 3) Rich McPhillips, Phoenixville, Pa., 5.563,
258.17;
1) John Finke, Selkirk, N.Y., 5.507, 258.07 def. 8) Karen Stalba, Hammonton, N.J., 5.739, 245.63;

Semifinals
Finke, 5.532, 254.14 def. Horner, broke; Page, 5.649, 266.74 def. Veale, 5.690, 264.70;

Final
Finke, 5.413, 262.08 def. Page, 5.535, 264.08.

TOP ALCOHOL FUNNY CAR
Round 1
4) Todd Veney, Brownsburg, Ind., '08 Impala, 5.734, 253.71 def. 9) John Headley, Newportville, Pa.,
'03 Mustang, broke;
6) Eric Lourie, Terryville, Conn., '02 Camaro, 5.879, 246.75 def. 3) Dan Pomponio, Berlin, N.J.,
'10 Monte Carlo, 6.068, 186.67;
2) John Anderika, Wyoming, Pa., '10 Monte Carlo, 5.690, 252.28 def. 7) DJ Cox Jr., Whiteford, Md.,
'09 Monte Carlo, 6.706, 137.81;
1) Frank Manzo, Mooresville, Ind., '13 Monte Carlo, 5.643, 258.62 def. 8) Paul Gill, Brockton,
Mass., '12 Mustang, 5.956, 251.91;

Semifinal
Anderika, 5.693, 253.56 def. Lourie, 5.793, 248.25; Manzo, 5.620, 260.01 def. Veney, 5.911, 246.48;


Final
Anderika, 5.695, 250.13 def. Manzo, foul.


COMP ELIMINATOR
A. Lincoln Morehead, Marlboro, N.Y., '11 Cavalier, D/EA, 9.776, 93.82  def. Calvin Hill, Tamaqua,
Pa., '09 Grand Am, D/EA, foul

SUPER STOCK
Byron Worner, Duncannon, Pa., '96 Camaro, SS/IA, 9.924, 126.96  def. Larry Jewell, Ulysses, Pa.,
'67 Corvette, SS/DA, 9.612, 139.62.

STOCK ELIMINATOR
Joe Santangelo, Marlborough, Conn., '95 Camaro, C/SA, 10.628, 115.72  def. Ken Robinson, Toms
River, N.J., '67 Camaro, E/SA, 10.988, 119.34

SUPER COMP
Kyle Cultrera, Eliot, Maine, dragster, 8.907, 174.64  def. Kathy Smulligan, Coopersburg, Pa.,
dragster, 8.887, 177.42.

SUPER GAS
Tim Quintin, Fairfax, Vt., '70 Cuda, 9.896, 147.67  def. Mac Starks Jr, Springfield, Mass., '67
Camaro, 9.878, 152.45.

SUPER STREET
Art Gardner, Somers, Conn., '69 Nova, 10.849, 150.63  def. Jason Lawrence, Hamilton, N.J., '70
Duster, foul.

TOP SPORTSMAN PRESENTED BY SELECT PERFORMANCE
Ray Bamond, Paterson, N.J., '68 Camaro, 6.787, 202.64  def. Michael Cerro, Mineola, N.Y., '63
Corvette, 7.047, 193.57.

TOP DRAGSTER PRESENTED BY SELECT PERFORMANCE
Michael Galofaro, Lincoln Park, N.J., dragster, 6.682, 203.89  def. Ken Moses, Colonia, N.J.,
dragster, 6.948, 192.30.

TOP FUEL HARLEY
Doug Horne, Aberdeen, Md., '10 Harley, 6.631, 180.16  def. Takeshi Shigamatsu, Ehime, Japan, '10
Harley, 18.980, 59.33.

STREET PRO HARLEY
Bruce Croneberger III, Cressona, Pa., '86 Sportster, 8.844, 150.51  def. Nick Gonatas, Youngstown,
Ohio, '06 V-Rod, 8.994, 150.11.

PRO GAS HARLEY
Sam Hurwitz, Newton, Mass., '10 Sportster, 8.744, 154.62  def. Frank Capone, Wakefield, Mass., '01
Harley, 9.248, 140.85.