Thu, 25 Jul 2013, 10:16 AM



Booher Wins Third in a Row, Bohl Second of 2013



By Todd Veney/ Pro Sportsman Association


Photo copyright 2013 Steve Fuhrman Photos





HEBRON, Ohio --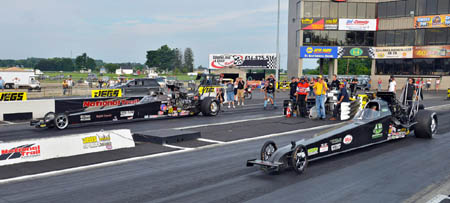 Brandon Booher defeated Marty Thacker
At National Trail Raceway in Columbus, Brandon Booher collected his third straight victory and took a commanding lead for the 2013 North Central championship in Top Alcohol Dragster and Andy Bohl won for the second time this season and assumed the favorite's role for the North Central Top Alcohol Funny Car title.
Booher, who never won a race until last month, padded his lead with a close final-round decision over Marty Thacker, who now has three final-round appearances this year. Thacker delivered by far his best run of the weekend, 5.48, and Booher his slowest, 5.46, but Booher's 5-mph better speed, 266 to 261, made for a car-length lead at the finish line.
"I had no shift light that time and got on the limiter a little bit on the 1-2 shift," Booher said. "For a second there, I was thinking, 'Where's the light? Where's the light?' but I guess I still ran good enough to win."
Booher qualified No. 2 (5.42) behind defending event champ Bill Reichert (5.38), who was upset by No. 8 qualifier Jared Dreher, 5.46 to 5.47, for what surprisingly was his third straight first-round loss in the North Central region. Thacker put away Cordova runner-up Robin Samsel in that round, 5.51 to 5.62, and Booher eliminated Norwalk national event winner Dave Hirata, 5.42 to 5.57.
Booher made his best run of the weekend, 5.41, to take out Ken Perry in one semifinal match, and Thacker won the other on a holeshot over Dreher, 5.58 to 5.51, which left him at a considerable disadvantage for the final. Thacker, who won Columbus four times in the 2000s, picked up a tenth but fell just short, 5.46 to 5.48.
"Last month, I had nothing but bills and computers on my desk, and now I've got three Wallys sitting there," Booher said. "I'm really getting used to winning. People keep telling me they thought I'd be more excited after I won, but I always saw the potential in this torque converter. It's not like, 'OMG.' It's more like 'finally.' I'm not going to say I always thought this would happen, but I'm competitive to the nth degree, so maybe I did. The way I look at it, we could have won the first two [Indy and Norwalk], too."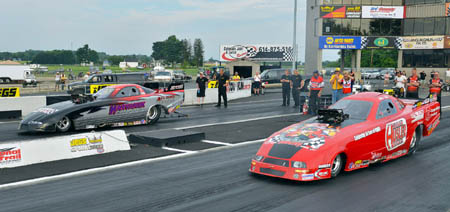 Andy Bohl defeated Brian Harvanek
Booher now is a prohibitive favorite for the North Central Top Alcohol Dragster crown, and with his latest win, Bohl moved into a tie with yearlong leader Chris Foster in Top Alcohol Funny Car and with fewer races claimed and more in-division points has the upper hand.
Bohl, who opened the regional season with a victory at Indy, qualified No. 1 and won the final with a 5.78 over Brian Harvanek, who shut off to a 7.49. "That's the first time I've ever run the table - No. 1 qualifier, low e.t., and top speed," said Bohl, who had low e.t. and top speed not just of the event but of every round.
Bohl paced the field in qualifying with a 5.736, just thousandths ahead of Harvanek's nearly identical 5.739, and made the only run all weekend in the 5.60s, a 5.68, on a first-round single. "Having nobody in the other lane gave me a chance to go for it," he said. "It also gave me lane choice for the semifinals, and at this race that was really important because it was absolutely a one-lane racetrack."
Harvanek won the first round over Steve Franke, who was making his first appearance of the season, and the semifinals over Lance Van Hauen, who has gone rounds at his last several events, with a 5.719. Bohl beat Foster in the other semi in a race crucial to the North Central standings, 5.710 to 5.76, closing the gap on Foster and gaining lane choice for the final.
Harvanek, who has been to at least one final for four consecutive years, produced the best reaction time of the entire event in the final, but veered toward both the centerline and the wall and had to lift. "I saw him out there and just hoped he couldn't make it stick in that lane," said Bohl, who drove through shake for the 5.78 win. "You hate to just leave the car alone, but sometimes that's the smartest thing you can do and it won me the race."