Thu, 25 Jul 2013, 10:02 AM



Anderika Breaks Through, Finke Takes Second Straight



By Todd Veney/ Pro Sportsman Association


Photo copyright 2013 David Smith Photos





EPPING, N.H. --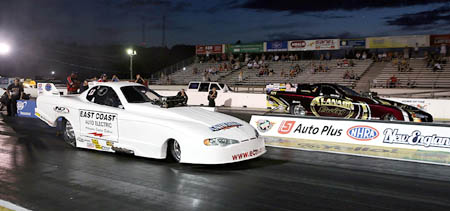 John Anderika defeated Frank Manzo
With an upset win over The Man himself, Frank Manzo, John Anderika put years of final-round futility behind him for an overdue first Top Alcohol Funny Car title, and in Top Alcohol Dragster, John Finke won for the second time in a row in regional competition and the second year in a row at New England Dragway.
"Finally," exclaimed Anderika, who went the distance for the first time in 11 career finals, including four this year. "Now, I won't have to go through life being that guy who never won."
In a rematch of last year's final, Manzo and Anderika both ran exactly what they ran in 2012 - 5.60 for Manzo, 5.69 for Anderika - but instead of being passed in the last few hundred feet and falling short by thousandths of a second, Anderika had it all the way when Manzo narrowly fouled.
"I'm not as good as I was five years ago," said Manzo, always his own harshest critic, after missing a perfect light by less than a hundredth of a second with a -.009 foul. "If this was five years ago, I would have had a .025 light and won the race. I had to leave at a very specific rpm that time to get my car to run what I wanted it to run, and I was about 200 rpm too high when I brought it up. I was still coming down on the rpm as I rolled in, and it screwed me up. And what I did worked - it ran a .60-flat."
Manzo got quicker and faster from the first qualifying run through the final, resetting low e.t. on every run after the opening session: 5.73 off the trailer, 5.67 for the No. 1 qualifying position, 5.64 over returning veteran Paul Gill in round one, 5.62 against Todd Veney in the semi's, and the final-round 5.60. Anderika set the early pace in qualifying with a 5.71 and was unerringly consistent in eliminations with back-to-back-to-back 5.69s, against D.J. Cox, whose rear wheels spun in the tires, melting the tires; Eric Lourie, who now has been to the semifinals of every race this season; and Manzo, whom he'd never beaten in a dozen previous matchups.
"I didn't notice the red-light when we left," said Anderika, who had his best reaction time of the race, .044, in the final. "I saw him out ahead of me and thought, 'How'd he do that? I know I hit the Tree that time.' Then somewhere in 2nd gear, I saw my win-light on the scoreboard and thought, 'He red-lighted?' I told myself not to lift, just in case, and enjoyed the ride. I wonder how long this feeling lasts?"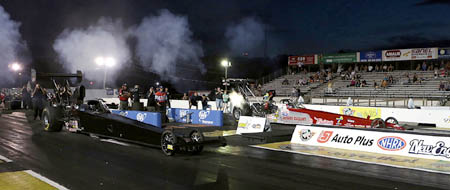 John Finke defeated Dan Page
Finke backed up his 2012 New England Dragway triumph with a final-round victory over incoming East Region points leader Dan Page, driver (and builder) of Art Gallant's 2002 national championship car. Last year, Finke put up the best reaction time of the event in the final, .006; this time it was low e.t., 5.41.
"[Tuner] Tom Conway went for it, and he nailed it," said Finke, who, like everyone, was hampered by the oppressive 100-degree heat all weekend. In the final, in by far the best conditions of the event, he picked up more than a tenth and nearly 10 mph to stop Page, who rattled the tires early and backpedaled.
"I had to," said Page, of Hampstead, N.H., who was competing at his home track. "I've been to this place too many times, and I knew the track would come in for the final, after the sun went down. Arthur threw a lot at it, but it stuck the tire anyway." Page qualified just sixth with a 5.71 but leapfrogged to a 5.42 in the opening round that was low e.t. by nearly a tenth until Finke's final-round heroics. He won the semifinals over Canadian Jeff Veale with a 5.64.
After pacing the field with a 5.55, Finke took out Karen Stalba in round one with a 5.50 and recorded a 5.53 on his semifinal single when bucks-down veteran Bruce Horner was unable to appear after upsetting Finke's teammate, Jackie Fricke, in the first round.
"The heat was brutal for the A/Fuel cars," Finke said. "I mean, a .55 is No. 1 qualifier? I didn't think there was anything better than a high .40 out there in the final - 5.48 is what we were shooting for - but Tom did, and he was right."