Tue, 23 Jul 2013, 12:44 PM



Ray Establishing Himself in Pro Stock Motorcycle Class



Courtesy of NHRA Communications


Photo copyright 2013 NHRA





Looking Forward to Another Fast Race at NHRA Sonoma Nationals



SONOMA, Calif. --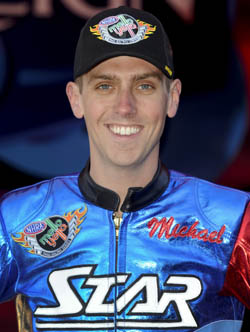 Michael Ray
In the world of NHRA Pro Stock Motorcycle racing, Sonoma Raceway has quickly earned a reputation for being one of the circuit's premier power tracks for the two-wheel class since it was added to the bike schedule in 2002.
Red-hot Michael Ray, who has raced to two victories and claimed two No. 1 qualifying positions to surge into second place in the series standings, can't wait to get to Wine Country this season for the NHRA Sonoma Nationals, July 26-28.
Antron Brown (Top Fuel), Johnny Gray (Funny Car), Allen Johnson (Pro Stock) and Eddie Krawiec (Pro Stock Motorcycle) are the defending winners of the NHRA Mello Yello Drag Racing Series event, the second of three consecutive weekends of racing known as the Western Swing. The race will be televised on ESPN (qualifying Saturday, 7 p.m. ET) ESPN2 HD (eliminations, Sunday, 8 p.m. ET).
While Ray is working hard to earn a third season victory and move to No. 1 in the season standings, the New Braunfels, Texas rider also wants to see just how fast his Sovereign-Star Buell will run at the Northern California dragstrip.
Last season Krawiec increased the Sonoma track speed record to 198.35 mph on his Screamin' Eagle Harley-Davidson. Krawiec also holds the national speed record at 199.26 mph, set in Gainesville, Fla. in March 2011. Prior to that performance, Sonoma owned the national speed record of 197.65 mph set by Michael Phillips in July 2010.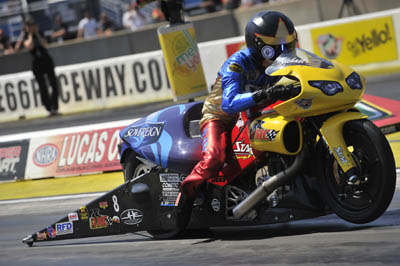 Michael Ray
"I think we really have a great shot at seeing a national speed record at Sonoma, based on the data we got at Epping," Ray said. "You could possibly see the first 200 [mph run] there as well. That is the last milestone out there for our class. It is the perfect place to do it."
Sonoma has become the perfect location because of its typically cool mornings which provides optimal conditions for bike teams to produce extra horsepower in Saturday's first qualifying session. The riders also receive an extra boost in Sonoma because there is a huge contingent of motorcycle-crazy fans who attend that race each season.
"Sonoma and Englishtown have the two biggest fan bases for our class on the entire circuit," Ray said. "We always get great support in Sonoma and that track is really fast. From a rider standpoint this is an interesting point in the season because you go from the slowest track for us on the circuit to one of the fastest. We really enjoy racing in Sonoma and we're looking forward to putting on a great show for the fans there."
Ray has been putting on quite the show lately in the Pro Stock Motorcycle category. After a bit of slow start to his season, which included back-to-back first round losses, Ray caught his stride in Houston with a semifinal finish and has been churning out round wins ever since. He moved from eighth to second in the points order during the last five races.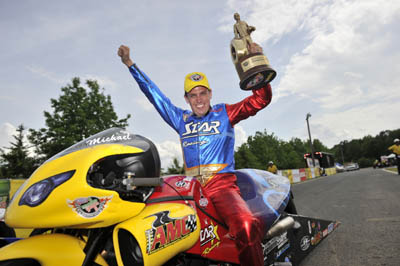 Ray celebrates Englishtown win.
"We knew it would take a few races to get up to speed but once we got clicking we knew we had a recipe for success," Ray said. "I think the momentum is in our favor now. Our goal from the beginning of the year has been to get into the Countdown, evaluate where we are at that point and then start writing the next chapter of our season in the playoffs. I think we're in good position to do that."
He says riding for team owner George Bryce's Sovereign-Star team is an opportunity he's continually grateful that came his way.
"The confidence George instills in me is what makes me dangerous," Ray said. "He'll come up to me and say, 'show me how fast this bike will run.' Just things like that. His coaching ability is the thing that sets him apart from others out here. That's why he and Angelle were so dominant when they had their run. To be a huge fan of the class and seeing how he won races and championships with John Myers and Angelle, and now to be a part of that, it is very cool."
Last season Ray broke through for his first career victory at the Texas Motorplex in Dallas as a second rider for Matt Smith Racing. Prior to that he was on and off of different bikes for different teams throughout several seasons. He finally feels like he is gaining a firm footing in the class.
"When you are a rent and ride guy in this class it is just so hard to get into a rhythm," Ray said. "Last year was big for me because I went to all 16 races and got to understand more how things work and see the highs and lows and get a little mentally tough. Now I know more of what to expect. It's like going from being a freshman to a sophomore in college."
In order to win a championship this season, Ray knows he's going to have to outrun some strong competition. Hector Arana Jr. opened the season with three victories, but has since cooled off a bit on his Lucas Oil Buell. Ray then claimed titles in Englishtown and Chicago and John Hall raced to a win in New Hampshire. Ray's former teammate Matt Smith followed with a victory in Norwalk, Ohio to end a four-race eastern swing. Ray says there are several other riders who are on the verge of winning, including his teammate, Scotty Pollacheck, and the Vance & Hines team of defending world champ Krawiec and Andrew Hines.
"The class is as competitive as it has ever been," Ray said. "We've had four different winners in seven races. It is going to be an exciting finish with so many riders in contention and having a chance to win races. All of the classes in the Mello Yello Series are really tight right now, and that's great for the fans."
In Top Fuel, Al-Anabi Racing driver Shawn Langdon is currently in the No. 1 position in points, but has seven-time world champion Tony Schumacher, a two-time Sonoma winner, lurking in second place only one point behind. Other challengers include defending world champ Brown, track record holder Spencer Massey and five-time event winner Doug Kalitta, among others.
The 2011 Funny Car world champion Hagan is back in top form as the series points leader, but the Virginia cattle rancher has yet to visit Wine Country's winner's circle. Other pre-race favorites include seven-time Sonoma winner John Force, two-time season winner Courtney Force, 2008 winner Robert Hight, three-time winner Ron Capps, and two-time event winner Cruz Pedregon.
In Pro Stock, reigning world champ Johnson will be looking to repeat while his new teammate, Jeg Coughlin, returns to Sonoma in pursuit of his third win there. Meanwhile, Mike Edwards hopes to build on his No. 1 spot in the points and bring home his first career win at Sonoma after posting three runner-up finishes there. Former Sonoma champs including Jason Line and Greg Anderson as well as notable young guns Vincent Nobile and Shane Gray will provide plenty of competition, giving fans plenty of thrilling side-by-side racing in the process.
Set amid the beautiful rolling hills and vineyards just north of San Francisco, Sonoma Raceway is already one of the most popular 'destination' races for NHRA fans from around the country so this year's race - featuring family-fun festivities throughout the weekend, and the annual Eric Medlen Ice Cream Social on Sunday - will truly be a once-in-a-lifetime experience.
Sonoma Raceway will also host the fan-favorite Sunday morning Starting Line Party featuring many of NHRA's leading ladies. Fans with Starting Line Party passes will have the opportunity to meet some of their favorite drivers, get autographs and celebrate during pre-race festivities down on the starting line. Party packages start at $77 and include a reserved seat, VIP track access pass for pre-race Q&A, track walk and all-day access to Thunder Alley. For more details, contact Sonoma Raceway.
Another unique experience offered to fans during the NHRA Sonoma Nationals is the Don Schumacher Racing Fan Hospitality Package. The DSR Hospitality Package includes a seat in the Main Grandstand for Friday, July 26th, access to DSR hospitality area Friday, a chef prepared meal, DSR driver appearances and autograph opportunities as well as the chance to see how the crew of a Top Fuel dragster or nitro Funny Car tune and rebuild their machines between rounds. Packages are available while supplies last.
As always, every ticket purchased for the NHRA Sonoma Nationals is a pit pass, which offers an extraordinary look behind the scenes in the world of the NHRA Mello Yello Drag Racing Series as race teams service their high-horsepower machines between rounds. Fans also will want to check out NHRA Nitro Alley and the popular NHRA Manufacturers Midway. In addition, fans should definitely plan to visit the Blast on the Grass, a celebration of American muscle cars, which features many classic machines in the popular car show set in turn 11 of the facility. There will also be some exhibition racing featured during the NHRA Sonoma Nationals with two Jet Dragsters and eight Pro Mod cars scheduled to make runs.
Mello Yello Series qualifying begins on Friday, July 26 with the first session at 4:15 p.m., followed by another session at 7:15 p.m. The final two qualifying sessions will take place Saturday, July 27, at 12:15 and 2:15 p.m. Final eliminations are scheduled for 11 a.m. on Sunday, July 28.
Adult tickets start as low as $39 and fans are encouraged to buy early and save. Make it a family-fun weekend when the NHRA Mello Yello Drag Racing Series arrives in Sonoma and take advantage of a special ticket promotion: Children 12 and younger will receive free general admission with a paid adult on Saturday. Fans can also bring an empty 20-oz. Mello YelloR bottle to the Sonoma Raceway box office and SAVE $8 on one adult single day NHRA race ticket, Friday - Sunday.
To purchase tickets for the 26th annual NHRA Sonoma Nationals, please call Sonoma Raceway Box Office at (800) 870-RACE (7223) or visit racesonoma.com.