Tue, 16 Jul 2013, 12:09 PM



Bandimere Speedway Poses Numerous Challenges



Courtesy of NHRA Communications


Photo copyright 2013 Auto Imagery, Inc.





For NHRA Teams at Mopar Mile-High NHRA Nationals in Denver



MORRISON, Colo. --
Bandimere Speedway offers one of the most picturesque scenes on the NHRA Mello Yello Drag Racing Series. Sitting nearly 6,000-feet above sea level, Thunder Mountain also presents one of the biggest challenges for NHRA superstars.
The traditional kickoff for the NHRA's annual three-week Western Swing begins with the 34th annual Mopar Mile-High NHRA Nationals, July 19-21, and it also poses a unique set of tests for drivers and crew chiefs making a final push to qualify for the Countdown to the Championship, NHRA's six-race playoffs. Antron Brown (Top Fuel), Jack Beckman (Funny Car), Allen Johnson (Pro Stock) and Eddie Krawiec (Pro Stock Motorcycle) were victorious at the popular Denver drag strip in 2012 and hope for continued success at the event, which will be televised on ESPN2 HD.
A two-time winner in Denver, four-time Pro Stock world champion Jeg Coughlin noted just about everything on his JEGS.com/Mopar Dodge Avenger is modified to compensate for the thin air and high altitude at the track located in the heart of the Rocky Mountains.
"It would be shorter to list the items we don't change: the driver and the paint," Coughlin said. "Really, when it's all said and done we end up going from front to rear and top to bottom modifying our setup. It is common to run a different rear 4-link suspension setup and shock set-up, and the entire gearing package is greatly modified to accommodate for the thin mile high air.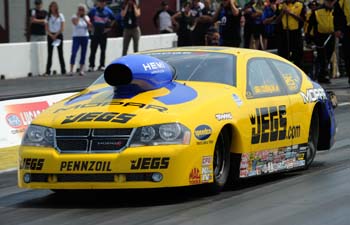 Jeg Coughlin
"We change the weight distribution, we do some front strut massaging and many other items within the engine tune up. With all the work and changes this is one race we look forward to each and every year."
Despite the numerous challenges that the track presents and the different tune-up strategies that must be applied to be successful, it remains one of the most popular stops for NHRA Mello Yello Drag Racing Series competitors.
The track has provided immense success for the Screamin' Eagle Vance & Hines Harley-Davidson Pro Stock Motorcycle team of Andrew Hines and defending world champion Eddie Krawiec, as they have combined for four wins, with three of those coming in the last four years. To get to that level, the team had to figure out how to succeed on Thunder Mountain.
"We will be down about 30 percent on horsepower at Denver, which changes almost every aspect of our set-up," Hines said. "The clutch tuning changes, gear ratios change and tire pressure settings change because we need less traction. We need to leave the line with the engine 1,000 rpm higher than normal to compensate for the loss of power, just to let the engine spool up. It's definitely a challenge."
The challenges are just as immense on the driver's psyche as well. A four-time winner at the event, including three of the past four years, defending Pro Stock champion Allen Johnson said competing on Thunder Mountain is about more than just a different tune-up in his Team Mopar Dodge Avenger.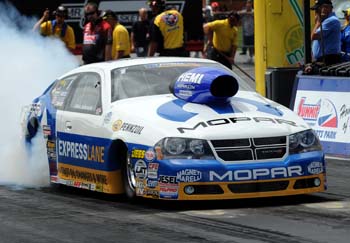 Allen Johnson
"You've got to be on your game and you have to work out hard the week before to get ready," Johnson said. "The heat and air can really affect you. You really have to get your mind in gear. That's really important there."
Teams must make the right decisions when it comes to tuning and different set-ups, but the driver must do his part as well. For current Funny Car points leader and 2011 world champion Matt Hagan, that means getting acclimated with the environment well ahead of time.
"You have to really be mentally focused because of the lack of oxygen," Hagan said. "You have to get acclimated to everything and get settled into the conditions. It can be taxing on your body and mind. The earlier you get settled in and get focused, the better you're going to do."
A team may have the perfect tune-up for the high-altitude conditions, but if the competitor isn't prepared for their own challenges in what can be adverse conditions, things can quickly go awry.
Krawiec, who won nine events en route to his 2012 world championship, revealed just how important rider execution is at a track like Bandimere and what he must do to succeed.
"Racing at Bandimere puts a premium on rider skill," Krawiec said. "Since we are down on power the effect of every mistake is magnified. You have to be very smooth off the line, and you can't short shift or the engine will fall on its face.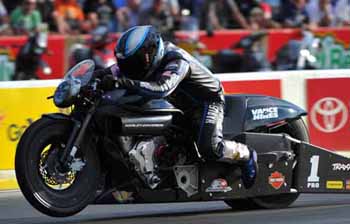 Eddie Krawiec
"In many ways rider or driver skill is substituting for the loss of power. We need to be on top of every aspect of our game as riders. Precision always counts in NHRA drag racing, but it's really key to winning at Denver."
The high altitude presents unique challenges for all of the NHRA's stars, who will all be looking to have a memorable weekend in the mountains. In Top Fuel that includes recent Chicago winner and current points leader Tony Schumacher, a seven-time world champion who has three wins in 2013 and also has won twice in Denver. But three-time season winner Shawn Langdon is close behind and the star-driven class also includes the likes of Spencer Massey, defending world champion Antron Brown, and 2013 event winners Bob Vandergriff and Steve Torrence. Other top contenders include Doug Kalitta, Khalid alBalooshi, Morgan Lucas, Brandon Bernstein, and Chicago runner-up Clay Millican.
Hagan, the 2011 Funny Car world champion, currently holds the Funny Car points lead, but the class remains as competitive as ever and Johnny Gray, Ron Capps and Cruz Pedregon have all seen time in the top spot in 2013. John Force is riding a three-race final round streak and has surged to third place in the points standings, while daughter Courtney has already posted two wins this season. Other standouts in the tightly-competitive class include defending world champion Jack Beckman, Del Worsham, Alexis DeJoria, Tim Wilkerson and former world champion Robert Hight.
Johnson, the defending Pro Stock world champion, has ruled Denver recently, but he and everyone else in Pro Stock is currently chasing Mike Edwards. Edwards has three wins in 2013 and will be searching for his first-ever victory at Bandimere, while other contenders include Coughlin, Jason Line, Greg Anderson and Vincent Nobile.
The Pro Stock Motorcycle category has featured outstanding racing all season with a field that is separated by thousandths of a second. Hector Arana Jr. has three wins and the points lead, but Chicago winner Michael Ray has moved into second after picking up his second win of the year. Other talented riders like John Hall, Scotty Pollacheck and Hector Arana Sr. are poised to win in Denver as well.
In addition to three days of intense racing, there will be loads of family-fun activities in celebration of Bandimere Speedway's 55th anniversary. On Thursday, July 18, fans are invited to attend the tradition-rich Mopar Block Party in Downtown Golden from 6-10 p.m., featuring a live band, car displays, and a driver autograph session.
There are also spectacular jet car runs on Friday night and a special "Go Red for Women Track Walk" on Saturday morning prior to racing at 8:30 a.m. to bring awareness to heart disease. The Track Walk gives fans the chance to walk the same track where NHRA drivers race at speeds of more than 300 mph and are joined by some of NHRA's favorite drivers. The experience is free for all Saturday ticket holders.
As always, every ticket purchased for the Mopar Mile-High NHRA Nationals is a pit pass, which offers an extraordinary look behind the scenes in the world of the NHRA Mello Yello Drag Racing Series. This unique opportunity in motorsports gives fans direct access to the teams, allowing them to see firsthand the highly skilled mechanics "twirl the iron" between rounds, and enjoy some cherished face time with their favorite NHRA drivers.
Mello Yello Series qualifying begins on Friday, July 19 with the first session at 5:15 p.m., followed by another session under the lights at 7:15 p.m. When 8,000-horsepower nitro machines blast off from the starting line with their header pipes full of flames during night qualifying, the scene provides one of the most sensory-filled experiences for any race motorsports fan.
The final two qualifying sessions will take place Saturday, July 20 at 1:45 p.m. and 4:45 p.m. Final eliminations begin at 11 a.m. on Sunday, July 21.
To purchase tickets for the Mopar Mile-High NHRA Nationals, please call Bandimere Speedway Box Office at (800) 664-8946 or visit www.bandimere.com.