Thu, 11 Jul 2013, 11:32 AM



IHRA Summit Super Series @ San Antonio Raceway, 6/15/13



Courtesy of J.M. Hallas



MARION,Texas --
San Antonio Raceway was able to dodge the weeklong deluge of rain and scattered showers for another round of the IHRA Summit Super Series on the 1/4-mile. As time trials began the track temperature was up to 120, but was well prepped as the drivers made their first passes.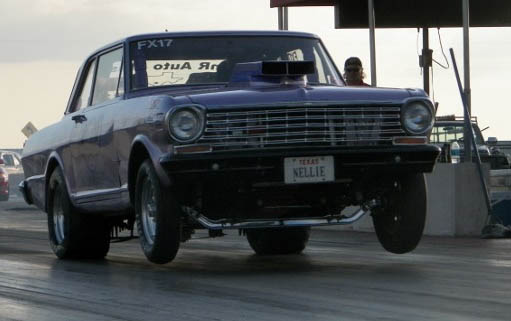 Whoooooaaaa Nellie....Nelson Friedeck gets the
wheels up in his 62 Chevy Nova.
As the Summit Series nears the midway point, the points chases are already starting to take shape. In the Electronics(Box) class its former track and National Champion, Scott Ball leading the way ahead of David Johns and Leroy O'Bryant.
In the No-Box(Footbrake) class its motorcycles holding down three out of the top five spots. Brandon Mitchan has the lead over Ruben Gallegos, Todd Zampese, Jimmy Inman and Albert Lee Jr.
The Jr. Dragsters have the young girls on top in points with Emily Ball pacing Kenneth Hillin, Ashley Hubbell, Caden Meuth and Kristen Velasquez.
Dialing for Dollars
La Vernia's Michael Keylich grabbed the 'Dialing for Dollars' jackpot late in the going. Ruben Gallegos led the way early after No-Box runs only off his dial in by .0078. Late in the Electronics runs David Johns came within .0009 of his number and thought the pot was his. Until, M. Keylich came along in the second to last run and beat that, running .0005 off his index.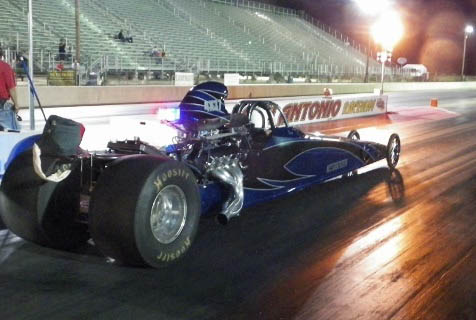 Chris Keylich staged and ready for final run.
Keylich Conquers Electronics
San Antonio's Chris Keylich took home the win over Brandon Bass(San Antonio) in the Electronics finals after Bass had trouble during his run. Bass tripped a .008 light and looked to be headed to the win, but slowed about mid-track allowing C. Keylich to zip by in the Keylich Electric, 2013 Miller Chassis and snag the victory.
Chris Keylich, 7.945 @ 131.62 defeats Brandon Bass, 9.934 @ 99.54
C. Keylich made his buy back off after a round 1 loss to Mike Atkinson. C. Keylich then posted wins over Leroy O'Bryant, Candace Ritter, Todd Zampese and his brother, Michael Keylich. Bass also rebought after an early loss to Scott Ball, but rebounded with victories over Richard Schafer, Brett Zampese, Brett Ritter and David Johns.
Johns Quickest of Quick 8
David Johns(Floresville) took home the trophy and cash in the Quick 8 finals against defending track champ, Michael Keylich. Johns, in the Johns Automotive, Wayne's Paint & Body, Worthy Chassis, used a hole shot to eke out the win on M. Keylich in a second Keylich Motorsports Dragster. Johns had a .011 advantage on the start and needed every inch of it he ran off his index by .0230 while M. Keylich missed his dial in by only .0195. So if my math is correct the margin of victory ended up .0075 at the finish line.
David Johns, 7.293 @ 174.76 defeats Michael Keylich, 7.659 @ 175.51
Johns got two 'break out' wins against Brian Miller and Todd Zampese on his way to final showdown, while M. Keylich took out Candace Ritter and Brett Zampese in early pairings.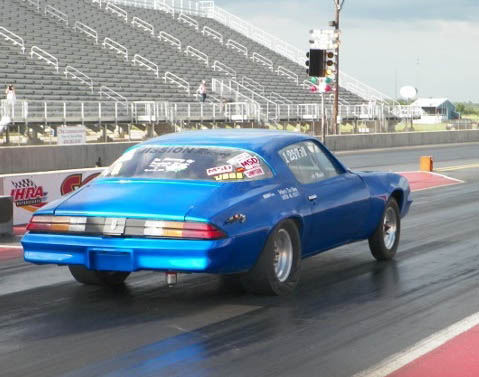 Art Morales anticipating green in early run.
Morales Motors His Way to No-Box Win
Devine's Art Morales got the No-Box victory over Rick Hille(San Marcos) after Hille broke out on the big end. Morales', M&W Auto & Truck Repair, 79 Camaro had a slight advantage off the line on Hille's, Riley Transmissions, Rod & Rocket Racing, 79 Firebird. On the top end Hille missed his dial in by .0596 handing the win to Morales.
Art Morales, 10.913 @ 122.42 defeats Rick Hille, 10.290 @ 131.62
Morales made his way to finals with wins over J. Golla, R. Trevino, Humberto Gallegos, Ruben Gallegos, and Albert Lee Jr. Hille lost in round 1 on a red light, then bounced back to put away Walter Dyrenfurth, Jimmy Inman, Aaron Tschoepe and Josh Gaspard.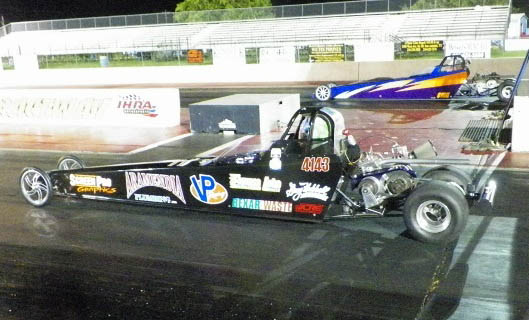 Ashley Hubbell(near) and Kristen Velasquez pair off in Jr Dragster final.
Hubbell Hauls to Jr. Dragster Victory
In a round 1 rematch, former Jr. Dragster track champ, Ashley Hubbell(San Antonio) grabbed the win in the, all girl, finals ahead of Kristen Velasquez(San Antonio). Hubbell, in her Aramendia Plumbing, Screen Pro Graphics, Bexar Waste, Express Lube, VP Racing Fuels, Greg Hubbell Chassis, had a slight hole shot over Velasquez by .0049. Velasquez' spookssparkles.com, Double V Creative Services, Jr. Dragster, ran closer to her index by .002 making the margin of victory .0029 for Hubbell at the line.
Ashley Hubbell, 9.021 @ 70.98 defeats Kristen Velasquez, 8.109 @ 78.74
Hubbell used hole shot victories over Velasquez in round 1, then point's leader Emily Ball in round 2. Velasquez rebought after her loss to Hubbell and beat Caden Meuth in round 2.