Wed, 10 Jul 2013, 19:06 PM



Home Sweet Home



By Steve Reyes


Photo copyright 2013 Steve Reyes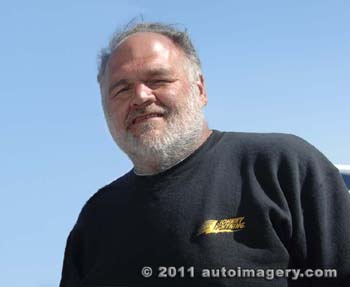 Steve Reyes
You could say I was a "homer" when I began attending drag races in 1963. For me the be all, end all in drag racing was Fremont Drag Strip in Fremont, California, a rural little city that was the hub of Northern California drag racing. Sure there were other race tracks in Northern California such as Kingdon Raceway in Lodi, California, Sacramento Raceway, in Capital City, California, and almost next to the Pacific, just south of San Francisco was Half Moon Bay drag strip. In the 1960's, I would also discover Vina Raceway and Redding's airport/drag strip. If you headed south from Fremont you would find another airport/drag strip among the cabbage fields of Salinas, California, and let's not forget the drag strip located in the onion fields of Vacaville, California, Vaca Valley Raceway.
These race tracks were my stomping grounds from 1963 to 1970. Fremont Drag Strip was special for me because manager, Ron Lawrence gave a fifteen year old kid (me), the chance to get up close and personal with the coolest drag cars of the day, the front engine top fuel dragster. His instructions to me were simple, "Kid, don't get run over." Very simple and to the point. Over the span of seven years I became a fixture at the Fremont drag strip and the racers adopted the goofy kid with a camera. Since I was pretty much on my own at sixteen, the racers in Northern California took care of me by purchasing my photos of them in action and giving me a lift to races away from town.
Loyalty was paramount to me and the best way for me to help repay the NorCal racers was to get them ink in the drag racing publications of the day, Drag News, Drag World and National Dragster. Drag Racing Magazine, Drag Strip Magazine and All American Drags also had lots of NorCal racers featured in their pages. As fate would have it, Fremont hosted all the drag stars of the day and it was common to have The Surfers, The Hawaiian, Reath and Mackenzie, Jerry Ruth, Tommy Ivo and many other stars from the Great Northwest and Southern California come do battle with the local racers.
When Sears Point opened in Northern California's wine country in 1969, this luxurious race track attracted even more top fuel and funny car stars to race in Northern California. You may think that I just waited for these "stars" to come to Northern California but that wouldn't be true. I followed my NorCal guys to Central California, Fresno Dragway and of course, Bakersfield, California to make sure I recorded their wins and losses on film. I must admit California's Mecca of drag racing was Southern California but since I got my start in Northern California, that is where my heart is still some fifty years later.
If you wish to purchase prints of the photos below, they may be obtained by contacting us at blrenterprise@cox.net. Other photos may be viewed by following the link at the bottom of the page at www.reyesontour.com.
In 1964 this was the car to beat in top fuel at Fremont. Owned by "Terrible" Ted Gotelli and driven by Denny Milani,
this 392 Hemi-powered, Kent Fuller chassis fuel car ruled the top fuel roost. Gotelli and Milani were NorCal's odd couple
in top fuel. They would have huge arguments and Milani would go and drive for Masters and Richter for a couple of weeks.
Meanwhile Sammy Hale or Pete Ogden would drive for Gotelli until Gotelli and Milani settled their disagreement. This went
on during their partnership until Milani died in their car at Half Moon Bay in August of 1965.
You could find some different top fuel dragster at Fremont in 1964. This is the Olds powered nitro burner of K&P
Automotive. Their young unknown driver is Dale Emery who didn't set the world on fire in this top fuel entry. He did,
however, set said world on fire driving Rich Guasco's Pure Hell fuel altered from 1965-1969.
Northern California plumber Frank Bradley gave up his Bailey Brothers injected Chevy digger with a Dragmaster chassis to
drive his first ever blown top fuel car owned by Brodrick, Bauer and Blessing. Frank did okay in the blown Chevy dragster
but he really came into his own when he vacated the Chevy ride and drove his own 392 Hemi-powered Jim Davis chassis top fuel car.
In 1965, George Santo's Gold finger was Northern California's answer to the Michigan based Logghe Brothers Slot Racer.
This nitro burning injected Chevy gave the blown Hemi fuelers fits when driver Jim Perry left on the big bad Hemi-diggers.
The Hemi-powered dragster would have to play catch-up and chase down the nitro burning Chevy.
One of Northern California's show and go top fuel cars belonged to Tom Prufer. His bright red full bodied car was a
popular sight at Fremont between 1963 and 1966. Prufer's driver was the Flyin' Australian, Gerry Steiner and when Prufer
left drag racing for street rods, Steiner continued to drive anything and everything that burned nitro in Northern California.
The Mexican/Japanese duo of Frank Martinez and Dave Uyehara raced this injected nitro burning Chevy Hustler Jr. against
the big bad blown top fuel cars of 1965. They took turns driving the very fast junior fuel car. Both were craftsman,
Martinez with his welding and Uyehara with his chassis building. Both moved on to top fuel and top gas dragster.
Martinez got a top fuel ride in the Hay, Haslum and Walsh Wailer and Uyehara drove for Dick Oswald and his top gas dragster.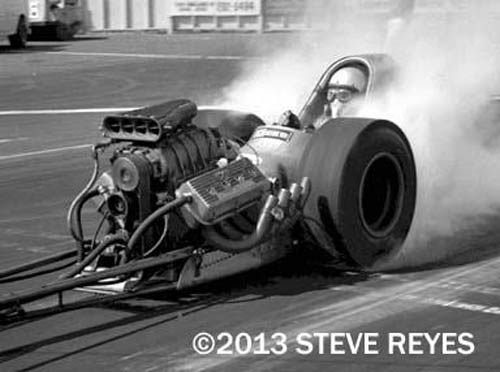 When Walt Bumgarner wasn't flying a jet fighter plane in Southeast Asia, he could be found relaxing at the controls of
the Bumgarner, Trefethen and Pearson Whiz Kids top fuel dragster. A driver shake up in 1966 resulted in Bumgarner leaving
and Tommy Fults arriving to get behind the wheel. The new Whiz Kids team was short lived with Fults venturing out on his
own with his top fuel car. Fults decided to forego drag racing and got a ride in a hydro plane. The move to boat racing
proved to be a fatal one for Fults when he lost his life at the wheel of a hydro plane.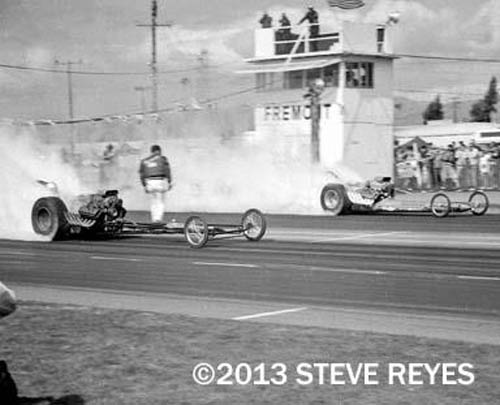 A regular event at Fremont in the mid-1960's was the North vs South in top fuel racing. Roland Leong towed his Hawaiian
top fuel car from Los Angeles to do battle with NorCal's best top fuel owners and drivers. NorCal's "Mr. 223" Don Cook
faced off with Mike Snivley driving Roland Leong's Hawaiian in 1966. That is Fremont flagman Mike Mahay in the middle of
the tire smoking, nitro gulping top fuel cars. Fremont didn't own a Xmas tree starting system, so a flagman did his thing
until a Xmas tree was purchased later that same year.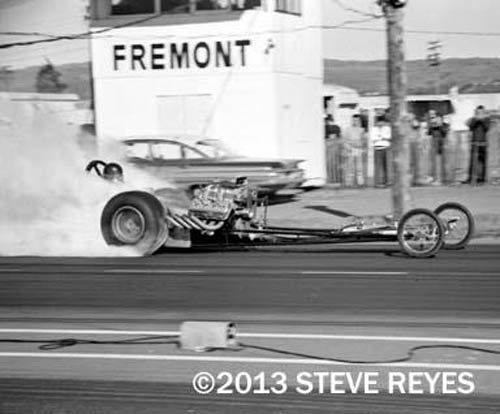 The biggest rival to "Terrible" Ted Gotelli and Denny Milani was Santa Rosa based John "The Sultan" Batto and the Batto,
Valente and Bings Speed Shop Special top fuel car. When Batto and his partners brought the first Woody Gilmore chassis to
Northern California, they made the statement that they were now the car to beat in top fuel. The rivalry was really heating
up when in August 1965, Denny Milani crashed the Gotelli/Milani top fuel car at Half Moon Bay. Milani died and so did a big
part of top fuel racing in Northern California. Batto continued to race until almost 1970 when he became very disenchanted
with drag racing and quit to go fly airplanes.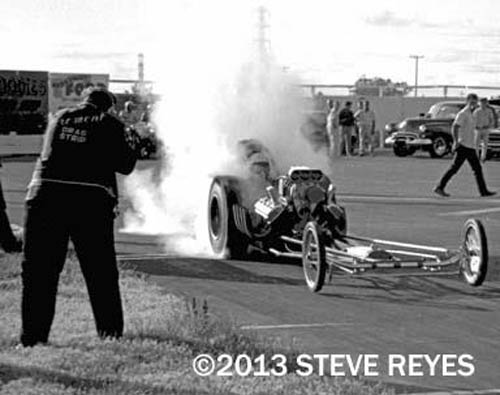 A cornerstone in Bay area top fuel racing was soft spoken Roger Harrington. Mr. Harrington was a weekend regular at
Fremont drag strip in the mid-1960's. Roger was his own crew chief, engine builder and raced on a very frugal budget. He
never "toured" much, but was happy racing mainly at Fremont. Whenever Roger wanted to see his car run, he had top gas
racer, Johnny Austin pilot his top fuel car and Roger would sit back and watch his race car go down the 1320. Oh yeah,
that is photographer Rich Welch getting Harrington on film.
In 1966, Northern California and Southern California paired up to race the The Cheetah, top fuel car. The Bay Area's
Bob Sparboro owned the Jim Davis chassis top fuel car and SoCal driver Wild Bill Alexander drove it. Here Alexander is a
bit early and drew a red flag start from starter Mike Mahay.
From the Capitol City of California, Sacramento, came the top fuel team of Bishop, Herbert and Pitts. Jim "The Lizard"
Herbert was the driver of this top fuel dragster. In 1966, the car raced wit this shorty body but a year later it had a
sleek full body and the car was name The Lizard. When Herbert wasn't driving, he had seat time in Fred Sorenson's fuel
altered. If the Burkholder Brothers needed a substitute driver, Herbert was there with his fire suit in hand. In 1964,
Herbert also drove for Masters and Richter in their top fuel dragster as well.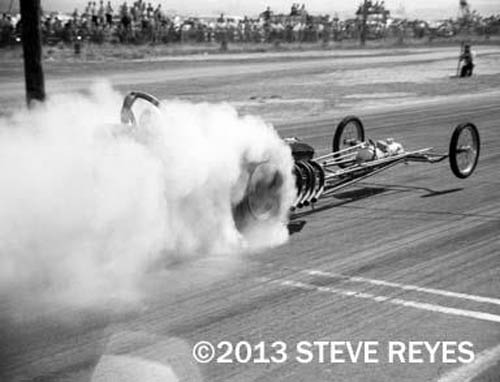 Vic Hubbard Speed and Marine was based in Hayward, California and they raced the second ever Woody Gilmore built
dragster in Northern California. This nitro burning, Chevy powered dragster drove the blown nitro car owners and drivers
crazy. The hole shot starts provided by driver Denny Forsburg put many a blown dragster on the trailer between 1965-1966.
When not driving the VH dragster Forsburg could be found behind the counter at VH dispensing parts and advice to local
NorCal racers.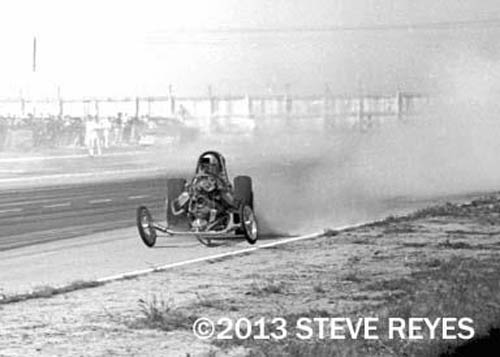 Veteran top fuel owner/driver Jim Davis was about to go off-roading with his top fuel dragster in this photo. Yeah, he
missed me but not by that much. At Fresno Dragway, where this photo was taken, there are no guardrails, only a small patch
of grass and weeds and then an eight foot chain link fence to protect the spectators. Davis got his car under control and
kept it off the fence and right side up. Davis emerged as a premier chassis builder and innovator in the top fuel class in
the 1960's and early 1970's. He escaped a couple of bad crashes, even one early on that broke his neck. Davis overcame
serious injuries in his top fuel car only to be killed in 1988 on his motorcycle.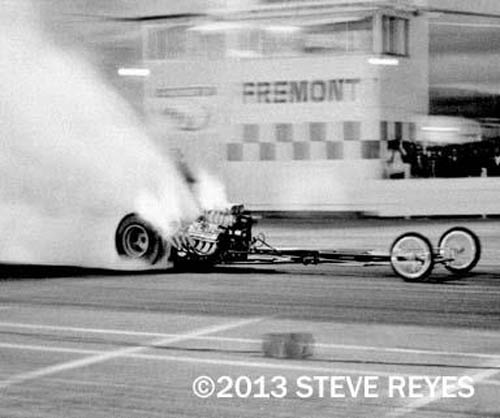 Emerging from his 1965 paretnership with Dwight Bale was an unknown racer named Don "Cookie" Cook. Cook proceeded to
have his friend Jim Davis build him his own top fuel car and away he went into California style top fuel racing. When Cook
clocked the unheard of speed of 223 mph. his nickname changed to "Mr. 223." Another trademark of Cook's in the early days
of his racing career was his German Shepherd that went everywhere with Cook.
Two of the stars in the top gas class from NorCal were Halstead and Dunlap (nearside) and the blown Chevy top gasser of
Goodknight, Keith and Williamson. Halstead and Dunlap soon left the top gas class to take out a nitro burning Ford SOHC
powered top fuel dragster. The team of GKW retired when NHRA did away with the top gas class. An interesting note about
the GKW team, they were selected to be a member on the first United States drag team that raced in England during the
mid-1960's. A very cool honor for a Northern California based team.
When I first saw Chuck Flores' top fuel car , it was 1964 and it was a full-bodied blue and yellow 392 powered digger.
A couple of years later and Flores was at the wheel of his Shark bodied top fuel car. Chuck was a Fremont regular with his
car and in 1968 he had Rich "Hippie" Bruckman drive the Shark car.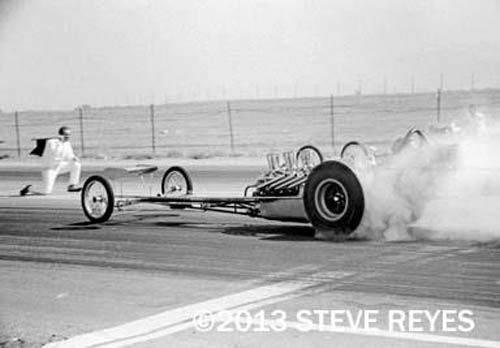 It was flagman time again, only in Salinas, California this time, with Carl "The Hooligan" Olson and his injected
Plymouth powered junior fuel car at the line. Olson was fresh out of the Coast Guard and wanted to go drag racing so he
purchased Nick Mura's show and go junior fuel car and went on tour to NorCal drag strips in late 1966 and early 1967. Now
Olson not only drove his own car but had struck up a friendship with "The Silver Fox" Jack Ewell. Ewell was a long time top
fuel owner and driver in Southern California and soon Olson was a crew member on Ewell's top fuel team. Carl was delighted
to be working with Ewell and it was a great learning experience. Jack had wanted to leave the cockpit and become the crew
chief and engine builder of his top fuel dragster so he hired junior fuel star Ed Allison to pilot his top fuel dragster.
However, fate stepped in and Allison suffered a horrific crash at Carlsbad Raceway and was injured seriously, so Ewell took
a leap of faith and hired a young, unknown, named Carl Olson. If you are a true top fuel fan, you know the rest of the story.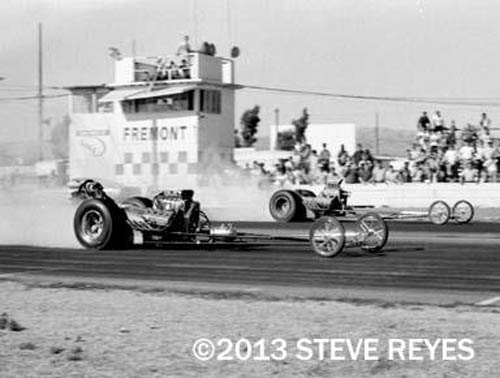 This 1968 battle in top fuel was between Jessie Perkin's Cow Palace Shell (nearside) vs. Jim Davis (farside). Perkins's
top fuel car was based out of his gas station which was located just down the street from San Francisco's famed Cow Palace.
Perkins started his venture into nitro racing by purchasing Tony Water's famed Bakersfield winning roadster with then
partner Ray Matelli in 1965. However, in 1966, the roadster was history and Jessie was on his own with his The Runt top
fuel car. "Flower Child" Rich "Hippie" Bruckman. Bruckman drove for Perkins and then Chuck Flores. When Bruckman vacated
the Perkins ride a well-known Southern California top fuel driver filled the drivers seat, his name was Bobby Hightower.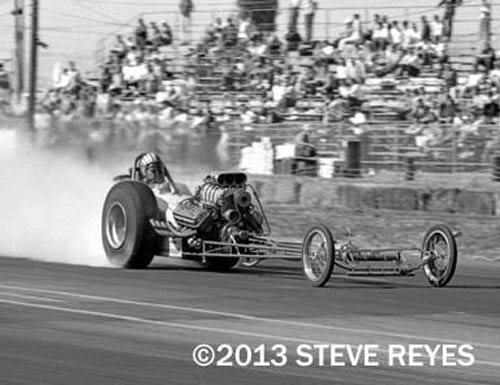 Another marriage of Northern California and Southern California top fuel racers was the Berry Brothers top fuel car
with Butch "C.W." Maas at the controls. Maas, a then Southern California journeyman top fuel driver replaced John "The
Black Knight" Edmunds in the Berry Brothers cockpit. Even though the Berry Brothers were located in Selma, California, they
made the four hour drive from California's raisin country to Fremont every top fuel weekend.
Another Fremont regular in top fuel eliminators was The Californian, a sleek full-bodied car owned by Stokes, Jordan,
Zoucha, Stokes and Pollard. The Jim Davis built chassis machine was driven by Rich Zoucha. The top fuel car was the first
I ever photographed for a magazine. One other bizarre deal with The Californian was that I went to grade school with Bob
Pollard, one of the owners. We attended school together seven years prior to my photographing his car. What a small world!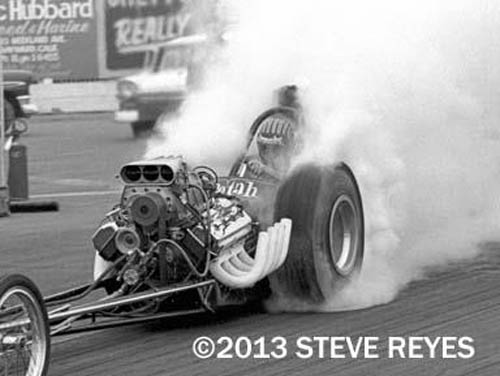 When The Cheetah top fuel owner Bob Sparboro wanted to go into the world of show cars, he sold his Cheetah to Howard
Cameron and Cameron knew who he wanted to shoe his newly purchased top fuel car, a young Okie named Gary Ormsby. The 22
year old Ormsby had just completed a driving stint in the NorCal based Vagabond top fuel car and this was the break that he
needed, a car that raced every weekend. Because of limited funds, the Vagabond only raced a few times a year, so Ormsby
took full advantage of his new full time ride and The Cheetah became a force to be reckoned with in NorCal top fuel racing
in 1968.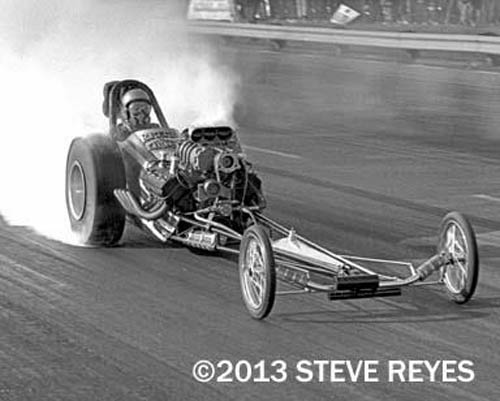 Willie Kinner and Gary Ritter entered NorCal's top fuel wars in 1968. Kinner's home built 392 Hemi was slid into a
state of the art Jim Davis built dragster. Now all they needed was Gary Ritter to obtain his top fuel license. Ritter put
the car through the mandatory paces and it was time to complete a run to get his license. Yes, I was there to witness the
run. the car left hard and went straight and true. Right at the finish line there was a huge blower explosion, huge fire
ball and pieces rained out of the sky. Everyone held their breath and waited for the chute to blossom from the cloud of
smoke an dust. Yes, there was the chute and the car slowed to a stop on the race track. But, wait, Ritter was not jumping
out and waving that he was okay. When the emergency crew arrived Ritter was knocked cold, the back plate of the now
expired blower hit him in the head and knocked him out. Some smelling salts and Ritter was awake. The first thing he
wanted to know, "Did I get my license?" Yes, he did.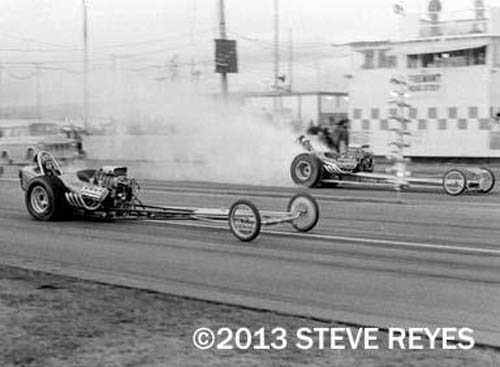 A 1968 battle between the plumber and the welder, Frank Bradley and Frank Martinez, resulted in a score for the
plumber, Bradley. Both of them drove injected Chevy dragsters early in their careers. Bradley was know for his trash talk,
hence his nickname "Bucketmouth" and Martinez was known as NorCal's world's fastest Mexican. Unfortunately, Martinez never
got to race SoCal's fastest Mexican "Flamin'" Frank Pedregon.
Dwight "Hay" Bale, by land or by sea, he was fast in a dragster or in a blown fuel hydro. Early in his top fuel
career, he was partnered with Don Cook and Dennis Baca. When Cook and Baca went on to their own rides in top fuel, Bale
could be found at the controls of the Conquest BFH and his Gypsy top fuel car. Ironically, in 1973, Bale drowned while
white water rafting with good friend Jim Davis. After all the high speed runs on land and water, this wasn't a fitting end
to Bale's life.
The NorCal answer to "Flamin'" Frank Pedregon's coupe was Gerry Card and his Quicksilver coupe. Card and his full-bodied
coupe style top fuel car matched up with NorCal top fuel cars from 1964 to 1968. Card's coupe wasn't the lightest car to
race in top fuel but with its tire boiling runs, it quickly became a crowd favorite.
You could always tell when the Galli Brothers were racing at Fremont, You could see the two baldest heads at the race
track. All kidding aside Rich and Jimmie Galli may have been hairless but they kneow how to make their A/Fueler run fast.
Brother Rich was at the controls of their Olds and then Mopar Hemi with a Jim David chassis. They were "homies" never
venturing far from the race tracks of Northern California.
Santa Rosa, California based Gene Gilmore needed a new fuel tank in his Bing Speed Shop A/FD after this run. Gilmore
could get a great deal on his fuel tank since he was a counter/parts guy at his sponsor Bings Speed Shop. Gene debuted his
Logghe style A/FD in 1967. For awhile in 1968, Gilmore drove the Indecision fuel altered. After his venture into the
altered ranks he returned to the NorCal dragster wars. If you happen to be in Santa Rosa these days drop in and say howdy
to Gilmore at Bings Speed Shop.
I guess you could say Dennis Baca was drag racing's fastest and quickest carpet man. During the mid-1960's he could be
found laying carpet during the week and when the weekend rolled around, he and partner Dwight Bale would take turns driving
their top fuel dragster. After a short partnership with Bale, Baca struck out on his own in 1967. As his business grew, so
did his top fuel racing. Baca became one of the breakout top fuel racers based in Northern California.