Tue, 09 Jul 2013, 20:57 PM



Things Are Really Heating Up



By Bob Frey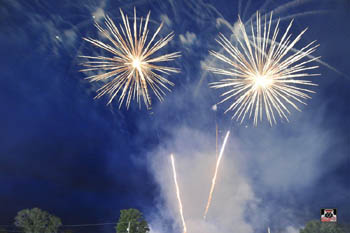 The Bader Family always puts on
a great fireworks display.
About the only thing that kept the
Summit Racing Equipment Nationals
from being a great race was the weather, and while it wasn't exactly a monsoon that blew through Norwalk it was enough to cause the NHRA officials to revamp the schedule and that included running some of the
Lucas Oil
(sportsman) cars after the pro final rounds. If you've been to a race in the recent months you know that NHRA is now running the sportsman finals well before the pros and that gives them a chance to bring the winners up the return road in front of the crowd for some well-deserved recognition and adulation. As a bonus it also allows the Lucas Oil drivers to complete their winners circle photos before it gets dark and that's a real plus for them. Other than that, and I guess the fact that neither one of the
Summit Racing
drivers,
Greg Anderson
and
Jason Line
won the race, it was a very good event. The
Bader
family always does a great job with their facility and I'm sure they were pleased with the outcome. I know some people who were pleased and that would be
Khalid alBalooshi
,
Johnny Gray
,
Mike Edwards
and
Matt Smith
, the
Mello Yello
(professional) champs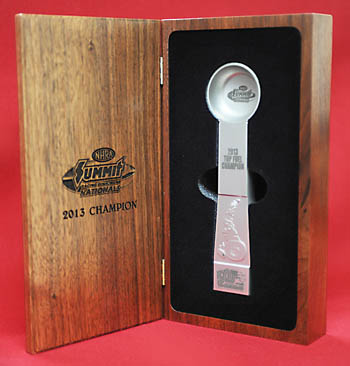 The ice cream scoop trophy
at Norwalk..I didn't see it for myself but I was told that the Bader's came up with a unique "trophy" for the winners, a specially designed, hand-made ice cream scoop. Now that's cool and I think (and have said before) that each track should come up with some special award for the winners, something that's specific to their track and I think that would add to the excitement of winning.
Sonoma
does it, to an extent, with their special bottles and other tracks could, too. Just like the
NASCAR
track that gives out guitars or the one that awards a grandfather clock to the champions, the NHRA tracks could find something that is unique to their track and capitalize on it. Of course if they did that I wonder what the folks at Brainerd, which is known for the "
zoo"
would choose! Oh well, it's just a thought.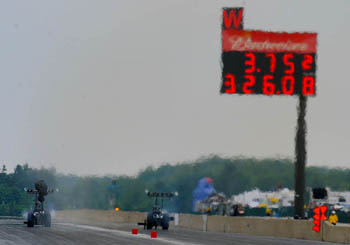 Langdon defeated JR Todd in
round one while setting low E.T. of the event.
Photo copyright 2013 Gary Nastase Photography
There is a new point's leader in Top Fuel. Well, he's not new in the sense that he has never been the leader before, but he is new because Shawn Langdon went around Tony Schumacher to regain the top spot. This is the fifth time in as many races that Shawn and Tony have swapped places in the standings and it probably won't be the last..While Shawn, who drives one of the Al Anabi dragsters grabbed the top spot, it was his teammate Khalid alBalooshi who grabbed the trophy and the ice cream scoop after beating Doug Kalitta in the final round. This was the second win for Khalid in the Top Fuel class and the fourth this year for the Al Anabi team..Khalid started his weekend off with a win over Antron Brown, his fourth in as many meetings with the reigning champion. I have always said that there are some drivers who just seem to have a spell over others. It's kind of like a pitcher who can't get a certain batter out and yet he's good against everyone else. Did you know that Antron has faced ninety-seven different drivers in his career, including the bikes, and among those that he faced more than once there is only one other competitor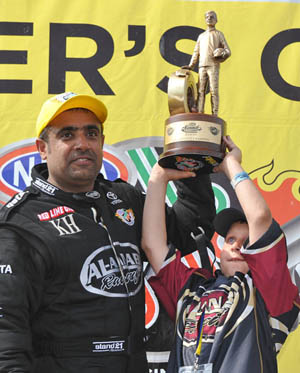 alBalooshi and Jacob Delling
(a special guest of the Al-Anabi team)
celebrate his first win of the season.
that AB never beat and that's
Eddie Krawiec
? Eddie is 3-0 against Antron and Khalid is now 4-0 against him. Go figure
!...
Did you know
that there are two Top Fuel drivers that Antron raced and never beat? Ok, so they only raced once but I'll bet you couldn't guess who they are. Give up? It's
Bobby Lagana
and
Tim Cullinan
. Really..Khalid won the race, Shawn set low elapsed time and Doug Kalitta was the top qualifier and set top speed so they kind of spread the wealth around in Top Fuel..
Clay Millican
had another good outing with the
Parts Plus
car and he is enjoying his best year ever on the NHRA tour.
Did you know
that Clay has already won fourteen rounds this year and that's his best for any year on the NHRA tour and we still have a lot of races to go?...None of the top qualifiers in any of the Mello Yello classes won on Sunday and that's not surprising.
Did you know
that in the brief seven year history of the
Norwalk
race the number one qualifier has never won in Funny Car or Pro Stock? The Top Fuel qualifier has won three times and the motorcycle top qualifier has won twice, so that means out of twenty-eight chances at
Norwalk
the top qualifier has only won five times in the pro classes.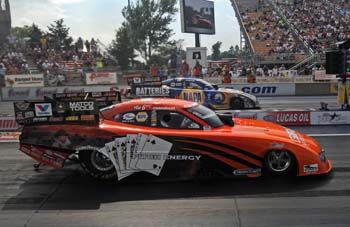 Gray defeated Capps on a hole shot in the final.
John Force was one of those number one guys who didn't win. John, who has a grandstand named after him at Norwalk, lost to the reigning Funny Car Champion, Jack Beckman in round two, and that ended a brief surge for John where he made the finals at the first three races on this grueling four races in four weeks span. I still think we need to come up with a name for those races, you know, like the "Western Swing" or something like that. Believe me, four races in four weeks is a lot tougher than the "Western Swing" is even if there are more travel miles involved with the "Swing." Maybe we could just call it the "Survivor Tour," since that's what some of the teams try to do, just survive. Ok, so maybe that needs a little work but you get the idea..John has been running very well lately, maybe the best he has done in years, but he still wasn't able to go the distance after being number one in qualifying. Did you know that John has won just once in his last twenty-four tries from the top spot? That's amazing, don't you think?...Johnny Gray's win over Ron Capps in the final will go down in the books as a holeshot win. Both drivers ran 4.103 in the final round and since Johnny was first off the line he got the win and gets credit with a holeshot victory...Did you know that Johnny has thirteen holeshot wins in his career and there is something about that total that no other drag racer can say? Johnny has eight holeshot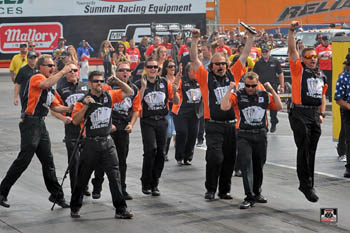 Gray's team celebrates his
fourth win of the season.
wins in Funny Car and five in Pro Stock. Now I ask you, who else can say that they have that many holeshot wins in those two different pro classes? His win over Ron was the second time that he beat Ron on a holeshot, with the other one coming at the Winternationals in 2003. And guess what? At that race the two drivers also recorded the exact same elapsed time, just like they did in
Norwalk
. What are the odds? With the win Johnny is now in second place in the points and he sure looks like a legitimate title contender to me...One of the real surprises to come out of the
Norwalk
event is the fact that
Robert Hight
has dropped out of the top ten in the points. With a surge by
Bob Tasca
and a struggle by Robert, the
Auto Club
team is now below the cutoff spot in the "Countdown." While I realize that there are still lots of races to go before we make the cut, and while I know that Robert,
Jimmy Prock
and that team are capable of putting together a hot streak like they did last year, it's still surprising to see him not in the top ten right now. Robert is now in eleventh and
did you know
that is only the second time in his career that he has been outside of the top ten after a dozen races? The other time was 2009 when he was twelfth after the first dozen races of the season. Oh, in case you forgot,
did you know
that Robert came back to win the championship in 2009? So maybe he has the competition right where he wants them, or to quote
Monty Python
(as I often do), when it comes to Robert and his team "We ain't dead yet."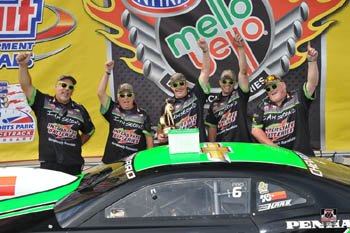 Edwards and team celebrate fourth win of the season.
The top two qualifiers in Pro Stock went at it in the final round when Mike Edwards, who was number two in the field, beat Allen Johnson who was number one. As much as you might expect to see that at a lot of events, did you know that this was the first time this year that the top two qualifiers went at it in a final round in Pro Stock? And the last time it happened was at Brainerd last year when Erica Enders-Stevens beat none other than Allen Johnson in the final round. At that race Erica was the top qualifier and Allen was second, and in the final round AJ had all kinds of problems and only went fifty-eight miles per hour. This year in the final round he had all kinds of problems and only went fifty-two miles an hour..The win is the thirty-eighth of Mike's Pro Stock career and it's the seventh time he has beaten Allen in the money round. Just like the Top Fuel class, where Khalid has Antron's number, Mike seems to have Allen's. Did you know that Mike's win gave him a 23-11 record against Allen and he is now 7-1 against him in final round matches? That's very impressive against anyone let alone a guy who is driving one of the top cars in the class. The only person Mike has beaten more times is Warren Johnson (31)..Since I mentioned Erica it was a shame that she couldn't put together a deal to get her to all of the races this year. In fact, it was a shame that there wasn't a full field of Pro Stock cars at Norwalk and that's the second time this year that has occurred. And if you want to know how unusual that is did you know the last year that had more than one race with a short field of Pro Stock cars was 1975? It happened at Sanair that year when there were only fourteen Pro Stock cars on the property, including Carmen Bruno, Alban Gauthier and Bob Woods, and it happened again at the race in Seattle. That race featured just fifteen entrants including Gene McKinney, Jim Baker and Willy Gillett. Honest! There is a big difference between 1975 and today. In '75 there were a lot of Pro Stock cars being raced across the country, in fact, there were fifty-one of them at Indy that year. Today there are only a handful of cars in the class and you could see another short field before the year is over.I have an idea, since General Motors and their performance brand folks are now going to be title sponsors at Indy why not bring that same level of enthusiasm to Erica's team. Everyone knows that more and more women are buying cars these days so why not have a woman out there promoting your vehicles. It's just a thought, but as I said before, when someone with all the credentials that Erica has is sitting on the sidelines it's bad for everyone in the sport. Where's Fred Simmonds when you need him?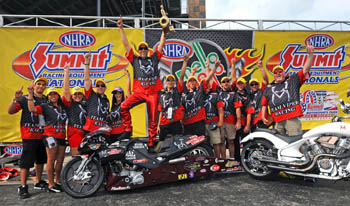 Matt Smith and team celebrate
his first win this season.
Matt Smith had a good day, in fact, the entire Smith family had a good day since Rickie also won. For Matt it was his first win since Englishtown in 2011 and it landed him in third place in the points. Matt won the race after qualifying eighth in the field, and as I mentioned last week it's tough to win from that spot because if you both win you would meet the top qualifier in round two. At Norwalk they both did win and it was Matt taking out the top qualifier, Michael Ray in the second round, and after that he beat John Hall in the semi-finals and Scotty Pollacheck in the final round. That means Matt beat both of the teams that are tuned by George Bryce and that doesn't happen very often..Something else that doesn't happen very much is a bike rider winning from that eighth position. Did you know that in the history of the Pro Stock Motorcycle class the number eight qualifier has only won thirteen times? The first time it happened was in the first year that the bikes were part of the point's system and it was done at the Texas Motorplex by none other than George Bryce..Michael Ray was the top qualifier and he recorded low elapsed time and set top speed and still didn't win the race. Did you know that since the start of the 2000 season, a span of 210 races for the motorcycles, the rider who had all three of those marks failed to win the race twenty-seven times? And while that number may surprise you so will the fact that it has now happened at three consecutive races, Michael in Norwalk and Epping and Matt Smith at the Joliet race....Andrew Hines lost in the first round for the fifth time this year. Did you know that he didn't drop an opening round match in the entire 2012 season? Darn rule changes!!
Rickie Smith celebrates his
second consecutive win.
As I mentioned, Matt's father, Rickie Smith, won the Pro Mod portion of the show so the two were able to share the winner's circle and that had to be special. Did you know that the Smith's are the sixth family to have a parent and a sibling win at the same race, and they are the first to do it in those two classes? Rickie's win was his fourth in the Pro Mod class and did you know that ties him with Danny Rowe for the most wins in NHRA Pro Mod history? With the win Rickie is now the point's leader in Pro Mod, and how neat would it be if both of the Smith family members won the championship this year?...Dave Hirata broke a long dry spell when he beat Ray Martin for the Top Alcohol Dragster title. Did you know that his last national event win came at the Englishtown race in 2000, so that means he has gone thirteen years between wins? He also made a little history with his win because he started from the fifteenth spot in the field. Did you know that in the entire history of the alky dragster class, and that covers 557 races, Dave is only the second driver to ever win a race form the

Hirata defeated Martin in the Top Alcohol Dragster final.
Photo copyright 2013 David Smith Photos
fifteenth spot? The other driver who did it was
Gary Scelzi
who beat
Ken Murray
at the NHRA Finals in
Pomona
in 1987..It's been a good year for the Hirata family, especially when you consider that
Ken Hirata
, Dave's father, was inducted into the
Drag Racing Hall of Fame
earlier this year and now Dave wins the race. They are a wonderful family and a real credit to our sport..
Kris Hool
won his second national event when he beat
Fred Tigges
in the final round of Top Alcohol Funny Car. To make the win even sweeter Kris beat
Frank Manzo
in the semi-finals, and anytime you can beat Frank, regardless of how you do it, you know that you've had a good day. Congratulations to Kris and his brother Kevin for a job well done
...Robert Bailey
beat
Brian Browell
in an all Division 3 battle in Competition Eliminator. Other sportsman (or sports person) winners included
John DiBartolomeo
in Super Stock,
Randi Lynn Shipp
in Stock Eliminator,
Luke Bogacki
in Super Comp and
Ray Connolly
in Super Gas.
Jeff Pittman
and
Vince Musolino
took top honors in Top Sportsman and Top Dragster respectively..The Shipp family is having a couple of good weeks with Ricky winning Super Street at Route 66 and now Randi taking the Stock crown at Norwalk.