Fri, 28 Jun 2013, 21:59 PM



Whiteleys Complete Consecutive Tulsa Sweeps



Courtesy of NHRA Field Marketing



TULSA, Okla. -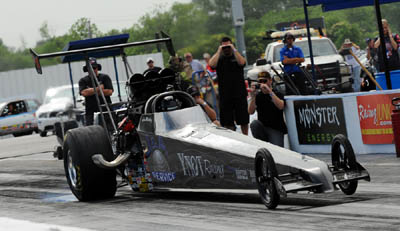 Jim Whiteley
For the second year in a row, the husband-and-wife team of Jim and Annie Whiteley swept Top Alcohol honors at the Osage Casino Tulsa Raceway Park Lucas Oil Series Drag Racing Series event. Jim led the Top Alcohol Dragster contingent from wire to wire, and wife Annie overcame severe shake in the final round to outlast a tough Alcohol Funny Car class.
Jim's victory was his second in two weeks, including an equally dominant score in Denver. This time, he emerged victorious from a field comprised almost entirely of A/Fuelers; of 10 cars in attendance, the only one other than Whiteley's with a blown-alcohol setup belonged to Mark Taliaferro, who only recently made the switch back from injected-nitro.
Whiteley, who set low e.t. here last year with a 5.32, ran .40s and high .30s under tougher conditions this time for a commanding lead in the national standings. "There probably was room to run better," he said, "but we had a lot of stuff backed down. Those were tough, tough conditions. When it's 100 degrees out, the track is only going to take so much."
Whiteley wheeled his J&A Service/YNot Racing dragster to the top spot in qualifying with a 5.38 and ran a best of 5.37 in eliminations, but a 5.44 in the final was more than enough to take out Brandon Pierce, who smoked the tires off the line in Gene Snow's dragster. Whiteley beat David Brounkowski in the opening round and established low e.t. of the meet with a 5.378 in the semifinals against Randy Meyer in a rematch of last year's Tulsa final.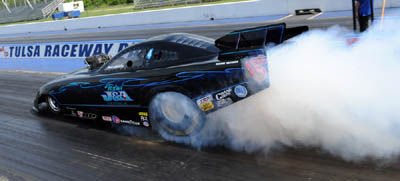 Annie Whiteley
One pair earlier, Pierce won an all-Brandon matchup with Brandon Lewis, 5.40 to 5.65, making his best run of the weekend and keeping himself within striking distance of Whiteley going into the final. Whiteley got the best of that one after a 45-minute delay caused by Scott McVey's blown engine in the Top Alcohol Funny Car final that cost him the title against Annie Whiteley, who was in trouble almost immediately.
Whiteley shook and smoked the tires off the line, lifted, and tromped back on the throttle for a 6.17 at 241 mph only after noticing that McVey wasn't driving away from her. "I was just starting to push the clutch in, and thought, 'Oh, wait - he's not there,'" she said. "I was kind of caught off guard. We made three test runs before the race, then two qualifying runs, then the first two rounds of eliminations, and it went right down there every time until the final."
Whiteley qualified No. 1 with a 5.66, just a hundredth of a second ahead of early season points leader John Lombardo, who was upset by Lance Van Hauen in the first round, and ran a smooth 5.69 against Texan Bryan Brown in the first round and a soft 5.78 opposite defending Central Region champ Kirk Williams in the semi's.
McVey was consistent through the first two rounds, with a 5.74 against Steve Burck and a 5.73 against Van Hauen, and appeared to have the final in hand until the engine let go. "I've never won a round like that," said Whiteley, who now has been to seven regional finals in the first year and a half of her career and has won all seven. "I've short-shifted my way out of shake before, but it was never like that. The car was in second gear for a long time - I didn't think that shift-light was ever going to come on - and it seemed to take forever for the finish line to get there, too."
Defending event champion Donald Thomas repeated his performance from a year ago taking home the Comp Eliminator trophy to Amarillo, Texas, as he beat out Scott Parks in a great race. Thomas took the early lead and held on at 7.285, 179.14 in his '09 dragster.
A pair of former NHRA Lucas Oil national champions took wins in Super Stock and Super Gas as Larry Stewart and Jimmy Lewis visited the winner's circle. Stewart, the '04 Super Stock Champion, won over Jeff Town in his '10 Challenger at 10.066, 127.45 and Lewis, the '98 champion, won on a hole shot to the quicker Shawn Carter. Lewis was runner-up at the last South Central event in Belle Rose, La.
Jacob Pitt matched up with Gary Emmons in an old school vs. new school pair of racecars with Pitt running 10.653 at 112.73 in his '69 Barracuda to Emmons' loosing efforts at 10.848, 128.47 in his '98 Firebird.
Austin Williams and Charlie Owens each took their second division win of the year as Williams, Burleson, Texas beat Aaron Brown, Ardmore, Okla., in Super Comp and Owens, White Oak, Texas, won with a .010 package over Reggie Baudoin in Super Street. Both Williams and Owens won the Texas Motorplex divisional event back in April.
Other racers taking home wins this weekend were Kohlby Sasich, Bartonville, Texas, over Neal Schaffer, Tyrone, Okla., in the Orteq Top Sportsman Series; Jerry Holt, Collinsville, Okla., beat out Cody Moore also of Collinsville in the Sunset Racecraft Top Dragster class and Ricky Martin, Coweta, Okla., held on to beat Rob Bennett, Lucas, Texas, in the Sportsman Motorcycle Series presented by Harley-Davidson.
South Central Division racers head to Royal Purple Raceway for the next NHRA Lucas Oil Drag Racing Series event, Sept. 13-15. Next up for Osage Casino Tulsa Raceway Park is their Osage Casino Midnight Drags and Suburban Chevrolet bracket series Saturday, June 29.
The following are the final results from the NHRA Lucas Oil Drag Racing Series event at Osage Casino Tulsa Raceway Park:

TOP ALCOHOL DRAGSTER:
Round 1
7) Brandon Lewis, Broken Arrow, Okla., 5.627, 252.14 def. 2) Monroe Guest, Bixby, Okla., 9.586,
98.56
4) Randy Meyer, Spring Hill, Kan., 5.596, 259.36 def. 5) Mark Taliaferro, Odessa, Texas, 10.976,
69.76
6) Brandon Pierce, Cypress, Texas, 5.468, 262.13 def. 3) James Thompson, Vernon, Texas, 5.473,
268.17
1) Jim Whiteley, Grand Junction, Colo., 5.431, 265.53 def. 8) David Brounkowski, Cypress, Texas,
6.045, 236.46

Semifinals
Pierce, 5.403, 264.23 def. Lewis, 5.657, 250.46
Whiteley, 5.378, 265.48 def. Meyer, 5.543, 256.26

Final
Whiteley, 5.445, 262.44 def. Pierce, 16.602, 63.62

TOP ALCOHOL FUNNY CAR:
Round 1
5) Kirk Williams, Glenwood, Iowa, '02 Camaro, 5.744, 249.53 def. 9) Ro Yale, Houston, '98 Daytona,
6.846, 205.57
3) Scott McVey, Winnipeg, Manit., '06 Monte Carlo, 5.744, 245.54 def. 6) Steve Burck, Corpus
Christi, Texas, '02 Camaro, 5.804, 248.75
7) Lance Van Hauen, Reinbeck, Iowa, '02 Camaro, 5.806, 244.60 def. 2) John Lombardo Jr., Brea,
Calif., '06 Monte Carlo, 9.696, 92.36
1) Annie Whiteley, Grand Junction, Colo., '10 Mustang, 5.693, 252.43 def. 8) Bryan Brown,
Gainesville, Texas, '06 Monte Carlo, 5.937, 233.36

Semifinals
McVey, 5.737, 248.61 def. Van Hauen, 10.007, 153.77
Whiteley, 5.785, 246.84 def. Williams, 18.129, 48.33

Final
Whiteley, 6.174, 241.28 def. McVey, 7.566, 104.19

COMP ELIMINATOR
Donald Thomas, Amarillo, Texas, dragster, C/ED, 7.285, 179.14 def. Scott Parks, Burlingame, Kan.,
dragster, A/ND, 6.842, 192.44.

SUPER STOCK
Larry Stewart, Clinton, Miss., '10 Challenger, SS/IA, 10.066, 127.45 def. Jeff Town, Spring Hill,
Kan., '87 Somerset, GT/IA, foul.

STOCK ELIMINATOR
Jacob Pitt, Mansfield, Texas, '69 Barracuda, C/SA, 10.653, 111.73 def. Gary Emmons, Friendswood,
Texas, '98 Firebird, C/SA, 10.848,
128.47.

SUPER COMP
Austin Williams, Burleson, Texas, dragster, 8.912, 157.54 def. Aaron Brown, Ardmore, Okla.,
dragster, 8.872, 169.36.

SUPER GAS
Jimmy Lewis, Forney, Texas, '58 Corvette, 9.947, 158.52 def. Shawn Carter, Park Hill, Okla., '05
Cavalier, 9.930, 164.83.

SUPER STREET
Charlie Owens, White Oak, Texas, '67 Camaro, 10.909, 144.15 def. Reggie Baudoin, Breaux Bridge,
La., '82 S-10, 10.867, 142.85.

TOP SPORTSMAN
Kohlby Sasich, Bartonville, Texas, '00 Firebird, 7.399, 178.57 def. Neal Schaffer, Tyrone, Okla.,
'89 Firebird, 7.549, 182.18.

TOP DRAGSTER
Jerry Holt, Collinsville, Okla., dragster, 6.472, 196.67 def. Cody Moore, Collinsville, Okla.,
dragster, 7.343, 180.69.

SPORTSMAN MOTORCYCLE PRESENTED BY HARLEY DAVIDSON
Ricky Martin, Coweta, Okla., '80 Kawasaki, 9.714, 125.44 def. Rob Bennett, Lucas, Texas, '85
Suzuki, 8.290, 152.57.