Wed, 26 Jun 2013, 09:28 AM



Booher Wins Second, Brand Stops Manzo



Courtesy of NHRA Field Marketing


Photo copyright 2013 Barry Bergeron, Eagle Eye Photography





CORDOVA, Ill. -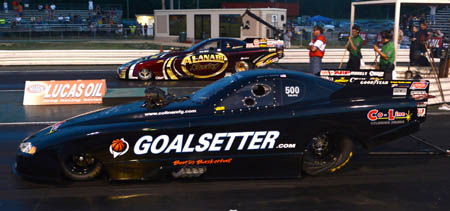 Brand defeated Manzo
Brandon Booher ruled Top Alcohol Dragster for the second week in a row and Dale Brand won Top Alcohol Funny Car over Frank Manzo, running his lifetime win-loss record against the reigning world champ to 2-0 at this weekend's NHRA Lucas Oil Drag Racing Series Summer Showdown at Cordova Dragway Park.
Booher, who went the distance for the first time in his career just two weeks ago at Chicago's Route 66 Raceway, won a tight final over veteran Robin Samsel, 5.45 to 5.46, after taking an even closer semifinal win over Dave Hirata. "Both of those guys stepped up," Booher said. "I was shooting for .40-flat or a .41 in the final, but I got a little greedy and shook and spun the tires. There he was - boom, right beside me - but the car made it through the shake without me having to pedal. I probably wrung out both gears a little more than I should have, but we got it done."
As in Chicago, Booher qualified father Aaron's AB Construction dragster in the No. 1 spot, this time with a 5.41 at 266.64 mph. He was right back in the .40s and mid-260s in all three rounds of eliminations, including a 5.47, 264 in the opening round that eliminated returning veteran Paul Fishburn, and a 5.44 at 265 in the semi's that was just enough to hold off Hirata.
"Hirata sawed the Tree down, picked up a tenth, and almost beat us," Booher said. "We picked up in that round, too, because we weren't taking him for granted. This car has always been consistent but now it's consistently quick. It was a little stagnant the last few years, but now, instead of a car that can run .45 to .50 and a driver who can cut a light, we're running good, too. People come up against us, and it's not just 'Don't screw up and we've got this' anymore. They know we're here to play."
Samsel had his best outing to date, stopping Norwalk winner Marty Thacker, who surprisingly qualified just seventh, in the first round and 2012 Central Region champion and defending event winner Gord Gingles, who red-lighted, in the semi's. Samsel was off the mark with a solid .069 reaction time in the final, but Booher had it all the way with a .022 light and slightly better e.t.
Beating Manzo will always go down as an upset, but Brand was right with the perennial world champ all weekend. "Gainesville this year was the only other time we've ever lined up against Frank, but we just happened to be in the other lane when he had trouble," Brand said. "I don't look at that as beating Frank Manzo. This was a little more legit."
Brand, who reached his first national event final his last time out, qualified No. 1 with a 5.67, then Manzo gained the upper hand through the early rounds of eliminations. Manzo qualified just third with a 5.75, then ran another 5.75 in the opening round against Wayne Butler while Brand slipped to a 5.80 that was still enough to take out second-year driver Todd Robertson. In the semifinals, Brand and Manzo claimed identical 5.72 to 5.76 wins - Brand over Ray Drew and Manzo over No. 2 qualifier Andy Bohl.
Manzo had the two best reaction times of the entire event - .033 and .025 - but Brand got off the mark first in the final, .051 to .079, and pulled ahead for a 5.671 (low e.t.) to 5.70 win.
"Frank brings out the best in us," Brand said. "Anytime you can get past the best - and that's what he is, obviously - that's a win to remember. He's the gold standard of Alcohol Funny Car racing, the guy every team out here shoots for."
With his third final-round appearance in a row, Manzo is up to eighth in the national standings and has fewer starts than anyone else in the Top 10. Brand, racing for the first time in two months, now has reached at least the semifinals everywhere he's raced this year, including a semifinal appearance in Gainesville and a runner-up in Charlotte."
Reigning Comp Elimination NHRA Lucas Oil National champion Bruno Massel, Woodridge, Ill., qualified No. 1 and took out the No. 2 qualifier Mark Kirkman, Monmouth, Ill., for the win and the trophy with a lap of 7.097 seconds at 180.24 mph while Matthew Lund outran Larry Vierregger at both ends of the track for the win in Super Stock.
West Central Division Champions Tom Schmidt and Phil Unruh continued to lead their fields as Schmidt drove around Ashton Premer in the Jerry Haas Racecars Top Sportsman class and Unruh overcame a starting line advantage to beat David Harrington in the Fineline Madcap Top Dragster class. Schmidt went 6.954 at 187.73 in his '63 Corvette and Unruh clocked in at 6.649 on his 6.63 index in his '11 dragster.
In the NHRA Harley-Davidson Drag Racing Series it was Jay Turner picking up his first win of the year in the Top Fuel Harley class beating 2-time event winner Tommy Grimes. Turner went 6.136 at 224.66 to take home the trophy. Dale Nilles sweep the Pro Dragster class qualifying No. 1 with low e.t. of the event then knocking out David Larson in the final with a 7.395 second run at 162.98 mph.
Shawn Anderson ran better on both ends of the track to take out Luke Bogacki in Super Comp and Jim Davis held on to win Super Gas when Dave Johnson broke out.
Other racers visiting the winner's circle this weekend were Bob Schmidt over Dillon Wagner in Super Street, Brad Haugaard beating Johnny Diekema in Stock, Ron Bray lost to Lourie Wirbel in Pro Stock Snowmobile, Frank Capone won in Pro Gas Harley, Shaun Schnathorst took Hot Street and Tom Klemme upended Andy Sanquist in Sportsman Motorcycle presented by Harley Davidson.
West Central Division racers head to Bandimere Speedway for the Mopar Mile-High NHRA Nationals next month where they will meet up with the NHRA Mello Yello Drag Racing Series July 19-21.
The following are the final results from the NHRA Lucas Oil Drag Racing Series Summer Showdown presented by Matco Tools at Cordova Dragway Park:

TOP ALCOHOL DRAGSTER:
Round 1
5) Dave Hirata, Lowell, Ind., 5.573, 252.66 def. 4) Jared Dreher, Clinton, Ind., 5.595, 249.86
3) Gord Gingles, Winnipeg, Manit., 5.634, 256.16 def. 6) Duane Shields, Boulder City, Nev., 5.663,
253.18
2) Robin Samsel, Marion, Ind., 5.527, 257.28 def. 7) Marty Thacker, Robinson, Ill., 5.624, 257.48
1) Brandon Booher, Urbana, Ill., 5.473, 264.70 def. 8) Paul Fishburn, Rensselaer, Ind., 5.709,
252.14

Semifinals
Samsel, 8.512, 98.49 def. Gingles, foul
Booher, 5.444, 265.95 def. Hirata, 5.479, 258.02

Final
Booher, 5.457, 266.64 def. Samsel, 5.466, 261.02

TOP ALCOHOL FUNNY CAR:
Round 1
1) Dale Brand, Sully, Iowa, '06 Monte Carlo, 5.800, 249.21 def. 8) Todd Robertson, Harrison Twp.,
Mich., '06 Monte Carlo, 6.441, 160.21
5) Ray Drew, Hales Corner, Wis., '04 Firebird, 5.875, 243.55 def. 4) Chris Foster, Davenport, Iowa,
'11 Mustang, 5.963, 247.34
3) Frank Manzo, Mooresville, Ind., '13 Monte Carlo, 5.753, 252.33 def. 6) Wayne Butler, Forest
City, Ill., '02 Firebird, 7.348, 116.52
2) Andy Bohl, Racine, Wis., '08 Mustang, 5.841, 249.58 def. 7) Kevin Newburgh, Rock Falls, Ill.,
'06 Stratus, 6.225, 187.42;

Semifinals
Manzo, 5.721, 254.23 def. Bohl, 5.763, 253.47
Brand, 5.727, 251.63 def. Drew, 5.764, 248.52

Final
Brand, 5.672, 251.25 def. Manzo, 5.704, 254.38

COMP ELIMINATOR
Bruno Massel, Woodridge, Ill., '10 Cobalt, DD/AT, 7.097, 180.24 def. Mark Kirkman, Monmouth, Ill.,
BOS, A/DA, 6.999, 140.81

SUPER STOCK
Matt Lund, Bettendorf, Iowa, '98 Firebird, SS/IA, 9.968, 126.87 def. Larry Vierregger, Omaha, Neb.,
'72 Gran Sport, GT/JA, 11.193, 117.36

STOCK ELIMINATOR
Brad Haugaard, Vadnais Heights., Minn., '72 Demon, E/SA, 11.272, 115.70 def. Johnny Diekema, Blue
Grass, Iowa, '69 Nova, B/S, foul

SUPER COMP
Shawn Anderson, Eau Claire, Wis., dragster, 8.910, 169.93 def. Luke Bogacki, Carterville, Ill.,
dragster, 8.996,
144.09

SUPER GAS
Jim Davis, Shakopee, Minn., '02 Camaro, 9.947, 158.80 def. Dave Johnson, Edwards, Ill., '09
Mustang, 9.891, 147.39

SUPER STREET
Bob Schmidt, Grove City, Ohio, '67 Chevy II, 10.910, 138.66 def. Dillon Wagner, Galesburg, Ill.,
'83 Firebird, 10.849, 130.25

TOP SPORTSMAN PRESENTED BY AEROMOTIVE
Tom Schmidt, Lindstrom, Minn., '63 Corvette, 6.954, 187.73 def. Ashton Premer, Pierce, Neb., '04
Escort, 7.213, 187.91

TOP DRAGSTER
Phil Unruh, McPherson, Kan., dragster, 6.649, 201.01 def. David Harrington, Shawnee Mission, Kan.,
dragster, 6.917, 197.08

SPORTSMAN MOTORCYCLE PRESENTED BY HARLEY DAVIDSON
Tom Klemme, Davenport, Iowa, '73 Kawasaki, 8.902, 140.42 def. Andy Sanquist, Sherrard, Ill., '73
Kawasaki, 8.987, 135.67

PRO STOCK SNOWMOBILE
Louie Wirbel, Marion, Mich., '04 Ski Doo, 8.363, 155.47 def. Ron Bray, Anoka, Minn., '12 Ski Doo,
8.457, 149.65

TOP FUEL HARLEY
Jay Turner, Julian, N.C., '07 Weekend, 6.316, 224.66 def. Tommy Grimes, Clemmon, N.C., '12 Harley,
6.353, 221.63

PRO DRAGSTER HARLEY
Dale Nilles, Purlear, N.C., '11 Derringer, 7.395, 162.98 def. David Larson, Topeka, Kan., '12 Fast
Cat, 7.639, 159.19

PRO GAS HARLEY
Frank Capone, Wakefield, Mass., '01 Harley, 8.522, 148.79 def. Ryan Oehler, Bloomington, Ill., '12
Harley, 8.723,
148.90

HOT STREET HARLEY
Shaun Schathorst, Huron, S.D., '99 Harley, 14.996, 86.91 def. unopposed

SUPER STREET SHOOTOUT
Bill Worby, Dwight, Ill., '88 Camaro, 10.999, 124.01 def. Sean Kruse, Port Byron, Ill., '70
Maverick, 12.382, 86.86

SUPER GAS SHOOTOUT
Jarod Bowman, Marion, Iowa, '00 Corvette, 10.175, 129.23 def. Dave Johnson, Edwards, Ill., '09
Mustang, 10.696, 102.95

SUPER COMP SHOOTOUT
Steve Mikus, Ashley, Mich., dragster, 8.969, 140.46 def. Rose Richardson, Woodburn, Ind., dragster,
8.931, 166.70