Tue, 25 Jun 2013, 16:48 PM



That's A Good Start



By Bob Frey


Photo copyright 2013 Auto Imagery, Inc.





There was a lot of expectation about the race in
Epping, New Hampshire
. For a few years we had heard that NHRA was looking at putting a national event at the historic track and each year those rumors came and went without any announcement. I was there two years ago and was told by the track officials that they were close and that the announcement could come soon. It eventually was announced and for the past year speculation ran high about how the track would handle the event and how the fans in the
New England
area would react. Well, after three beautiful days of weather and three great days of racing I think the answer is that the track handled things very well and the fans were treated to some good racing. Although, as I often say, in the interest of fair reporting I was surprised that the fields weren't a bit bigger in the
Mello Yello
(professional) classes and I was stunned that
Erica Enders-Stevens
wasn't part of the show. She is one of the brightest stars on the NHRA scene, she has a very competitive car and yet she wasn't able to find enough funding to attend the race, a race that eventually had only fifteen Pro Stock cars. When someone of her caliber isn't able to go to a race because of lack of funding I think it's a shame. When
Danica Patrick
(who is on the front page of
NASCAR.com
and is 27
th
in the points as I write this) can get millions of dollars in sponsorships and a lot of television exposure for what she has done on the track, and Erica, who could contend for the championship can't even get to a race, it's a shame. I could say the same for
Melanie Troxel
who is also on the sidelines. She is another one who has plenty of talent and all the tools needed to succeed and yet she can't get a ride. Even with drag racing putting on great shows in new markets we have to find a way to get and keep some of our best and most marketable drivers on the tour. I hope Erica returns soon because she adds a lot to the sport and to every race she attends.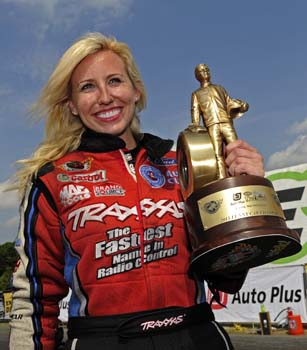 Courtney Force celebrates second this season.
Anytime you have John Force in a final round the fans (generally) will consider the race a success. Anytime you have Courtney Force in a final round the fans (most of them) will consider the race a success. So you can imagine how the fans were feeling when John and Courtney squared off for all the marbles at the Epping, New Hampshire race this past weekend. When they lined up against each other did you know that Courtney became the 45th different driver that John has faced in a final round in his great career? His other daughter, Ashley, was one of them and when John lost on Sunday it meant that he is now 0-3 against his daughters in final round encounters.Even though he didn't win John did qualify number one and set low elapsed time, and on the heels of his performance a week earlier it sure looks like the champ is back. Did you know that the number one spot was the 142nd of his career, and since he did it at a track where the NHRA was racing for the first time it also marked the twenty-ninth different national event venue where John has qualified at the top of the field? His consecutive final rounds have moved John into fifth place in the standings and that's the highest he has been all year..Team Force earned bragging rights over Team Schumacher this week since John beat Ron Capps and Courtney beat Jack Beckman in the semi-finals. In case you are keeping score that makes the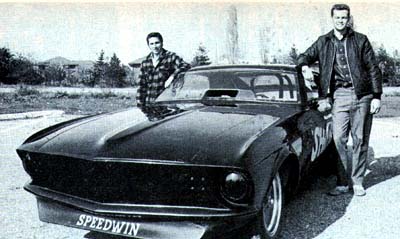 Dave Richards' father Gary (right)
with his car and friend Joe Diemehe.
tally 9 -8 for the year with the slight edge going to Team Schumacher, but as we all know there is a lot of racing yet to go in the year....
Dave Richards
made his NHRA national event debut, and for his efforts he got to run John Force in the first round.
Did you know
that Dave became the 344
th
different driver to qualify for an NHRA Funny Car race? And while John and is daughter were slugging it out for the championship I'm sure Dave's father,
Gary Richards
, was just as proud of his son for what he did in New England.
Did you know
that
Gary
raced a Funny Car called the
"Shadow"
in the early 1970's? It was a pretty good car too, with a
Logghe
chassis and all the good parts inside. Congratulations to Dave for his first venture into the Funny Car ranks and I look forward to seeing him at some more races in the near future..
Matt Hagan
retained the point's lead and he did manage to set top speed of the meet for the Funny Cars. That's two top speeds in the last three races for Matt and when you're making that kind of power you are going to win a lot of races.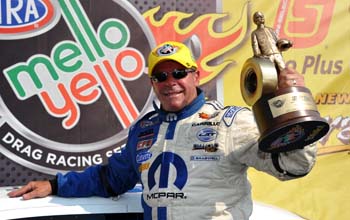 Allen Johnson celebrates win.
Allen Johnson moved a little closer to Mike Edwards and first place when he beat Shane Gray in the Pro Stock final round. Not only did AJ win but he did it the way every driver likes to, on a holeshot. Did you know that this was the forty-eighth holeshot win of Allen's career and the fifth that he had in a final round? By the way, do you know how many holeshot wins he had all of last year? Zero. Zip. Zilch. Nada. So now he not only has a good car but he is driving well and that could spell repeat. It could, but as we all know there is a lot of racing yet to go in the year. Or did I say that already?....Speaking of holeshots Tom Martino had one in the first round when he beat V. Gaines. Did you know that was the twenty-seventh holeshot win for Tom and that is in ninety-nine winning rounds? Wow, now that's impressive and it makes you wonder what Tom could do if he ever had the best car in the field. It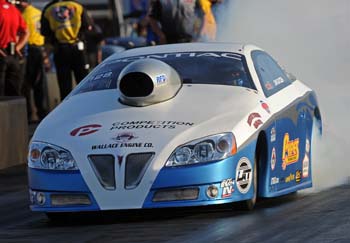 John Gaydosh
was nice to see Tom in action again and it's a shame he couldn't make it back for the second round.
Did you know
the last time Tom won a race was in 2006 when he won the Gatornationals and he did that in the back-up car of V. Gaines, the guy he beat in round one on Sunday...Shane Gray didn't win but he is still having a very good year. The final round appearance was his fourth of the year (including the 4-Wide event) and he is right in the middle of the points and it looks like he has a car that can make some noise once we get to the "Countdown.".
Jeg Coughlin
made a little Jeg Coughlin history on his birthday in
New England
. After qualifying number one for the nineteenth time in his career Jeg, by virtue of the fact that there was a short field, got a bye run in the opening round.
Did you know
that in his entire career, and that spanned 751 rounds at the start of eliminations, this was the first time he ever had a bye run? Now I'm not talking about a run where the opponent broke, I'm talking about a run where there was never anyone scheduled to be in the other lane and I find it amazing that this was the first such run of his career..
John Gaydosh
made his first NHRA start after thirty-seven attempts, and in the process
did you know
that he became the 424
th
driver to qualify for an NHRA Pro Stock race.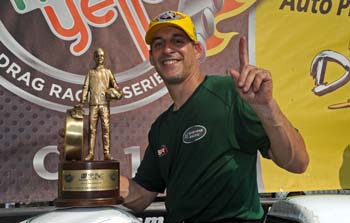 John Hall celebrates his first career win.
The race in New England was new and so were the faces in the Pro Stock Motorcycle final round. Adam Arana, the third member of that racing family, went to his first final round while Connecticut native, John Hall, also made his first trip to the money round. Did you know that this was the first time since the Denver race in 2003 that both competitors in the bike class were in their first final round? At that race it was Blaine Hale beating Mike Berry for the trophy while this time around it was John getting the win when Adam jumped the start and fouled out. Did you know that with his win John becomes the 41st driver to win in the Pro Stock Motorcycle class?......Michael Ray paced the field when he ran 6.832 and in the process he became just the thirty-fourth rider to qualify number one in the bike class. He joins other notables like Byron Hines, Doug Horne and Reggie Showers as riders with one top spot to their credit...Like all of the other top qualifiers Michael failed to get the win and that seems to be a pattern lately, but I'm sure that will change since, as we all know, there is a lot of racing yet this year..Almost as surprising as the fact that we had a new winner and a new number one guy was the fact that both Eddie Krawiec and Andrew Hines lost in the first round. As unusual as it is for one of them to lose early it's almost unheard of for both of them to bow out in the opening stanza. Did you know that last time they both lost in round one (other than at a 4-Wide race) was at Indianapolis in 2009?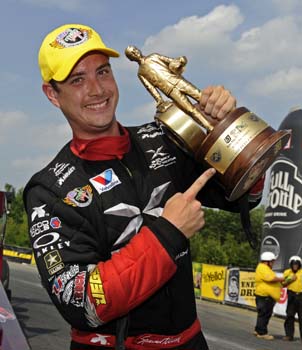 Spencer Massey celebrates his second win this season.
Team Schumacher came out on top in the dragster class when Spencer Massey beat Shawn Langdon in the final round. That race pitted the two top teams in the class, "Team Don" and "Team Al-Anabi" against each other. In case you're keep score this year it's Team Al Anabi in front by an 8-5 margin over Tony Schumacher, Spencer Massey and Antron Brown. Actually, that total only includes Tony and Spencer since, as hard as it may be to believe, did you know that neither Shawn nor his teammate, Khalid alBalooshi, have raced Antron this year. But that will change, because as we all know there is a lot of racing yet to take place this year...Since I mentioned Antron he is going through a bit of a slump right now, isn't he? The defending champ qualified in the bottom half of the field for the third time in as many races and that just never happens, and when I say never I mean never. Did you know this was the first time in his Top Fuel career that Antron had three races in a row where he was in the bottom half of the field after qualifying? Hey even Don Garlits went through times like that and he turned out ok, didn't he? AB and his team will be fine and going to a fast track like the one in Joliet could be just what they need to put one in the win column. By the way, even with those little glitches the team is still in fourth place in the standings..Spencer's win was the twelfth of his career and that ties him with Mike Dunn for nineteenth place on the Top Fuel win list. Did you know that Spencer picked up his wins in eighty-two races while Mike ran 170 races in the dragster class?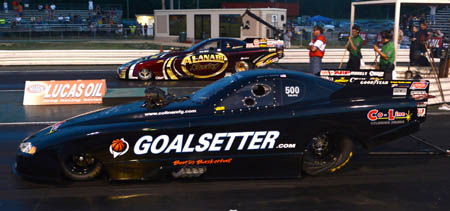 Dale Brand defeated Frank Manzo in Cordova.
Photo copyright 2013 Barry Bergeron, Eagle Eye Photography
Anthony Bertozzi, generally regarded as one of the best Lucas Oil (sportsman) racers in the country finally added his name to a very exclusive and select list when he "doubled" in New England. Anthony beat Bob Horgan to win the Stock Eliminator crown and then came back and beat Mark Markow in the Super Stock final.Mike Sawyer also had a shot at greatness when he made it to the money round in both Super Street and Super Gas. Mike lost to Eddie Brooks in the 10.90 category and then came back and won Super Gas at the expense of Charlie Kenopic..While Anthony was doubling and Mike was trying to, Dale Brand was making news at the Lucas Oil race in Cordova. In the final round Dale met and beat Frank Manzo and anytime you can do that you have had a good day, or a good career. Even with the loss Frank's divisional record still stands at a gaudy 118-37. Not too bad, is it? Did you know that Frank has never won a Division 5 race? Of course he probably hasn't raced at more than two...At the same race Brandon Booher, whom we touted here a few weeks ago, beat Robin Samsel in the Top Alcohol Dragster class..The Allstar gathering takes place this week in Joliet and that's one thing that I will surely miss. Good luck to all the teams and we'll have a little more about that on Thursday. By the way, did you know that Frank Manzo, the defending champ in Top Alcohol Funny Car, will not be at the event, and did you know that Frank has been an Allstar in eighteen of the past twenty years? He'll be missed this week and our loss is ADRL's gain since Frank will be in Martin, Michigan tuning the Al Anabi Pro Mod car..And another round of congratulations to Jim and Annie Whiteley who both won at the Tulsa point's race.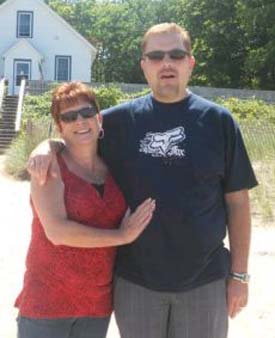 Tammy and Jim Oberhofer
Photo copyright 2013 teamkalitta.com
One more thing. With all of the excitement surrounding the New England event everyone in the drag racing world was saddened to hear of the loss of Tammy Oberhofer. While the Oberhofer brothers are very familiar to most race fans Tammy probably was not even though she spent most of her life in and around the sport and was a vital cog in the Kalitta Motorsports operation for many years. Tammy lost her battle with cancer last week and that is a tremendous loss to the drag racing community. I have known Tammy for many years and she was one of the nicest people you would ever want to meet. Her great smile and pleasant personality always made you feel welcome and she was a joy to be around. Obviously her loss will be felt most by the Kalitta teams, but everyone who knew her shares their loss. Visitation and services for Tammy will take place this Wednesday, June 26 at the Michigan Memorial Funeral Home, 30895 West Huron River Drive in Flat Rock, Michigan. In lieu of flowers the family has asked that donations be made to one of Tammy's favorite charities B.R.A.K.E.S., DRAW, Racers for Christ or Pandas International. Our prayers go out to her husband, Jim, their daughter Ashley and everyone in her immediate and racing families.