Mon, 24 Jun 2013, 15:45 PM



Bertozzi Doubles in New England



Courtesy of NHRA Communications


Photo copyright 2013 Auto Imagery, Inc.





EPPING, N.H. --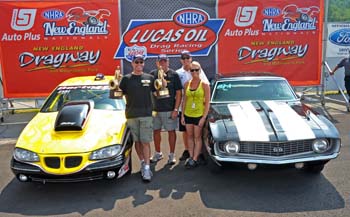 Anthony Bertozzi celebrates his first double-up
Anthony Bertozzi grabbed his 12th and 13th NHRA National event wins as he doubled up this weekend at the Auto-Plus NHRA New England Nationals at New England Dragway and the NHRA Lucas Oil Drag Racing Series. Mike Sawyer also advanced to two final rounds taking the win in Super Gas.
Bertozzi, Ashland, Va., first meet up with Bob Horgan in the Stock Eliminator Final where Horgan, Tyngsboro, Mass., left early with a red-light foul start handing the first half of the double up to Bertozzi who ran it out at 10.68 seconds at 124.18 mph in his '69 Camaro. He would then face off with Mark Markow, East Hartford, Conn., for the Super Stock trophy. It was close at the start with Markow taking a slight lead but Bertozzi was better at the finish running 9.037 seconds, 145.63 mph for the win in his '98 Grand Am marking the 16th driver to score the double up in NHRA national event competition.
Sawyer was looking to make history of his own advancing to the finals in both Super Street and Super Gas. The Massachusetts driver paired up with Edward Brooks in his first final with Brooks, Deer Park, N.Y., putting a .030 second hole shot on Sawyer which was enough to hold on for the win as he crossed the finish line in 10.933 seconds at 136.11 mph.
Sawyer would come back around to square off with Charlie Kenopic in Super Gas. Sawyer would not be denied this time taking the win in 9.914 seconds at 160.90 mph in his '03 Cavalier to Kenopic's 9.932, 152.73 in his '27 roadster.
Kent Hanley narrowly beat out Nick Willard in Super Comp in one of the closest races of the day. Hanley turned his hole shot starting line advantage into the win running 8.909 seconds to Willard's quicker 8.905 for the win by about 12 inches.
In Top Dragster it was Ken LeBlanc picking up his first NHRA National event win out of Dracut, Mass. LeBlanc ran 6.886 at 196.62 mph to defeat Ken Moses who had the better reaction time but broke out by .001 seconds at 6.929, 189.02.
The following are the final results from the Auto Plus NHRA New England Nationals and the NHRA Lucas Oil Drag Racing Series at New England Dragway:
Super Stock
Anthony Bertozzi, Pontiac Grand Am, 9.037, 145.63 def. Mark Markow, Chevy S-10, 9.160, 146.93.
Stock Eliminator
Anthony Bertozzi, Chevy Camaro, 10.680, 124.18 def. Bob Horgan, Camaro, foul.
Super Comp
Kent Hanley, Dragster, 8.909, 161.98 def. Nick Willard, Dragster, 8.905, 160.54.
Super Gas
Mike Sawyer, Chevy Cavalier, 9.914, 160.90 def. Charlie Kenopic, Ford, 9.932, 152.73.
Super Street
Eddie Brooks, Chevy Camaro, 10.933, 136.11 def. Michael Sawyer, Camaro, 10.913, 138.66.
Top Dragster
Ken LeBlanc, Dragster, 6.886, 196.62 def. Ken Moses, Dragster, 6.929, 189.02.