Wed, 12 Jun 2013, 16:49 PM



Rain Delays Record Breaking OFAA Outing At Ardmore Dragway



Courtesy of Chris Graves


Photo copyright 2013 Max Cackle Photography





ADMORE, Okla. --
The Painless Performance Outlaw Fuel Altered Association headlined the annual "White Walls & Drags" event at historic Ardmore Dragway in Ardmore, Oklahoma on May 11th. This marked the first time for the OFAA series to pound the ground at this facility, which records indicate to be the longest continually operated drag strip in the country opening in 1954. Terry Brian and his "II N'Tense" team came into the event tied with Aaron Leyda and team "Hemi Hunter" for the OFAA points lead and Mary Reep's "Grim Reeper" team entered the event red hot after her first series win in the last outing two weeks before.
Bobby Marriott Cacklefest
With pin-up models and back up girls dressed for the occasion, the "White Walls & Drags" event provided lots of entertainment with nostalgia racing of many sorts in action and shortly after lunch the call went out to bring the teams to the lanes for the opening session of qualifying. Sixteen OFAA teams were on hand to battle for a spot in the quick twelve as Bobby Marriott's "Shockwave" and Nick Poloson's "Sundown" kicked off the action. Marriott pedaled his way to a 4.84 at 151 mph while Poloson, in his first appearance of the season, clicked off a clean and smooth 4.15 at 154 mph.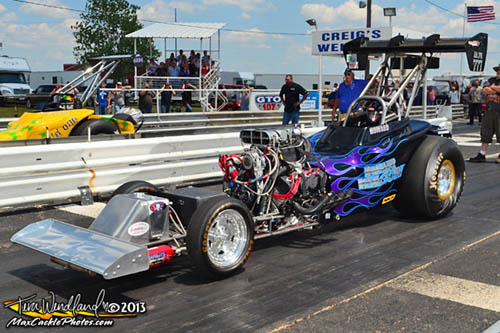 Howard Farris
Howard Farris' "War Wagon" nitro burner paired up with Donny McSwain's "Wild One" in the next pair as Farris blasted to a 4.13 at 171 mph while McSwain carried the front end high in the air and had his hands full keeping the car off the guardrail, posting a wild 4.54 at 124 mph. Jimmy Jones posted a strong 4.12 on his opening lap in the "Texas Tremor" machine which was quickly upped by Chris Trussell's 4.10 at 146 mph in the "Assassin" which held for low elapsed time of the round. Other notable runs included Mary Reep's 4.15, Mark Bowman's 4.17 and Raymond Dawson's 4.18 as the teams returned to the pit area.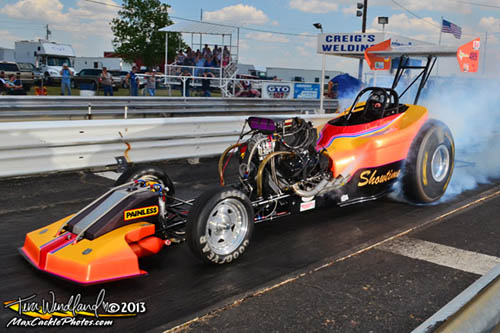 Donnie Massey
With the bump set at Bobby Marriott's 4.84 the pressure was on the folks outside looking in as teams were sure to improve and that they did as the three's began to fall and the track record soon became property of the Outlaw Fuel Altered Association. The opening pair set the bar, as Donnie Massey's "Showtime" and Nick Poloson's "Sundown" clicked off the first ever side by side three second passes at Ardmore Dragway. Massey blasted to track record 3.93 at 151 mph alongside Poloson's 3.98 at 180 mph. As the final qualifying session continued, Terry Brian stepped up to a 4.04 at 175 mph with Chris Trussell posting a 3.98 in the opposite lane.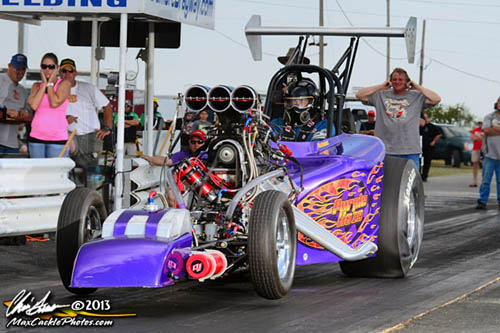 John Broussard
Donny McSwain clicked off a 4.08 at 184 with the front wheels a foot in the air as he crossed the finish line. John Broussard and Bobby Marriott laid down clean side by side runs with Broussard's 3.98 at 189 mph leading Marriott's 4.00 at 175 mph. This marked Broussard's best run since the debut of the new "Purple Haze" machine. Aaron Leyda closed the session with a nice 4.13 at 172 mph in the "Hemi Hunter" and Bobby Marriott's "perfect" 4.00 stood to claim the number one qualifying position heading into eliminations. The bump went from a 4.84 to a Mark Bowman's 4.17 by the end of the session.

Final Qualifying Order: 
1. Bobby Marriott (Pilot Point, Texas) - 4.00 @ 175
2. John Broussard (Lake Charles, LA) - 4.015 (3.984) @ 189
3. Chris Trussell (Canton, Texas) - 4.0194 (3.9806) @ 185
4. Nick Poloson (San Antonio, Texas) - 4.0198 (3.9802) @ 180
5. Terry Brian (New London, Texas) - 4.04 @ 175
6. Donnie Massey (Little Elm, Texas) - 4.066 (3.933) @ 151
7. Donny McSwain (Rockwall, Texas) - 4.08 @ 184
8. Jimmy Jones (Cleburne, Texas) - 4.10 @ 146
9. Aaron Leyda (Bartlesville, Oklahoma) - 4.130 @ 172
10. Howard Farris (Springtown, Texas) - 4.132 @ 171
11. Mary Reep (Austin, Texas) - 4.16 @ 151
12. Mark Bowman (Oklahoma City, Oklahoma) - 4.17 @ 170
13. Raymond Dawson (Nevada, Texas) - 4.18 @ 165
14. Kebin Kinsley (Arlington, Texas) - 4.25 @ 177
15. DoDad Burton (Tyler, Texas) - 4.93 @ 136
16. Doyle Smith (Paris, Texas) - 6.21 @ 100

Parts attrition took a toll on a few teams including Kebin Kinsley, Mary Reep, Bobby Marriott, DoDad Burton and Raymond Dawson. An unusually high number of sidelined teams left eleven machines still in competition as the all-important first round of eliminations was called to the lanes, where the two quickest winners would advance to the final round.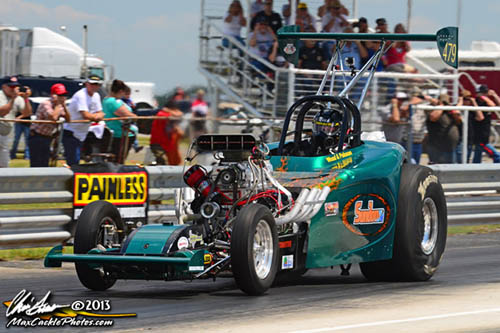 Nick Poloson
Jimmy Jones and Chris Trussell were the first pair out in a monster match up as the blown alcohol powered two time Champ in Jones crept into the beams against the nitro burning, header flaming machine of Trussell. Jones took the advantage off the line and clicked off a stout 3.92 at 183 mph to hold off Trussell's nice 3.97 at 182 mph, another side by side three second pass. Donnie Massey was out next set to race Mark Bowman. Bowman looking for the upset in his home state took a strong starting line advantage with a .033 reaction but his 4.24 was no match as Massey used a ground pounding 3.91 at 162 mph to drive around Bowman and take the stripe.
Aaron Leyda
Donny McSwain lined up alongside Doyle Smith as eliminations continued. McSwain had this one from start to finish posting his best time of the season with a 4.05 at 177 mph to Smith's 5.01 at 103 mph. Howard Farris brought his nitro burner to the line ready to take on the always tough Terry Brian. Brian took a huge starting line advantage but that quickly vanished as Farris destroyed the track record with a stellar 3.82 at 192 mph to earn the round win.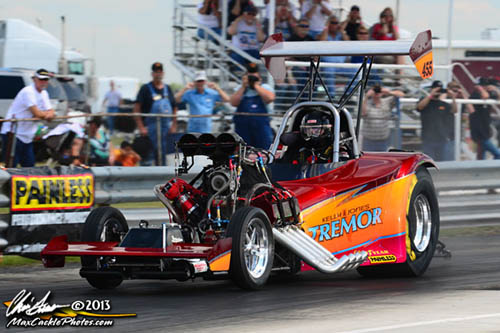 Jimmy Jones
With two pair left, Nick Poloson rolled out ready to take on Aaron Leyda. Leyda's .034 reaction time would have given him the advantage against any other opponent, but Poloson, who led from start to finish with a .029 reaction time and lit the boards with a career best 3.92 at 180 mph to take the win over Leyda's 4.12 at 172 mph. Earning the bye run, John Broussard had a solo shot to try and run better than Massey's 3.91 and advance to the final against Howard Farris. Broussard's Louisiana based entry blasted off the line and made a move to the centerline. Broussard never lifted and was able to correct the car as it then moved to the wall. Using an impressive driving job, Broussard went wide open through the traps to a 4.02 at 184 mph, a great pass from a spectator stand point but not what the team needed to get into the final as Donnie Massey and Howard Farris would line-up in an all nitro final round.

First Round Eliminations:
(W) Jimmy Jones (.074 rt) 3.92 @ 183 mph vs. (L) Chris Trussell (.126 rt) 3.97 @ 182 mph
(W) Donnie Massey (.096 rt) 3.91 @ 162 mph vs. (L) Mark Bowman (.033 rt) 4.24 @ 166 mph
(W) Donny McSwain (.110 rt) 4.05 @ 177 mph vs. (L) Doyle Smith (.178 rt) 5.01 @ 103 mph
(W) Howard Farris (.242 rt) 3.82 @ 192 mph vs. (L) Terry Brian (.103 rt) 4.11 @ 177 mph
(W) Nick Poloson (.029 rt) 3.92 @ 180 mph vs. (L) Aaron Leyda (.034 rt) 4.12 @ 172 mph
(W) John Broussard (.083 rt) 4.02 @ 184 mph vs. (L) Bye Run

Soon after the first round was concluded, an unexpected rain shower drenched the facility at Ardmore Dragway putting an abrupt halt to the racing action for the day. With the track record broken several times and a few teams holding career best elapsed time slips in the pocket, the "White Walls & Drags" event was nothing short of a success. A big thanks goes to the staff at Ardmore Dragway for providing a great track to race on and kudos to the OFAA teams for laying down very impressive runs for the crowd. The final round between Massey and Farris will be run in the first qualifying session of the next OFAA event, scheduled for May 24th at Texas Raceway in Kennedale, Texas.
The Outlaw Fuel Altered Association would like to thank title series sponsor Painless Performance and bonus program sponsors Good Vibrations Motorsports, North Texas Diesel, 3rd Coast Commissioning Service, Wizard's Warehouse and Competition Sales of Dallas. For more information on the series and to see photos from this event visit www.ofaa.net!
Ardmore Dragway "Bonus Winners"
Good Vibrations "Quick Reaction Time"
Nick Poloson - (.029)

North Texas Diesel "Quickest Rd. 1 Non-Finalist"
Nick Polson - (3.92)

3rd Coast Commissioning Service "Best Burnout"
Tie - Kebin Kinsley & Doyle Smith
Wizard's Warehouse "Finalists" Bonus
Donnie Massey & Howard Farris
Competition Sales of Dallas "Luck of the Draw"
DoDad Burton