Wed, 12 Jun 2013, 11:01 AM



Head For The Hills



By Bob Frey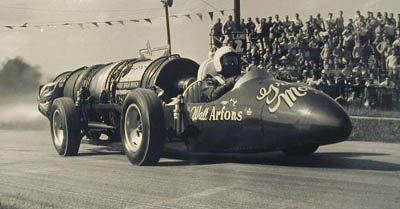 Walt Arfons in the Green Monster
Before I talk about this week's race in
Tennessee
I have to mention the passing of a racing legend.
Walt Arfons
, one half of the great Arfons brothers, passed away last week at the age of 96. His brother, Art, died in 2007 at the age of 81. Together they formed one of the greatest family legacies in the history of racing, both on the drag strip chasing quarter-mile records and on the salt flats chasing the land speed record. While they made a living match racing their world famous jet cars on the drag strip they also made history on the salt flats as they pursued and set the land speed record, a record they both held at one time. In fact, a record that they both set and re-set on the same weekend. Their story, and the incredible rivalry between the two, is well documented in a book called
"Speed Duel"
by
Samuel Hawley
that is available on
Amazon.com
. For anyone who loves racing and enjoys reading about men who loved a challenge, this book is a "must read." The things you learn about Walt and Art are amazing, almost as amazing as the talents they displayed on race tracks across the country. Many of us enjoyed watching in awe as the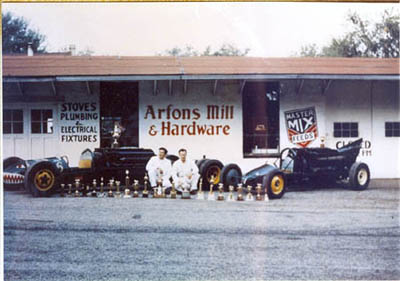 Walt and Art's shop.
thundering jet cars raced down the drag strips across
America
, while others watched in amazement at what Walt and Art were able to build at their small shop on
Pickle Road
in
Akron, Ohio
. Walt Arfons was the epitome of what a racer is all about, he saw a challenge and set out to solve it. He saw a record and he set out to break it. We have truly lost a pioneer and a legend with the passing of Walt Arfons. One little tidbit about Walt's passing that is as amazing as the records he set, he is survived by his wife,
Gertrude
, and the two were married for seventy-six years.
There are a lot of tracks on the NHRA Mello Yello tour that I will miss now that I'm in retirement. The thrill of being in Pomona for the start and end of the season, the glitz and glamour that is Las Vegas, the history that is Gainesville and the great family traditions in Norwalk and Denver are just a few.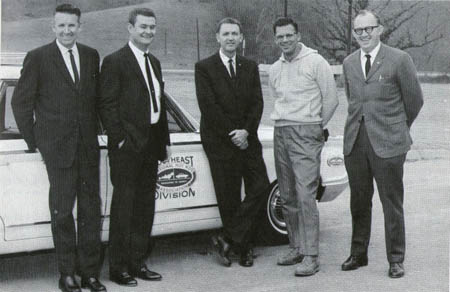 Wally Parks, Buster Couch, Carl R. Moore,
Larry Carrier and Hal Hamrick
There are more, of course, but those are some of the tracks that I will miss going to this year. The track in
Bristol, Tennessee
holds a special place in my heart, too. I don't know if it's because I took a lot of pride in the fact that racers from my home track,
Atco Dragway
, went there and won in the 1960's, or if it's because I went there in the early 1970's as an announcer, or the fact that the late
Jeff Byrd
, a great man and a good friend, was such a big part of the track for years. Maybe it's a combination of all of those things and more, but whatever it is I will miss hearing the fuel cars thunder in
Tennessee
this week. By the way, if you have never experienced "
Thunder
Valley
" you really need to go there some year, like this year. It is unique in its layout, the fans are positioned in such a way that there are no bad seats and the sound is simply unbelievable. I found out all of that when I first went there in 1971 and I have loved it ever since.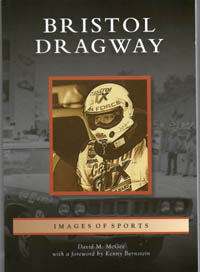 The Bristol track goes back to the mid 1960's and it is one of the very few facilities to have flown the NHRA, IHRA and AHRA banners during its time as a race track. The first major race held there was the NHRA Springnationals in 1965 and to say that is was a huge success would be an understatement. Partners Larry Carrier and Carl Moore, along with the track manager, Hal Hamrick, spent a lot of time getting the track ready for the big event, and with the assistance of NHRA, Wally Parks and the Division 2 Director, Buster Couch, the event went off without a hitch. Ok, so almost without a hitch. Did you know that Pete Shadinger and Glen Blakely were declared "co-winners" in the Competition Eliminator class at that race because of the "tree malfunction?" That remains, to this day, the only race where two drivers were declared the winners in the same class at an NHRA national event. By the way, Pete will be among the honorees at the inaugural New England Hot Rod Reunion in September and I'm looking forward to seeing him again..Anyway, the '65 Bristol race was great and Maynard Rupp (Top Fuel) and Gordon Collett (Top Gas) were the big winners. In Top Fuel the fastest run was recorded by someone who will be at the track this week, Connie Kalitta. Did you know that Connie ran 209.78 miles per hour to record top speed while Jimmy Nix was the number one qualifier and Don Westerdale in the Ramchargers car set low elapsed time? And here's one other little tidbit worth noting. Did you know that Jimmy Nix won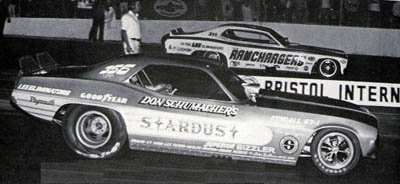 Don Schumacher vs Jim Paoli
in the '72 Springnationals final.
and lost in the first round of Top Fuel at that race? That's because he drove two different cars in eliminations, his own Chevrolet-powered dragster and the car of the
Carroll Brothers and Oxman
. In round one he beat
Danny Ongais
with one car and lost to
Val LaPorte
in the other...There were a lot of great stories about that first race and you can read about some of them and a lot more about the track by getting a copy of the book by
David McGee
called simply,
"Bristol Dragway"
which should be available at the track this week or by going to
www.amazon.com
..... One more thing, when the track ran its first IHRA national event in 1971 the winner in the Funny Car class was none other than
Don Schumacher
who beat
Richard Tharp
in the final round. Don would then go on to complete the rare "sweep" at Bristol in 1972 when he beat
Jim Paoli
in the finals at the Springnationals and
Shirl Greer
at the
All American Nationals
, the fall race at Bristol...This race begins a four race in four weekends affair so let's hope that there is sunshine in
Thunder
Valley
.
It's hard to believe that we are at the halfway point in the season already, well at least the halfway part of the season that will decide who runs for the championship. Wow, where does the time go? With nine races down and nine to go before we make the "cut" I thought that this would be a good time to take a look at where we stand, and by "we" I mean the drivers who are vying for a spot in the "Countdown"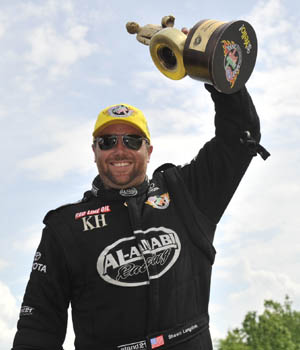 Langdon celebrates Englishtown win.
Photo copyright 2013 NHRA
later this year...While a lot of drivers, if not most of them, will tell you that they aren't counting points there is one driver who is and that's the point's leader,
Shawn Langdon
. "We're looking at every point, from qualifying through eliminations," he said after his win in Englishtown. "It's great to be in the lead right now and we'd like to stay there."
Shawn is in the lead based on his three wins this year and that is the best in the Top Fuel class. Already this year there have been five winners in the Top Fuel class, while last year there were ten different winners and that was the most since ten drivers won in1996.
Did you know
that 1993 produced the most Top Fuel winners when eleven different drivers won races?.....Of the five drivers who have won this year all five of them won in 2012, too. Of those five winners, Shawn,
Tony Schumacher
,
Antron Brown
and
Spencer Massey
are the top four in the points right now with only
Bob Vandergriff
, a winner in Houston, not in the top five. The fifth spot is held down by
Khalid alBalooshi
who was runner-up to Shawn in Englishtown. Since both Shawn and Khalid run for the
Al-Anabi
team, and since that team is under the direction of
Alan Johnson
, you can expect them both to be in the title chase all year...As you know there is a drag racing Hall of Fame and most of the members in it are drivers, in fact I think it's safe to say that the overwhelming majority of members drove a car at one time or another. Alan Johnson is not a driver, although he did dabble for a while in the alky ranks, but I think he is a lock for the Hall of Fame someday. What he has done with the cars he has tuned is amazing, and that goes back to his days with his brother,
Blaine Johnson
, in both Top Alcohol Dragster and Top Fuel, to his days with Tony Schumacher and now his latest stint as operator of the Al-Anabi cars. With his background it should be no surprise that the silver and gold cars for
Sheikh Khalid
and
Qatar
are and will be strong contenders for the championship this year..
Tony Schumacher
has basically owned Bristol during his career and he comes in as the defending champion, in fact, he has won this race five times and been to six final rounds. Not bad in twelve years is it?
Did you know
that Tony has a 27-7 record in
Bristol
and that computes to an amazing 79% winning margin. As good as that is, and it is good,
did you know
that it's not Tony's best track? Indy is, where he is 47-7 and has a winning percentage of 87%. Still, with what he has done and what his father did at
Bristol
the Schumacher's are a real part of the legacy of
Thunder
Valley
.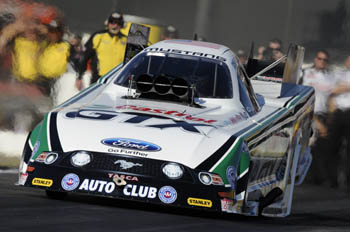 John Force
Photo copyright 2013 NHRA
John Force won the special Top Fuel vs. Funny Car battle in Bristol years ago and he would love to return to that glory this week. John is hanging on to the tenth and final spot in the points, and with Bob Tasca and Alexis DeJoria within striking distance, each race and every round will start to become critical. John is currently six points ahead of Bob while Alexis in another forty-three points back and they appear to be the only serious challengers to John right now. Please don't write and say what about Jeff Arend and Tony Pedregon, who are in thirteenth and fourteenth place, because I know they could mount a challenge, but being as far back as they are and with two other cars in front of them it's going to be really hard for them to move into title contention. Not impossible, but hard.This will be the thirteenth year for the event in Bristol and John has done very well there in the past. Did you know that in the previous dozen races he has been to the final round four times and won three races? Overall he has posted an 18-9 record and that doesn't include the year he dressed up as "Superman" and beat Bob Vandergriff for the overall fuel title. Ok, so he didn't exactly dress up as Superman but that's what his car looked like and that's how he performed. That was one of those "one-off" cars that was actually designed to sell die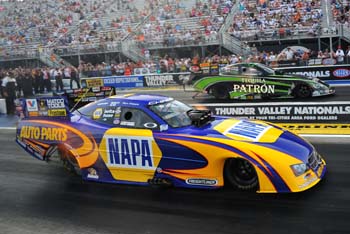 Capps vs DeJoria
in the final last year.
Photo copyright 2013 Auto Imagery, Inc.
cast models. By the way, what ever happened to the die cast faze in drag racing, and if anyone wants to buy a couple hundred of them let me know..Since I mentioned Alexis
did you know
that she was in the final round at the Bristol race last year? She lost to
Ron Capps
who, like John, has had a great deal of success at his track and this event. Ron has posted a 15-9 mark at
Thunder
Valley
so he has to be considered one of the favorites this week. Ron, driving his
NAPA Dodge
, is currently in fourth place and he is just about seven rounds behind the leader,
Matt Hagan
. Ron is going to try to do what no other Funny Car driver has done in Bristol and that is win the event in back-to-back years.
As good as Tony, John and Ron have done in Bristol Mike Edwards doesn't have to take a back seat to any of them. Mike comes in on the heels of four consecutive wins at the track and that's very impressive for any
Edwards defeated Johnson
in the final last year.
Photo copyright 2013 Auto Imagery, Inc.
driver in any class. Mike's overall record in
Bristol
is 22-6 which is a 79% winning record. Surprisingly, since he has won four times there,
did you know
that Mike also has two DNQ's in
Bristol
? Hard to believe, isn't it? Other than the
4-Wide
event that seventy-nine percent mark is Mike's best record at any event on the current Mello Yello schedule.. Mike will try for a little bit of history when he goes for five in a row at one event.
Did you know
that
Bob Glidden
is the only Pro Stock driver to ever win the same event fives years in a row? He did it at the
Columbus
race when he won five straight years from 1979 thru 1983. The way Mike is running I think he has a great chance to join Bob in that very exclusive club, and let's face it, when you're in a club whose only other member is Bob Glidden you must be doing something right..There have been some surprise finalists at this event including
Ken Koretsky
in 2007 and
Rickie Jones
in 2010, so maybe we will have another surprise this week, although if you look at the finalists so far this year there really haven't been any surprises.
Did you know
that all of the finalists so far in Pro Stock are in the top seven in the standings and that's the only one of the top four classes where that is true?....
Allen Johnson
made it to the final round last year but he is still looking for his first win at his home track. As hard as it may be to believe
did you know
that AJ has a losing record at
Bristol
? Overall he is 9 - 10 at the track and he sure would love to change that this year. His final round race with Mike last year was a classic with Mike just getting the win in a race that was a virtual dead heat.
Did you know
that in the history of the Pro Stock class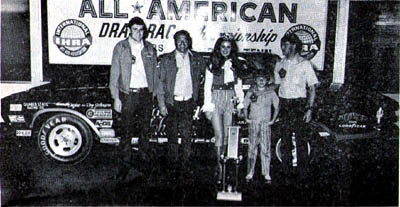 Roy Johnson celebrates Top Stock
win at All American race in 1972
there have been eight final rounds that were statistical dead heats? And
did you know
that two of them involved Mike Edwards and he won both of them? He was also involved in a race like that in
Seattle
in 1997..
Did you know
that when Don Schumacher was winning that All American race in 1972 Allen's father,
Roy Johnson
, was also in the winner's circle?
Roy
won Top Stock honors at that race, just one of his many victories in
Thunder
Valley
. It's a home game for the Johnson family and they sure would like to get the win and close the gap on Mike as we head into the heat of the season.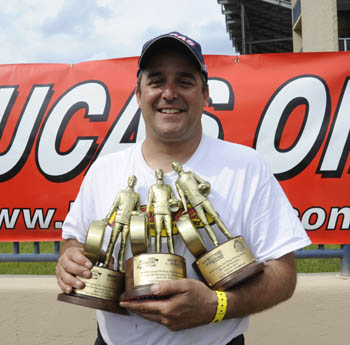 Marco Abruzzi won three Wally's last weekend.
Photo copyright 2013 Kevin Pepera
There were several Lucas Oil races this past week and we would like to congratulate all the winners, but especially Marco Abruzzi. Last week I called him the "Top Sportsman specialist" after he won the national event in Englishtown. Well, he proved he can win in two classes this week. At Rt. 66 Raceway, where they were completing the Indy Division 3 race, Marco won both Top Dragster and Top Sportsman before winning Top Dragster at the regularly scheduled D-3 event and going to the third round in Top Sportsman. That's a 17-1 record in Joliet, and combined with his E'town win that's a pretty good eight days for the driver from Warren, Ohio. Did you know that he became the first driver to pull off the "double-up" in those two particular classes? Congratulations, Marco..And congratulations to a driver whom we profiled here on DragRaceCentral a few weeks ago. Brandon Booher took his torque converter equipped dragster to the win at Joliet when he beat Chris Demke in the Top Alcohol Dragster final round. Nice job, Brandon.