Mon, 10 Jun 2013, 22:49 PM



Johnny and Shane Gray Looking Forward to a Magical Father's Day Weekend



Courtesy of NHRA Communications


Photo copyright 2013 NHRA





At Ford NHRA Thunder Valley Nationals



BRISTOL, Tenn. --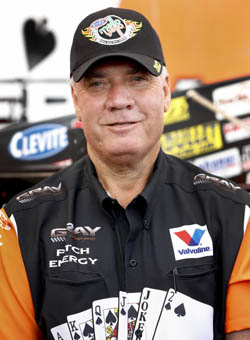 Johnny Gray
Earlier this season at Atlanta Dragway, the father-son tandem of Funny Car driver Johnny Gray and Pro Stock driver Shane Gray nearly shared the stage in the NHRA Winner's Circle of that event. Johnny won the Funny Car title, however Shane ran into a tough final round customer in series points leader Mike Edwards and just missed out on grabbing his fourth career victory.
Perhaps the Racing Gods decided that it would be best if the pair waited to celebrate that special moment on Father's Day weekend.
They will have the opportunity to make it happen at the Ford NHRA Thunder Valley Nationals, June 14-16 at Bristol Dragway. Tony Schumacher (Top Fuel), Ron Capps (Funny Car) and Edwards (Pro Stock) are the defending winners of the NHRA Mello Yello Series event that will be televised on ESPN2HD.
If they are successful in their quest, they would become the first father-son pairing in NHRA history to hoist Wally trophies side-by-side as Mello Yello Series event winners.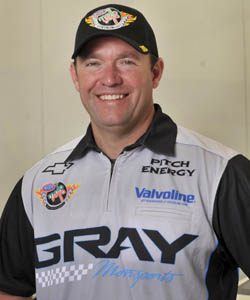 Shane Gray
In 2001, Kenny and Brandon Bernstein achieved the feat in Las Vegas when Brandon competed in the Top Alcohol Dragster class in the Lucas Oil Series. Other than the Grays, the Bernsteins are the only other father-son unit who have come close to making it happen as pros. In 2007 at Brainerd, Minn., Brandon won in Top Fuel, but Kenny lost in his final round pairing in Funny Car. John and Ashley Force have also won the same event, the 2004 Auto Club Finals at Pomona, Calif., during Ashley's sportsman racing days in Top Alcohol Dragster.
While Johnny leads the Funny Car point standings with three victories this season at the controls of his 8,000-horsepower Pitch Energy Dodge Charger, Shane has been steadily improving in the NHRA Pro Stock category behind the wheel of his Gray Motorsports Chevy Camaro. Shane has been to three final rounds this season and is currently seventh in the points order in the popular 200-mph factory hot rod division.
"That sure would have been neat," said Shane about the rare opportunity in Atlanta. "And we truly believe we can make that happen this year if everything lines up right again."
Johnny, who plans to retire from full-time driving at the end of this season, says if the two were to meet in winner's circle that would mark off a huge item on his bucket list, which has been getting quite a bit shorter lately with all of his accomplishments this season.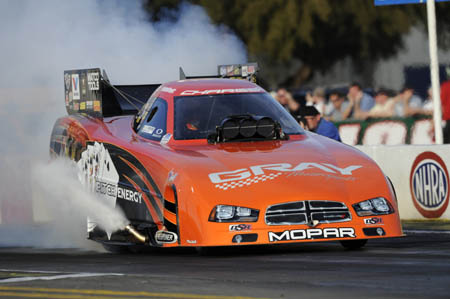 Johnny Gray
"I think there is a really good chance that we can do that this year," Johnny said. "That would be the absolute best way for me to end my career, standing on the stage with my son after both of us have won a race. That would do it all for me."
Johnny is having the best season of his 16-year career in the sport and his Don Schumacher Racing-owned Funny Car has been one of the most consistently quick and fast cars at each and every race. He has doubled his career victories this season and was also the No. 1 qualifier at Phoenix. After winning the race in Gainesville, Fla., he jointly held the No. 1 position in points with teammate Ron Capps, but after his recent win in Topeka, Kan., Gray took sole ownership of the series lead for the first time in his career.
"You know, [crew chiefs] Rob [Wendland] and Rip [Reynolds] are pretty phenomenal," said Johnny, a native of Artesia, N.M. "They get a little left of center there every once in a while, but boy it doesn't take them long to reel it back in. When they've got it reeled in, that car there is a hot rod. They give me a car that's so good, even I can't screw it up."
Meanwhile, Shane jumped from 10th to seventh in the Pro Stock standings when he reeled off a trio of final round finishes in back-to-back-to-back races in Charlotte, Houston and Atlanta. He has been as high as sixth in the points order this season and he's looking to go even higher with a strong run at Thunder Valley.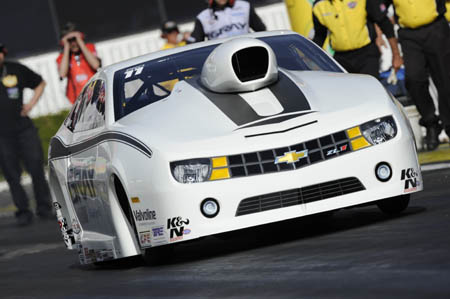 Shane Gray
"We're becoming more confident, but it doesn't change how we approach each race," Shane said. "We still pull through the gates just wanting to qualify. If we qualify, then we just focus on winning the first round. If we can keep going, great, but it starts with qualifying. We're doing better than we've done in a long time, and that's a great feeling, but we aren't going to get too excited about it just yet."
All of the stars of the NHRA Mello Yello Drag Racing Series will be competing for a victory on Father's Day weekend at the Ford NHRA Thunder Valley Nationals, including seven-time Top Fuel world champion Tony Schumacher, who has won five times at Bristol Dragway. He will be challenged by a host of strong contenders, but most notably defending world champ Antron Brown, two-time season winner Shawn Langdon and veteran driver Doug Kalitta.
In Funny Car, 15-time world champ John Force and his daughter Courtney will compete alongside points leader Johnny Gray and top title contenders Cruz Pedregon, Matt Hagan, and defending world champ Jack Beckman, among others.
In Pro Stock, four-time defending event winner Edwards will try to keep his streak going at this event and with two victories and seven No. 1 qualifying positions this season at the controls of his Interstate Batteries/I Am Second Chevy Camaro, it appears he's in great position to accomplish the feat. Local favorite Allen Johnson, the defending Pro Stock world champ who drives the Team Mopar Dodge Avenger, desperately wants to win a race at Thunder Valley in front of his family and friends. Along with Shane Gray, others to watch in Pro Stock include Erica Enders-Stevens, Greg Anderson, Jason Line and Vincent Nobile.
As always, every ticket purchased for the Ford NHRA Thunder Valley Nationals is an exclusive pit pass, allowing spectators to see firsthand the highly-skilled mechanics service their sophisticated hot rods between rounds. Fans can also meet many of the drivers in the pits and get autographs.
Fans also won't want to miss the popular interactive NHRA Nitro Alley and the NHRA Manufacturers Midway. On Saturday evening following qualifying, a special Fan Fest will be held in Nitro Alley, where more than 25 of the top NHRA Mello Yello Series stars will be available to meet fans in one of the largest autograph sessions on the circuit.
Mello Yello Series qualifying begins on Friday, June 14 with the first session at 5:30 p.m., followed by another session under the lights at 7:30 p.m. When 8,000-horsepower nitro machines blast off from the starting line with their header pipes full of flames during night qualifying, the scene provides one of the most sensory-filled experiences for any race motorsports fan. A spectacular fireworks show is planned to finish off Friday's night racing.
The final two qualifying sessions will take place Saturday, June 15 at 12:30 p.m. and 2:30 p.m. Final eliminations begin at noon on Sunday, June 16.
The NHRA Lucas Oil Drag Racing Series and the NHRA Pro Mod Drag Racing Series also will be showcased during the event, featuring exciting side-by-side racing action at more than 250 mph.
To purchase tickets for the Ford NHRA Thunder Valley Nationals this Father's Day weekend, please call Bristol Dragway at (866) 901-2679 or visit www.thundervalleytix.com. For more information about NHRA, please visit www.NHRA.com.