Sun, 26 May 2013, 11:26 AM



NHRDA Jefferson State Diesel Nationals Results



Courtesy of NHRDA



REDDING, Calif. --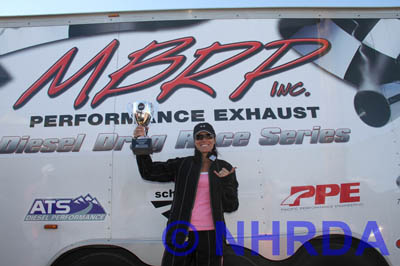 Pro Street Winner Andrea Coddens
The 6th Annual NHRDA Jefferson State Diesel Nationals finished strongly after a very rocky start to the event. With timing system issues all day long the racers and the fans stuck by the NHRDA as the event was finally completed. Drivers and pullers came from 7 different states vying for the NHRDA National Event wins. This was the third event in the MBRP Diesel Drag Racing Series and the second event in the NHRDA Diesel Sled Pulling series.
With the timing system not working in the left lane, NHRDA officials came up with a backup plan for each class in the MBRP Diesel Drag Racing Series. For the heads-up classes (ie Pro Stock, Pro Street and Super Street) the racers would utilize the Christmas tree like usual, but the NHRDA would put an official at the finish line to judge who crossed the line first to decide the winner of each race.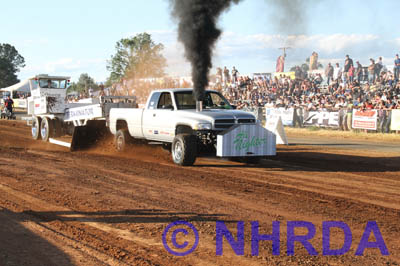 3.0 Diesel Winner Tom Colesanti
For the Sportsman and Super Diesel classes which have dial-ins and indexes respectively, eliminations would be based on the best package, racers with the best package would move onto the next round of competition until there would be 4 or less racers left and then 1st, 2nd, 3rd and 4th place would be based on the packages from that round. Doing eliminations this way would still allow racers to compete for prize money, contingency money and points.
"The idea for this came from the NHRDA race director Jason Murray, he walked out of the tower for a couple of minutes and came back in with this scenario and we put it to the racers and each one loved the idea," said NHRDA President Randy Cole.
There was also a first, as the Andrea Coddens became the first ever woman to win an NHRDA Pro Street event.
Final Round Results from the MBRP Diesel Drag Racing Series:
Pro Stock: Gage Makinen, Billings MT, '99 Chevy
Pro Street: Andrea Coddens, Eagle ID, '02 GMC defeats Harvey Grant, Redding CA, '87 Ram Charger
Super Street: Pat Liskey, Meridian ID, '03 Dodge defeats Andrea Coddens, Eagle ID, '02 GMC
Super Diesel (11.90 index): Ryan Dubois, Boise ID, '04 Dodge defeats Verlon Southwick, Shoshone ID, '06 GMC
Sportsman Diesel: Dustin Say, Chiloquin OR, '95 Dodge defeats Jennifer Roberts, Davis CA, '05 Dodge
NHRDA Diesel Sled Pulling Series Results:
3.0 Diesel: 1st Tom Colesanti, Simi Valley CA, "All Nighter" '00 Dodge, 282.8 feet; 2nd Josh Lacey, Atwater CA, "Chain Smoker" '98 Dodge, 272.0 feet; Jason Wells, Fremont CA, "Left Coast Hooker" '06 Dodge, 250.1 feet.
2.6 Diesel: 1st Jim Mulrooney, Galt CA, "Wide Open" '97 Ford, 286.1 feet; 2nd Dylan Zugar, Belmont CA, '07 Dodge, 278.4 feet; 3rd Joel Gooch, Redding CA, "Green Sleeper" '01 Dodge, 257.1 feet.
For complete results go to www.nhrda.com and keep up with the NHRDA on Facebook at National-Hot-Rod-Diesel-Association Facebook