Fri, 24 May 2013, 12:43 PM



Weenie Roasters I



By Steve Reyes


Photo copyright 2013 Steve Reyes





In 1960, drag racing changed in a big way when Akron, Ohio's Walt Arfons discarded his big Allison piston engine and dropped in a J-47 jet fighter engine into his home built chassis and the class known as jet cars was born. His Green Monster jet dragster opened the flood gates for this unique style of drag car.
On the West Coast a young Romeo Palamides put together his Infinity jet car, not for the drag strip but for a land speed record attempt. The Infinity proved to be an ill-fated venture for the Oakland, California jet car builder when on September 10, 1962, his driver Glenn Leasher, lost his life while at the controls. Romeo then returned to his home base away from the Bonneville Salt Flats where things went so horribly wrong for him and his driver. Palamides then turned his attention to the drag strip and his line of jet cars known as The Untouchable jet dragsters.
I lived in Oakland, California, not far from Oakland Airport. Around the airport were many shops and small hangers and little did I know that one of those many shops was the hub of jet car racing on the West Coast, the home base of Romeo Palamides and his The Untouchable jet car. Since I was a rabid drag race fan, I saw quite a bit of Palamides creations at our home track in Fremont, California where he went to test and tune and I went to take pictures.
On March 31, 1963, at San Gabe, Bob Smith drove The Untouchable jet down the track against Tommy Ivo's top fuel car opening up yet another door for the jet car in drag racing. It was cool, to see The Untouchable jet race local bay area top fuel dragsters. Not only was Palamides' The Untouchable the first jet car to race a top fuel car but it was also the other half of the first side by side jet car match race. In 1963, Bob Smith in The Untouchable jet car squared off against the Bill Fredricks owned Valkyrie with daring Gary Gabelich at the wheel in Bakersfield, California. Gabelich took two of three races from Bob Smith to be the victor in jet car racing's first side by side match race.
Back to the bay area and my early accounting of the adventures of Palamides jet cars at Fremont Raceway. I was able to photograph a bevy of Romeo's creations at Fremont including The Untouchables with either Bob Smith or J. D. Zink at the controls, the California Kid with Al Biscay driving or the Palamides jet funny cars; The Char jet and California Kid both with Charger bodies and Don Beeman behind the wheel.
If you think that Palamides was the only jet car owner in NorCal, well you would be wrong. Businessman Jack Birdwell owned the Palamides prepped Scorpian jet dragster and I believe this was a former The Untouchable but I can't confirm it. This car was driven by Ray Appel.
The Weenie Roasters were a fun class of drag racer and it never fails to amaze me at what innovations people will make to accomplish their dream. In the next installment, I will tell you about a particular match up that gave the spectators a chance to have their life pass before their eyes as the jet car and top fuel car lined up to race.
If you wish to purchase prints of the photos below, they may be obtained by contacting us at blrenterprise@cox.net. Other photos may be viewed by following the link at the bottom of the page at www.reyesontour.com.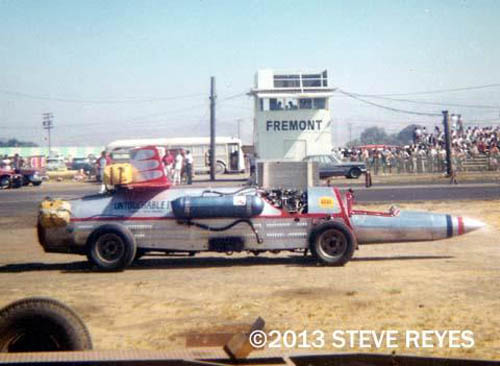 On April 29, 1962, the late Glenn Leasher drove The Untouchable
the first six second ET at Fremont, California
at 6.99 seconds and 207.36 mph. After Leasher died in Palamides LSR car Infinity at Bonneville
on September 10, 1962, Bob Smith took over the controls of The Untouchable
and ran in the first ever side by side jet match race
against Gary Gabelich who was driving Bill Fredrick's Valkyrie jet at Bakersfield,
California in 1963. This is how The Untouchable looked in 1964 when I first saw it.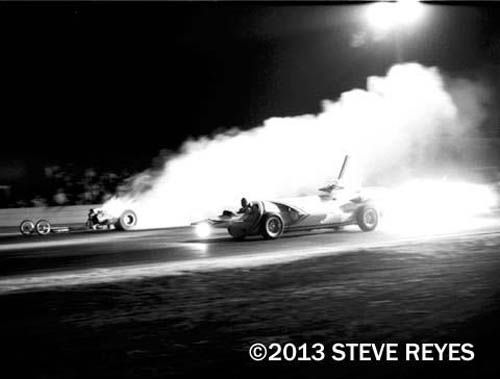 In October of 1966, the Waters and Edmunds top fuel dragster
squared off against Romeo Palamides' The Untouchable jet car.
John "The Black Knight" Edmunds was at the controls of the
Waters and Edmunds top fuel car and J.D. Zink was at the helm of The Untouchable.
This pairing was incredible to watch at night.
In 1962, a young wide-eyed track photographer at Great Lakes Drag Way
named Doug Rose talked his way into the driver's seat
of his favorite drag car, Walt Arfons' Green Monster jet car.
Rose became the full time driver for Arfons until he crashed the
Green Monster at Richlands Dragway in Western Virginia in 1966.
In that accident, Rose last both legs below the knee.
Did it slow him down? Not really, two months later he was
at the wheel of an Arfons jet with prosthetic legs.
Here in 1968, Rose was at the controls of his own jet car
named the Green Mamba. For a total cost of $3800.00 with a J-46 engine
for power the Mamba was the first strike in July of 1968.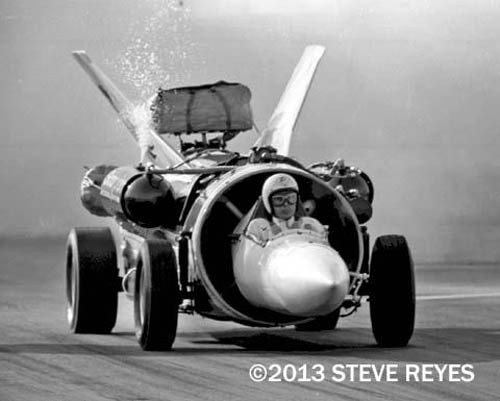 The other jet car in Northern California was the Palamides prepped
Scorpian owned by Jack Birdwell and driven by J.D. Zink
or Ray Appel. 1968 was my first sighting of Birdwell's Scorpian.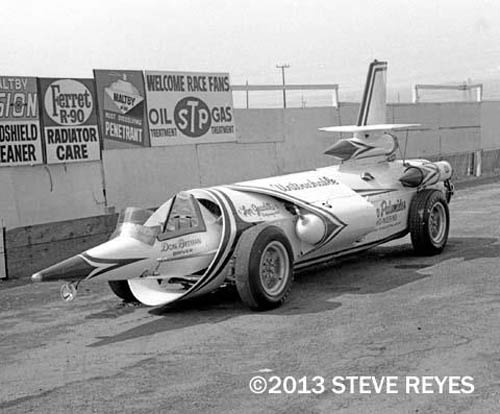 Here is Romeo Palamides' shiny new The Untouchable jet car
with Don Beeman at the wheel at Fremont, California in 1968.
A jet dragster was not a big budget race car to build with
$1,000 for the engine, another for the plumbing, etc.
With a J-47 jet fighter engine, a jet car produces 6,000 horsepower
and 9,000 horsepower with an afterburner at 5,000 pounds.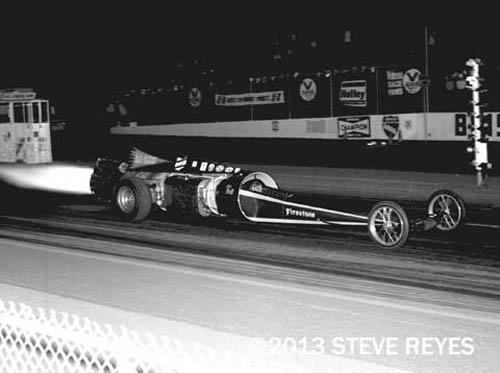 In 1969, Art Arons introduced the first dragster style jet
called The Dud, driven by Fred "Garth" Hardacre. About eight months after I
shot this photo, Hardacre was killed in a jet Corvette he
had built. Garth was a nice guy and it was big loss
to friends, family and drag racing.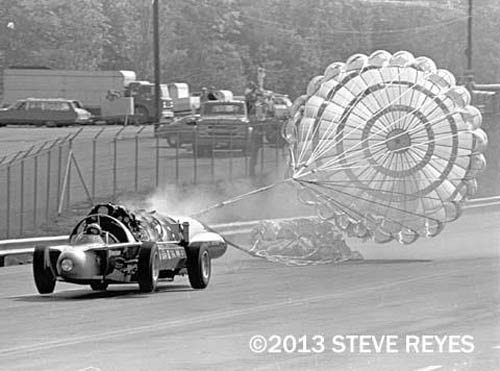 Sporting a huge J-79 jet engine, Art Arfons' Cyclops first saw
action at Bonneville in 1965. Then it became a huge hit at drag strips
all over the U.S.A.. This car would blow the windows
out of race track towers. At Bonneville in 1965, Arfons let Betty Skelton
set the woman's LSR record
in the Cyclops at 277.62 mph on September 27, 1965.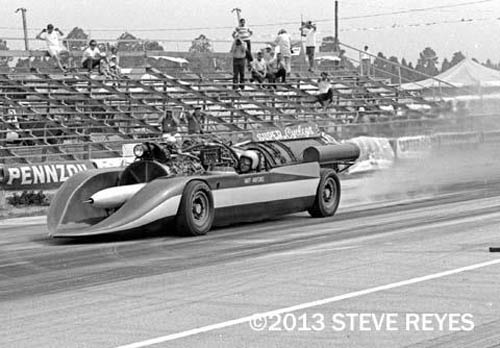 1971 proved to be a tragic year for veteran jet car
racer/builder Art Arfons. His Super Cyclops J-79 powered jet dragster
crashed at Dallas International Speedway on October 16, 1971.
Dallas TV newscaster, Gene Thomas was on a ride along
and was killed as well as IHRA employees Robert Kelsey and Sean Pense.
Arfons walked away from the hi-speed crash. A tire failure was
blamed for the fatal crash and Arfons would never race down a drag strip again.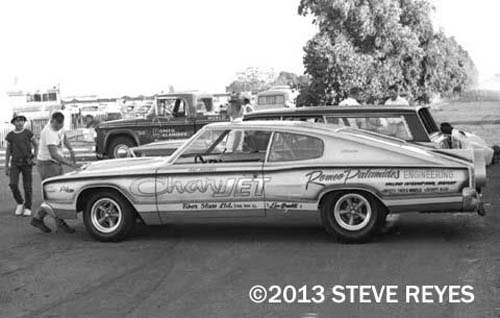 Romeo Palamides was no dummy as he saw that jet funny cars
were getting the bookings nationally in 1967.
Here is Palamides' first jet funny car, driven by Don Beeman or Ray Mavrel.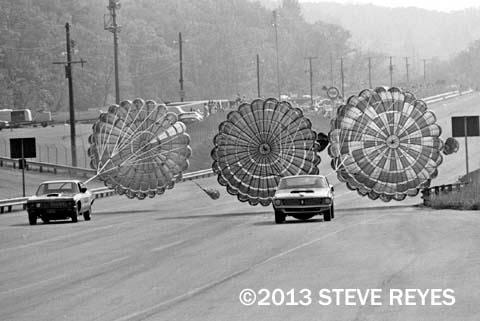 Walt Arfons' jet funny cars were side by side at
Bristol, Tennessee in 1969. Chuck Morris drove Walt's jet funny Chevy Nova and
on the right was Bobby Tatroe driving Walt's jet powered Mustang.
Tatroe would continue to have a great career as a top-notch jet car racer,
but on August 28, 1970, Chuck Morris lost his life in Arfon's jet powered
Chevy Nova while racing at Dragway 42 in West Salem, Ohio.
A sidebar on jet powered funny cars:
Walt Arfons built and raced the first ever jet funny car.
The Rebellion was an all steel Dodge Dart with J-46 jet engine power.
It was driven by Bobby Tatroe. Also, Walt Arfons built the
first fiberglass bodied jet funny car The Cyclone which also
had a J-46 jet engine and this car had Ted Austin behind the wheel.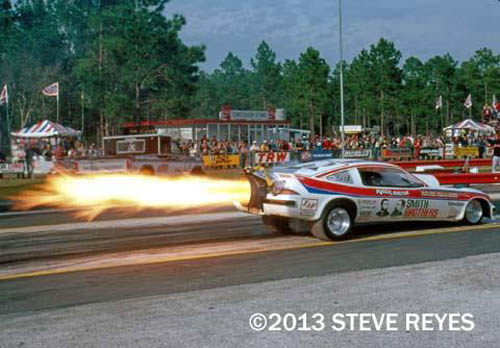 It's that Gustin guy again, this time the Ohio based racer was
paired with Romeo Palamides and they raced their Smith Brothers Cough Drop
jet funny car. The Gustin and Palamides partnerhsip lasted long enough to
produce this funny car and a jet dragster. Gustin was a businessman
and always looking for the best sponsorships for his racing ventures.
When racers were struggling for sponsorship, Gustin sported Proctor and Gamble
on the side of his soon to come Lava Machine team jet funny cars.
Knowing his way around the business world,
sure helped Gustin in his racing career.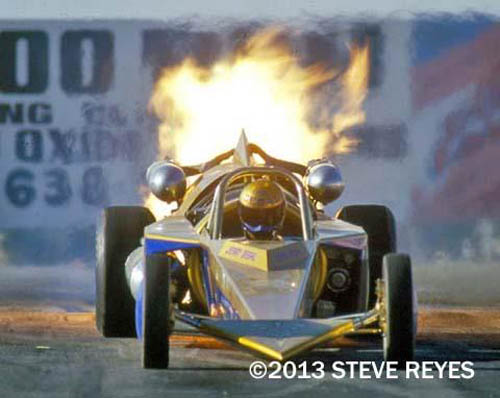 Coming your way, is the Simple Pleasure jet dragster of John Fattorri
with veteran jet car driver Jerry Segal at the controls.
The team of Hedabeck and Segal were based on the West Coast
and built and tested many a jet funny car and dragster during the mid-1980's.
The duo even ventured to South Africa to deliver and
race jet funny cars and had the honor to be paid in diamonds for their appearance.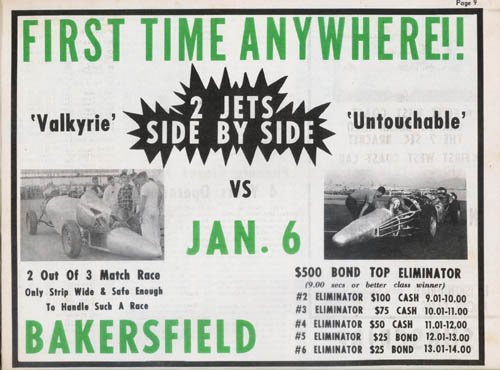 A Drag News ad from 1963 touted the first ever
side by side jet dragster race between the Bill Fredricks owned
The Valkyrie driven by Gary Gabelich and the Romeo Palamides
owned The Untouchable driven by Bob Smith.
This event took place in Bakersfield, California.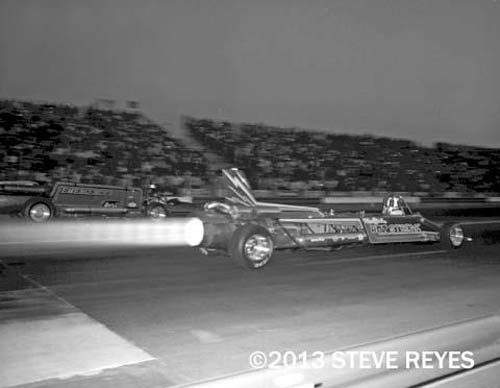 Well he drove for every car company, so why not a jet dragster?
Yes, Hayden Proffit, that pro stock, A/FX and funny car star
from the 1960's went jet car racing in the 1980's. Hayden and
his son Brad raced this jet dragster all over the U.S.A. and Canada.