Tue, 21 May 2013, 10:03 AM



Canadian Teams Take Both Alcohol Classes at Topeka



Courtesy of NHRA Field Marketing


Photo copyright 2013 Auto Imagery, Inc.





TOPEKA, Kan. --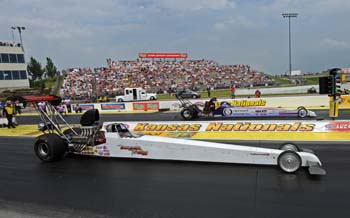 Bradshaw defeated Demke
Canadian teams swept the weather-plagued Kansas Nationals at Heartland Park Topeka and the NHRA Lucas Oil Drag Racing Series, where Alan Bradshaw picked up his first win in 10 years in Top Alcohol Dragster and Jirka Kaplan earned his first ever in Top Alcohol Funny Car.
Bradshaw wasn't looking good at half-track in the final, but opponent Chris Demke's engine went silent at the 2-3 shift, allowing Bradshaw, who last scored in 2003, when he won the national championship driving for Randy Meyer's team, to race by for a 5.49 win. Demke's blower snout broke, which shed the belt, slowed him to a 5.86, and left him with three runner-ups in three national event finals this year and four in four career finals in Topeka.
Demke was coming off low e.t. of the meet, 5.38, in a semifinal win over Canadian Gord Gingles, who had been murdering the Tree all weekend, with reaction times of .015, .002, and .008. Bradshaw, driving for the Winnipeg-based Doucette Bros. A/Fuel team, was beaten to the finish line in that round by Brandon Pierce, 5.44 to a shutoff 5.71, but Pierce, now driving for Gene Snow, failed fuel check. His tank contained 94.3 percent nitro - 0.3 percent over the legal limit.
Granted the unexpected reprieve, Bradshaw was reinstated and earned his first national event victory since the 2003 Lucas Oil Nationals in Brainerd. He had four previous wins, all in his 2003 championship season, including one at Topeka.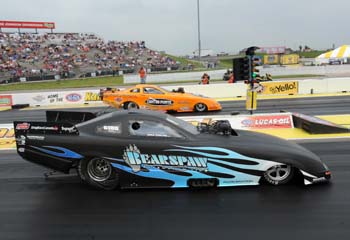 Kaplan defeated Bartone
In the early rounds, both of which were run on Saturday because of massive storms forecast for Kansas on Sunday, Bradshaw took out defending event champ Rich McPhillips, 5.45 to 5.72, and No. 1 qualifier James Thompson, 5.41 to 5.45. Thompson's 5.39 in qualifying held up for low e.t. until Demke erased Gingles, the 2012 Central Region champ, in the semi's with a 5.38, ending the best national event outing of Gingles' career. Demke, who qualified No. 2 with a 5.39, the only other run all weekend in the 5.30s, picked up the pace in every round of eliminations with times of 5.44, 5.42, and 5.38 opposite Michael Manners, Aaron Olivarez, and Gingles, respectively.
Kaplan also got quicker in every round, wheeling his Bearspaw Mustang to a 5.689 against Charles McLaws, a 5.687 against Mark Billington, and a semifinal 5.651 against Sean Bellemeur's Mastercam Camaro. His best run of eliminations, a 5.644, took out No. 1 qualifier and defending event champ Tony Bartone in the final on a slight holeshot against Bartone's 5.640. Bartone was on time with a ..052 light, but Kaplan was even quicker with a .038 that actually was his second-worst of the race.
For Kaplan, of Calgary, Alta., his first Alcohol Funny Car title comes in just his fourth national event start. He last won at the 2011 U.S. Nationals in Comp in a AA/AM '23-T altered. Both cars were tuned by Calgary's Les Davenport.
With the final-round appearance, his third in a row in national competition, Bartone moved into a first-place tie in the Top Alcohol Funny Car standings with Dan Pomponio, who has been to just four races this year but has won all four. Bartone established low e.t. of the meet with a 5.60 in qualifying, beat Wayne Butler with a 5.67 in round one, singled in round two, and edged Shane Westerfield on a slight holeshot in the semifinals, 5.64 to 5.63, in a rematch of last year's final.
Tommy Phillips grabbed his 28th national event win as he defeated Jeremy Demers in Super Comp and a pair of local racers took home the honors in Top Dragster and Super Street. Phillips went six rounds for the trophy in his '10 dragster covering the quarter mile in 8.909 seconds at 155 mph to Demers who ran too quick on the 8.90 index. Larry Piper, Wamgo, Kan., and John Dasher, Silver Lake, Kan., each took wins for the local fans. Piper beat fellow Kansas racer Jackie Gerhardt, Topeka, Kan., in Top Dragster with a pass of 173 mph in 7.145 seconds for his first national event win and Dasher won on a double breakout with Ray Todd in the Super Street final.
Steve Williams put his K&N Filters '63 Corvette in the winner's circle for his 5th national event win and second in Super Gas while Austin Williams (no relation) went the distance in Stock Eliminator. S. Williams, Beaumont, Calif., knocked out Shawn Carter, Park Hill, Okla., and A. Williams, ran down Russ Speer in his '72 duster.
Tim Nicholson returned to the Heartland Park Topeka winners circle with a win over Harvey Emmons in Super Stock. The Concordia, Kan., racer, won here back in 2010, held off Emmons with a 10.314 second pass at 120 mph in Super Stock
The following are the final results from the 25th annual NHRA Kansas Nationals at Heartland Park Topeka:
Top Alcohol Dragster -- Alan Bradshaw, 5.494, 248.93 def. Chris Demke, 5.867, 177.21.
Top Alcohol Funny Car -- Jirka Kaplan, Ford Mustang, 5.644, 252.95 def. Tony Bartone, Mustang, 5.640, 255.29.
Super Stock -- Tim Nicholson, Chevy II, 10.314, 120.84 def. Harvey Emmons III, Chevy Cavalier, 9.880, 124.51.
Stock Eliminator -- Austin Williams, Plymouth Duster, 11.443, 109.22 def. Russ Speer, Chevy Camaro, 12.025, 103.67.
Super Comp -- Tommy Phillips, Dragster, 8.909, 155.47 def. Jeremy Demers, Dragster, 8.885, 177.84.
Super Gas -- Steve Williams, Chevy Corvette, 9.940, 152.61 def. Shawn Carter, Chevy Cavalier, 9.891, 166.05.
Super Street -- John Dasher, Chevy Camaro, 10.870, 130.90 def. Ray Todd, Chevy II, 10.856, 128.38.
Top Dragster -- Larry Piper, Dragster, 7.145, 173.27 def. Jacqueline Gerhardt, Dragster, 6.872, 197.08.