Mon, 20 May 2013, 11:48 AM



Final Day with Big Payouts as the K&N Spring Fling 20s



Courtesy of John DiBartolomeo


Photo copyright 2013 John DiBartolomeo





BRISTOL, Tenn. --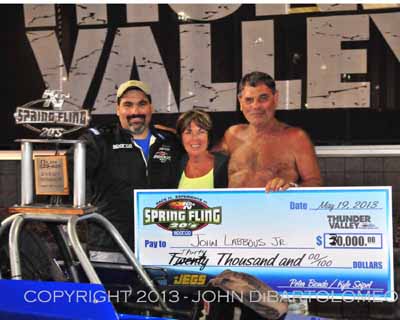 Header Goes Here
Day Last of the K&N Spring Fling 20s presented by Sparco dawned with wet pavement but the Bristol Dragway staff whipped the track into shape and by 11:00, racing commenced with still lots to go. Due to overnight rains and the top end becoming tough to dry, it was decided to switch mid-stream to eighth-mile racing rather than the 1,000' Compromise this event is famous for.
Starting with the completion of the Nitroplate-sponsored $40K to win event from the day before, the four combatants in the semifinals was Cassie Pennington, Don Butkiewicz, Tarrell Sinkler and the lone door car left, Tommy Plott and his Mustang. Pennington went red to Sinkler and Butkiewicz and Plott squared off in a double run-out with Plott taking the win light.
No stranger to final round high dollar bracket races, Plott from Winston-Salem, NC, who runner-upped in Day 1 in his dragster, dialed a 5.62 to Sinkler's 4.81. Not to be denied this time, Plott used a .002 reaction time and 5.631 to become not only the first $40,000 winner in the history of the 'Fling, but also the first door car to do so in Bristol.
Fighting back his emotions, Plott said, "I am so amazed to have won. I don't know but I am seriously at a loss for words."
And then on to the final $30K event where as it happened the previous race, the race winner from the $40K race, Tommy Plott, was defeated in his Mustang in the first round of the very next race. This is a tough crowd here. Unfortunately due to the weather delays everyone suffered through this weekend, the American Race Cars/RaceTech Chassis Dragster Shootout and the Steve Schmidt Door Car Shootout had to be cancelled in order to assure completion of the main events.
Franklin DiBartolomeo won the Point Championship
In the quarter-finals, Franklin DiBartolomeo held on for the win to outlast and out-point all of the other 500 racers to be crowned the first ever K&N Spring Fling Wiseco Weekend Points Champion. Amazingly, DiBartolomeo was driving a second car and failed to win even one round with it, in essence finishing first and last in the points.
In the $30K semifinals, John Labbous Jr. faced the newly crowned points champion, DiBartolomeo. The three time Fling winner Labbous used a .007 reaction time and .019 over the dial for the win. In the other half, Chad McKee defeated another former Fling winner, Shane Maddox.
In the final, the two racers who grew up together faced each other off with Labbous scoring his fourth K&N Spring Fling title. "Amazing," is all Labbous could say. And that it was.
Promoter Peter Biondo said, "What an amazing weekend and we can't thank every racer and their families that came through the gate. It was an awesome weekend and we can't wait until the next one."