Thu, 09 May 2013, 11:29 AM



IHRA Summit Super Series @ San Antonio Raceway, 5/4/13



Courtesy of J.M. Hallas



MARION, Texas --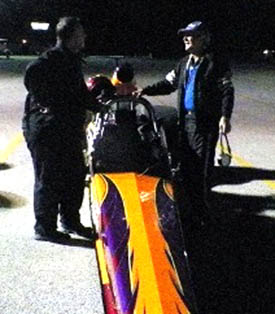 Scott Ball(left) and David Johns
discuss things prior to Electronics finals.
San Antonio Raceway hosted another round of IHRA Summit Racing Equipment, Super Series bracket racing. This weekend drivers were up for double points in the series for the Electronics, No-box and Jr. Dragster classes. Electronics and No-box payouts were guaranteed and not subject to car count, so a full racing purse was on the line.
Racing action kicked off in the evening hours, after previous series' events were run during the day. Time trials began at 6:00pm as opposed to the noon starting times earlier in the year. This made for hotter track conditions during practice laps(112), and cooling temperatures as the racing progressed through the night on the ? mile track. Track temp.'s had cooled to 88 as round 1 kicked off, but stayed in the mid-70's as the finals rolled out.
Racing action was slowed several times for minor breakages, fluid leaks, etc. but the biggest issue keeping track crews busy was Leroy O'Bryant blowing the motor during a burnout in his Chevy Monza. Fortunately the mess was contained to the burn out area of the track, in the right lane.
Johns Hits Daily Double in Electronics
David Johns(Floresville) grabbed a double payday in Saturday night's Electronics and Quick 8 racing. In the Electronics finals D. Johns faced off against former track and national champion, Scott Ball(San Antonio). Prior to the run the duo opted to split the combined purse, but run for the double points. Ball, in the Chevy powered TNT Chassis, had the advantage on the start, but Johns, in his Johns Automotive, Waynes Paint, Chevy powered Worthy Chassis, drove around him on the top end for the win.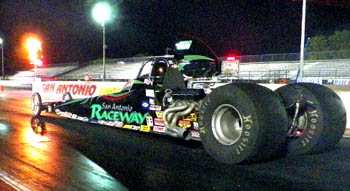 Todd Zampese sees he's won after his
opponent goes red in No-box finals.
David Johns, 7.222 @ 173.37 defeats Scott Ball, 7.653 @ 169.68
On his way to the finals Johns took out Chris Keylich, Brett Zampese, M. Hinton, Charles Johns and A. Trevino. On the other side Ball bested Bobby Mendez(twice), Carlos Carrasco sr., M. Hinton, and took a bye in the semi's.
D. Johns went up against M. Hinton for the money in the Quick 8 finals. After nearly identical reaction times D. Johns got the victory as both drivers missed their number.
David Johns, 7.669 @ 126.19 defeats M. Hinton, 8.093 @ 125.49
Zampese Zaps No-Box Field
Former track owner Todd Zampese(Universal City) didn't even have to leave the starting line when he was awarded the win after Nelson Friedeck lit the red. Friedeck in his '62 Chevy Nova went .037 red giving the victory to T. Zampese who cruised down the ? mile in the San Antonio Raceway Dragster.
Todd Zampese, 9.506 @ 91.52 defeats Nelson Friedeck, 10.634 @ 124.38
T. Zampese got a red light wins over Sherman Davis, Tom Eckols and Harold Shimek, then beat Albert Lee jr. before a semi-final bye run. Friedeck, bought back after a round 1 loss to E. Lopez, then got past S. Spain, Aaron Tschoepe, a quarter-final bye and Walter Dyrenfurth.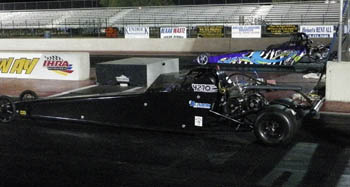 Brayden Tumlinson(near) and Emily Ball
staged and ready for Jr. Dragster final.
Tumlinson Tops in Jr. Dragster
Victoria's Brayden Tumlinson took home the winners share of the Jr. Dragster purse after defeating Emily Ball in the finals. Tumlinson, in his 2011 Half Scale Chassis, used a 2/100th better reaction time off the line to pocket the win as both drivers ran within 3/1,000th of their dial-ins.
Brayden Tumlinson, 7.941 @ 81.42 defeats Emily Ball, 8.972 @ 69.83
Tumlinson got a red light win over Kenneth Hillin, then beat Caden Meuth before a semi-final bye run. E. Ball got past Mason King twice and Hillin on her way to the finals.