Thu, 09 May 2013, 00:19 AM



C. Force Helping to Grow Automotive Industry



Courtesy of Sarah Adams



KANSAS CITY, Kan. --
Courtney Force, driver of the Traxxas Ford Mustang Funny Car in the NHRA Mello Yello Drag Racing series, attended the Ford/AAA Auto Skills Competition hosted by AAA Missouri today at the Great Wolfe Lodge in Kansas City, Kan.
Force spoke to an audience of over 100 automotive technology students interested in developing careers in the automotive industry who are currently competing for scholarships through this program.
The main reason for Force's attendance was to encourage the students who have a proven talent for automotive repair to pursue a career in the field.
While speaking to the students, Force touched on the importance of staying in school and furthering your education, the significance of a career in an automotive field, safety and performance, and the importance of having knowledgeable and passionate individuals in the automotive industry.
The VP of Public Affairs for AAA Missouri, Mike Right, was also in attendance.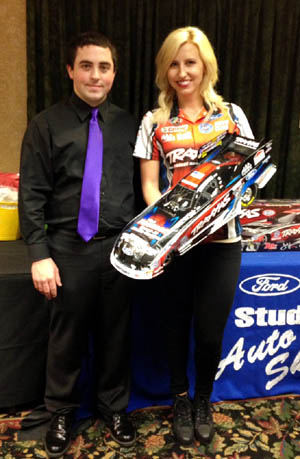 Courtney and the winner of
the Traxxas RC car giveaway.
"Courtney did a great job explaining to these youngsters the importance on education as well as the numerous opportunities that are available to them in the various aspects of the automotive field. She was very encouraging in every respect and I think the students got a kick out of the celebrity here this evening."
"The hands-on competition for the teams and their instructors starts at 10:00 a.m. tomorrow morning and they will have 90 minutes to repair a deliberately bugged Ford vehicle and they're racing against the clock and also racing against nine other teams that are similar cars and similar defects in the vehicles that have to be diagnosed and repaired. I think the students were really impressed with the fact that the engines in NHRA have such a short turnaround time before going right back down the track again," said Right.
This is the second Ford/AAA Auto Skills Competition banquet Force has attended this year after an appearance in Birmingham, Ala. at Barber Motorsports Park in mid-April.
"These events are a lot of fun because it gives me a chance to talk to high school students who are interested in what I grew up around. I wish these teams all the best of luck and really hope they continue their education to reach their goals," said Force.