Tue, 07 May 2013, 23:39 PM



Rain, Rain and You Know The Rest



By Bob Frey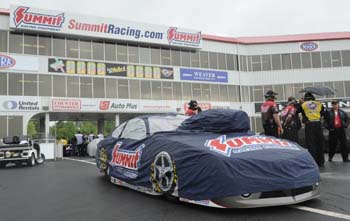 Photo copyright 2013 NHRA
There are a lot of things I miss about not being at the races. I miss the people, the excitement and the competition, but there is one thing that I don't miss and that's the rain. I have always said, and I think I did last week, that it's tough being a race track owner or operator when something you have no control over, like the weather, can ruin your day, or in some cases your year. NHRA fans and racers alike have now seen three consecutive races get rained on or rained out and that's tough on everyone. Now, instead of having a weekend off everyone will return to Atlanta for the Summit Racing Equipment Southern Nationals and that's not the way any of them planned it. I remember years when it seemed like every race we went to had bad weather and it just put everyone in a gloomy mood, a mood where all you wanted to do was finish the race and you really didn't care who won. Well, the racers did, but you know what I mean, and I'm sure everyone who will go back for the race this weekend knows what I mean, too. The races are supposed to be fun, a sprint for the finish line, not a marathon, and that's what these rainouts tend to be. Oh well, it's been that way forever and won't change but that won't make it any easier for anyone the second time around.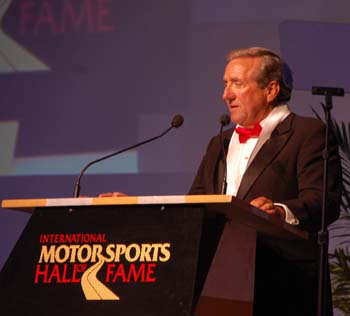 Don Schumacher giving his acceptance speech.
Even though the rain dampened most of the activities there was one thing that took place, not in Atlanta, but not too far away that should have made drag race fans happy. I'm talking about the induction of Don Schumacher into the International Motorsports Hall of Fame. I have had the opportunity to attend several of these induction ceremonies and have been honored to be chosen to induct several of the drag racers into the Hall and I know what a great honor it is to be selected. As Don said, "It's unbelievable." And it really is. Until you have been there and walked through the halls and seen the pictures of the legends who are in this Hall of Fame you can't really appreciate how special it is to be a member. Last week, for example, Richard Petty was there simply as a guest and so were many of racing's biggest stars from all forms of motorsports. For Don to be there as an inductee made it a very special moment for him, his family, his teams and the sport of NHRA drag racing. His son, Tony, did the honors of inducting him and that had to make it even more special...Last week, right here on DragRaceCentral.com, the legendary photographer, Steve Reyes, posted several of his best shots of Don in his early days. For those who don't go that far back let me tell you that he was as good as anyone and better than most. His car, and later his multi-car team, looked great and ran well and he was a threat to win every time he came to the starting line...Like Steve, my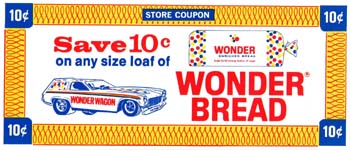 memories of Don go way back to the early days of the
Coca Cola Cavalcade of Stars
when he was one of the touring pros that visited tracks across the country. His trips to Atco, New Jersey, were among the highlights of the season at the track and I remember being excited that this great group of racers was competing at my home track...One of the pictures that Steve included in his report was the famous
Wonder Bread
station wagon. Really, a station wagon Funny Car (there were a few of them), and if you didn't see it last week go back and check it out..One of the really cool things about the Wonder Bread deal was the promotion that they did surrounding the car.
Did you know
that if you bought a loaf of Wonder Bread you would get a coupon for ten cents off your next purchase and the coupon included a picture of Don's Funny Car? Now I ask you, how cool is that?....As good as the Wonder Bread deal was it did come with what some called a "jinx."
Did you know
that the first car actually crashed during test runs for photographers in
California
and then Don put one in the ditch at Union Grove? That was certainly not the way anyone envisioned the program starting, was it?...In addition to his success on the NHRA tour Don also did very well at the IHRA races, a lot of which I worked in the early 1980's.
Did you know
that Don went to five final rounds at the IHRA races and he won them all, and among them were three wins at
Thunder Valley Dragway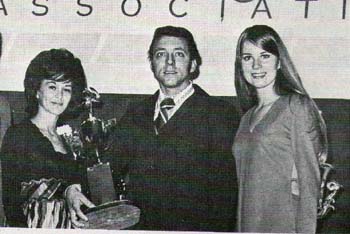 Schumacher was UDRA
Driver of the Year award in 1972.
in
Bristol, Tennessee
? He beat
Richard Tharp
at the big 1971
Springnationals
and then he came back and swept the two Bristol races a year later when he beat
Jim Paoli
at the Spring race and he stopped Bristol Hall of Fame member
Shirl Greer
at the
All American Nationals
in the fall. He also picked up wins at the old Dallas track and at Rockingham which meant he won at all of the popular tracks on the IHRA circuit..Don has done a lot for the sport and was an integral part of the Funny Car movement in the 1960's and early '70's and deserves all the accolades he gets..I'm sure I mentioned it before but just for the record
did you know
that Don was part of the first Funny Car race at the Winternationals? In 1969 he was the second qualifier (behind
Tom McEwen
) with a sizzling 8.022 - 195.65 mph pass and he lost in the second round to
Rich Siroonian
...By the way, I wonder who will induct Tony when the "Sarge" goes into the Hall of Fame?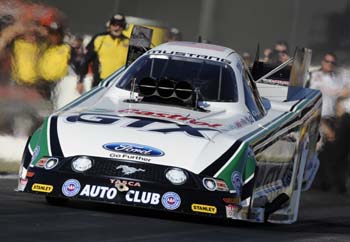 John Force
Photo copyright 2013 NHRA
The racers and fans will head back to Georgia this week and then the racers will have a very busy couple of weeks during which we could start to see some separation between the teams at the top and those fighting for a spot in the top ten. It's not too early to start thinking about which teams will be in the top ten and be able to run for the championship and that will make every race very important. Remember, any round you win in May is just as important as one you win in August, and with that in mind the Atlanta race is critical, or could be, to a lot of teams..John Force, who is already in the International Motorsports Hall of Fame but isn't in the top ten, is going to a couple of his favorite tracks in the next few weeks in an effort to move back into the top ten. Did you know that over the years John has won 74% of his rounds in Atlanta and 75% in Topeka, the site of the next two races? John is currently in twelfth place but he is only about a round out of the top ten, but the problem is, as I have mentioned for a couple of years now, if you're going to get in the top ten who gets pushed out? All of the teams that are currently there are capable of staying there and moving up, so John and Del Worsham, Tony Pedregon and Jeff Arend, the other drivers outside the elite group, need to start winning some rounds, and beating the guys or gals ahead of them would be a good place to start..Cruz Pedregon is in the top spot and that's very impressive, especially when you consider that the cars and drivers from Team Force and Team Schumacher have dominated that top spot for years now. Cruz took over the point's lead after his win in Houston and that is one of his favorite places to race. Did you know that the first time that Cruz ever led the points came after his win in Houston in 1992? At that race Cruz beat Chuck Etchells, John Force, Al Hofmann and Gordon Mineo to get the win and assume the point's lead. He would lose to John at the next race and, in the process, lose the lead and never regain it until that great stretch drive that saw him win five races in a row at the end of the year. Over the years he has been consistently good and, at some times, he has had a dominant car and that's a credit to him and his team, but the big question now is can he maintain that pace for the rest of the year in the face of some very tough competition? Did you know that Cruz's win in Houston was the 32nd of his career and that ties him with Doug Kalitta and Del Worsham for twelfth place on the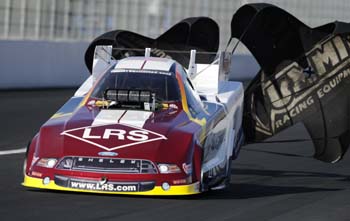 Tim Wilkerson
Photo copyright 2013 NHRA
all-time nitro win list?....Cruz not only won the Houston race he was the top qualifier, set low elapsed time and top speed, in other words, he "swept" the race.
Did you know
that this was only the third time in his career that he did that and the first since 1998?....
Tim Wilkerson
is off to a good start and he is currently in sixth place in the points.
Did you know
that is the best start to a year for Tim since 2008? He has a semi-final and a couple of final rounds (including one at the 4-Wide race) and looks like he is ready for another good year. While competing against all of the multi-car teams out there Tim does a good job year in and year out and he seems like he has a car that can stay in the top ten for the entire season and make another run at the championship. Tim is way up there on the list of "good guys" in the sport and it would be great to see him in the thick of things at the end of the year..While John Force is going to one of his favorites tracks the same can't be said for Tim.
Did you know
that in seventeen trips to the Commerce track Tim has only gone past the second round five times, and he has never made it to a final round? Of course he has been a notoriously slow starter, so maybe 2013 will be his turn around year in
Georgia
. I'm sure all the folks at
Levi, Ray and Shoup
sure hope so as do all of "Wilk's Warriors" across the country..
Ron Capps
is currently in fourth place and he reached a milestone of sorts in
Houston
.
Did you know
that when Ron went three rounds in
Houston
it gave him 817 for his career and that moved him into a tie for eleventh place with
Bob Glidden
for the most rounds raced in the pro classes?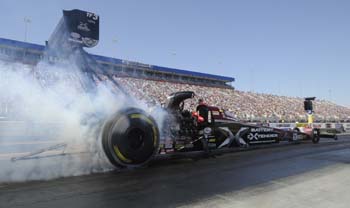 Spencer Massey
Photo copyright 2013 NHRA
It's amazing, or at least it was to me, to learn that in the thirty-two years of racing in Atlanta only seven Top Fuel drivers have won the race more than once. Three of those drivers, Larry Dixon, Antron Brown and Doug Kalitta are currently active in the class although I'm not sure if Larry is planning on being in Georgia or not this week. Did you know that Larry's four wins are the most for any dragster driver at the event while both Antron and Doug have won the race twice? Antron also won there twice in the motorcycle class so it is one of his favorite tracks..It sure looks like the Team Schumacher dragsters are going to be hard to beat this year with Tony currently leading the points, Antron second and Spencer Massey fourth. The other challengers, all capable of making a run for the title, will have their hands full with that group and it should be fun for the fans especially if the weather holds out... While several tracks have a reputation as "fast tracks" Atlanta isn't one of them and that may have more to do with the timing of the race than it does with the actual track surface. Did you know that it's been twenty years since any part of the national Top Fuel record was set at "Georgia's House of Speed?" Pat Austin set the speed mark there in 1993, and other than that the only records ever set in Georgia were when Darrell Gwynn set the elapsed time record there in 1987 and Joe Amato set the speed mark the same weekend. The two of them qualified one and two in the field and met in the final where Darrell beat Joe. Did you know that was one of five times that the top two Top Fuel qualifiers have met in the final round in Atlanta and that includes last year?....In 2012 Steve Torrence, the number two qualifier, beat Tony Schumacher, the top qualifier, in the final round so Steve comes in as the defending champ but he also comes in without a crew chief. After parting ways with Richard Hogan before the event last week Steve said that the Lagana brothers, Bobby and Dom, would tune the car for Atlanta. "We'll decide what to do after that," Steve said. If you think owning a race track is tough try owning your own Top Fuel team!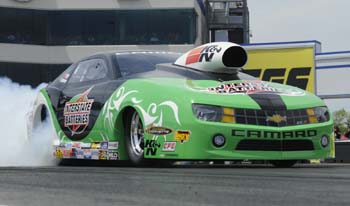 Mike Edwards
Photo copyright 2013 NHRA
Not that anyone asked me but I don't think I could pick a winner in Pro Stock this year. Sure Mike Edwards appears to have the best car but it's a long year and a lot can happen between now and banquet time, and with the caliber of cars, drivers and teams in the class it really is wide open. You know that Allen Johnson is going to be in the mix all year and so are his Mopar teammates, Jeg Coughlin and Vincent Nobile..I know it's too early to call, and I never thought I would use these words to describe him, but Jeg could be the comeback driver of the year in the pro classes this year. In 2012 he made one final round and finished ninth in the points and wasn't really a factor in the battle for the championship. This year he has already won eleven rounds, been to a pair of final rounds, been the top qualifier and is tied for third place in the points with Erica Enders- Stevens. With an average car Jeg is tough, and with a good car he is championship material, so that just adds to the intrigue in the class this year..Jeg has won twice and so has Mike at the Atlanta track while Greg Anderson has picked up three "Wally's" there, but did you know that Warren Johnson is the leader in Pro Stock with five wins at his home track? The last was in 2003 and it would be nice to see WJ make a good showing this time around.As I mentioned Erica Enders-Stevens is off to a good start and she has a very good car and team, and counting the 4-Wide race she has been to three final rounds already this year so she should be a factor, too. Over the years Pro Stock has arguably been the toughest class top to bottom and it looks like it could be that way again this year..Did you know that there will be eight current or former Atlanta champs in action in Pro Stock this week? Greg Anderson is the defending champ and he is one of only three Pro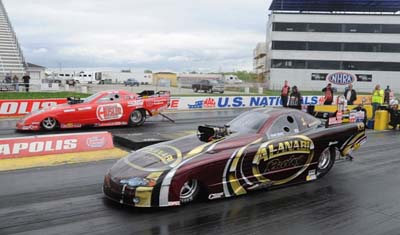 Frank Manzo vs. Andy Bohl
Photo copyright 2013 Kevin Pepera
Stock drivers to ever win this race in consecutive years. Mike Edwards did it when he won in 2008 and 2009 and the great
Lee Shepherd
won it four times in a row (1981 - 1984), but as good as that is
did you know
that
Dave Schultz
won it seven years in a row in the Pro Stock Motorcycle class?...Of course nobody had the success there that
Frank Manzo
did.
Did you know
that he won his first race there in 1981 and then went on to win a dozen more times in
Atlanta
? Thirteen wins at one track is, well, unbelievable, but then so is Frank. Frank was an astounding 62-11 in
Georgia
and that computes to about an 85% winning record. No wonder they stopped having the alky cars there nobody wanted to show up and race Frank!....Speaking of Frank he was beaten by
Andy Bohl
in the
final round of the regional race in Indianapolis yesterday while
Bill Reichert
won the dragster portion by stopping
Marty Thacker
. Andy should be very proud for winning the race and beating Frank, because once he gets to the money round Mr. Manzo is hard to beat.
Did you know
that with the loss yesterday Frank's final round record at divisional (or regional) races is still a staggering 117 - 36?.....Bill's win was the 51
st
for him on the divisional level and that's seventh best all time. Congratulations to both Andy and Bill.