Tue, 07 May 2013, 17:35 PM



REICHERT, BOHL WIN IN INDY



Courtesy of NHRA Field Marketing


Photo copyright 2013 Kevin Pepera





CLERMONT, Ind. --
Bill Reichert defeated Marty Thacker
in the Top Alcohol Dragster Final.
The NHRA North Central Region crowned their first champions today for the 2013 NHRA Lucas Oil Drag Racing Series at Lucas Oil Raceway Park at Indianapolis as Bill Reichert and Andy Bohl took the wins in Top Alcohol Dragster and Top Alcohol Funny Car respectively.
Reichert qualified in the No. 1 position over a week ago before Mother Nature and rain forced officials to postpone eliminations until today. Reichert then ripped off runs of 5.41, 5.43 and 5.42 seconds in three rounds of eliminations for the win and the trophy. The Michigan racer defeated Marty Thacker in the final running 252.90 mph to Thacker who clocked in at 5.469 at 260.61.
The win is Reichert's second of the year coming off a win at the recent NHRA national event at zMAX Dragway in Charlotte, N.C., last month.
Bohl, Racine, Wis., took out No. 1 qualifier and reigning NHRA Lucas Oil National Champion Frank Manzo for the funny car win in 5.703 seconds at 251.02 mph. Bohl defeated John Bojec in round one and Brian Harvanek in his semifinal match up. This is Bohl's first win of the year in three outings.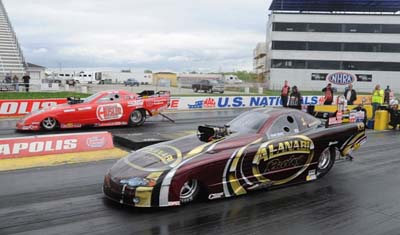 Andy Bohl won over Frank Manzo to
take home the Top Alcohol Funny Car trophy.
North Central Division racers head to Summit Motorsports Park, Norwalk, Ohio, for the next NHRA Lucas Oil Drag Racing Series event, May 17-19.
The following are the final results from the NHRA Lucas Oil Drag Racing Series Spring Spectacle of Speed at Lucas Oil Raceway at Indianapolis:

TOP ALCOHOL DRAGSTER:
Round 1
5) Jared Dreher, Clinton, Ind., 5.460, 253.47 def. 4) Brandon Booher, Urbana, Ill., 9.616, 90.27;
6) Marty Thacker, Robinson, Ill., 5.538, 261.42 def. 3) Ken Perry, Markham, Ont., foul;
2) Gordon Gingles, Winnipeg Manitoba, 5.349, 269.67 def. 7) Robin Samsel, Marion, Ind., 10.233,
81.42;
1) Bill Reichert, Owosso, Mich., 5.417, 261.78 def. 8) Dave Hirata, Lowell, Ind., broke;

Semifinals
Reichert, 5.431, 258.62 def. Dreher, 5.627, 236.09;
Thacker, 5.438, 262.33 def. Gingles, 5.428, 265.85;

Final
Reichert, 5.426, 252.90 def. Thacker, 5.469, 260.61.

TOP ALCOHOL FUNNY CAR:
Round 1
6) Brian Harvanek, Cheswick, Pa., '02 Camaro, 5.725, 249.76 def.
9) Wayne Butler, Forest City, Ill., '02 Firebird, 5.786, 249.26;

4) Chris Foster, Davenport, Iowa, '11 Mustang, 6.031, 205.85 def.
5) Kevin Newburgh, Rock Falls, Ill., '06 Stratus, 8.765, 100.50;

2) Andy Bohl, Racine, Wis., '08 Ford, 5.671, 256.84 def.
7) John Bojec, Mentor, Ohio, '10 Monte Carlo, 5.875, 242.63;

1) Frank Manzo, Morganville, N.J., '10 Monte Carlo, 5.518, 259.31 def.
8) Dale Brand, Sully, Iowa, '06 Monte Carlo, no show;

Semifinals
Bohl, 5.634, 253.90 def. Harvanek, 9.642, 87.16
Manzo, 5.603, 258.27 def. Foster, 5.826, 250.83;

Final
Bohl, 5.703, 251.02 def. Manzo, 9.141, 96.03.