Tue, 30 Apr 2013, 14:00 PM



So You Want To Be A Race Promoter, Huh?



By Bob Frey


Photo copyright 2013 Auto Imagery, Inc.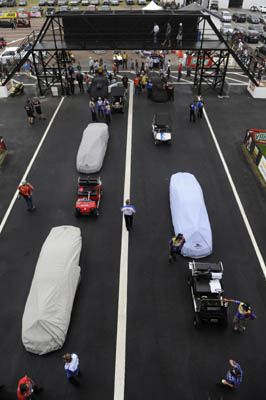 Photo copyright 2013 NHRA
As I have often said I was never very good at math. In fact, you have probably heard me say many times that there are three kinds of people in the world, those who can do math and those who can't! As such I took extra English classes and four years of Latin in high school to avoid any extra math classes. It will probably come as no surprise that those Latin classes haven't come in real handy yet, but a guy can dream, can't he? Anyway, during those English lessons I remember a poem by a Scottish writer by the name of Robert Burns who said something about the "Best laid plans of mice and men." It went on to say something about how they don't always work out the way we planned, and such was the case in Houston over the weekend. With the ESPN folks set to show live qualifying rounds and live eliminations (at least the last two rounds) the rains came and washed out almost everything on Saturday and that then sent everyone scrambling on Sunday. I remember weekends like that when there wasn't the specter of live television hanging over the day and it really made for a long, tough day for everyone. It's days (and weekends) like that when I think about anyone who has said that they wanted to be a drag race promoter because of all the money they make. Well, let me tell you, I would never have traded my cushy job in the announcing booth with those track operators because no matter how well you plan, a couple of days of bad weather can really ruin your weekend..and your year. Even when the rain stopped, and there was a lot of rain, it still presented problems on Sunday because of the soaking that the pits took and it made it tough to move cars around and that's a really bad situation. Still want to be a track owner or race promoter? Not me!....As tough as the situation was on the track operators I feel badly for the sportsman racers who were there and didn't get to finish the event. Like I said, situations like that just ruin it for everyone and that's why I was always glad to be just an announcer and not have to make any of those really tough decisions..With qualifying cut short by the rain a lot of racers were impacted, and that includes ones who ended up high in the qualified field and those who ended up outside altogether. But, as we often say, everyone was dealing from the same deck so you have to accept it and move on, after all, the Atlanta race starts in three days.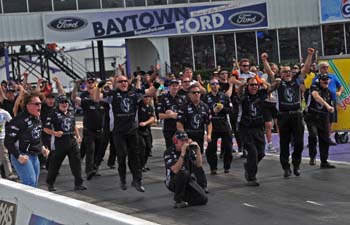 Vandergriff's crew and friends
celebrate win on the starting line.
Bob Vandergriff was the big winner in the Top Fuel class and that was the third win of his career. After going winless in his first thirteen final rounds Bob has now won in each of his last three final round appearances. That number thirteen is big for Bob because that's the starting spot he had on Sunday, and believe me when I tell you that winning from the lucky number thirteen position isn't easy. Did you know that coming into the Houston race the number thirteen qualifier in Top Fuel had made the final round exactly fourteen times since 1970 and that was in 715 races? Getting there is one thing but winning is something else altogether. Did you know that in those fourteen trips to the final round that lucky number thirteen qualifier had won just four times? Bob's win from the thirteen spot was the first since Doug Herbert beat Eddie Hill in Memphis a little more than thirteen years ago. The other dragster winners from that starting spot are Shelly Anderson, Kenny Bernstein and Kelly Brown...Bob calls Atlanta his home track but most of his sponsors are from Texas so to be able to win there had to be a real kick. The C & J Energy team, with support from Josh Comstock, probably threw quite a party for Bob and his team Sunday night. Did you know that Bob has now won twice in the last eight races and the only other Top Fuel driver who can say that is Tony Schumacher? Congratulations to Bob, his crew chief Rob Flynn and the rest of the team for a job well done under very difficult circumstances..Three wins may not seem like a lot to the average fan but then the average fan probably doesn't know that in the history of the sport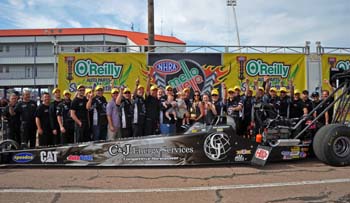 Vandergriff and crew celebrate win.
there have only been forty-four drivers to win three or more races in the Top Fuel class. When you put it like that it really is quite an accomplishment, isn't it?....
Doug Kalitta
was the top qualifier but, as I pointed out earlier this year, that doesn't always translate into success on Sunday for the driver of the
MAC Tools
car. This was Doug's 34
th
time as the top qualifier and he has only gone on to win four times.
Did you know
that he has now failed to win from the number one spot in his last sixteen tries? In fact,
did you know
that the last time he won from the number one spot was in
Sonoma
in 2004? The top qualifier had won in the dragster class in five of the last ten trips to Royal Purple Raceway including when Doug did it in 2003...The weather may or may not have been the reason for other qualifying tidbits like the fact that
Brittany Force
failed to qualify for the first time in her rookie season,
Khalid alBalooshi
made his best start when he landed in the second spot and
Larry Dixon
qualified in the top half of the field. Now normally that wouldn't be noteworthy except for the fact that it broke a string of seven consecutive races dating back to the end of last year where Larry was in the bottom half of the field.
Did you know
that was the longest drought of his career without being in the top half of the field?.....
Clay Millican
missed the cut for the second consecutive race and that's the first time that has happened to him since the last race in 2006 and the first race in 2007...
Shawn Langdon
was the runner-up and it's been almost an all-or-nothing season for him. Including the 4-Wide race he has been to three final rounds this year in six races while at the other two he has a pair of round-one loses and a second round loss. I still expect the
Al Anabi
team (or teams) to be strong contenders for the championship this year and the Top Fuel class looks like it is wide open.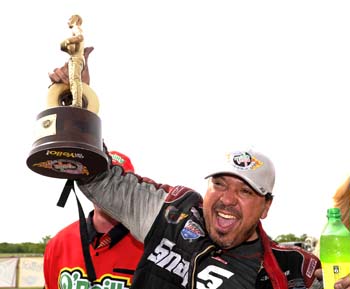 Pedregon celebrate his second win this season.
It's supposed to happen all the time but it hardly happens ever and that is the number one and two qualifiers squaring off in the final round. Well, it happened in the Funny Car class in Houston when Cruz Pedregon beat Tim Wilkerson to take home his 32nd Funny Car title and his second of the year. In the process Cruz becomes the first Funny Car driver to win twice this year and his Snap-On Tools Toyota seems to be doing well with his "no name" crew, doesn't it? You have to hand it to Cruz, throughout all the years and a wide variety of crew chiefs he continues to be one of the best drivers in the class and always seems to be a threat to win at every race, or almost every race. I have always found him to be refreshing, honest and a great interview and he sure seems poised to make a run at another championship this year...Like Doug Kalitta winning from the top spot hasn't been easy for Cruz, in fact, did you know that this was his 52nd top spot and he has won just nine races from that position? And he had only won three times in his last twenty-three tries from the number one spot coming into Houston. But, going back to what I said about his honesty, he has made no bones about the fact that he has struggled some times on race day, but now that he has this win under his belt watch out because he could turn into the Cruz of old and that would be bad news for the rest of the Funny Car teams..While the drivers from Team Force and Don Schumacher Racing certainly have been dominating the win column recently Cruz has been the best of the rest. Did you know that in the last thirty-seven races drivers from the two mega-teams have won an astonishing thirty-one times? And over that period the only driver to win more than once who is not part of those teams is Cruz who has visited the winner's circle four times, while Bob Tasca and Jeff Arend are the only others to win over that span of races..Back to that 1 vs. 2 deal that I mentioned. Did you know that in the last ten years the top two Funny Car qualifiers have only met sixteen times in the final round? Of those sixteen final rounds, including Cruz's win in Houston, the top qualifier has won nine times. .With the win Cruz took over the points lead and it's the first time he has had the lead since he won the championship in 2008.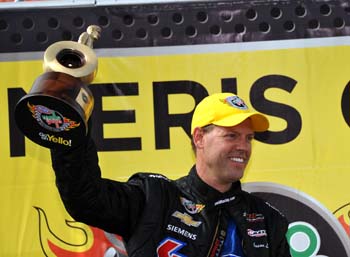 Line celebrates win.
Jason Line took the Pro Stock title over a resurgent Shane Gray in a final round that saw both drivers run the exact same elapsed time, and when that happens it goes in the record books as a holeshot win. Did you know that Jason has now won thirty Pro Stock races and that six of them have come on holeshots? Jason now has two holeshot wins already this year and it's the first time since 2010 that he has had more than one such win in an entire season. A good car and a good driver can make for a very tough combination to beat and that's the combination in the Summit Racing Camaro right now.As good as his reaction time was in the final round, and make no mistake about it a .007 is very good, did you know that wasn't Jason's best effort in a final round? Three times before, twice in 2010 and once in 2004, he had better reaction times in the money round. Talk about a driver who rises to the occasion. Nice job, Jason, and congrats to Shane, too, for having a great comeback season ..Jeg Coughlin grabbed the top spot in qualifying and, stop me if you've heard this before, winning from the number one spot has not been Jeg's specialty. Did you know that in the last fifteen races that he has been number one Jeg has won just two times?....To have anyone other than Allen Johnson get the top spot in a Dodge is, in itself, noteworthy. Sure Vincent Nobile did it at the 4-Wide race but other than that the last twenty-six times that a Dodge started from the number one spot it was AJ who did it. Did you know that the last driver besides Allen or Vincent to qualify at the top of the pack in a Dodge was Max Naylor who did it at back-to-back races in Indy and Memphis in 2007?....When he put the Dodge in the top spot it marked the 89th time that a Dodge driver has been number one, and when you add that to those recorded by Plymouth drivers it's a total of 109 top spots for the Mopar drivers over the years.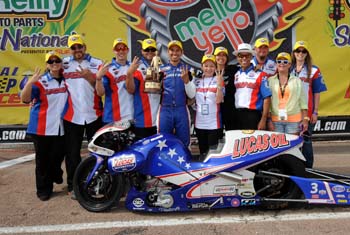 Arana Jr. and crew celebrate win.
With only three race in the books it is certainly too early too crown a champion but Hector Arana Jr. sure looks good, doesn't he? He has been the top qualifier at two of the three races so far and he has yet to lose a round on Sunday and that's the kind of performance that screams champion! Did you know that when he won the race he became the first rider since Matt Hines in 1998, and only the third rider overall (Dave Schultz 1991) to win at each of the first three races of the season. Let's face it, any time you can have your name mentioned in the same sentence with Matt and Dave you know you must be doing something right. When you add in the fact that Jr. was first off the line in all four rounds (one rider fouled out against him) and he has a good bike it begins to look like he might be the guy to catch this year. He certainly is right now..I don't know if it's the new rules or what but Eddie Krawiec is struggling early in the season. Eddie has now qualified in the bottom half of the field at three consecutive races and that is very un-Eddie like. Did you know that the last time he did that was early in the 2007 season?....Scotty Pollacheck made it to his first final round and he did it with a perfect reaction time along the way. That gives Scotty two prefect reaction times in back-to-back races and that is very rare. How rare? Well I'm glad you asked. Did you know that in the entire history of the sport there have only been two professional drivers who ever recorded a perfect reaction time at back-to-back events? The other one was Mike Edwards who did it in 2008, but other than Mike and Scotty nobody has done it in all these years. Amazing...The bikes are now off for a couple of weeks before returning to action at Englishtown so we'll see what kind of challenge the others can provide for Hector at that event.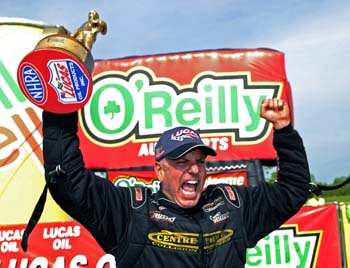 Bartone celebrates win.
Like everyone else the Pro Mod teams were affected by the weather and they didn't finish until late on Sunday night, long after the television cameras had shut down. In the end it was Clint Satterfield picking up his first NHRA Pro Mod win and, in the process, he jumped from tenth to third in the standings. It was the first win for Clint in his seventh NHRA Pro Mod race. Did you know that coming into the event Clint had won just one round on the NHRA circuit? Even with the rain I'm sure nothing could dampen his spirits after the win...Kenny Lang's spiffy 1963 Summit Racing Corvette was in the other lane in the final but he jumped a bit early and fouled out. Did you know that in the thirty-three NHRA Pro Mod events this was the sixth time that the final was decided on a red light? For Kenny, who has competed in twenty-eight races it was only his second foul start., but even with the little glitch in the final round Kenny did manage to move into the points lead in the class...Tony Bartone swept to victory in the Top Alcohol Funny Car class and he did it with a perfect reaction time, too. Tony recorded his in his first round win over Mark Billington and he used that as a springboard to pick up the forty-second win of his career and the thirty-eighth in the alky Funny Car class. Now here's something that's hard to believe. In all the years of the alky classes, and that dates back to 1981, and over the course of the 554 races that have been run (1108 if you count both classes) did you know that this was just the 32nd time a driver in either alcohol class has had a perfect reaction time?...Randy Meyer picked up the hardware in the alky dragster class when he beat Jim Whiteley in the final round. With his win at the regional race two weeks ago it appears that Randy will be a contender for the title this year and that means the race for the championship in that class could be wide open.