Tue, 30 Apr 2013, 11:58 AM



Krabill Scores Ignitor Heritage Title at Firebird



Courtesy of NHRA Field Marketing



BOISE, Idaho -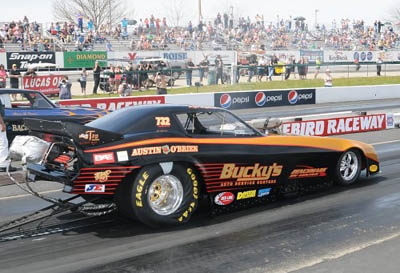 Kris Krabill
In convincing fashion, Kris Krabill collected his second straight major Firebird event title during the recently concluded NAPA Auto Parts Ignitor Nitro Opener. Presented by Dan Wiebold Ford, the NHRA Hot Rod Heritage Series meet for the Funny Car division attracted a very impressive thirteen entries for this year's 8-car qualified field.
The qualifiers included: Dan Horan Jr. at 5.83; Robert Overholser at 5.86; Kris Krabill at 5.91; Roger Garten at 6.06; Dennis LaCharite at 6.07; Cameron Ferre at 6.11; Tim Boychuk at 6.15; and Mark Sanders at 6.15. Non-qualifiers were Jason Rupert (6.26), Tom Padilla (6.34), Chris Davis (6.48) and Wally Giavia (6.81).
During eliminations, Krabill ran 5.90, 5.87, and a final round 5.85-245.63 with the Bucky Austin and Mike O'Brien-owned `78 Trans Am. They defeated Dan Horan Jr., who finished at 5.91-246.64, red-lighting his chances away in the final. Horan recorded top speed of the weekend at 248.00 mph.
Both Dennis LaCharite with his "Back in Black" `69 GTO and Robert Overholser at the wheel of the Don Nelson "California Hustler" `77 Trans Am, which recorded the quickest elapsed time of the weekend in first round of eliminations at 5.82, were the two semi-finalists.