Tue, 23 Apr 2013, 19:24 PM



Told You It Was Wacky



By Bob Frey


Photo copyright 2013 Auto Imagery, Inc.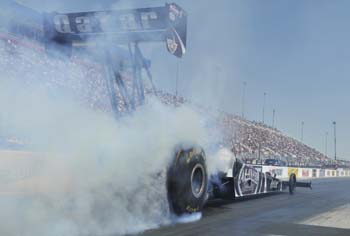 Langdon makes a run in front of the big crowd.
The latest version of the
4-Wide Nationals
is history and from all accounts it was another great race, that is with the exception of some rainy weather on Friday that cut the qualifying short and had an impact on everything else that went on for the rest of the weekend. The race was hotly contested and enthusiastically enjoyed by the fans. Of course I wasn't there but from what I was told there was a big crowd on Saturday and a slightly smaller one on Sunday when it was a bit chilly, but that just goes to show what an exciting, interesting and innovative race it is. And wacky, did I mention wacky?
The wackiness started long before the Mello Yello classes (Top Fuel, Funny Car and the two Pro Stock classes) took to the track and it included such things as Peter Biondo losing a round when his opponent broke on the starting line and then Peter broke out (that almost never happens), former Lucas Oil World Champion Duane Shields failing to make the field in Top Alcohol Dragster, Dan Fletcher lost early in two classes (that hardly ever happens) and Chris Foster grabbed the top spot in the alky Funny Car class (and that never happened before)...As if that weren't enough we had Lewis Worden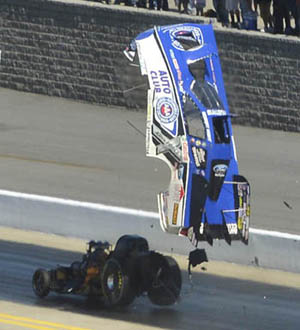 Hight's body blew off.
Photo copyright 2013 Ron Lewis Photography

getting timed out in qualifying,

Robert Hight

blew the body off his car and ended up 16

th

(

Watch Replay of Hight's run.

)and so did

Eddie Krawiec

while

Johnny Gray

didn't even make the starting lineup and

Chad Head

qualified number one....It got even wackier during eliminations when

Sidnei

Frigo

couldn't back up after his burnout,

Antron Brown

lost in round one and

Katie Sullivan

won her first round since 2009. Ok, so she hasn't run all of the races since then but it was still noteworthy that she emerged victorious in her pod and she did so with her best run ever. Oh yeah, there was one pod (or quad if you prefer) of Top Fuel cars in round one that had all four drivers within four-hundredths of a second of each other and the slowest car of the four advanced to round two. Plus, two of the top Pro Stock drivers fouled out in the same round,

Mike Edwards

did something that hadn't been done in almost forty years and one of the finalists in the Top Alcohol Dragster class, who was competing in his first national event, took off before the green light came on! Oh yeah, and the winner in the alky Funny Car class may just be the big story of the year so far..And that was just the beginning.

Spencer Massey picked off the Top Fuel title when he outlasted his teammate, Tony Schumacher, as well as Shawn Langdon and Brandon Bernstein in the final round. The win adds to Team Schumacher's already impressive numbers and came right after Matt Hagan picked up the win in Funny Car for Don's team. Did you know that Don's teams have now won 203 national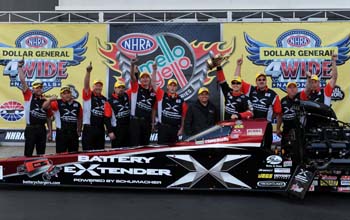 Massey and team celebrate win.
events and this is the 37
th
time that they have "doubled-up" at a national event? It's also the third time already this year that Team Schumacher has had two winners at the same race.
Did you know
that of those three races where Don's drivers have won both fuel classes it has been done by six different drivers? I'd say that's a pretty good start to the year, wouldn't you? One more thing
, did you know
that the most "double-ups" that Don's teams have had in a single year was five and they did that in 2005? Looks like a mark that will easily be broken this year, doesn't it?....There was nothing wacky about Spencer's win and his 3.771 just did hold off Tony's 3.778 and that made him the first driver to win twice in the dragster class at this unique race...Overall I think the performance by the dragsters this year was as good as any in the brief history of the 4-Wide event. The cars were so closely grouped that one pod in the first round featured four drivers who all qualified within five-hundredths of a second of each other and that's close regardless of class. Those four drivers;
Doug Kalitta
,
Khalid alBalooshi
,
Bob Vandergriff
and
Leah Pruett
then ran within four-hundredths of a second of each other in round one. And
did you know
that Bob, with his 3.828, was the slowest car of the group and yet he still advanced? I guess

First round Top Fuel action.
Photo copyright 2013 Roger Richards
that's why they pay the drivers the big bucks.As I mentioned, Leah Pruett was part of that group and even though she didn't win her
Dote Family
car ran very well. This was her first 4-Wide race and even though she ran 3.820 she didn't win but it was still another solid outing for the team.
Matt Hagan won at a track that has given him highlights, headaches and heartaches over the past few years. He made that historic 3-second pass there last year but he has also jettisoned a couple of Dodge bodies at the z-Max facility, and for a team that hadn't won a race since their championship year of 2011 this had to be a huge win. Did you know that the win moved Matt into first place in the points and the highest he was all of last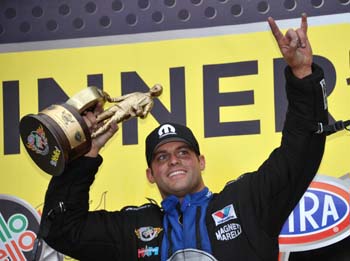 Hagan celebrates win.
year was tenth?
With the season really getting into high gear right now this is a perfect time for a team to get hot..
Chad Head
got everyone's attention when he qualified at the top of the Funny Car field in just his third national event. As good as that sounds, and it is good,
did you know
that there were a couple of Funny Car drivers who did even better?
Dick Bourgeois
qualified number one in his very first Funny Car start. It came at the Winternationals in 1970 and, as it turned out, that was the only NHRA national event that Dick ever qualified for. Amazing, isn't it? And
K.C. Spurlock
,
Sammy Miller
,
Jim Murphy
and
Todd Paton
all qualified at the top of the pack in just their second Funny Car race. Still, in this day and age, and as competitive as the Funny Cars are that was a very impressive outing by the second-generation driver. Of course I have to point out that
Chad
's qualifying time was 4.014 and that is quicker than his father, Jim, ever ran in a Funny Car. Now don't yell at me I'm only the messenger.
Did you know
that Jim's first number one spot came at his 158
th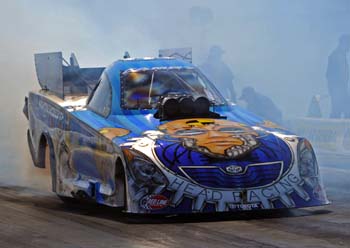 Chad Head
national event?....
John Force
lost in the first round and in the process dropped to eleventh place in the points.
Did you know
that this is only the second time since he started his championship run in 1990 that John has not been in the top ten after the first five races of the year? In 2007 he was 20
th
after five races and still managed a top ten finish, and that's the only other time in twenty-four years that he has not been in the top ten at this point in the year..
Blake Alexander
, under the direction of
Paul Smith
, looked good all weekend and he made his first national event final round. That team will surprise some folks this year and I expect them to be in more final rounds before the year is over.
Did you know
that Blake joins a group of two dozen drivers who have been to one final round in the Funny Car class and not won and among that group are
Frank Mancuso
,
Freddie Neely
and
Graeme Cowin
? The only difference is that Blake still has a shot at winning one..and he will.
Finally Mike Edwards won a race. Ok, so he didn't just win a race he dominated a race the way that very few Pro Stock drivers have over the years. Everyone who watches the class knew that Mike had the car to go the distance this year but for some wacky reason he wasn't able to win before Sunday. Believe me when I say there was nothing wacky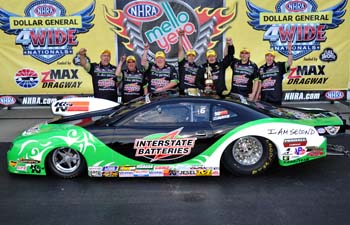 Edwards and team celebrate win.
about his performance and only the rain kept him from having one of those rare 150 point weekends that come along every now and then. I guess he should have an asterisk next to his name for the event because he earned the most points that you could given the circumstances. He was the quickest car in each qualifying round and he had the best car on race day, too. Plus he drove well and that could be real trouble for the rest of the class this year. Now they head to Houston and
Royal Purple Raceway
which is historically quick for the Pro Stock cars so there's no telling what he could do there..In addition to winning the race and moving back into first place Mike did something that hasn't been done in quite some time. When he set the record, and lowered the mark that he had previously set in
Gainesville
, Mike became the first Pro Stock driver to set the elapsed time record twice in the first five national events of the year since
Larry Lombardo
did it in 1976.
Did you know
that, other than Larry, the only time any Pro Stock driver did that was when
Bob Glidden
set the record twice early in the 1975 season and
Don Nicholson
did it in 1973? That's very good company to be in and it just goes to show you how good Mike's car and team are right now...
Allen Johnson
and
V. Gaines
both fouled out in the same group in the second round and that is, well, you know, wacky.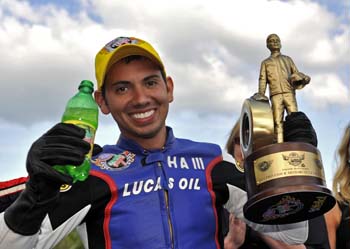 Arana Jr. celebrates win
Hector Arana Jr.Eddie Krawiec, ended up on the bump spot. The bike riders handled the starting line system and the overall format very well and in the end it was Hector, on his Lucas Oil-sponsored Buell, who went the distance..Hector, Eddie, Andrew Hines and Adam Arana made up a pod in the first round and at the end they were separated by just six-hundredths of a second with Eddie getting there first and Jr. second. In round two Eddie and Hector were matched up again and this time Hector had the better bike and got to the finish line first and he repeated that in the final round that also featured Scott Pollacheck and Jim Underdahl. .To show how good the bikes were did you know that the worst reaction time in the final group was a .028 and the best was a perfect reaction time recorded by Pollacheck? And in the elapsed time department the four riders in the final round were only five-hundredths of a second apart. Like I said it was a great showing by the Pro Stock Motorcycles..Did you know that since the bikes became part of the national tour in 1987 this is only the seventh time that a rider opened the season with wins at the first two races? Even Eddie didn't do it last year and he had a tremendous year, and only Dave Schultz (1991) and Matt Hines (1998) have ever started the year with three straight wins so good luck to Hector this week in Houston.
Troy Coughlin took his Corvette to the win in the Pro Mod series when he punched out Kenny Lang in a very good final round. Troy's Corvette, which in itself is wacky (and that's a compliment, Troy) ran 5.893 to beat Kenny's 5.898. Troy was first off the line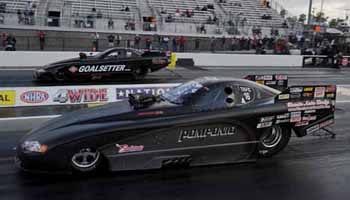 Pomponio defeated Brand
in three of his four rounds including the final round and that really paid off.
Did you know
that in his Pro Mod career Troy has been first off the line almost seventy percent of the time? Maybe it's genetic!!...
Rishi Kanick
, who was mentioned in my "From the Tower" story last week, almost pulled off a miracle by winning his first national race at his first national race. After a good showing at the regional race in Virginia a week earlier Rishi came to town and made it to the final round only to get the "yips" and take off before the green light came on and that gave
Bill Reichert
the win.
Did you know
that in the history of the Top Alcohol Dragster class, and that spans 553 races, only four drivers ever won at their first national event? Rishi gave it a good try but came up just a round short...The competition was so good in the TAD ranks that the eight cars that went into the second round were grouped within seven-hundredths of a second..
Jim Whiteley
made a booming run in the second round, a 5.215 - 275.62 mph run and lost. He was beaten on a holeshot by his arch rival,
Chris Demke
, who then lost to Rishi in the semi-finals. All in all it was a great show in the alky dragster class..
Dan Pomponio
continued unbeaten, untied and unscored upon for the 2013 season. His win over
Dale Brand
in the final round gave him two national and two regional wins on the year and a lead in the points. He also did something that no other driver has ever done when he beat
Frank Manzo
(who fouled out) in the second round.
Did you know
that of all the drivers Frank has faced more than once, and that's 112 of them, Dan is the only driver who has not lost to him at a national event? The only one! Ok, so he is 2-0 but against Frank that is, obviously, very good..
Chuck Gallagher
, who won his first national event in 1974, won again in 2013 when he picked up Super Stock honors, and to do it he had to beat
Dan Fletcher
,
David Rampy
and
Peter Biondo
along the way and that's impressive. Congratulations, Chuck.