Tue, 23 Apr 2013, 11:40 AM



Pomponio Wins Again and Rrichert Back to Winning Ways



Courtesy of NHRA Field Marketing


Photo copyright 2013 Auto Imagery, Inc.





CONCORD, N.C. --
Dan Pomponio continues to dominate the Top Alcohol Funny Car class and is four for four in 2013 while Bill Reichert grabbed the win in Top Alcohol Dragster at the Dollar General NHRA Four Wide Nationals fueled by Full Throttle at zMax Dragway.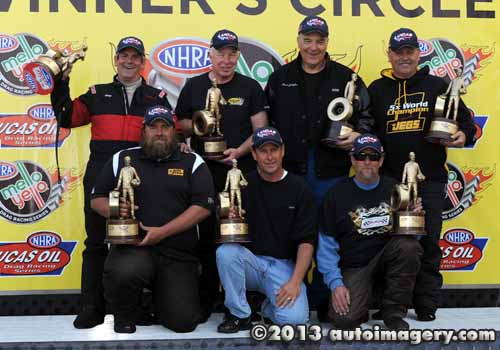 Standing: Dan Pomponio, Bill Reichert, Chuck Gallagher and Alan Kenny
Kneeling: Mike Sawyer, Brian Rowe and Ken Moses
Pomponio led the list of NHRA Lucas Oil Drag Racing Series winners picking up his second national event win to go along with a pair of divisional wins. The Berlin, N.J., racer ran 5.50's throughout eliminations including a 5.563 second pass at 260.36 mph to beat Dale Brand in the final. Brand went 5.816, 259.96. The win extends Pompoino's 2013 round record to 14-0.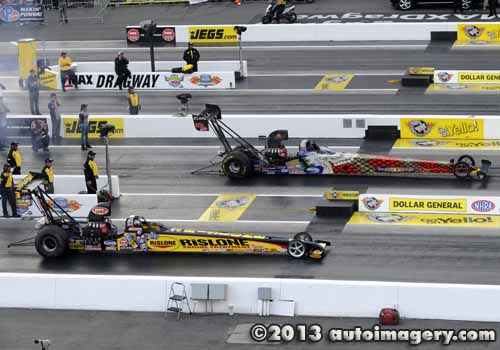 Reichert defeated Kanick
Reichert, who is a 5-time national champion in the alcohol dragster class, beat Matthew Cummings in round 1, No. 1 qualifier Randy Meyer in the second round and recent event winner Rich McPhillips in round three to advance to the final. Rishi Kanick, in his first ever national event, took out John Finke, Marty Thacker, and Chris Demke for a chance at the title but the dream ended when Kanick left before the starting tree was activated giving Reichert the win and the trophy. Reichert ran it out to a 5.301 at 262.90.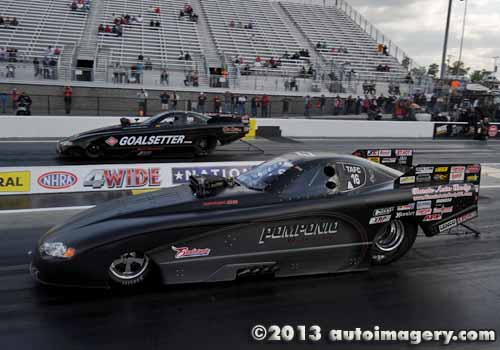 Pomponio defeated Brand
A pair of North Carolina racers took home trophies as Chuck Gallagher, Lexington, N.C., and Brian Rowe, New Bern, N.C., won in Super Stock and Stock respectively. Gallagher took his sixth NHRA national event win beating former national champion Peter Biondo with a 0.006 second reaction time and a 0.014 package at 166 mph. Rowe faced off with Michael Kubiak as both racers were looking for their first national win. Rowe was off the line first and held on for the win in his '90 Camaro. Kubiak drove his '13 Mustang to a 9.023, 147.04 in his losing effort.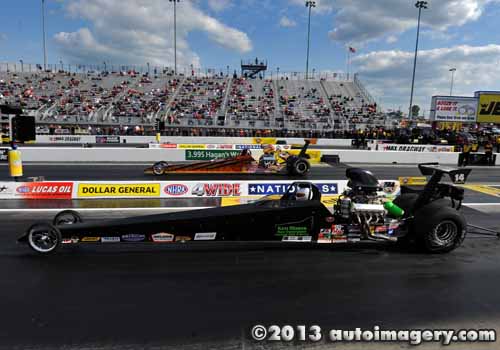 Moses defeated Joseph
Ken Moses and Mike Sawyer each bagged their second national event win this weekend. Moses went 6.845 seconds at 188.49 mph in Top Dragster to Tom Joseph and his 6.891, 180.81 while Sawyer, Leominster, Mass., won on a double breakout in Super Gas over Greg Slack, Albemarle, N.C.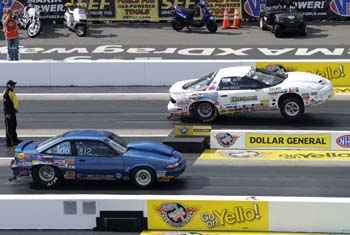 Gallagher defeated Biondo
Reigning Super Comp NHRA Lucas Oil Drag Racing Series National champion Al Kenny added a win to his resume beating Jason Lynch. Lynch was red with a foul start handing the win to Kenny who clocked in at 8.864 seconds, 186.72 mph.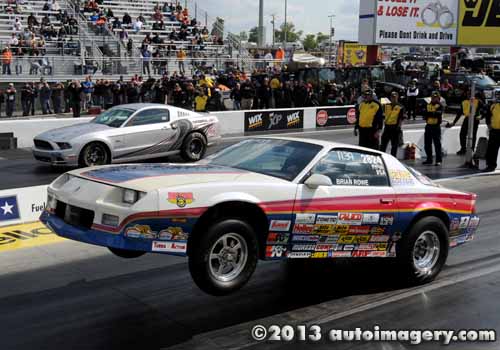 Rowe defeated Kubiak
The following are the final results from the Dollar General NHRA Four-Wide Nationals at zMax Dragway:
Top Alcohol Dragster
Bill Reichert, 5.301, 262.90 def. Rishi Kanick, broke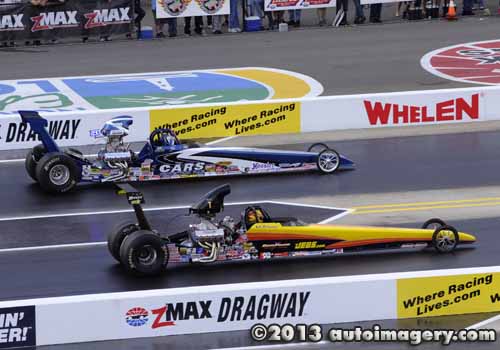 Kenny defeated Lynch
Top Alcohol Funny Car
Dan Pomponio, Chevy Monte Carlo, 5.563, 260.36 def. Dale Brand, Monte Carlo, 5.816, 259.96
Super Stock
Chuck Gallagher, Pontiac Sunbird, 8.128, 166.11 def. Peter Biondo, Pontiac Firebird, 9.626, 138.88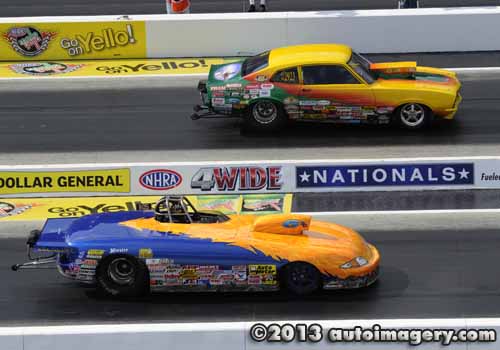 Sawyer defeated Slack
Stock Eliminator
Brian Rowe, Chevy Camaro, 11.401, 115.06 def. Mike Kubiak, Ford Mustang, 9.023, 147.04
Super Comp
Alan Kenny, Dragster, 8.864, 186.72 def. Jason Lynch, Dragster, foul
Super Gas
Mike Sawyer, Chevy Cavalier, 9.897, 160.69 def. Greg Slack, Ford Maverick, 9.897, 144.24
Top Dragster
Ken Moses, Dragster, 6.845, 188.49 def. Tom Joseph, Dragster, 6.891, 180.81