Wed, 17 Apr 2013, 18:44 PM



HeadsUpRacer.com and Racepak Data Acquisition Systems Return to Sponsor



Courtesy of DSE Racing Series


Photo Credit: Stacee Kenington





Fast Bracket Racing in DSE Sportsman Racing Series



OAKVILLE, ONTARIO --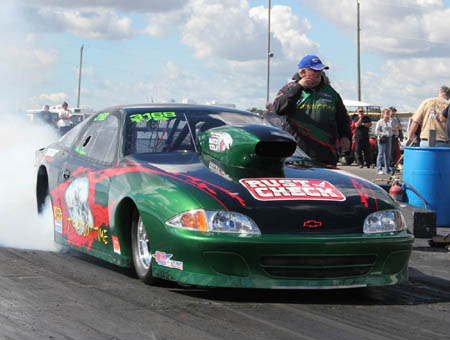 Phil Sampson
Fans of Fast Bracket Racing will be greeted this season with a familiar class sponsor and a new class name and format. HeadsUpRacer.com and their premier product line RacePak Data Acquisition Systems will be returning to be the Fast Bracket class sponsor in the DSE Automotive Sportsman Racing Series (DSESRS), and they will be backing the new Frantic 14 class, which features a split ladder of the seven fastest Dragsters facing off against the seven fastest Door-Cars.
"It is great for HeadsUpRacer.com to be involved with the DSE Sportsman series for a second year, They are a great bunch of racers that are truly worthy of a series like this" Comments Headsupracer.com owner Ian Rae. "Andrew and Dave Stirk have done a great job in promoting the series and it is great to see grassroots drag racing grow in a professional manner. It is the perfect fit for HeadsUpRacer.com as we were able to add MSD Ignition to our Products line which also currently features RePlay XD cameras and Racepak Data Acquisitions systems"
The new format will see split qualifying and split ladders for both Dragsters and Door-Cars until the final, where it will feature a Dragster versus Door-Car match-up that always proves to be an entertaining final. Another change from last year's program will see the number 1 qualifiers on both Dragster and Door-Car sides receiving Round 1 bye runs, and lane choice for all pairs will go to the better-qualified car rather than the lowest Dial-In throughout eliminations, including the Finals.
" We are truly excited about having Ian and HeadsUpRacer.com return to our Series, last year's Fast Bracket Class was a huge success, and we are even more excited about this year's change in format that will give many of our Fast Door-Car competitors a better chance to qualify and race for the $1000 prize!" stated DSESRS Director Andrew Stirk
The first two races of the season for the DSE Automotive Sportsman Racing Series, which features a $14,500 year end Points Fund, will take place on June 8th and 9th at Cayuga Dragway of Toronto Motorsports Park. For more information, please visit www.sportsmanracingseries.ca