Mon, 15 Apr 2013, 18:37 PM



ADRL Eliminations Rained Out at SGMP



Courtesy of Autographix Motorsports Communication


ADRL photos by Roger Richards





But Two National Records Set in Qualifying



LAKE ST. LOUIS, Mo. --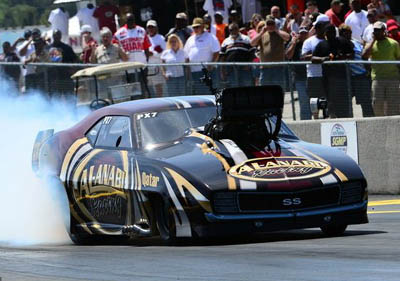 Alex Hossler
Rain put a halt to the ADRL Hardee's Georgia Drags VII on Sunday, April 14, at South Georgia Motorsports Park in Valdosta, Ga., but two Pro Extreme records were set during Saturday qualifying.
In the first qualifying session Alex Hossler from Canton, Ill., set the new national ET record at 3.567 seconds for the eighth mile in his '69 Camaro. He was the number-one qualifier. His incremental times were 60 ft: 0.904 sec.; 330 ft: 2.401. He also held the speed record at 212.29 mph until the final qualifying session when Jason Scruggs took it away. Scruggs, Saltillo, Miss., set the national speed record at 213.54 mph in his '63 Corvette. It was backed up by a prior 211.76.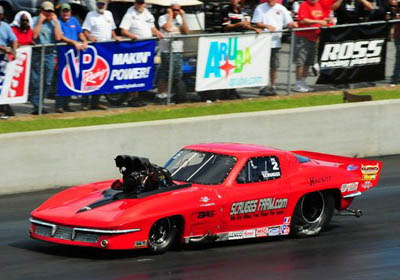 Jason Scruggs
The SGMP date will not be made up. Racers will receive qualifying points and payouts.
Next on the schedule for the ADRL is Spring Drags IV presented by Curry's Transportations Services, May 18-19, at Cordova Dragway Park, Cordova, Ill. It will be the first time the series has raced at the historic track in the Quad Cities area.
The www.ADRL.us website will carry a live broadcast feed of all 2013 Tour events beginning at Cordova.