Mon, 15 Apr 2013, 16:33 PM



Meyer Back on Top, Three in a Row for Pomponio



Courtesy of NHRA Field Marketing


Photo copyright 2013 NHRA





Santangelo Doubles



PETERSBURG, Va. --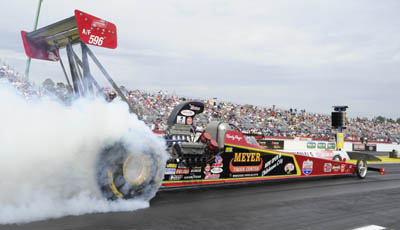 Randy Meyer
With victories at the NHRA Lucas Oil Drag Racing Series event at Virginia Motorsports Park, Randy Meyer got back in the Top Alcohol Dragster winner's circle after a year of final-round futility and Dan Pomponio continued his amazing success in Top Alcohol Funny Car to take over the national points lead.
Meyer nipped Canadian Dan Mercier in the Top Alcohol Dragster final in the best race of the weekend, 5.321 to 5.330. "If this was last year, I would have lost," said Meyer, who dropped all six of his final-round appearances in 2012 - three at regional events, two at national events, and one at the Jegs Allstars race. "Maybe this year, we'll win the close ones."
Meyer set top speed in the final at 271.57 mph, eclipsing the 270.86 he had run in a semifinal win over No. 1 qualifier Dan Page. "I didn't get after it as hard for the final because I was afraid of smoking the tires and beating myself like I did last year," he said. "I really didn't expect him to pick up a tenth and make it that close."
Meyer won by nine-thousandths of a second - the difference between his and Mercier's e.t.s - after they left with identical .084 reaction times. "I saw the front of his wing at the 60-foot mark, and it was right there at 330 feet, half-track, and all the way through the lights," said Mercier, who took over the East Region points lead when Gainesville regional winner Richard Bourke and runner-up Rich McPhillips both surprisingly missed the cut. Fifteen drivers attempted to qualify, and the bump was a 5.58 by Trinidad's Rishi Kanick, who made his Top Alcohol Dragster debut this weekend in Sidnei Frigo's old car.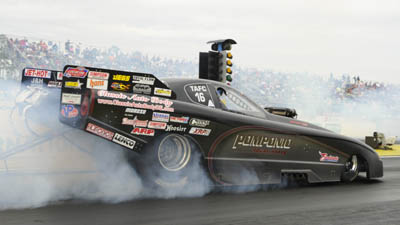 Dan Pomponio
Mercier got around John Finke in a tire-smoking first-round match, 6.17 to 15.58, and beat former Top Alcohol Funny Car racer Wayne Morris, who is getting accustomed to driving with a clutch and reacquainted with driving a dragster, on a semifinal holeshot, 5.429 to 5.425. Meyer eliminated Jackie Fricke in round one, 5.88 to an up-in-smoke 9.21, and set low e.t. by a tenth with a 5.303 in the semifinals against Page, who had low e.t. until that point with a 5.403 in qualifying.
Pomponio, who had won once in his Top Alcohol Funny Car career before this season, at the Maple Grove Division 1 race in 2005, still hasn't lost a round all year. After taking both the regional and national events at Gainesville, he defeated John Anderika in the final for his third victory of the season. "I was already ecstatic after the first one," he said. "Then we won a national event. Now, I don't know what to say. It's like, 'Where did this come from?' "
Crew chief Dan Pomponio Jr. delivered low e.t. and top speed (5.570, 260.06) in the final against Anderika, and Pomponio did his job in the first round in a 5.651 to 5.619 holeshot win over Todd Veney that earned him a spot on the Jegs Allstars team.
Anderika qualified No. 1 with an off-the-trailer 5.637 and set low e.t. at the time with a 5.589 first-round win over D.J. Cox, who was runner-up at this event last year. He shut off early on a semifinal single and was on his way to a mid-5.50 in the final when an air line came off the transmission, which sent a valve through a piston and damaged the body severely enough to prevent the team from running the 4-Wide Nationals.
Joe Santangelo pulled the rare double-up taking the win in both Super Stock and Stock Eliminator. The former Lucas Oil Stock National Champion from Marlborough, Conn., drove his '96 Firebird to the Super Stock win over James Antonette in 9.654 seconds then returned to the starting line to face David Ficacci for the Stock trophy where he went 10.450 seconds in his '95 Camaro for the win and the double.
Local racer Kevin Houghtaling, Richmond, Va., held off Pat Ross, Avon Lake, Ohio, in the Comp Eliminator final running 8.662 seconds at 152.02 mph.
Doug Horne made it two for two this year in the NHRA Harley Davidson Drag Racing Series taking the win in Top Fuel Harley following his win in Houston last month. Horne, Aberdeen, Md., clocked in at 6.253 at 220.76 mph to defeat Chris Streeter, Cleveland, Ohio, 6.286, 222.73 while John Vickers beat Houston event winner Dale Niles with a pass of 7.189, 167.88 mph in Pro Dragster. Bruce Cronenberger III took a pair of trophies home to Cressona, Pa., winning in both the Street Pro and the Hot Street Harley Series classes.
2005 National Champ Ray Sawyer, Acton, Mass., won in Super Gas over Jim Perry with a 9.901 second lap and reigning Super Comp champion Al Kenny fell to Randy Midgett, Virginia Beach, Va. Midgett got the holeshot advantage and held on to win by about 9 inches.
No. 1 qualifier Ryan Ondrejko made his way to the winner's circle in MXI/Magnaflux Top Sportsman presented by Select Performance covering the quarter mile in 6.633, 201.79 to Todd Fontana's 6.729, 207.43 and Tommy Cable used an early advantage in his Top Dragster final round to force Joe DiPasquale to breakout. Cable, who won in Super Comp at this event last year, was 0.005 seconds at the start with a 7.232, 169.42 mph lap.
Eddie Brooks rounded out the Lucas Oil Series winners beating Timmy Markoglu in Super Street, Brian Pretzel defeated Gary Schweikert in the Ultimax Pro Stock Snowmobile class going 8.225, 155.24 and Keith Browne won in Pro Gas Harley.
Many of the racers in competition this past weekend will head south to Charlotte, N.C. for the Dollar General NHRA Four-Wide Nationals April 19-21. Up next for the Northeast Division Lucas Oil Series is Maple Grove Raceway, May 24-26 and VMP hosts their NHRA Drags: Street Legal Style Street Wars this Friday, April 19.
The following are the final results from the NHRA Lucas Oil Drag Racing Series Power in the Park event at Virginia Motorsports Park:

TOP ALCOHOL DRAGSTER:
Round 1
6) Wayne Morris, Lincoln University, Pa., 5.636, 251.77 def.
3) Duane Shields, Boulder City, Nev., 6.039, 261.88

4) Randy Meyer, Spring Hill, Kan., 5.880, 235.47 def.
5) Jackie Fricke, Flemington, N.J., 9.219, 119.22

2) Dan Mercier, LaPrairie, Quebec, 6.174, 248.80 def.
7) John Finke, Selkirk, N.Y., 15.586, 59.92

1) Dan Page, Hampstead, N.H., 5.389, 260.61 def.
8) Rishi Kanick, Trinidad & Tobago, 5.568, 249.44

Semifinals
Mercier, 5.429, 264.75 def. Morris, 5.425, 260.11
Meyer, 5.303, 270.86 def. Page, 5.403, 267.16

Final
Meyer, 5.321, 271.57 def. Mercier, 5.330, 265.01

TOP ALCOHOL FUNNY CAR
Round 1
1) John Anderika, Wyoming, Pa., '10 Monte Carlo, 5.589, 255.53 def.
6) DJ Cox Jr., Whiteford, Md., '09 Monte Carlo, 15.818, 58.55

5) Eric Lourie, Terryville, Conn., '02 Camaro, 5.699, 252.76 def.
2) Mickey Ferro, Stamford, Conn., '10 Monte Carlo, 10.476, 104.25

3) Dan Pomponio, Berlin, N.J., '10 Monte Carlo, 5.651, 257.43 def.
4) Todd Veney, Indianapolis, '08 Impala, 5.619, 256.31

Semifinals
Anderika, 7.214, 129.73 was unopposed
Pomponio, 5.597, 258.52 def. Lourie, 5.695, 253.85

Final
Pomponio, 5.572, 260.06 def. Anderika, 5.802, 202.33

COMP ELIMINATOR
Kevin Houghtaling, Richmond, Va., '98 Grand Am, F/SM, 8.662, 152.02  def.
Pat Ross, Avon Lake, Ohio, '05 Grand Am, F/A, 7.985, 169.44.

SUPER STOCK
Joe Santangelo, Marlborough, Conn., '96 Firebird, GT/DA, 9.654, 128.32 def.
James Antonette, New Hyde Park, N.Y., '98 Grand Am, SS/CS, 9.617, 135.58.

STOCK ELIMINATOR
Joe Santangelo, Marlborough, Conn., '95 Camaro, C/SA, 10.450, 118.11 def.
David Ficacci, Whippany, N.J., '69 Camaro, B/SA, 10.236, 125.96.

SUPER COMP
Randy Midgett, Va. Beach, Va., dragster, 8.919, 180.31 def.
Alan Kenny, Kutztown, Pa., dragster, 8.903, 173.01.

SUPER GAS
Ray Sawyer, Acton, Mass., '02 Camaro, 9.901, 174.75 def.
Jim Perry, Niota, Tenn., '00 S-10, 9.885, 158.93.

SUPER STREET
Eddie Brooks, Deer Park, N.Y., '82 Camaro, 10.900, 141.40 def.
Timmy Markoglu, Staten Island, N.Y., '69 Camaro, foul.

MXI/MAGNAFLUX TOP DRAGSTER PRESENTED BY SELECT PERFORMANCE
Tommy Cable, Hughesville, Md., dragster, 7.232, 169.42 def.
Joe DiPasquale, Palmyra, N.J., dragster, 6.978, 191.38.

MXI/MAGNAFLUX TOP SPORTSMAN PRESENTED BY SELECT PERFORMANCE
Ryan Ondrejko, Roslindale, Mass., '12 Camaro, 6.633, 201.79 def.
Todd Fontana, Montvale, N.J., '68 Chevy, 6.729, 207.43.

ULTIMAX PRO STOCK SNOWMOBILE
Brian Pretzel, Belding, Mich., '11 Ski Doo, 8.225, 155.24 def.
Gary Schweikert, Slatington, Pa., '03 Ski Doo, 8.564, 152.35.

TOP FUEL HARLEY
Doug Horne, Aberdeen, Md., '10 Harley, 6.253, 220.76 def.
Chris Streeter, Cleveland, Ohio, '10 American, 6.286, 222.73.

PRO DRAGSTER HARLEY
John Vickers, Millers Creek, N.C., '10 Hawaya, 7.189, 167.88 def.
Dale Niles, Purlear, N.C., '11 Derringer, 7.961, 162.31.

PRO GAS HARLEY
Keith Browne, Semora, N.C., '10 Browne, 7.406, 134.81 def.
Joseph Thomson, Hopewell, Va., '10 D and G, 8.628, 136.61.

STREET PRO HARLEY
Bruce Croneberger III, Cressona, Pa., '86 Harley, 8.810, 152.93 def.
Nicholas Gonatas Jr., Youngstown, Ohio, '06 Destroyer, 8.810, 148.56.

HOT STREET HARLEY
Bruce Cronenberger III, Cressona, Pa., '92 Sportster, 9.767, 134.90 def.
Charles Douglass, Staunton, Va., '92 Sportster, 10.062, 130.47.