Wed, 10 Apr 2013, 10:03 AM



Do You See A Pattern Developing?



By Bob Frey


Photo copyright 2013 Auto Imagery, Inc.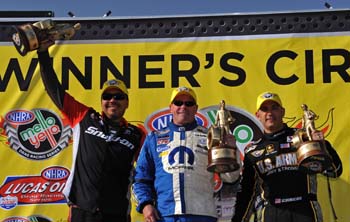 C. Pedregon, Johnson and Schumacher
The SummitRacing.com NHRA Nationals
event is history and it sure seemed like the strong survived to take home the championships. By that I mean that the three winners in the
NHRA Mello Yello Series
classes are all current or former champions who have all had a pretty good start to the season.
Tony Schumacher
,
Cruz Pedregon
and
Allen Johnson
were the top winners and while it's true that Cruz may not be quite as hot as the other two winners it certainly seems like he has a car that can contend for the championship this year. We know for a fact that the "Sarge" and "AJ" are both in this for the long run and they appear to have the best cars in their respective classes at this time. There are a lot of races ahead including the always entertaining, if not sometimes wacky.
4-Wide Nationals
coming up but I wouldn't be surprised if the three winners in Las Vegas weren't all at or near the top of the standings the next time the tour hits
The Strip at Las Vegas Motor Speedway
.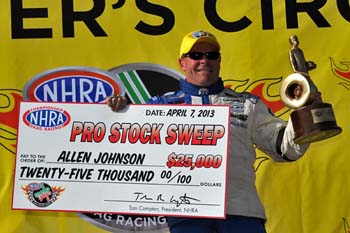 Johnson celebrates big weekend.
He doubled up winning K&N Horsepowe Challenge and
SummitRacing.com Nationals tollect a total of $100,000.
It appears that the really big winner this week was Allen Johnson who took his Pro Stock Dodge to the winner's circle for the second time this year and the second time in the last two races. Not that anybody was worried about Allen after the first two races of the season but he certainly is pouring it on right now, isn't he? His back-to-back wins have him in first place and it will take a really good car and driver, or maybe that wacky 4-Wide Nationals, to get him out of that top spot. By the way before I get any e-mails when I say "wacky" I mean it as a term of endearment. I absolutely love the 4-Wide event and wish I could be there, because for my money it's one of the best shows in drag racing, or any racing for that matter. It's just that, occasionally, some wacky things do happen..Now, where was I? Oh, yeah, Allen Johnson. Did you know that his four round wins on Sunday gave him 318 for his career and that moves him into sole possession of tenth place on the all time Pro Stock list? Like I said last week he has been as good as any driver in the class over the past few years and right now he appears to be the one you will have to beat if you want to win the championship. There are lots, and I mean lots of other teams who could beat him but they will have to be just about perfect to do it. Allen was good all year last year but it was the Denver race, the Mopar Mile High Nationals, when he really started to shine. Did you know that, including the Denver race, Allen has now been to ten final rounds at the last fifteen races and he has won seven of those races? Now that's dominating, especially in a class as competitive as Pro Stock. With his wins in Gainesville and Las Vegas Allen has
Johnson defeated Enders-Stevens on Saturday and Sunday.
now also won back-to-back races three times since the Denver race and that, too, is very impressive..Allen now knows how
Vincent Nobile
felt last year when he "doubled-up" by winning the
K&N Horsepower Challenge
on Saturday and the national event on Sunday. And
Erica Enders-Stevens
knows how
Jason Line
felt last year when he lost in both of the finals on Saturday and Sunday.
Did you know
that Allen became the seventh different driver to pull off the "double-up" in Pro Stock history and it has now happened in consecutive years and both times it was done by a Dodge?...
Mike Edwards
was the top qualifier again in Pro Stock but that first national event win of the year continues to elude him.
Did you know
that when none of the number one qualifiers won in Vegas it was the sixth time in the fourteen year history of the event that not a single number one driver went the distance on Sunday? It also marked the third time in event history that a Pro Stock driver was number one, set low elapsed time and top speed and didn't get the win.
Did you know
that in the first two years of the event, 2000 and 2001,
Ron Krisher
and
Jim Yates
set all the performance marks and yet neither one came out with a win. Like I often say, that's why we make them go out and race on Sunday.Mike Edwards qualified number one and that's interesting for a guy who is driving a car that says
"I Am Second"
on it. This makes four consecutive races that Mike has paced the field to start the year and
did you know
the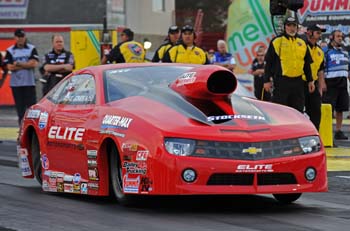 Rickie Jones
last time that happened in Pro Stock was in 2004 when Greg Anderson did it?..
Rickie Jones
looked good with his car and he checked in at the number four spot with his Camaro.
Did you know
that in his fifty-two races this was his highest starting position? It's always great to see the young drivers do well because that's good for everyone in the sport...Rickie faced another young driver,
Deric Kramer
, in round one and this was the third time this year that Deric has been in the starting lineup. Nice job by both of those teams and I hope we see a lot of them in the future..
Greg Anderson
and Jason Line met in round one and that doesn't happen very often. Since both of them are usually in the top half of the field an opening round match between the two
Summit Racing
teammates is very unusual.
Did you know
that in the forty-six times they have faced each other this was only the third time that it happened in round one?
I don't think anyone who follows the Top Fuel class thought that Tony Schumacher, Mike Green and the Army team wouldn't be factors in the championship battle this year, and if they did they were wrong and they were probably watching a different sport. For years now that team has been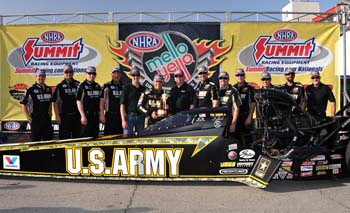 Schumacher and crew cewlebrate second win of the season.
consistently strong and they have started off the 2013 season in fine fashion with three final rounds and a pair of wins.
Did you know
that in 2004 Tony had that kind of start to the year and he went on to win the championship? In fact, in 2003, he won three of the first four races and ten overall on his way to the title. Tony's four round wins on Sunday gave him 642 for his career and that moved him past
Larry Dixon
and into fourth place on the all-time NHRA win list.
Did you know
that only
John Force
,
Warren Johnson
and
Kenny Bernstein
have won more rounds than Tony has?...It should come as no surprise that the top three teams in the standings right now are all from
Team Schumacher
. Tony has the lead followed closely by
Antron Brown
, the runner-up in Vegas, with
Spencer Massey
in third place. To show you how dominant Tony and Antron have been to start the year there are 122 points between Antron and Spencer and there are only 73 points between Spencer and the tenth place driver,
Brandon Bernstein
.
By the way,
did you know
that Spencer started from the bottom half of the field for the third time already this year, and that in the entire 2012 season he was in the bottom half just twice?..
Clay Millican
made a nice showing, especially during qualifying, and he is currently in fifth place in the points. When Clay secured the number two spot in the field
did you know
that equaled his best starting position ever and that the last time he was that high in the field was at the
Norwalk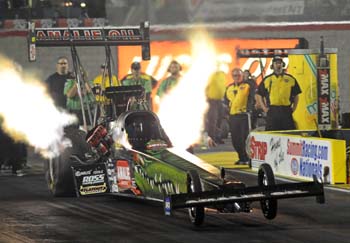 Terry McMillen
race in 2007? It looks like that partnership with
Bob Vandergriff
may be paying off. There are several reasons why I miss being at the race and one of the top reasons would be that I want to be there when Clay and
Terry McMillen
win their fist NHRA events. Now that will be special..Speaking of Terry he had his best showing in a long while and it took a very good run by Antron in the semi-finals to take him out. Terry, who qualified in the ever popular, lucky number thirteen spot, went on to beat
Khalid alBalooshi
and
David Grubnic
before losing to Antron.
Did you know
that this was Terry's first semi-final since the
Atlanta
race in 2011 when he lost to, you guessed it, Antron Brown. Good job by both Clay and Terry and I hope that first win comes soon for both of them...Congrats also to
Brittany Force
for winning her first round of racing when she beat
Doug Kalitta
.
Did you know
that
Brittany
was the seventh different woman that Doug has faced in eliminations and before his run against her he was a combined 33-12 against the other women? Now make that 33-13.
Cruz Pedregon and his "no name" crew earned a name in Las Vegas and that name is winner! The Snap-On Tools Toyota ran well, as he has all year, but this time he managed to win four rounds on Sunday. For the last year or so Cruz has had a good car on Friday and Saturday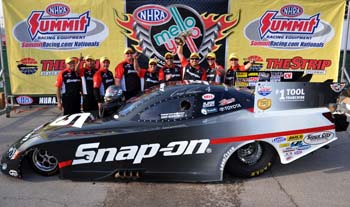 Pedregon and crew celebrate win.
but putting four winning rounds together on Sunday had been a bit elusive, but not now.
He opened up with a win over
Gary Densham
, his second favorite target throughout his career.
Did you know
that Cruz has now beaten
Gary
twenty-five times and the only driver he has beaten more than that is John Force (28)? Cruz followed that with wins over
Johnny Gray
and
Alexis DeJoria
before beating
Courtney Force
in the final round. The meeting between Cruz and Alexis was their first and she became the sixth different woman that he has faced and it marked the first time in his career that he faced two women at the same event.
Did you know
that the win was the 31
st
of his Funny Car career and that moves him past Kenny Bernstein and into fifth place on the Funny Car win list?
He also added four round wins to his career and that moved him past
Ron Capps
and into third place on the Funny Car list. Sounds like a good weekend for Cruz and I'm sure it won't be his last in 2013..Courtney Force continues to impress with her steady and solid performances on Sunday. Gee, I wonder how many women like being described as "steady and solid?" Oh well, you get the idea. Anyway, she is in the lead in the points and looks like she may have the best car in the Team Force camp this year..While Courtney was finishing second to Cruz Alexis DeJoria had one of her better days as a pro when she made it to the semi-finals, and when you couple
Kayla Mozeris
that with Erica Enders-Stevens good weekend (a pair of runner-up finishes on Saturday and Sunday) and the win by
Kayla Mozeris
in Stock Eliminator and you have another good day for the women at an NHRA event. Oh, in case you didn't hear,
Danica Patrick
finished twelfth in her
NASCAR
race this weekend and I'm surprised that didn't make headlines somewhere.
Joey Severance loves The Strip at Las Vegas Motor Speedway, and if he doesn't, he should. Did you know that Joey has now been to ten final rounds in his Top Alcohol Dragster career and that six of them have come in Las Vegas? Joey picked up his third win when he beat Chris Demke in a great final round and he did it on a holeshot. This was the eighth holeshot win of his career and only the second time he beat Demke in their seven head-to-head meetings. .As far as the runner-up was concerned did you know that Chris Demke and Jerry Mattern's Peen Rite/OSI/801 team have now been to the finals at their last six national events? Very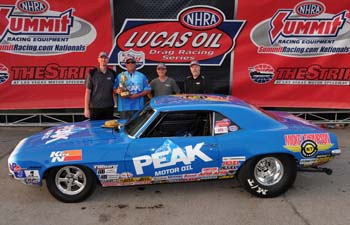 Dan Fletcher celebrates 42nd Super Stock win.
impressive....
Tony Bartone
won in the Top Alcohol Funny Car class and it sure looks like the
Rick Jackson
owned team will be title contenders again this year. In fact it looks like the TAFC class may have the best group of cars that we have seen in a while, and even with
Frank Manzo
in the mix, I think you could see the best title race in quite some time.
Did you know
that Tony's four rounds on Sunday gave him 467 for his career and that moved him past
Vern Moats
and into fifth place among drivers in the alky classes? Only
Jay Payne
, Manzo,
Pat Austin
and
Bob Newberry
have competed in more rounds in the alcohol classes than Tony has...
Dan Fletcher
continues to add to his legacy as one of the best drivers ever. Dan took home Super Stock honors for the 42nd time in his career and that was his 81
st
win overall.
Did you know
that his forty-two Super Stock wins are, by far, the most in class history?
Jeff Taylor
is in second place with his twenty-eight wins so that just shows you how good Dan is, has been and, apparently, will continue to be.