Mon, 08 Apr 2013, 12:35 PM



Dillard's Record-Breaking Performance in Pro Turbo Highlights Winners List at X-DRL Debut Event



Courtesy of X-DRL Communications


Photo copyright 2013 Roger Richards, XDRL





TULSA, Okla. --
Eric Dillard celebrated win.
The new X-treme Drag Racing League made history by completing its first-ever event, the X-DRL Spring Nationals, on Sunday at Osage Casino Tulsa Raceway Park.
Eric Dillard capped off his own historic weekend with one more bonus in the new Precision Turbo & Engine Pro Turbo class.
After becoming the first turbo driver in drag racing history to reach the 3.70s earlier in the day, Dillard topped it with a 3.786 at 210.64 mph in the semifinals and then finished off the dream weekend with a win in the finals, running 3.812 at 210.37 mph to beat Todd Moyer on a weekend he and the X-DRL won't forget.
"It was like winning twice in one weekend. We've been looking for that 3.70 run for so long and to get the win on top of it, it's just huge for us," Dillard said. "It's a great way to start the season and there's so much more we can do going forward.
"I feel like we've got a lot of room to grow and a lot to look forward to in the X-DRL."
The X-DRL felt the same way, starting its inaugural season with an impressive bang in Tulsa.
Other winners at the debut event included Brandon Pesz (Pro X-treme), Jeff Naiser (Switzer Dynamics Pro Nitrous), John DeFlorian (X-treme Pro Stock), Dan Stevenson (X-treme Pro Mod), Bob Gulitti (Mickey Thompson Top Sportsman) and Bob Henry (Top Dragster).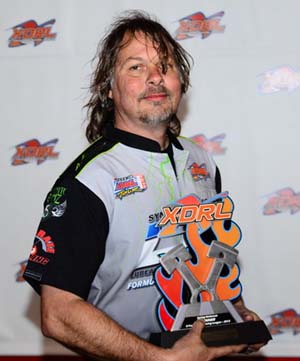 Brandon Pesz celebrates win.
Dillard, driving the Jerry Bickel Race Cars Camaro owned by turbo standout Jose Gonzalez, was brilliant all weekend, reaching the 3.70s with a pass of 3.79 during the final qualifying session on Sunday.
The celebrations continued the rest of the day, capped off by a winner's circle party that included a call to Gonzalez in the Dominican Republic.
"He was ecstatic. You couldn't have asked for a better weekend. The car was just running smooth all weekend," Dillard said.
Brandon Pesz had his own storybook weekend in Pro X-treme, picking up his first professional win in the class with a hard-fought 3.769 at 198.88 mph against Tim Tindle in his Garrett Race Cars Camaro.
"To get your first win like this, it's just a great feeling. It's been a long time coming," Pesz said. "We were running strong at the end of last year and I knew we would be strong this year. It's great to start out like this, especially at the first event and at your home track."
Pesz finished as the No. 2 qualifier and then worked hard throughout eliminations, running a 3.75 in the quarterfinals and knocking off Lethal Threat Racing teammate Todd Martin in the semifinals. But nothing came easy on a day where Pesz certainly earned his paycheck.
"The car was all over the track. I really had to drive it today, but it's fulfilling knowing at the end of the day you really had to earn it," said Pesz, who thanked Todd and Sheri Martin, LAT Oils, Kryptonite Kustomz and Trick Titanium.
Naiser defeated Laurita
After a number of struggles earlier in the weekend, Jeff Naiser came through with clutch performances when he needed them in Pro Nitrous, including a 3.997 at 168 mph in the finals against Jim Laurita. It was a welcome sign for Naiser, who hoped to have turn the corner at the X-DRL debut event.
"As much as we've been struggling, this is hard to believe and it's very satisfying," Naiser said. "It shows the potential this car has and hopefully we're onto something that's consistent and fast."
A round earlier Naiser pulled off the big shocker, ousting No. 1 qualifier Bob Rahaim when the Pro Nitrous world champion shook. Naiser went a weekend-best 3.857 at 192 mph on that run, picking an ideal time to find what he needed to advance.
He had problems late in the finals run against Laurita, but did enough to get the all-important victory. "We got the win and that's all that counts," Naiser said. "We just want to savor this win and hopefully we're on the right track."
John DeFlorian's dominant weekend in X-treme Pro Stock had a fitting finish, as he went 4.122 at 174.89 mph to beat a red-lighting Scott Hintz.
It's DeFlorian's third career win in Pro Stock, and gives him incredible momentum for the rest of the 2013 X-DRL season. "This is unbelievable stuff. It's what dreams are made of. I never thought I would have the opportunity to do this,"

DeFlorian defeated Hintz
DeFlorian said. "I have to thank Karen and Kevin Bealko and I'm so grateful for our team. If it wasn't for all of them, I wouldn't be here.
"This is tough territory and I knew it would be a challenge. I'm just thankful and very happy."
In his Black Diamond Motorsports Camaro built by Jerry Haas Race Cars and powered by Sonny's Racing Engines, DeFlorian caught a break in the semifinals when Dean Goforth left before the tree was activated. He responded with a solid run in the finals against Hintz.
"It was an extremely challenging weekend. We were really fighting the weather, and the wind was blowing so hard you really had to fight the car. When moments like these come around, you just have to savor it," DeFlorian said.
Dan Stevenson was a step ahead of everyone in X-treme Pro Modified, finishing off his wire-to-wire weekend on top with a 3.907 at 193.60 mph in the finals against Kevin Rivenbark.
Stevenson, who termed this season the "2013 No Excuses Tour" in the winner's circle, qualified in the No. 1 spot with a 3.938 and continued to pick up throughout eliminations on Sunday. His topped it off with a weekend-best run in the finals, earning a thrilling conclusion to a rewarding weekend.
"This is a dream come true. We were the low qualifier, had the top speed and won. It can't get any better than that," Stevenson said. "The guys just busted their butts and with Charles (Carpenter) as the crew chief, things are just clicking. "The car was just running really well. The guys at Reher-Morrison did a great job with the new engines. There's way more left in it."
Bob Gulitti became the first-ever winner in Mickey Thompson Top Sportsman, as his 4.40 at 148.76 mph was enough to get past Josh Vettel, who got loose almost immediately.
Gulitti had strong reaction times of .016 and .019 to reach the final, and was consistently in the mid-4.30s to take home the historic win in the class sponsored by Mickey Thompson.
"To win at the inaugural event, it's just phenomenal. We've been looking forward to this since December. We're on a little roll right now and it feels good," Gulitti said.
Top Dragster proved to be a huge hit, with 24 cars putting in qualifying passes. In the end, it was Bob Henry who picked up the first TD championship, going 4.362 at 159.27 mph to pull off the upset against No. 1 qualifier Michael Kile.
Kile picked the worst time for a red light and Henry, who ran as quick as 4.316 in eliminations, gladly took advantage.
"This hasn't really sunk in yet," Henry said. "This was a very tough field and we got some breaks, but we kept improving. The track was awesome all weekend and the X-DRL is here to stay. It's going to keep getting better and better."
In Pro Junior Dragster, No. 1 qualifier Bethany Crick went 7.86 at 82.89 mph to knock off Kalee Mills in the finals.
The next race in the X-DRL's inaugural 2013 takes place April 26-27 with X-DRL Thunder Valley Madness at historic Bristol Dragway.
Sunday's final results from the X-DRL Spring Nationals at Osage Casino Tulsa Raceway Park. The race is the First of 9 in the 2013 X-Treme Drag Racing League-
Pro X-Treme -- Brandon Pesz, Chevy Corvette, 3.769, 198.88 def. Tim Tindle, Corvette, 3.799, 200.71.
Pro Nitrous -- Jeff Naiser, Chevy Camaro, 3.997, 168.98 def. Jim Laurita, Camaro, 4.779, 106.14.
Pro Turbo -- Eric Dillard, Chevy Camaro, 3.812, 210.37 def. Todd Moyer, Chevy Corvette, 3.906, 200.44.
X-Treme Pro Mod -- Dan Stevenson, Chevy Camaro, 3.907, 193.68 def. Kevin Rivenbark, Pontiac Firebird, 3.969, 186.18.
X-Treme Pro Stock -- John Deflorian Jr., Chevy Camaro, 4.122, 174.89 def. Scott Hintz, Ford Mustang, foul.
Top Dragster -- Bob Henry, Dragster, 4.362, 159.27 def. Michael Kile, Dragster, foul.
Top Sportsman -- Bob Gulitti, Chevy Camaro, 4.402, 148.76 def. Josha Vettel, Camaro, 9.081, 54.62.
Pro Junior Dragster -- Bethany Crick, Halfscale, 7.861, 82.89 def. Kalee Mills, Motiavatio, 7.857, 81.54.